Polar bears are fascinating creatures that live on the Arctic Circle. Unless you live in this area, it's rare to encounter them in the wild. In addition, their habitat is being threatened by climate change. But you're in luck; today you'll learn about US zoos with polar bears that you'll want to visit soon!
Facts About Polar Bears
Before we jump headfirst into the list, let's get to know polar bears for a little bit.
The polar bear is a species of bear that thrives mainly on the sea ice in the Arctic Circle and has plenty of biological adaptations to the cold and snow.
For instance, their fur is white (though their skin underneath is black) to blend in with the snow. They have large amounts of fat reserves that they can live off during the summer and early autumn when sea ice is unavailable.
Their body fat also provides buoyancy, enabling them to swim long distances to hunt seals, their preferred food.
The International Union for Conservation of Nature (IUCN) classifies the red panda as "Vulnerable," with a population of around 26,000 in the wild. The greatest threats to their population are climate change (higher temperatures mean less sea ice) and overhunting.
Why Are There Few Polar Bears in US Zoos?
Because of their "vulnerable" status, many zoos in the US and worldwide are currently taking care of polar bears, hoping to educate the public on climate change by putting a face on it.
It's also simpler for scientists to study polar bears in captivity; as you can imagine, their harsh, unforgiving habitat makes it difficult and expensive for humans to reach.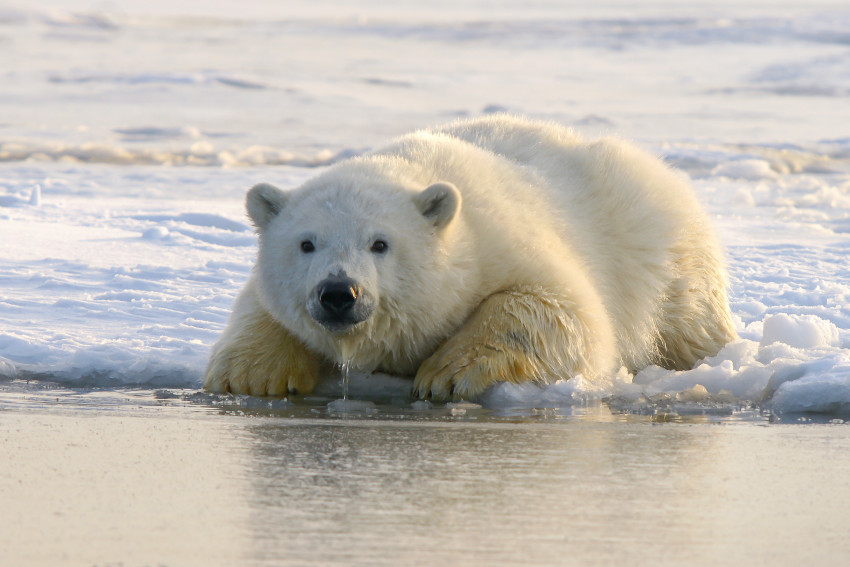 But not many US zoos have polar bears, mainly because building enclosures that are as close as possible to their natural habitat is costly, both financially and in terms of manpower.
For instance, a polar bear enclosure needs to have, at the minimum, at least 1 acre of open space per bear and large, deep, non-chlorinated saltwater pools.
The entire area needs to be kept cold—the maximum temperature they can tolerate is 77 degrees Fahrenheit (25 degrees Celsius). They can't be boxed in by opaque walls; they need to be able to have a panoramic view.
As you can imagine, building an enclosure with all of these can be expensive to build and maintain.
Another reason why there are so few polar bears in zoos is that it is now illegal to import polar bears from other countries.
In the past, bringing in polar bears rescued in Canada, or bears born in Europe or Russia used to be common.
Now that it's illegal, Alaska is the only state from where zoos on the mainland can take in polar bears, but they're under the care of the US Fish and Wildlife Service, which prefers to take care of rescued polar bears right there in Alaska.
So if you're planning to go to a zoo to see polar bears, there's no better time than now! Let's get through the list so you can choose the right one for you.
Best Zoos in the US With Polar Bears
Columbus Zoo is the biggest zoo in the country and is consistently included in lists of the best zoos in the US.
Columbus Zoo's polar bears Anana and Aurora (both adult females) are the stars of the award-winning Polar Frontier Exhibit. Guests can view the polar bears from aboveground (behind a chain-link fence), as well as from their pool while they're swimming (via an acrylic tunnel and glass viewing area).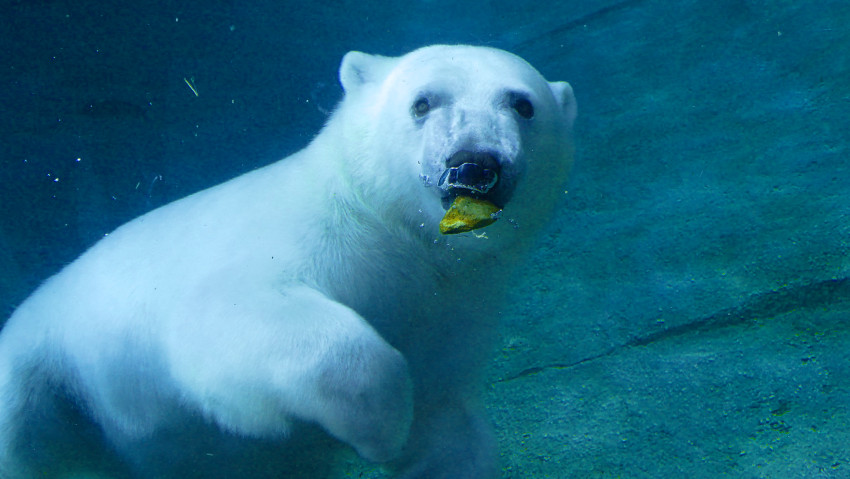 In March 2022, both Anana and Aurora were artificially inseminated, a relatively new reproductive technology for polar bears. It is hoped that this process will produce new bear cubs without having to move bears to different facilities to ensure genetic diversity.
While you're here, pop into the Asia Quest exhibit to see the red pandas and the Australia & The Islands exhibit to see the koalas.
Address: 4850 W Powell Rd, Powell, OH 43065 | 614-645-3400
Tickets: $24.99 per head for adults 10 years old and older; discounts for kids aged 3 to 9 years and seniors; children under 3 get in free
Things to do nearby: Right within the zoo complex are Zoombezi Bay, a waterpark, and Rides at Adventure Cove, an amusement park.
Saint Louis Zoo in Missouri is an award-winning leader in animal management as well as conservation projects. It's also one of the few free zoos in the country.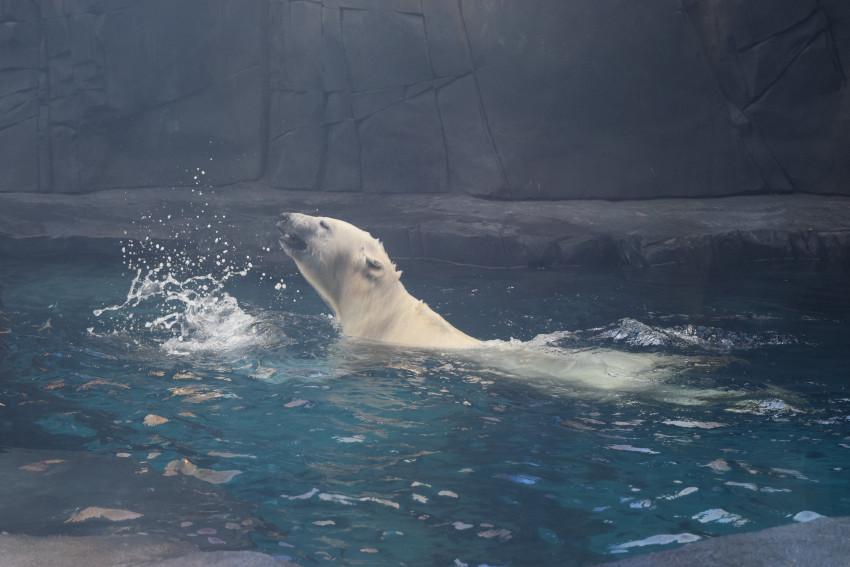 The zoo's lone polar bear, Kali (an adult male) makes his appearance every 9 AM at his habitat at McDonnell Polar Bear Point.
Other popular animals to see here include the giraffes at the Red Rocks, sea lions at Lakeside Crossing, and elephants at River's Edge.
Kids will also love riding the carousel, as well as feeding and touching the stingrays at Caribbean Cove (costs extra).
Address: 1 Government Dr, St. Louis, MO 63110 | 314-781-0900
Tickets: Free; rides and attractions not included
Watch the polar bears: Saint Louis Zoo Live Stream (Sundays, Mondays, and Fridays)
Things to do nearby: Saint Louis Zoo sits inside Forest Park, one of the most beautiful and culturally rich urban parks in the country. Aside from its spectacular fall foliage, Forest Park is also home to the Missouri History Museum, Saint Louis Art Museum, Saint Louis Science Center, and The Muny, said to be the country's oldest, largest outdoor musical theater. The Gateway Arch National Park is home to one of America's greatest landmarks, which is a 15-minute drive east along I-64.
Brookfield Zoo is one of the rare zoos that used moats and ditches to separate animals from each other and from the public.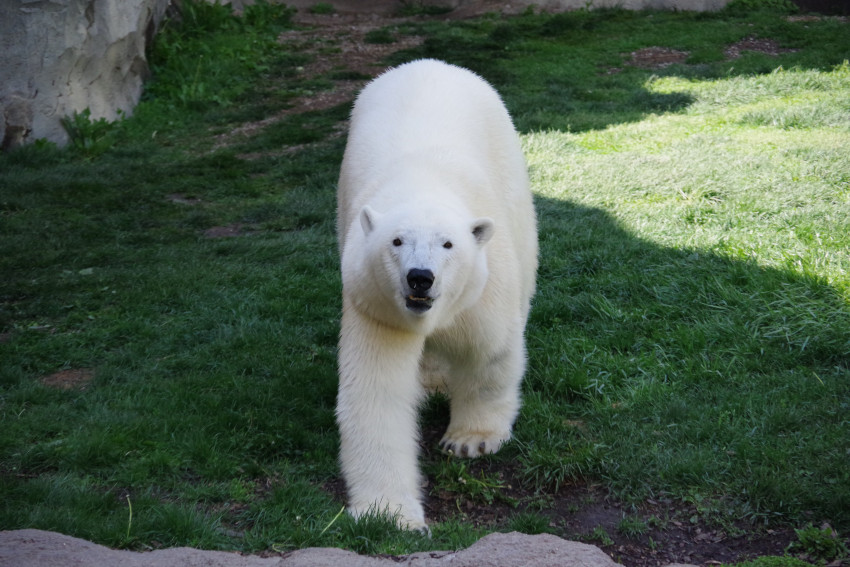 The polar bears of Brookfield Zoo are housed in the zoo's Great Bear Wilderness, where you can see Hudson (adult male) and Hope (adult female) frolic in three different habitats that they share with grizzly bears, American bison, Mexican gray wolves, and bald eagles.
Visitors can watch the polar bears swimming through an underwater bear viewing area.
Other noteworthy exhibits include the Seven Seas exhibit, the first dolphinarium of an inland zoo, and Tropic World, where the most famous inhabitants are the western lowland gorillas.
Kids will love the Hamill Family Play Zoo, a wide open area with various interactive exhibits that allow children to touch animals (supervised, of course), tend gardens, paint with mud, release ladybugs in the summertime, and many more.
Address: 8400 W 31st St, Brookfield, IL 60513 | 708-688-8000
Tickets: $24.95 per head for adults 12 and above; discounts for children 3 to 11 and seniors; military and children 2 and below get in free; tickets for rides and encounters not included
Things to do nearby: Chicago (and Lake Michigan, the iconic lake in Illinois) is a 30-minute drive east on I-55.
4. Detroit Zoo (Detroit, Michigan)
The Detroit Zoo has been around since 1928 and has become an international leader in animal welfare, conservation, and sustainability.
The Arctic Ring of Life is home to polar bears. With 4 acres of outdoor and indoor spaces, including a grassy tundra, a freshwater pool, an ice area, and a saltwater pool, this exhibit is one of the largest zoo-contained polar bear habitats in North America.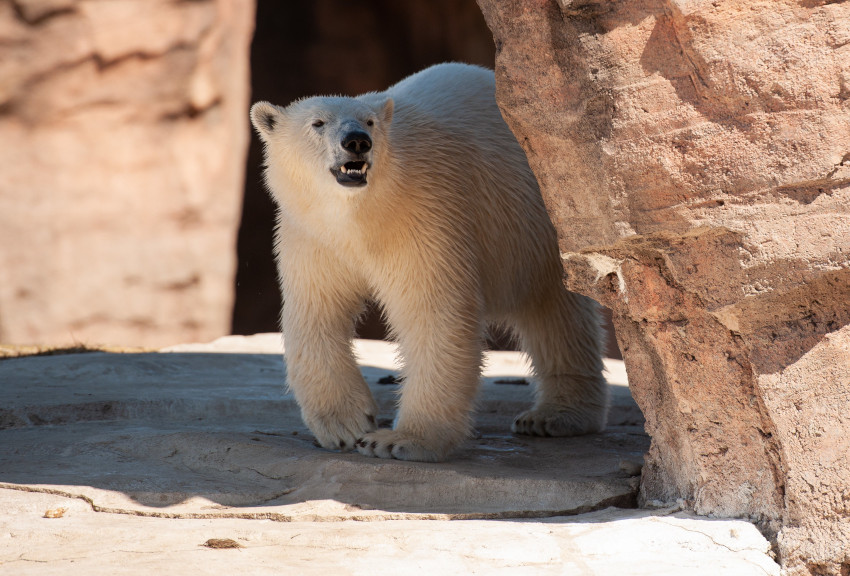 Guests can also head over to the Frederick and Barbara Erb Polar Passage, a 70-foot underwater acrylic tunnel, to watch polar bears Suka (adult female) and Astra (Suka's offspring, a female cub) swim overhead.
Other famous exhibits include the Polk Penguin Conservation Center, the largest facility of its kind for penguins in the world, and the Australian Outback Adventure, with kangaroos and wallabies.
Attractions inside the zoo include a carousel, a fountain, Dinosauria featuring animatronic dinosaurs, playgrounds, and a 4D theater.
Address: 8450 W 10 Mile Rd, Royal Oak, MI 48067 | 248-541-5717
Tickets: $14 to $22 per head for adults 18 and up, depending on the date; discounts for children 2 to 18 and seniors; children below 2 years old get in for free; rides and other attractions not included
Things to do nearby: The Downtown Detroit area has plenty of attractions, including Motown Museum, Detroit Institute of Arts, and the Detroit RiverWalk.
What's a list where I can't shoutout my home zoo?
As a mom with 2 kids under 5 and an annual zoo pass, I've see the polar bears at the Pittsburgh Zoo more times than I can count.
Pittsburgh Zoo started out as the Highland Park Zoo and is now a leading facility for animal research and conservation.
The zoo's polar bear stays in the Water's Edge exhibit, featuring an air-conditioned cave and a chilled pool.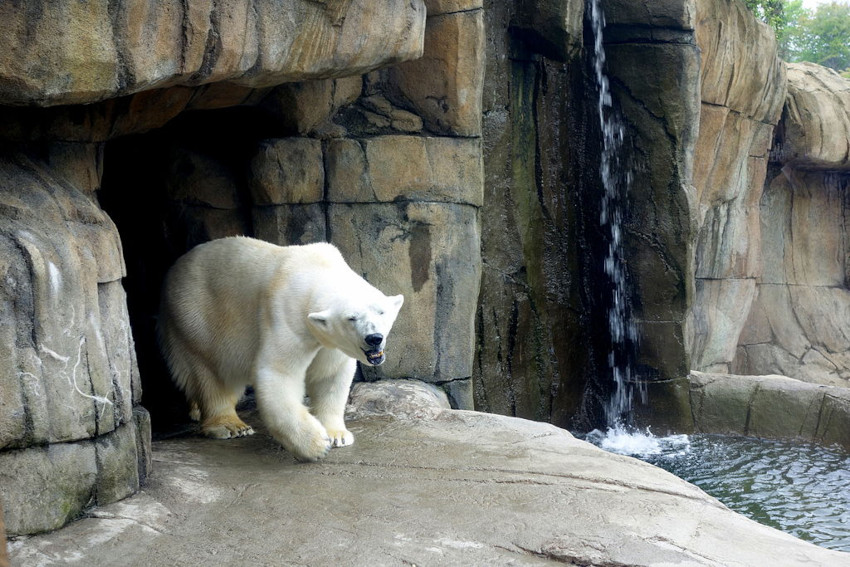 Gaze at the polar bear swimming in its pool, as well as two other pools where sea otters, elephant seals, and California sea lions swim.
Other popular exhibits include the African Savanna (featuring the black rhino, African lion, Masai giraffe, and many others) and, of course, the PPG Aquarium featuring various marine ecosystems.
Children will love Kids Kingdom, an interactive children's area with a petting zoo, a reptile house, a playground, and exhibits featuring Pennsylvania wildlife.
Address: 7370 Baker St, Pittsburgh, PA 15206 | 412-665-3640
Tickets: $15.95 to $19.95 per head for adults 14 and up, depending on the season; discounts available for children 2 to 13 and seniors; children below 2 years old get in for free; admission to the aquarium included
Things to do nearby: Pittsburgh Zoo sits in Highland Park, with plenty of outdoor things to do like walking, biking, swimming, and fishing. Fall Run Park, featuring a hidden gem waterfall, is around 4 miles north via PA 8.
6. San Diego Zoo (San Diego, California)
Another mainstay on lists of the best zoos in the country is the San Diego Zoo.
It may be strange to have polar bears in sunny SoCal, but the Conrad Prebys Polar Bear Plunge mimics the Arctic tundra well enough.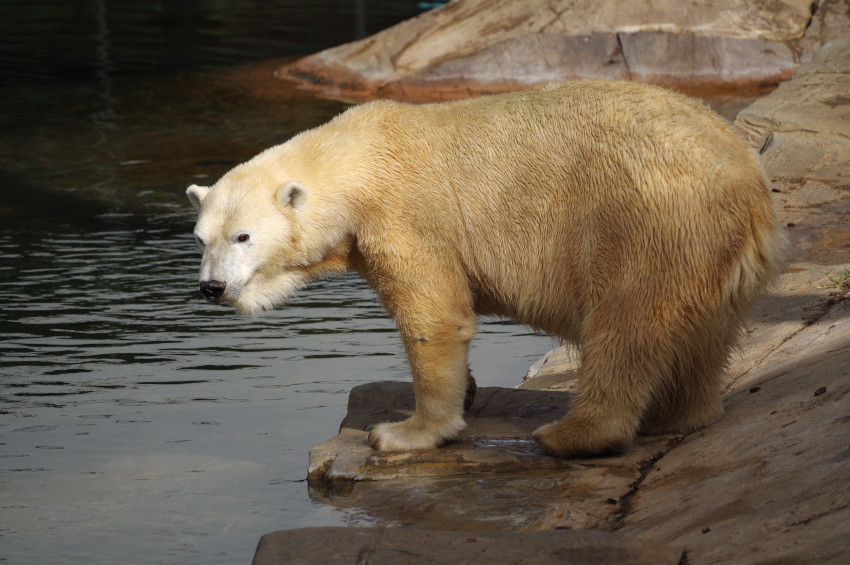 Visitors can watch the polar bears literally plunge into their pool from the underwater viewing room and take photos with life-size polar bear statues.
The zoo also offers Inside Look Tours for Polar Bears & Friends, a 90-minute experience where your group gets exclusive access to the polar bear habitat. You'll learn how zookeepers take care of the polar bears and how they're ensuring the survival of their counterparts in the wild.
Other popular animals in the zoo include the koalas in the Outback, the African penguins in the McKinney Penguin Habitat, and the hamadryas baboons in the Ethiopian Highlands Habitat.
Address: 2920 Zoo Dr, San Diego, CA 92101 | 619-231-1515
Tickets: One-day pass starts at $67 per head for adults 12 years old and above; discounts available for children aged 3 to 11; children 2 and below get in free
Inside Look Tour: Starts at $89 per head; children 15 years and below must be accompanied by paid adult; maximum 2 children per adult
Watch the polar bears: Polar Cam
Things to do nearby: Balboa Park where the San Diego Zoo is located is full of things to do and see. The New Children's Museum and Seaport Village are a few blocks south in Downtown San Diego.
7. Hogle Zoo (Salt Lake City, Utah)
Hogle Zoo is Utah's largest zoo and Salt Lake City's most visited paid tourist attraction.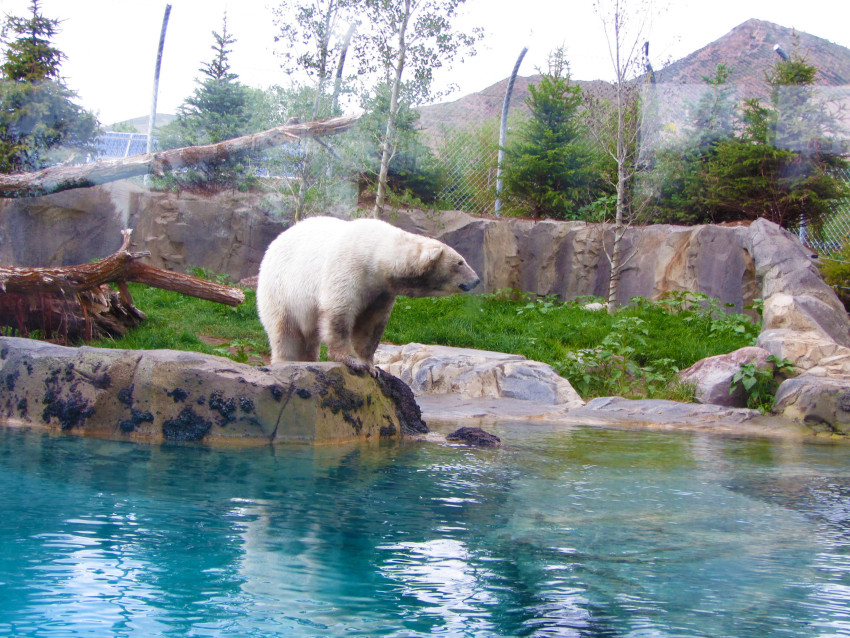 The zoo's polar bears Nikita (male adult) and Neva (female adult) call the Rocky Shores exhibit home. They share the habitat with sea lions, harbor seals, grizzly bears, river otters, and bald eagles.
Below the exhibit proper, an underwater viewing area allows guests to see the bears' underwater antics.
Other well-liked exhibits in the Hogle Zoo include the African Savanna (lions, giraffes, zebras), the Great Apes (gorillas and orangutans), and the Asian Highlands (tigers, leopards, and red pandas).
When the kids need a break from the animals (or from all the walking), you can take them to the playground or the splash pad. You can also have them take a ride on the carousel or on the train.
Address: 2600 Sunnyside Ave S, Salt Lake City, UT 84108 | 801-584-1700
Tickets: $21.95 per head for adults 13 years old and older; discounts for kids aged 3 to 12 years and seniors; children under 3 get in free
Things to do nearby: Hogle Zoo is across the street from the This Is The Place Heritage Park and a short distance away from The University of Utah. For more details, take a look at our guide to visiting Salt Lake City.
Henry Vilas Zoo is known as one of the best zoos in the Midwest and one of the few free zoos left in the country.
The Arctic Passage is where the polar bears live, along with grizzly bears and harbor seals. There's a viewing area for guests to watch the polar bears and seals swim and frolic in the water.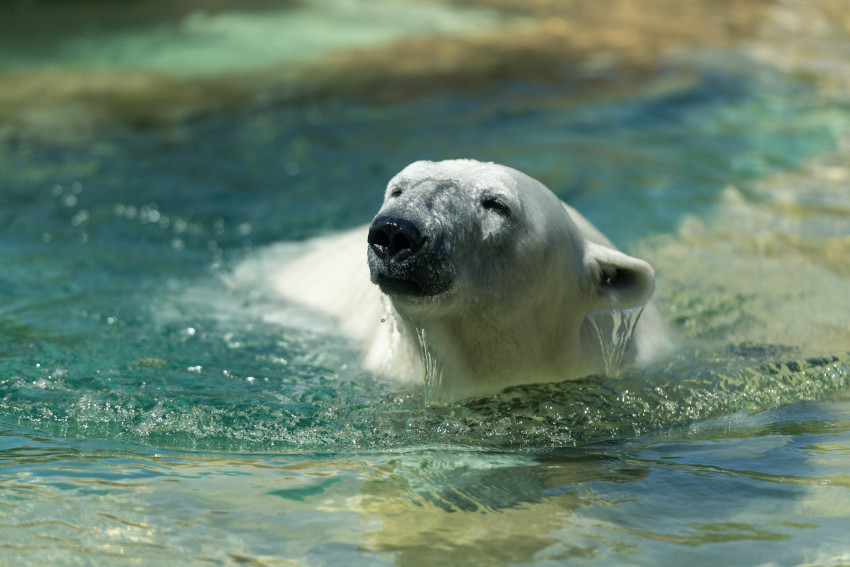 The zoo prides itself on its sustainable habitats, and the Arctic Passage is no exception. They rely on solar panels to power the cooling of the polar bears' habitat. Plus, they have a rainwater collection, storage, and filtration system to source water for the animals' pools.
Their Behind The Scenes Tour of the Arctic Passage can educate guests on these sustainable practices and take a closer look at the polar bear habitat from behind the scenes.
Other popular animals include the giraffes and alpacas in the Savanna and High Plains exhibit, as well as the tortoises, frogs, geckos, and snakes in the Discovery Center and Herpetarium.
Kids will also enjoy the Children's Zoo and the many animals they can see, as well as the carousel and train rides.
Address: 702 S Randall Ave, Madison, WI 53715 | 608-266-4732
Tickets: Free; rides and attractions not included
Behind The Scenes Tour (Arctic Passage): $25 per person for public tour, up to 7 people per group; $125 for private tour for up to 5 people; 10 years old and up only; children below 18 need to be accompanied by at least 1 paying adult
Things to do nearby: Vilas Park where Henry Vilas Zoo sits has a beach, playgrounds, fishing sites, and even a rink for ice skating in the winter. Madison Children's Museum is a couple of miles northeast.
Visit One of These Zoos With Polar Bears Soon!
All of these zoos with polar bears I've listed are working with Polar Bears International, a group of conservationists, scientists, and volunteers that aim to ensure a future for polar bears across the Arctic.
Visiting a partner zoo brings about more awareness about climate change, how it's causing the decline in numbers of polar bears in the wild, and what the public can do to mitigate the damage caused by climate change.
Other destinations perfect for vacationing with kids
If these zoos are too far to visit, or if you're looking for something else for your kids to do, check out our other lists of child-friendly destinations in the US: