Water Parks in Dallas are many, and each of them offers a different set of attractions, amenities, dining options, and more.
Whether you're escaping heat during the summer, or you want to turn a boring winter weekend into a fun experience, nothing beats a water park.
From the classic thrilling-slides-filled outdoor water parks to indoor water parks for the cold season, or all-inclusive resorts for the perfect weekend getaway, there's truly something for everyone.
What are you waiting for? Keep reading my guide to finding out which water park in Dallas is the best option for you and your family.
8 Dallas Water Park Options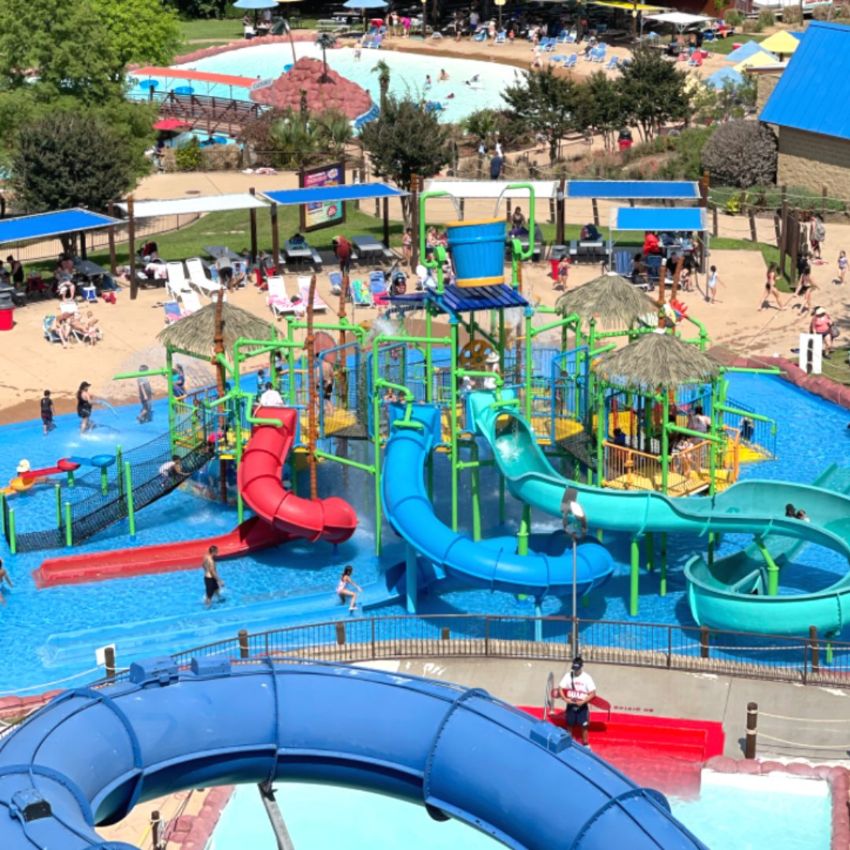 Hawaiian Falls Garland is one of the most popular and visited water parks in Dallas, partially because of the low entrance fees, but also because of the quality of the rides.
This is not a huge water park, but an afternoon here is certainly enjoyable for families with children or even for groups of friends looking for a mixture of fun and relaxation by the water.
The tallest and most exciting ride is the Waikiki Wipeout & The Flyin' Hawaiian, which is 65 feet tall and perfect for those looking for an adrenaline rush.
For maximum acceleration and thrill, you can't miss the Pineapple Plunge or the Hawaiian Halfpipe.
There are also more relaxing rides available, perfect for both adults and children, such as the Kona Kooler lazy river, a water fortress, a water rope course, or the wave pool featuring a LED Screen.
The park routinely organizes events, which can make your visit much more special and fun. You can check out the events scheduled for 2023 on the park's dedicated page.
Purchase daily admission tickets if you're just passing through. However, for those who live around Dallas, I recommend checking out the season passes, as they come with significant discounts.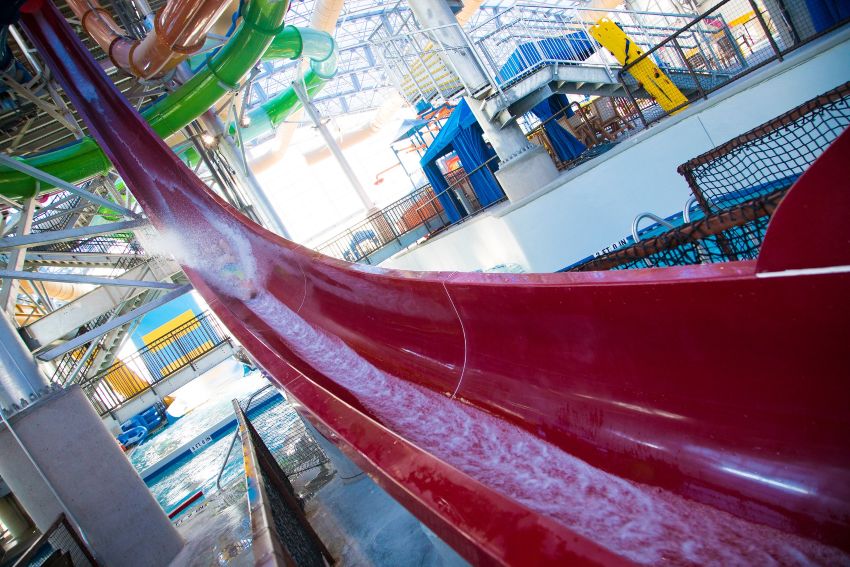 At Epic Waters you'll find around six exciting slides and rides, but my favorites have to be the Aquanaut and the Praire Plunge. There are also two lazy rivers for children and a wave simulator to practice your surfing skills.
While bringing snacks from outside is not allowed, the prices at The Hungry Wave Cafe are reasonable, especially for an amusement park.
There are plenty of options on the menu for picky eaters who love burgers, fries, or nuggets, and just a couple of healthy options, the grilled chicken salad for a light lunch and the 100% natural fruit frozen bar for a healthy snack.
And if you're in the mood for a fun drink, there are three longboard bars in the park, and they each offer a specialty cocktail.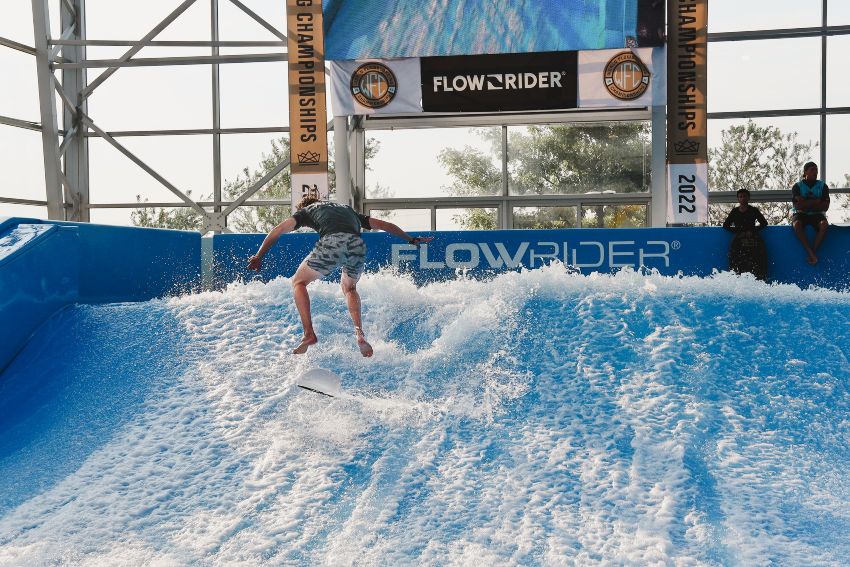 Daily general admission tickets must be purchased online in advance. Annual and seasonal passes will give you the best value for money, and I especially recommend the Fall seasonal pass.
Since Epic Waters is an indoor waterpark, a seasonal pass for the Fall will guarantee you fun in the water well after the summer ends, without having to commit to a full-year pass.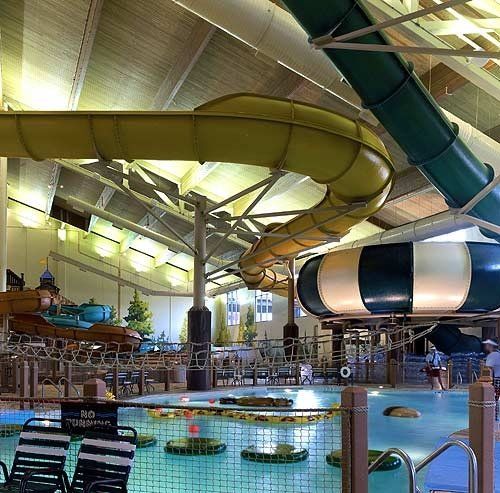 The Great Wolf Lodge franchise needs little presentation, but you might have not heard of their Grapevine location.
Easily reachable from Dallas in a 25-minute drive, and located right next to Grapevine Lake, Great Wolf Lodge is a great option for a full day of indoor fun.
For children and toddlers, the best attractions are the huge Fort Mackenzie, Totem Towers slides, and Cub Paw Pool.
For a more thrilling experience, I recommend the Howling Tornado.
There are also two hot springs, for adults and children alike to relax and have a peaceful time in the warm water.
Standard, premium, and themed suites are available for booking, for those who want to spend multiple days at the waterpark. A fun weekend away in this all-inclusive resort might be just what you needed.
If you love to have multiple dining choices, Great Wolf Lodge offers both fast food tasty options (burgers and fries at the Buckets or pizza and pasta at the Hungry As A Wolf) and lighter options (for example, a tasty breakfast at the Loose Moose, or a fresh fruit pot at Starbucks).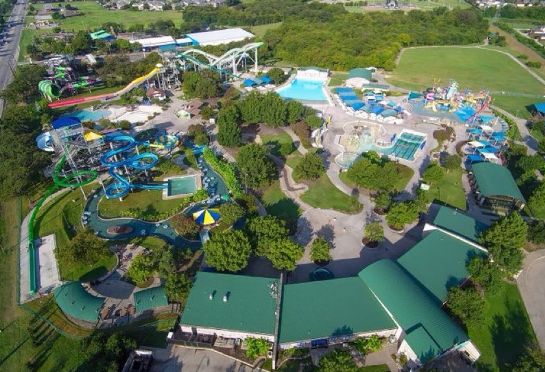 Looking for a record-breaking water park? Among Water Parks in Dallas, NRH2O Family water park might be the one with the best selection of thrilling rides.
The water park is home to the world's largest uphill water coaster, the Green Extreme, which is over one thousand feet long and 80 feet tall.
You'll also find the Riggamaroll, a champagne bowl slide boasting almost 100 feet in light, and the Thunder and Sidewinder body slides, complete with a surprise trap door and a plummeting freefall in water.
More family-friendly options are the Viper, still a thrilling ride but suitable for children, and the Double Dipper, which allows parents to ride together with their children.
For toddlers, nothing beats a relaxing time splashing in the water at the Tadpole Swimming Hole, while adults and babies alike can relax on the sandy Beachside Bay.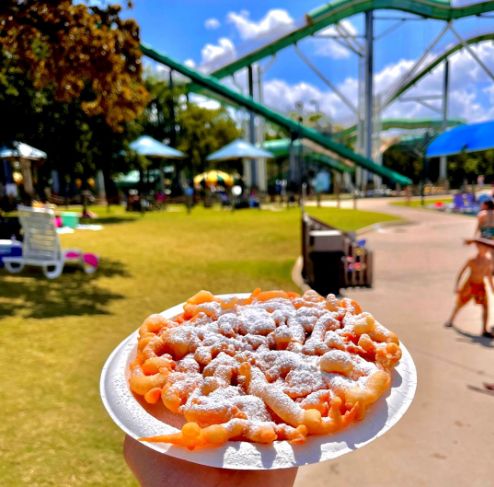 The water park offers a good array of food options. If you love sandwiches and burgers, you'll find what you're looking for at Piper's River Falls Café, or Al Gator's Smokehouse & Grill (you can try their signature dish, the BBQ Pork Grilled Cheese Sandwich).
New York-style pizza lovers will enjoy Pizza- Piper's river falls cafe, which collaborates with Manhattan Pizza. For a sweet dessert, a good option is Eb & Flo's funnel cake lab.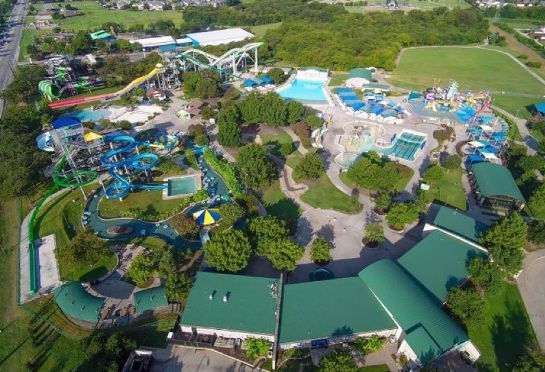 Looking for big fun without breaking the bank? Located right in the heart of Dallas, Bahama Beach Waterpark is a great choice for residents of the city, not only for the convenience but for the price too.
In fact, not only admission prices are very reasonable, but Dallas residents are even eligible for discounts.
The waterpark offers a nice selection of both thrilling and relaxing rides, so there's really something for everybody.
Teenagers will love the exciting slides and plummeting falls of the Bermuda Triangle, Riptide Slide, and Bahama Bullet slide. For a truly racing ride, you can challenge yourself with the Tortuga express or the Boomerango tube ride.
For a more relaxing time, Coconut Cove Lil Paco's Splash Pad and the Calypso Cooler lazy river are 2 perfect options, suitable for children and toddlers.
There's only one restaurant within the park, Bahama Bob's Island Eatery, but it offers everything you might need, from hamburgers to pizza or hot dogs for a substantial lunch, to cakes for dessert.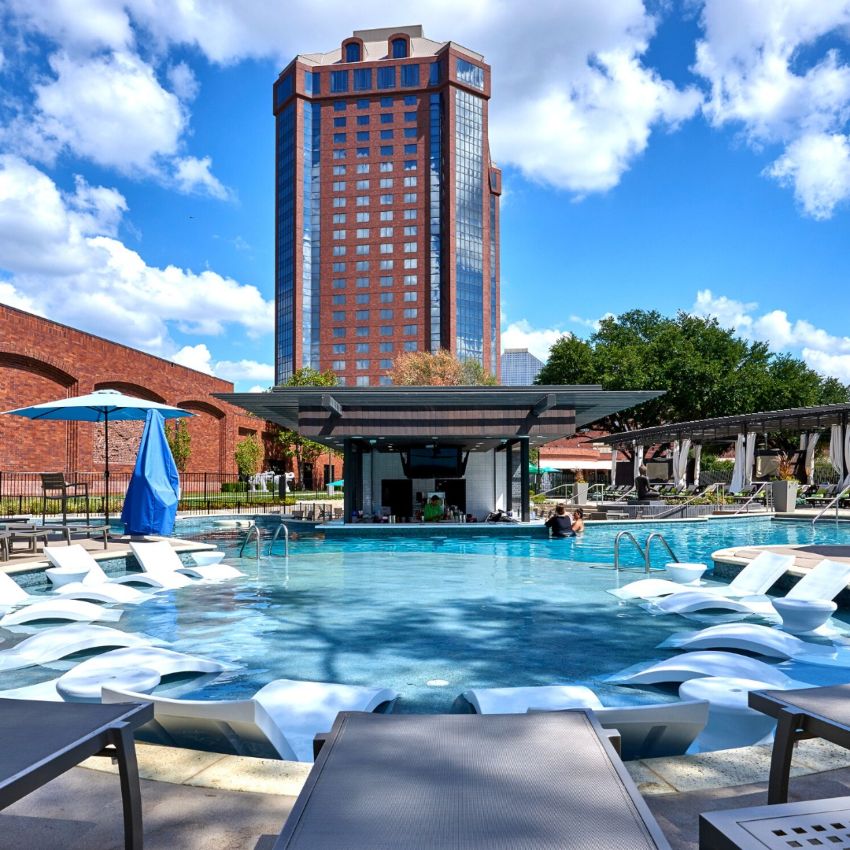 For a day at the waterpark that feels more like a day at the spa, Jade Waters Resort is the way to go.
This all-inclusive resort is different from other water parks in Dallas. The resort offers not only water slides, activity pools, and over 300 feet long lazy river, but also all kinds of amenities to ensure the greatest relaxation for the guests.
The entry fee for the day (around $28) includes access to the pool area, free breakfast for children, access to the resort's exclusive fitness club, and even bottled water.
When it comes to dining, there are plenty of options even on the healthier and fancy side.
For fresh fruit, organic salads, juices, and more, the Counter Offer Gourmet Market
The Terrace offers breakfast foods in a very elegant setting, while for lunch you can head to the JadeWaters Grill.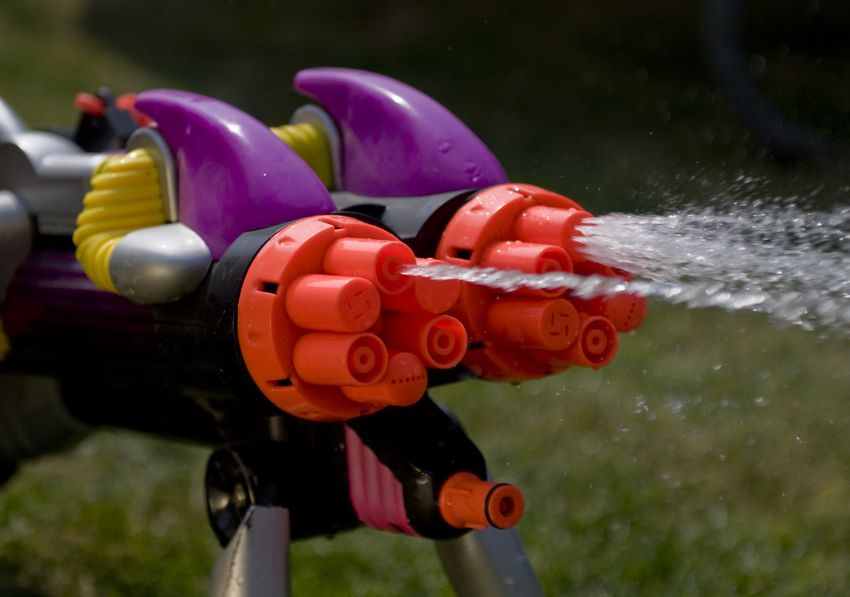 While Splash Factory is not a water park per se, it is still a great watering hole perfect for families with children to spend a day away from the heat during a hot summer day.
Splash Factory doesn't offer a pool or slides, only shooting water and water-based play areas, for example, ground sprayers, water guns, power geysers, and spray cannons.
For a perfect day at Splash Factory, pack some snacks, bathing suits for the whole family, and some towels.
This is a great option for some fun in the water at an exceptionally low price. The entrance fee is $2 per person, which means a family of four can spend a whole day in the park for $8.
The park features shaded areas, picnic tables, restrooms, and more. For the ticket price, you'll be amazed at how great this spot is.
Remember to bring cash and small bills as this is a cash-only facility and they can sometimes have problems with change.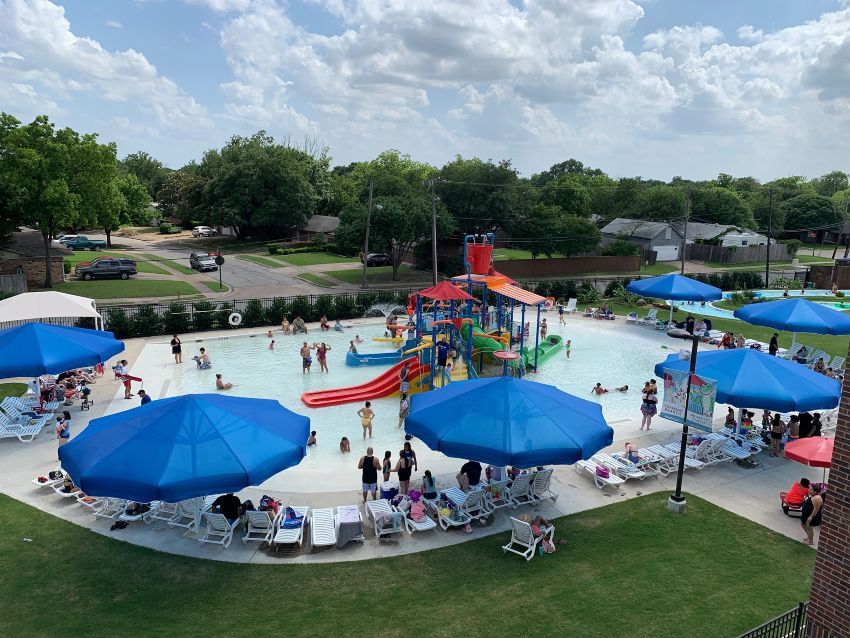 Featuring both thrilling slides and beginner-friendly activities, visiting Frog Pond Water Park can be a fun and educational experience at the same time.
This aquatics facility is open all year round and is a great option for swimmers of all ages and abilities.
In the park, you'll find an activity pool, four water slides, a lazy river over 500 feet long, a Lagoon Pool, regular water slides, and more.
There are fitness classes available as well as swim lessons for beginners. You can even take your American Red Cross certificate at Frog Pond Water Park.
For a relaxing and educational time with your toddler, every week the water park hosts story time events.
Love Water Parks? Check Out These Great Options
Looking for the next water park adventure? Find out my top choices for water parks in Virginia, Pennsylvania, Maryland, and Alabama.
If you're looking for the best options for some water park time in the cold season, check out my guide on the best indoor water parks in the USA.