Pristine lake water and white sand are the keywords of Lake Superior beaches.
From swimming to rock hunting, Lake Superior beaches are nothing short of incredible.
Read my guide to find out more about this stunning natural area and start planning your trip to Lake Superior today.
8 Best Beaches Along Lake Superior
3 Best Beaches Around Pictured Rocks National Lakeshore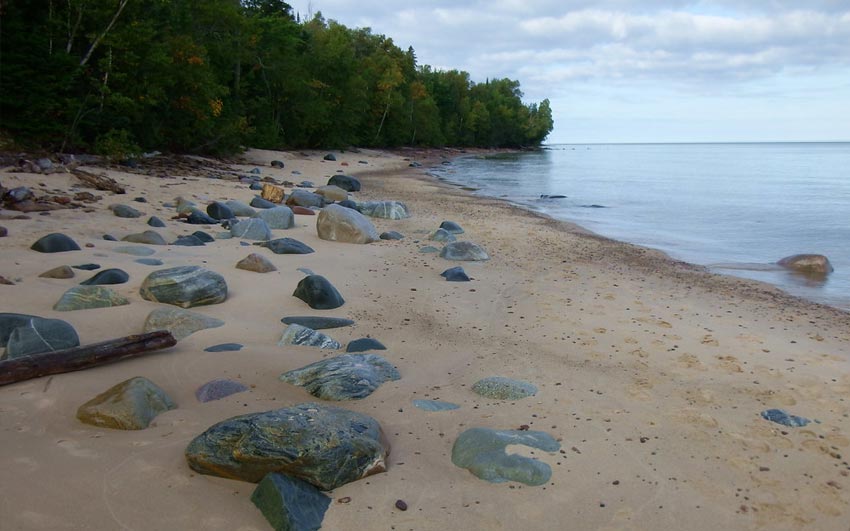 Secluded, wild, and simply stunning, the Twelve-Mile Beach stretches for (you guessed right) 12 miles on Lake Superior, offering beautiful ocean-like views at every turn.
This white sandy beach is famous for its raw beauty, characterized by a unique landscape of golden dunes and green lush nature almost directly facing the lakewater.
During the last few years, the campground of Twelve Mile has become more and more well-equipped, for a comfortable camping experience.
However, the beach kept its wild feel and, especially if you're visiting in September/October, you'll find the site almost tourist-free.
A number of hiking paths are also available nearby.
Boating, especially kayaking, is a popular activity on the Twelve-Mile Beach, with plenty of guided tours leading you through the incredible Pictured Rocks area.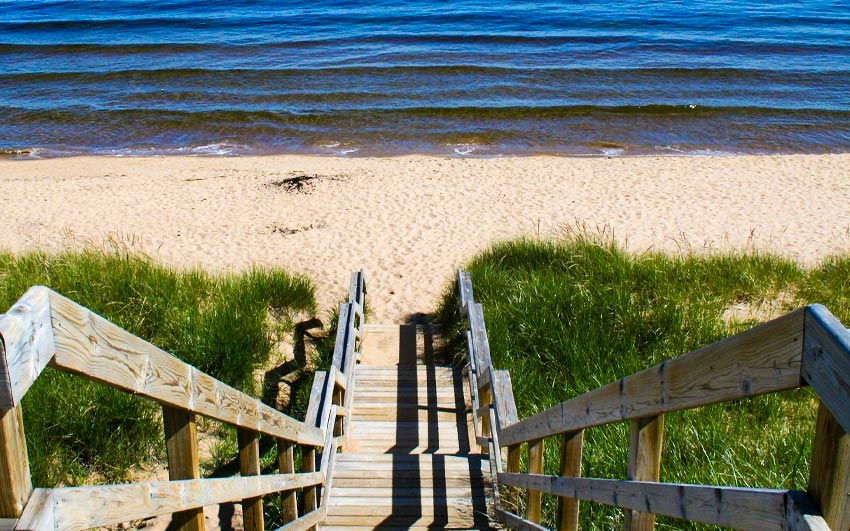 Sand Point Beach is widely accepted as one of the most beautiful and scenic beaches in Michigan.
Blessed with fine golden sand and deep blue lake water, Sand Point Beach is a really popular location, with something appealing to everybody.
The beach is super family-friendly and pet friendly and is also wheelchair accessible.
In the summer, the weather is usually sunny and temperatures high. Here is where you'll find the warmest water in all of Lake Superior.
This is a perfect location for swimming, scuba diving, or having a relaxing picnic on the beach.
This is a popular destination, therefore can be a bit crowded in the afternoon.
I recommend coming in the morning to enjoy some peace, but consider staying until later to enjoy one of the best sunsets on Lake Superior.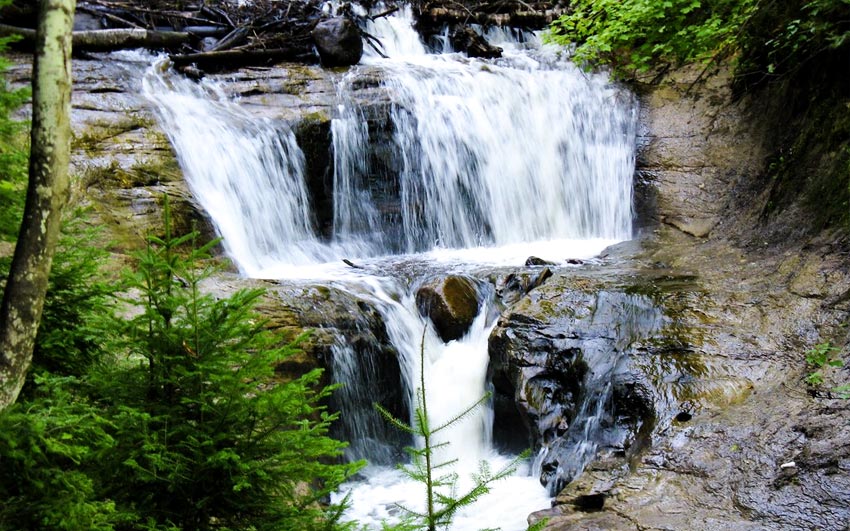 Looking for something different and completely nature-immersed? Check out Sable Falls Beach.
The beach is rocky and surrounded by unspoiled nature, but the true attraction of this location is the Sable Falls.
The waterfalls empty in Lake Superior and it's a truly wonderful and unique sight.
A short footpath (with some stairs) will lead you to the top, to the viewpoint overlooking the falls and lake.
From there, another hike leads down to the stony beach on Lake Superior and the famous sand dunes.
2 Best Lake Superior Beaches for Rock Searching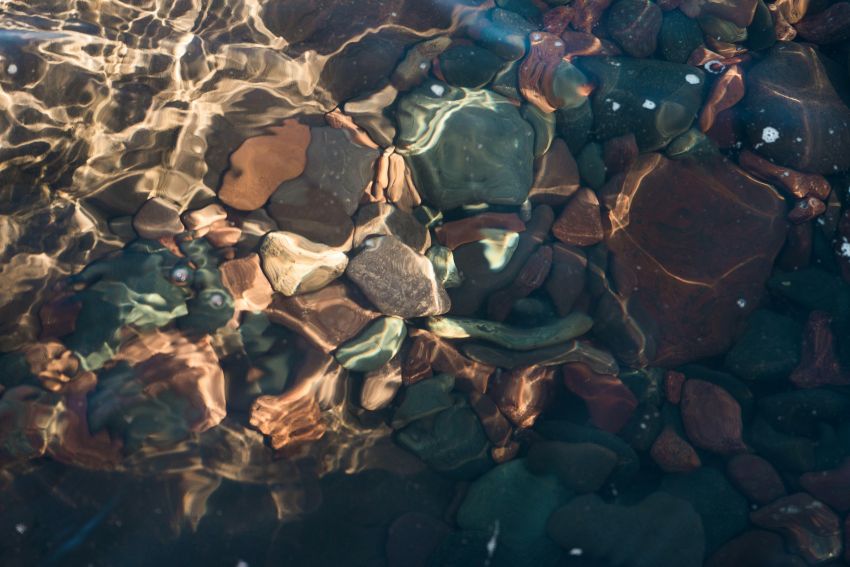 Pack your best rock shoes, because Agate Beach is stony.
Named after one of the more common and beautiful rocks you can find in the area, this beach is a preferred spot for rock searching.
A primitive campground is available on the premises and the beach, in general, has a wild (but clean), pristine, natural vibe.
You can expect toilets and some picnic tables, but not much more.
Agate Beach is a bit secluded and hard to reach, but on the upside the light pollution is minimal.
This makes Agate Beach a perfect spot for breathtaking night walks, star viewing, and astrophotography.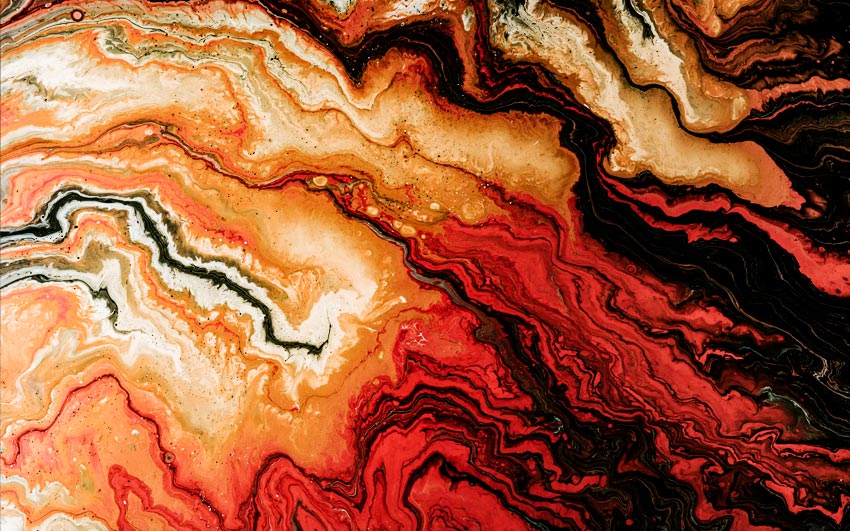 One of the best spots for agate hunting on Lake Superior is Paradise Beach.
This beach is especially famous for the typical Paradise Beach paint agates: a kind of agate that can be typically found there, characterized by mesmerizing red and yellow shades.
Agates at Paradise Beach are usually small and pastel-colored, with the occasional crystals in them.
The small dimensions could make them a bit hard to see to the untrained eye, however, the high concentrations of agates make Paradise Beach a great spot also for rock hunting novices.
Other Lake Superior Beaches You'll Love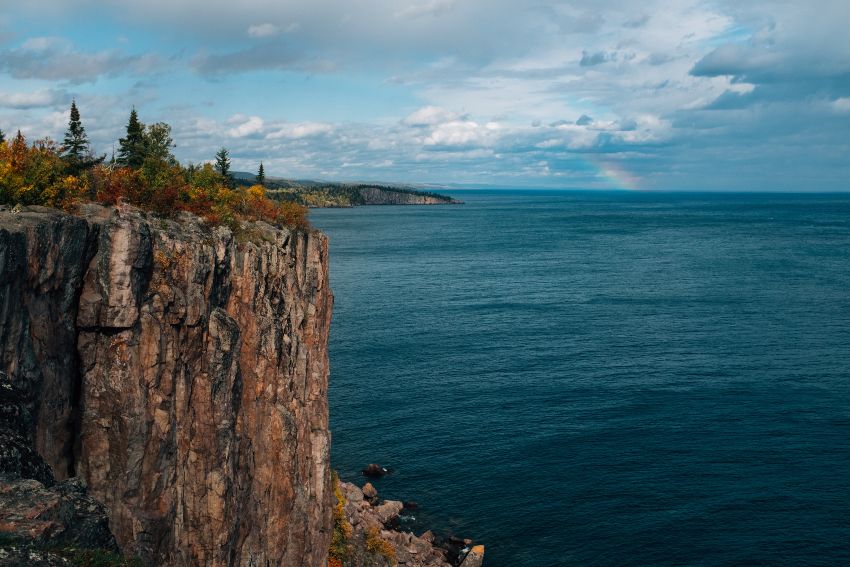 This super popular beach on Lake Superior can be a bit crowded in the high season. Visiting Miners Beach around June or September will allow you a more relaxing experience.
However, summertime remains the best time to swim because of the nicer weather and higher water temperature.
Miners Beach is beautiful in itself, but I recommend exploring the surroundings and hitting the hiking trails. Several footpaths lead to different viewpoints on Lake Superior, and high cliffs vertically on the water can be observed to the east.
Around one mile northeast of the beach, you'll find the beautiful Bridal Veil Falls.
The falls can be observed from the hiking trails, but the best view is the one from the lake.
It is possible to rent a kayak and reach the Bridal Veil Falls by boating.
7. Chapel Beach (Chapel Rock and Chapel River)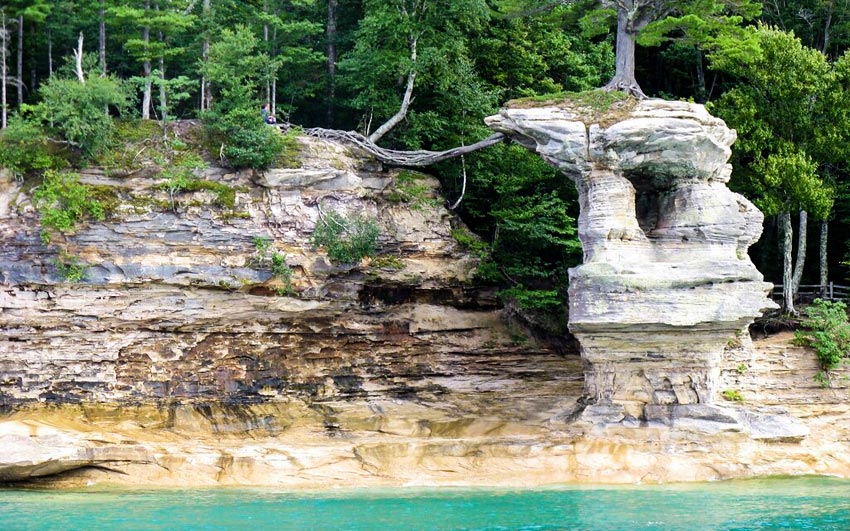 A prime hiking spot on Lake Superior, Chapel Beach is famous for its stunning and unique rock formation, Chapel Rock, and the many hiking trails and viewpoints on the lake.
Starting from the Chapel Basin Parking lot, the 10-mile Chapel hiking trail will lead you through the area.
Other shorter footpaths (around 5 miles) lead to Chapel Rock and Portal Point, the highest viewpoint on the beach.
The green reefs perched over the lake and the emerald green water create an ocean-like atmosphere that you'll never forget.
If you're looking forward to swimming, try Chapel Creek. The water temperature is usually much nicer than the lake water.
Chapel Creek ends in a small and beautiful waterfall that empties into Superior Lake.
The surrounding vegetation turns bright orange in the fall, making this location stunning even during colder months.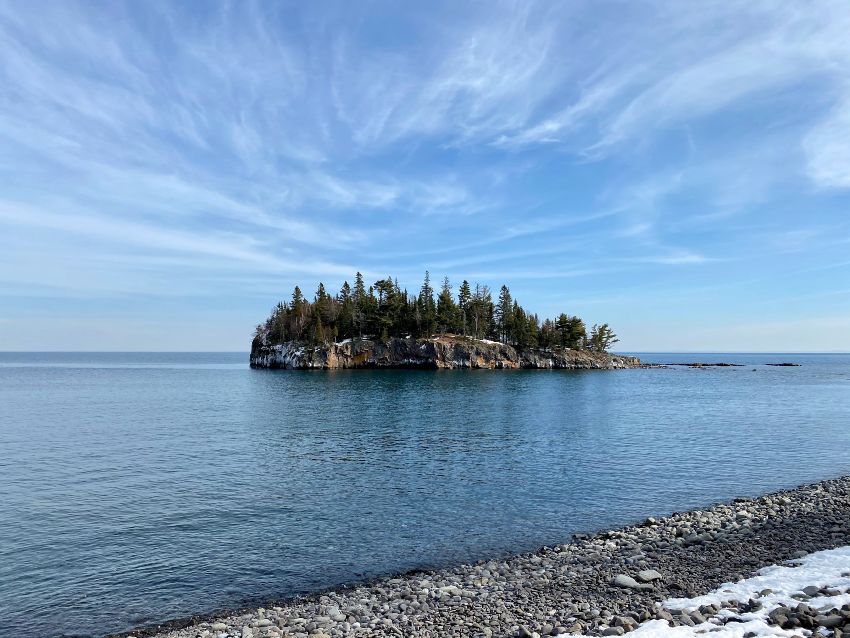 Not technically a beach but an isle and gorgeous state park, Little Presque Isle is one of the most stunning locations on Lake Superior.
This area is known for its amazing nature, great sandy beaches, and plenty of scenic hiking trails.
You can reach the island by swimming from Marquette Beach, which in itself is a unique experience that makes visiting Little Presque Isle even more appealing.
For a 360 view of Lake Superior, hit the 5-mile-long Hogback Mountain trail.
The Bareback trail loop is a bit longer (12 miles), and runs all along the Little Presque Isle Natural Area lakeshore.
When is the best time to visit Lake Superior?
Visiting Lake Superior can be an exciting and positive experience year-round, with different activities available throughout the seasons.
However, if you are looking to swim or sunbathe on one of the many beaches facing the lake, I recommend planning your trip during the summer or late spring.
The crystal clear water of Lake Superior can be pretty cold (50/60 degrees) even during the summer, reaching the highest, most comfortable temperature around August (up to 70 degrees).
Are Lake Superior Beaches nice?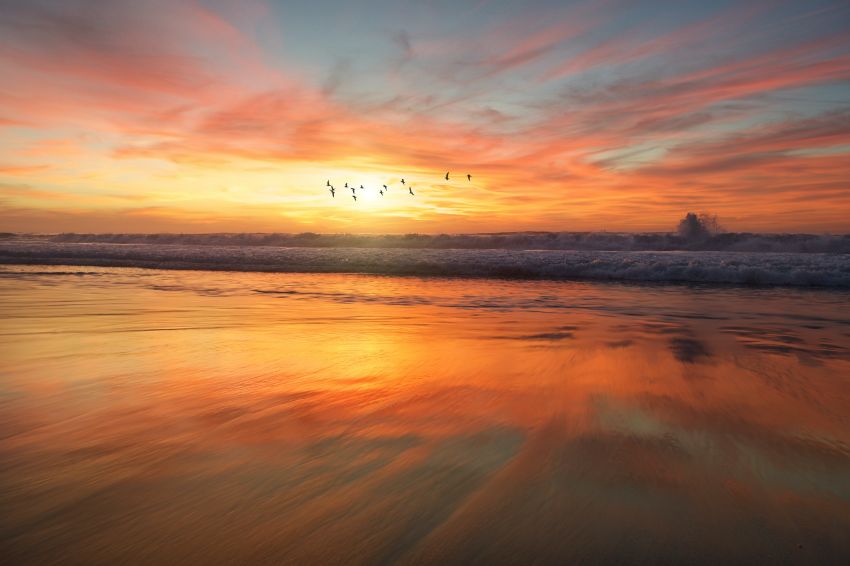 Beaches on Lake Superior are stunning and diverse. If you're looking for long sandy beaches in the midwest, Lake Superior won't disappoint.
With the white beaches facing clean blue water, the feel is more one of an ocean or Mediterranean seaside than a lakeshore.
You could spend a month visiting the beaches near Lake Superior, and you would still be missing out on something: from swimming to camping, scuba diving, or hiking, the Lake Superior beaches have plenty to offer to any visitor.
Is Lake Superior safe to swim in?
Yes, swimming in Lake Superior is generally safe. Thousands of people choose Lake Superior as their summer destination and enjoy bathing regularly in the clean lake water.
Scuba diving is also a favorite activity of locals and tourists, with the lake offering plenty of opportunities for underwater exploration.
However, it is important to take some precautions. Keep in mind that not every beach and shoreline are surveilled by trained lifeguards. Therefore, if that's something you care about, you should double-check before visiting a beach.
In general, my advice is to not take unnecessary risks when swimming in Lake Superior.
Don't jump off high cliffs and try to avoid dangerous currents.
As in every lake, rip currents may occur, and their position may vary, so it's important to pay extra attention when swimming.
Rock Hunting on Lake Superior Beaches
The high number of beautifully multicolored rocks (especially agates) make rock searching one of the favorite activities at the Lake Superior beaches.
Are you planning a rock hunting trip on Lake Superior? Below, you'll find listed some of the rockiest and most popular beaches in the region.
If you're interested in rock searching and would love to know more before visiting Lake Superior, you can read about it: In 2021, the Lake Superior Rocks & Minerals Field Guide (Rocks & Minerals Identification Guides) was published by Lynch, Dan R., and Lynch, Bob.
Can you camp on Lake Superior beaches?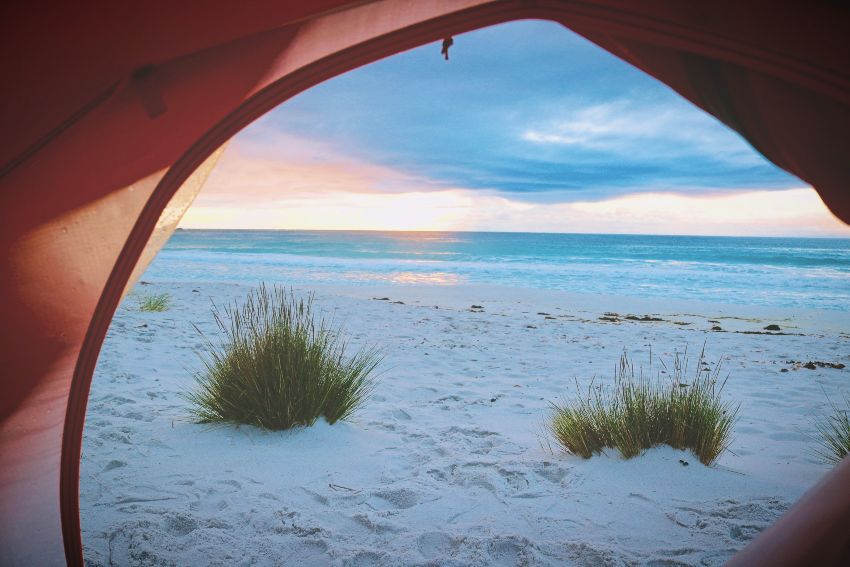 Free camping is not allowed, however, there are plenty of campgrounds scattered around the Lake Superior backcountry, and some located near the beaches.
To name a few in Michigan, The Bay Furnace Campground, Sunset Bay RV Resort & Campground, and the Lake Superior State Forest Campground offer RV and tent campsites facing Lake Superior.
In Minnesota, the Burlington Bay Campground and in Wisconsin, the Kreher RV Park include camping spots for RVs overlooking the lakeshore.
Especially in the high season, be sure to book your campsite before reaching the campground. The best spots are booked fast and the campgrounds can be especially crowded around national holidays.
Beyond These Lake Superior Beaches
Looking for more useful tips on lake beaches?
Check out my guide to the 5 Must-Visit Lake Huron Beaches in Michigan, or read more about my favorite 8 Michigan Beaches.