The waterfalls in Northern California are some of the most beautiful you'll visit in the country.
This area also has over a hundred different hikes readily available for anyone ready for an adventure, but I'm going to focus on the famous Waterfall Loop (that leads you to 11 falls) and 4 other must-see NorCal waterfalls.
Waterfalls in Northern California: The Waterfall Loop
If you're chasing waterfalls around the country and decide to spend time exploring Northern California, you can hit two birds in one stone over a weekend with the Waterfall Loop.
Actually, you're not just hitting two "birds." You're hitting SEVERAL, because the Waterfall Loop can include five to 13 waterfalls (depending on where you start and which stops you deem a must).
Take a look at the map and get a glimpse of the possible trails you can include in your itinerary. (I'll describe each one below)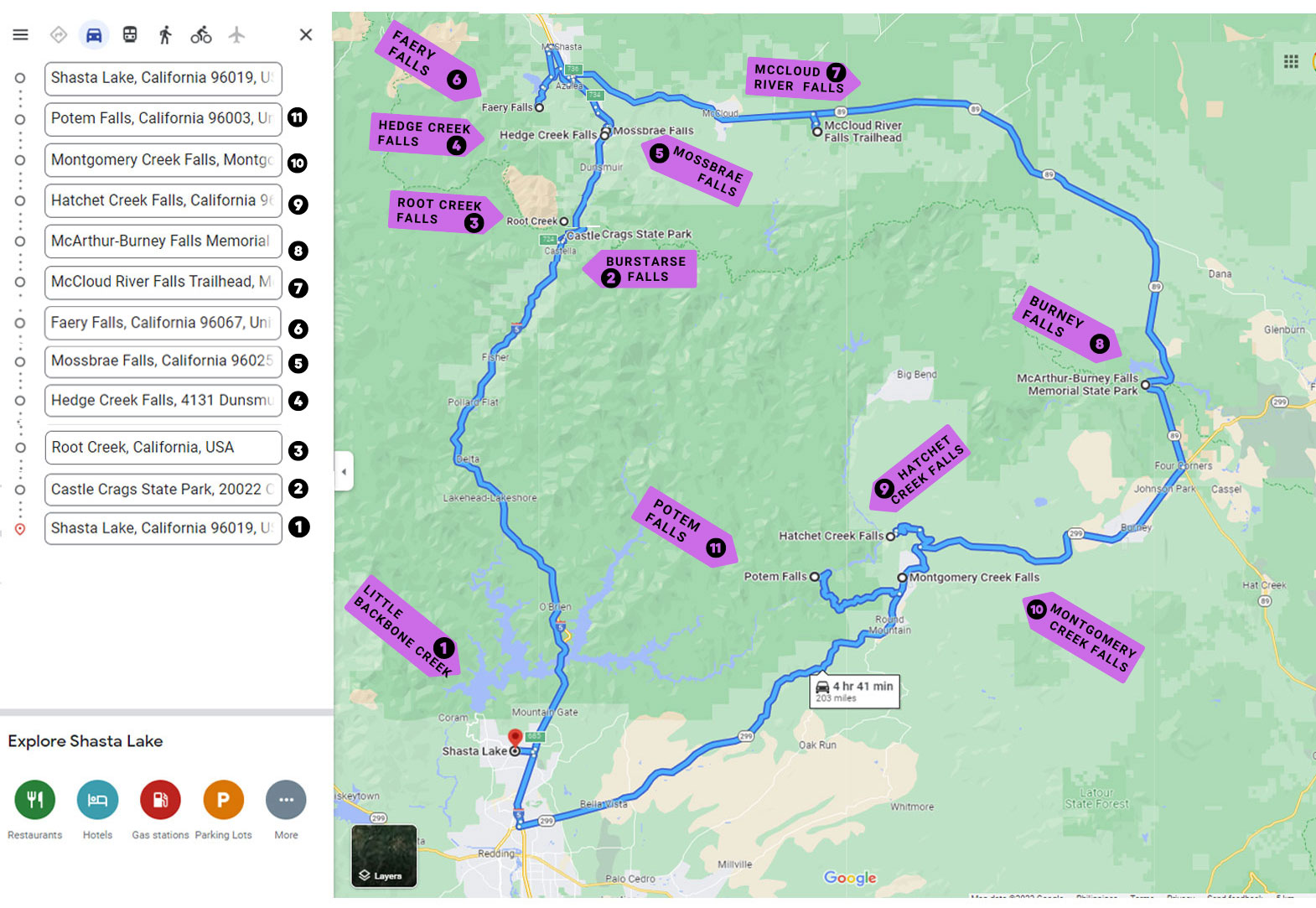 1. Little Backbone Creek natural waterslide (Shasta Lake)
Visitor Info: Strong swimmers and experienced hikers
Many locals are found of this natural waterslide located on McCloud, Shasta Lake.
If your goal is to swim and experience something unique, this tiny waterfall can give you a memorable trip.
To reach the Little Backbone Creek natural waterslide, you need to kayak from Digger Bay or take a scenic 20-minute hike in a canyon. If you're going the hiking option, be ready for some challenge. You'll be passing other ponds and boulders to get to this waterslide.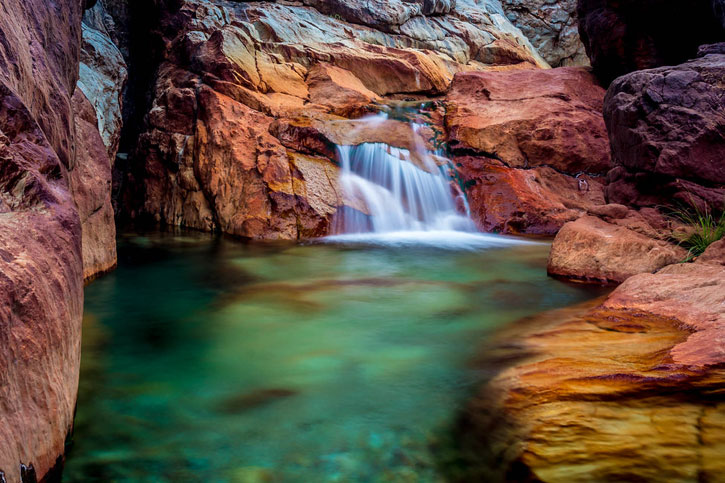 It is, however, pretty breathtaking when you reach it. The pool is swimmable, but the rocks from the falls and around the pool can be slippery so be careful.
2. Burstarse Falls in Castle Crags State Park
Visitor Info: Castle Crags State Park fee per vehicle
If you're visiting Castle Crags State Park, take a pit stop at Burstarse Falls.
Located right off the Pacific Crest Trail, Burstarse Falls is actually made up of two waterfalls:
The Lower Burstarse Falls, a 25-foot waterfall with a small pool at the bottom. This is the more popular one because visitors think this is the entire Burstarse Falls.
Upper Burstarse Falls, a 50-foot cascading waterfall
You can swim on both waterfalls, which is awesome for a hot day.
3. Root Creek Falls
Also located in Castle Crags State Park, Root Creek Falls is a pretty sight after an easy 3.2-mile hike. When you reach the waterfall, not only will you get to see Castle Dome at the back, the water tumbling 500 feet over multiple drops will wow even beginner waterfall chasers.
Parking is accessible at the Vista Point. Follow the marked trail until you reach a less-maintained trail to the left of a creek, then up to a canyon until you see the falls.
Although the trail is easy, the last half mile isn't accessible to wheelchairs.
4. Hedge Creek Falls
Visitor Info: Trailhead is free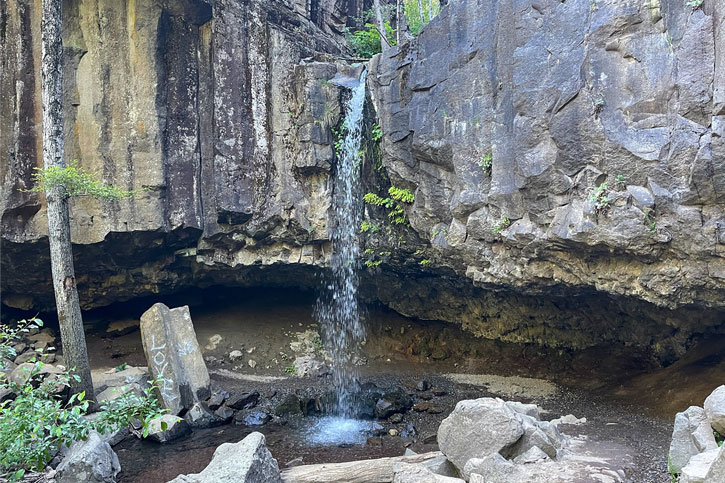 Hedge Creek Falls is small and often underrated, but when waters are overflowing during snowmelt or after rain, this can be a memorable sight with the water cascading directly over a formation of unique rock columns.
It's a pretty interesting waterfall. Look closely under the falls and you'll see a 12-foot-high cave.
Begin the hike from the Dunsmuir Avenue exit on Interstate 5. The trail is scenic with views of the Mount Shasta and Sacramento River.
5. Mossbrae Falls
Visitor Info: Pass train tracks to get to Mossbrae Falls, so be careful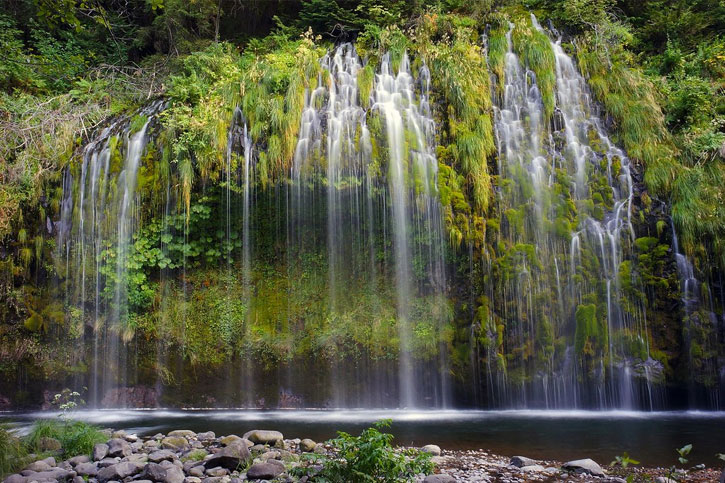 This is one of my favorite waterfalls in Northern California. The picture above is just a sneak peek. It is much more jaw-dropping in person.
Mossbrae Falls is formed when spring water drops to the moss-covered cliff and into the Sacramento River. The water is cold, but definitely swimmable.
To get here, visitors must go on a 0.6-mile round trip walk, including crossing a river with 1 or 2 feet-deep water.
The problem with visiting Mosbrae Falls is that the path to the waterfall requires walking along train tracks, which is in private property. Dunsmuir city officials know this and is working with Mount Shasta Trail Association to give visitors a safer path to Mosbrae Falls.
6. Faery Falls
Visitor Info: Moderately challenging trail, but with a couple of payoffs
The best thing about the hike to Faery Falls is it only takes under 1.5 miles round trip. At low elevation, it's a perfect beginner hike as well.
Unlike other hikes that only have forests and nature as backdrop, the Ney Springs Canyon Trail to this waterfall also has interesting 19th century ruins.
The ruins are what was left from an old resort called Ney Springs Resort (named after John Ney who discovered the area and developed a commercial springs resort in 1887).
From the ruins, you'll hike another 0.25-mile down the trail to reach Faery Falls. If you're visiting during snowmelt, you'll likely see a powerful 40-feet waterfall. In dry season, this could be underwhelming.
This area near Siskiyou Lake in Mount Shasta City is also a favorite spot for rock climbers.
7. McCloud Falls (Lower, Middle & Upper)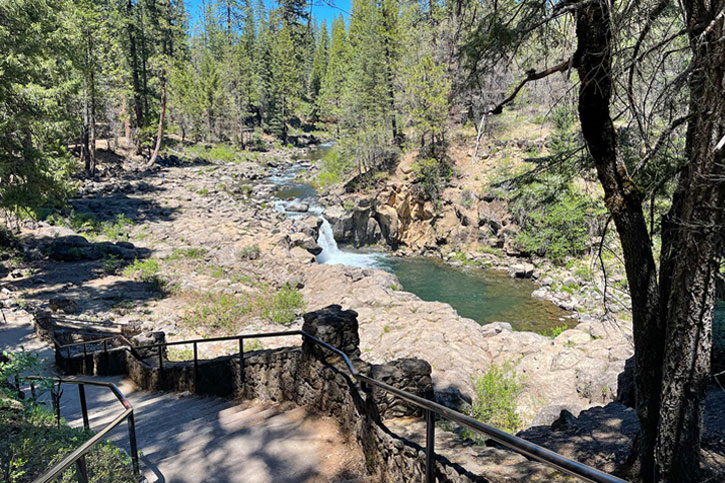 McCloud Falls is probably the most popular waterfalls in the Mount Shasta region.
If you're just visiting, you should know that McCloud Falls is actually made of three parts (lower, middle and upper falls) and you can access each of them differently in an interconnected four-mile loop.
The best time to visit McCloud Falls is summer (for the warm water), spring and fall. The river and waterfall can get icy in winter.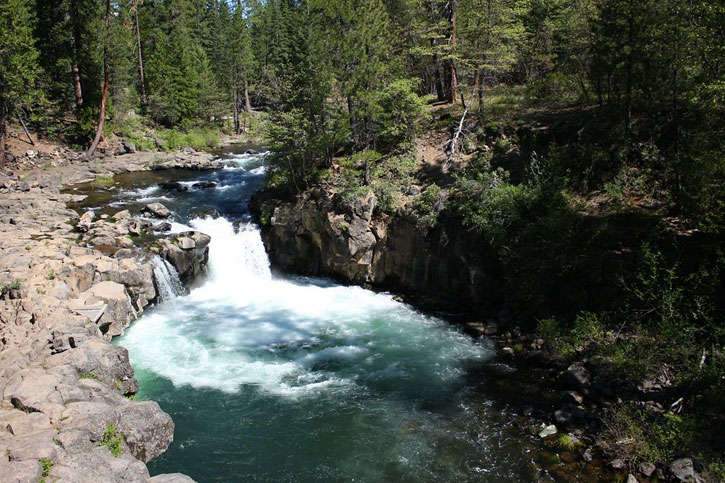 Lower McCloud Falls is the first waterfall on the trail.
It is the smallest of the 3 tiers of waterfalls, but it is the most easiest to access. During the summer, this area can get crowded since it is near the parking lot.
In the past, visitors can easily jump from the 15-foot falls. Now, officials highly discourage jumping into the water due to massive rocks that have recently moved and hiding under the water.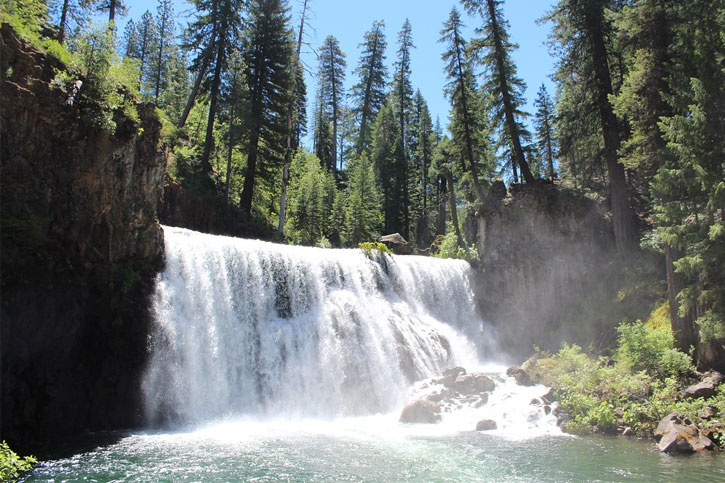 The Middle McCloud Falls is the most popular and most jaw-dropping waterfall out of the three McCloud falls.
This waterfall comes a mile up from lower falls.
Middle McCloud Falls is approximately 120 feet wide and 50 feet tall. It drops a dramatic 44-foot into a pool below, which is open for public swimming.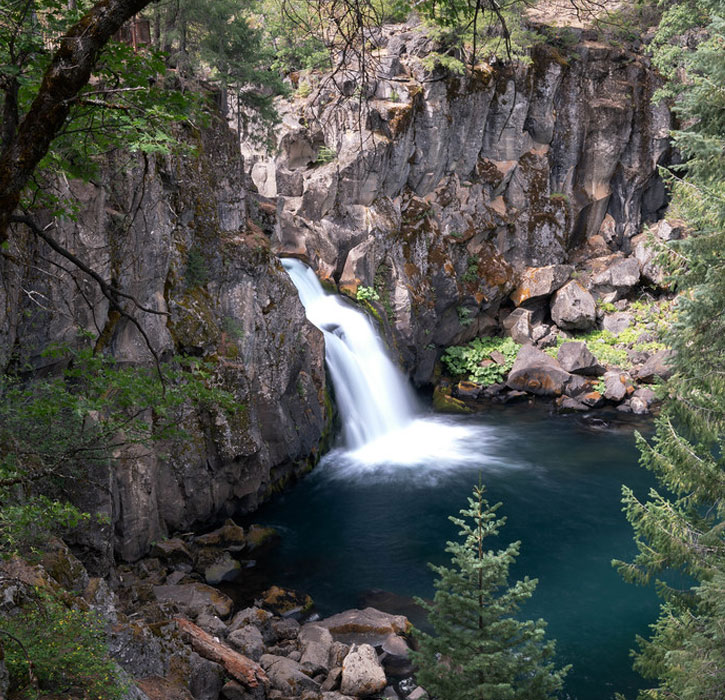 If you're coming from Middle McCloud Falls, you'll pass by Fowler's Campground. Hike another .8-mile up to reach Upper McCloud Falls.
The last tier of the 3-tiered McCloud Falls is only 30-feet tall, but because of your view (from above), it can look more dramatic than the Middle falls.
Upper McCloud Falls isn't swimmable at any time of the year.
8. Burney Falls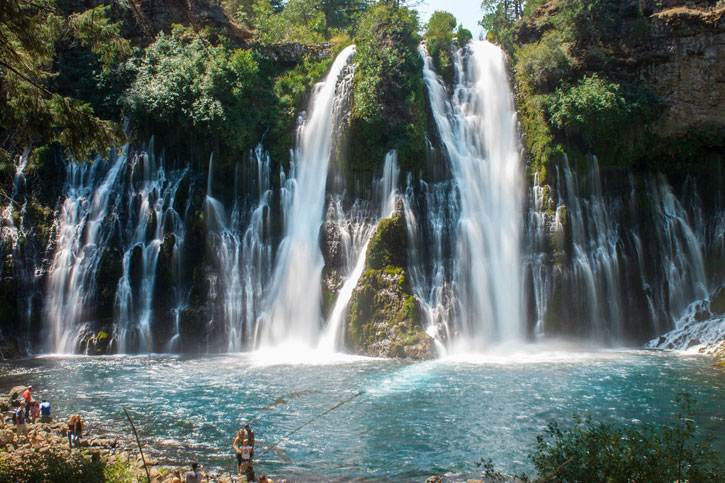 There are many waterfalls in northern California, but this is the only one that Teddy Roosevelt called "the eight wonder of the world".
One look at Burney Falls and you'll know why. It's a pretty unique waterfall. Water doesn't just drop or cascade like typical waterfalls.
Instead, water emerges from numerous holes because Burney Falls is fed by Burney Creek's underground spring. The water then drops 129 feet into a swimmable pool of Lake Britton.
What's great about this waterfall is that it is also super accessible. You'll only need a 1-mile hike roundtrip from the parking lot and you'll reach Burney Falls.
9. Hatchet Creek Falls
Visitor Info: Also known as Lions Slide Falls
Note that it's best not to follow Google Map for this trail. Instead, take the Big Bend Road and stop when you see a dirt parking lot to the right.
The fallen tree on Hatchet Creek Falls isn't new. That big tree, which locals call "hatchet handle", has been there for awhile. Other fallen trees have become a permanent feature of the falls' swimming hole as well.
If you're up for a hike, you can see Hatchet Creek Falls from the top of the falls. Some locals even use the fallen tree as a stairway to climb up the falls and then jump into the water.
10. Montgomery Creek Falls
Visitor Info: One of the few waterfalls in North California that you can view from a walking bridge
Montgomery Creek Falls is the smallest waterfall on this loop, but it has multiple tiers.
However, if you're chasing all of California's waterfalls and want to check off this waterfall from your list, go visit it!
You can see Montgomery Creek Falls from Montgomery Creek Road, just right off the bridge.
If you're planning to kayak, start at the upper tier of the falls going down – it's a favorite spot of advanced kayakers.
11. Potem Falls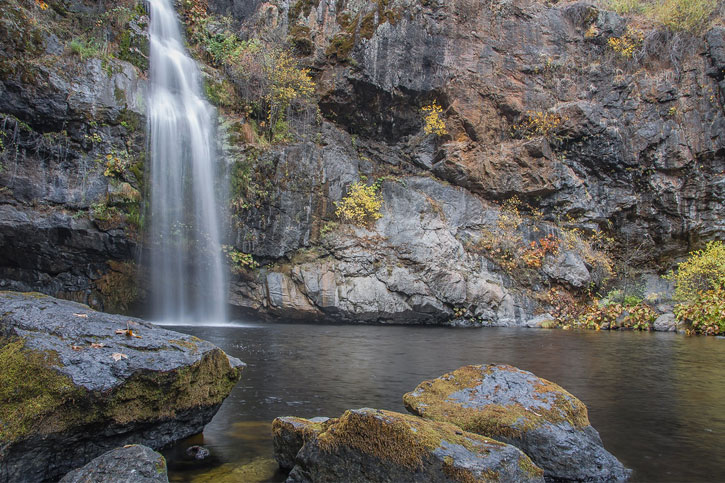 Potem Falls is located near Montgomery Creek, off of Highway 299. It requires a quarter-mile hike one way, which is short but slippery and narrow in some areas.
This waterfall drops 70 feet down into the Pit River arm of Shasta Lake.
Potem Falls is swimmable and family-friendly, which also means it can be crowded in the summer.
Other Waterfalls in Northern California
If you decide to take the waterfall loop above, make sure to check out Mount Shasta Trail Association for detailed trails and up-to-date information.
For those who want to visit some more waterfalls, even if they're not near the Shasta-Cascade, here are FOUR more must-see waterfalls in Northern California.
12. Feather Falls
Visitor Info: Some parts of the trail to Feather Falls was damaged in a 2020 forest fire, check here for up-to-date info and trail details before visiting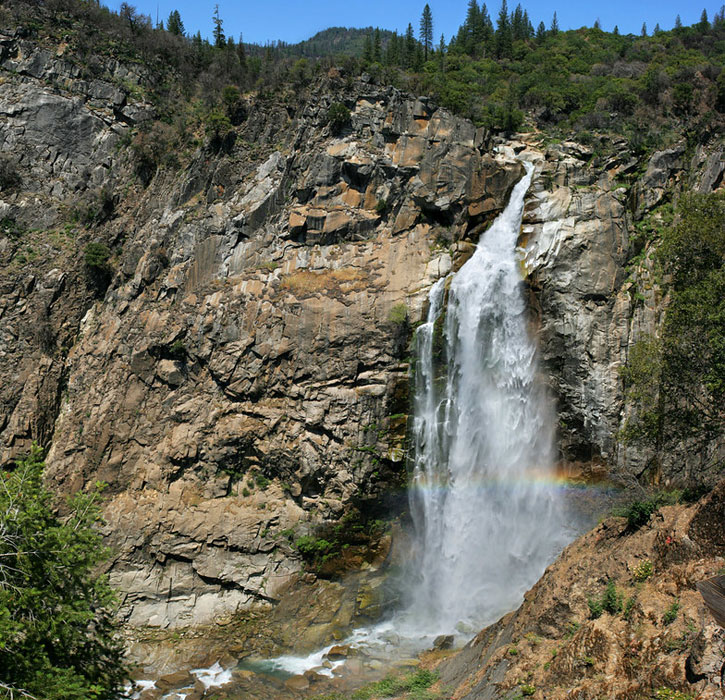 Feather Falls isn't swimmable, but as a waterfall formerly known as "the sixth tallest waterfall in the United States" when it was mistakenly measured at 640 feet, it's definitely a waterfall that can take your breath away.
Even if it has been accurately measured at only 410 feet, Feather Falls is still a worthy stop.
You can find Feather Falls near Lake Oroville in the Plumas National Forest. It takes an 8-mile loop trail to reach Feather Falls.
13. Rainbow Falls
Visitor Info: Park day passes range from $7 to $15 (depending on age)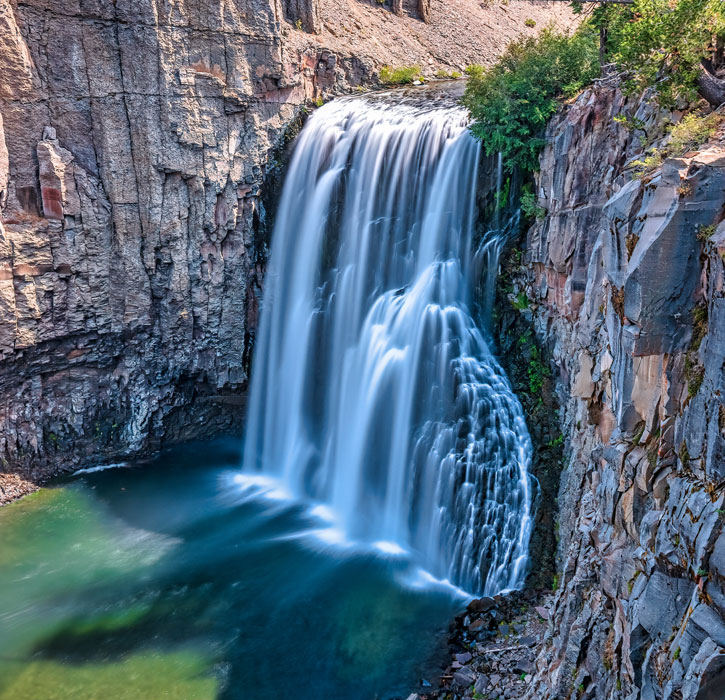 The Rainbow Falls is one of my favorite waterfalls in Northern California.
This waterfall drops 100 feet and as its name suggest, a rainbow or rainbows appear at its base.
Plan your visit anytime from mid-June and mid-October because the shuttle going to the trail closes in winter. From the trailhead, you'll have to hike 4.5 further to reach Rainbow Falls.
14. Mill Creek Falls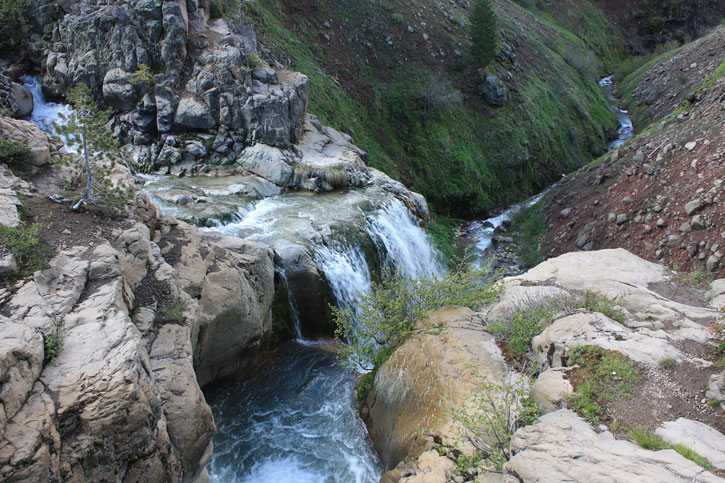 Mill Creek Falls is the tallest waterfall inside Lassen Volcanic National Park.
Ideal for advanced hikers who don't mind getting wet, the hike to Mill Creek Halls require a couple of creek crossings. Not all of the 3.8-mile roundtrip hike involves river-crossings, most of your views are actually forest areas with gorgeous wildflowers.
Once you reach Mill Creek Falls, take in the view as the water drop 75 feet.
15. Alamere Falls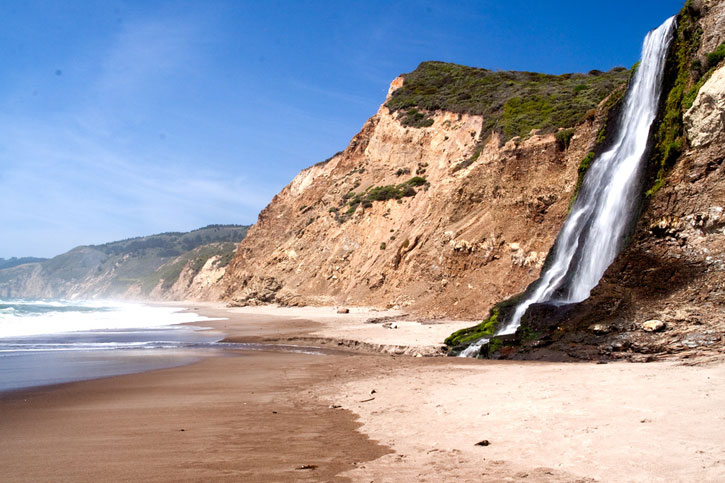 This list introduces you to many waterfalls in Northern California, many of them require hiking through the forest. But the Alamere Falls is the only waterfall that flows directly onto the beach.
It's a pretty cool sight as it drops 40 feet onto the sad!
Alamere Falls is located in Point Reyes National Seashore. The only downside to this waterfall is that it requires a 13.8-mile hike to reach the waterfall, but it's a scenic hike with lush forests and unique ocean views.
If you're interested in chasing another tidefall, the more popular McWay Falls is found along Big Sur coast in Central California.
Finished Chasing Waterfalls in Northern California?
Did you see giant trees during your hike? Were you inspired to see more? Here are two places in California that you can visit next: Redwood National Park vs Sequoia National Park.
I recommend you also check out the 25 hot springs of California and see which ones you can squeeze into your itinerary.
Or would you rather stick to your lane and explore more waterfalls (but in other states)? If this sounds like you, check out my U.S. waterfall series featuring waterfalls found in Maryland, Pennsylvania, Kansas (and other waterfalls near Kansas), West Virginia, Oklahoma, Massachusetts, Tennessee, Vermont, Arizona, Ohio, Oregon, and Yellowstone, among others.
Enjoy!