When you think of waterfalls, Kansas typically isn't the first state that pops into mind.
Kansas, surprisingly, has over 100 waterfalls, many of which require no advanced hiking skills.
If you've already explored the agricultural side of Kansas, every Wizard of Oz stop you could find, a day tour at the Wichita, and is still on the lookout for something awesome to do, get your feet dirty for a nature trail to these five underrated Kansas waterfalls.
5 Waterfalls in Kansas to Visit without Hiking
If you're worried about hiking strenuous trails, these five waterfalls in Kansas are perfect for your beginner's heart.
1. Geary Falls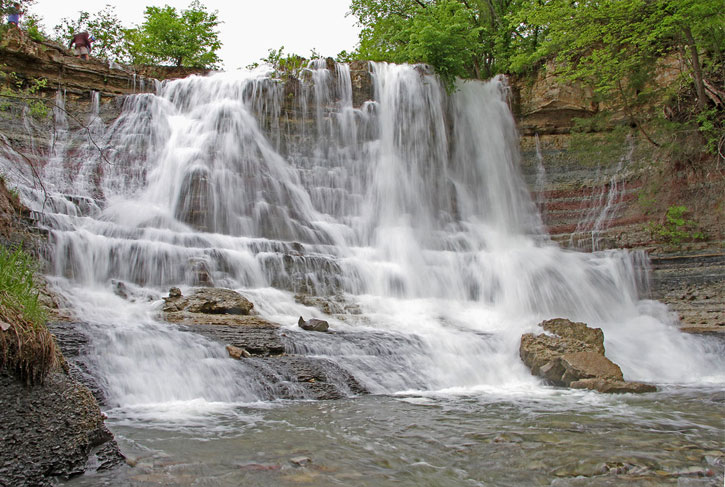 Geary Falls is located in Junction City. The falls are created when water from the Geary State Fishing Lake overflows and pours down from a 35-feet height.
Like many waterfalls in Kansas, Geary Falls is
The actual Geary Falls is about 10 feet high and 20 feet wide. Aside from marveling the water flowing from the falls, Geary Falls also accommodates fishing and swimming. There's even a spot for picnicking nearby.
Like I told you earlier, Geary Falls is just a short hike away from the parking area.
The trail doesn't require professional guides, since it is well-marked and straightforward that even an all-beginner hiking group can manage. The trail leads you to the top of the waterfall.
If you prefer to go further down, the trail heading to the base of the waterfall can be muddy, steep and could have slippery rocks and some tree branches blocking your way down.
Swimming and bringing your dogs (leased) are allowed. If you're visiting in the summer, be wary of snakes near the base of Geary Falls.
2. Cedar Lake Waterfall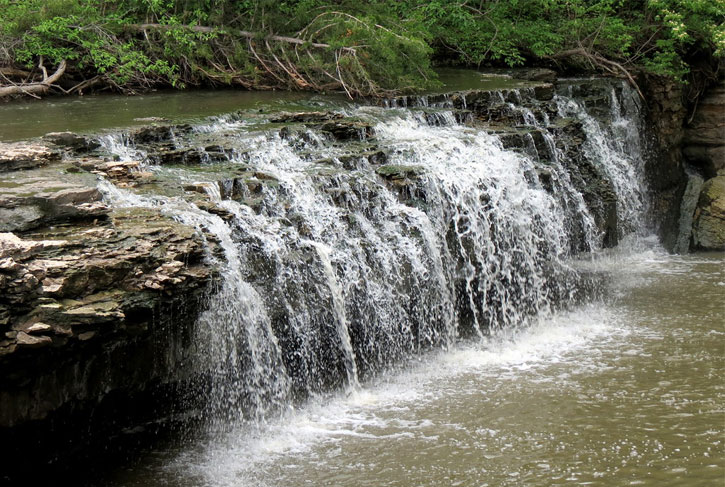 Unofficially named 'Cedar Lake Falls,' this waterfall occurs whenever spillway of the Cedar Lake Dam falls over a natural limestone caprock formation.
Cedar Lake Falls is located below Cedar Lake dam in Olathe, Kansas.
This falls is a partially man-made waterfall, since you can see a structure above the falls that "create" the drop during overflow from Cedar Lake. It is one of those Kansas waterfalls that dry up when the lake isn't full.
To reach the waterfall, you'll need to enter Cedar Lake Park on the access road to the park. There will be a gate (if the park is open, you can drive through it.
If not, you'd have to wait for it to open). Follow the road all the way until you reach the end near the dam. You can park here and find an undeveloped trail nearby.
If the waterfall is flowing, let the sound of the water lead you. If not, just keep walking along the trail until you reach the falls.
You can view Cedar Lake Falls from the cliff above, but if you rather see it from the creek below, you'd have to cross the spillway (this is usually dry and easy to cross). If it's raining hard, you won't be able to cross this as not only is it dangerous, you wouldn't see the trail going to the waterfall.
3. Cowley Falls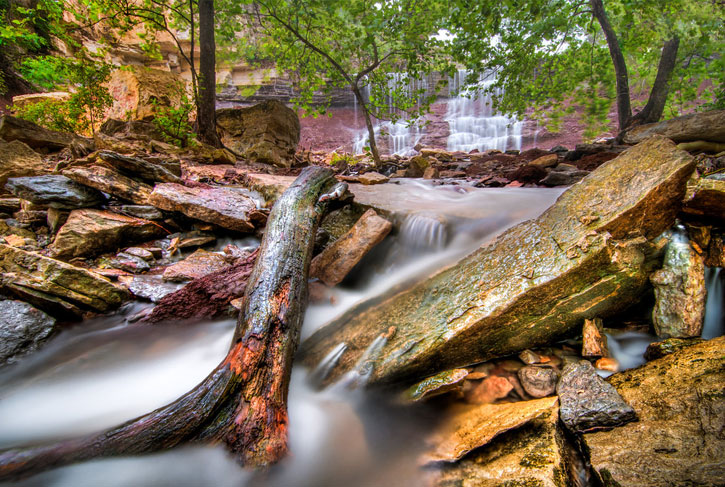 Cowley Falls has been on my bucket list for a long time.
It is one of the most gorgeous waterfalls in Kansas, but I haven't been able to schedule a trip there.
Located at Cowley State Fishing Lake, approximately 9.5 miles away from Dexter, Cowley Falls occurs when overflows from the lake cascades down from a height of 25 feet.
The red rock backdrop looks spectacular when the lake water falls over it. Cowley Falls drops 25 feet to a shallow pool below.
To reach Cowley Falls, go west on US-166 for 4.5 miles until you see a signage going to the west end of Cowley State Fishing Lake.
You can stop by the dirt parking lot above the falls. There won't be a good vantage from here because of all the trees blocking your view of the falls. There are a few spots that would let you see the falls, but be careful since there is only chicken wire fencing as safety to keep you or young kids from falling down the cliff.
You'll have to climb down the big rocks and boulders to reach the bottom of Cowley Falls.
Those who prefer not to access the falls this way could drive down a dirt road (found around 100 feet west of the falls). The downside to this path is that you won't have any paved trails guiding you there.
Either way, prepare your trip with water shoes and watch out for broken pieces of glass when you're at the base of Cowley Falls.
4. Indian Creek Falls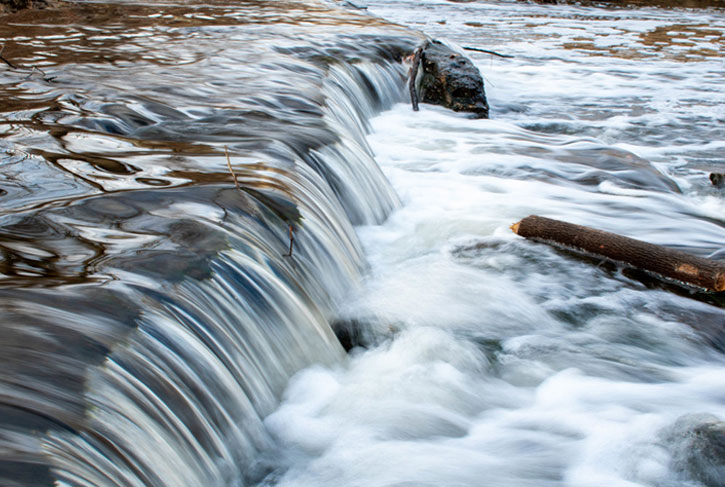 If you're traveling in Southeast Kansas, include this stop to your trip.
There is zero hiking required here (also nothing else to see than the falls), but if you've been craving for nature, the payoff Indian Creek Waterfall gives you is definitely worth it,.
Located south of Fall River, Indian Creek Falls can be accessed by driving near State Line Road in South Kansas City.
You wouldn't know that there's a waterfall nearby once you park in the busy area by Jasper's Restaurant. But from there, you can find the Indian Creek Greenway Trail and follow without any guide.
5. Elk Falls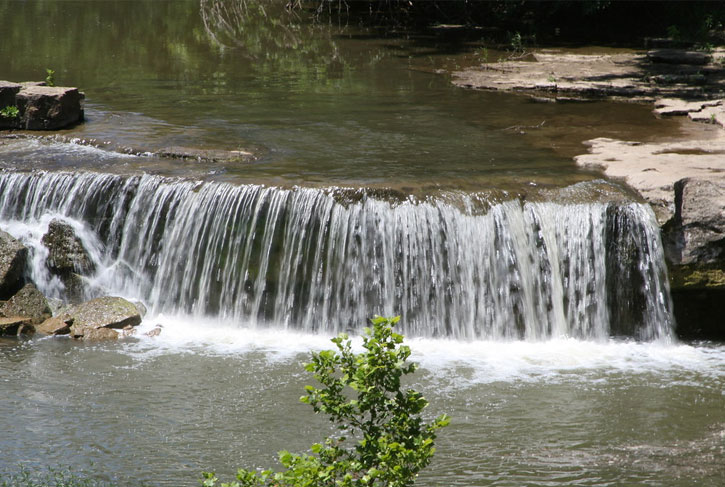 Elk Falls, Kansas is a town located about 35 miles northwest of Independence, Kansas. It is named after "The Falls" (as how locals call it), which attracted many tourists for decades.
Officially, Elk Falls is a 10-feet-high and 100-feet-wide natural waterfall formed by stone outcropping across the river.
Elk Falls used to be the site of a water-powered grist mill built in 1875 for water turbine. It is still standing here to this day.
You can view the falls from the historic 1893 Iron Truss Bridge, but if you wish to get closer, there's a hiking trail down the water's edge.
What's interesting about Elk Falls (the town) is that it is considered the world's largest living ghost town. Less than 150 people call Elk Falls home.
Beyond the Waterfalls in Kansas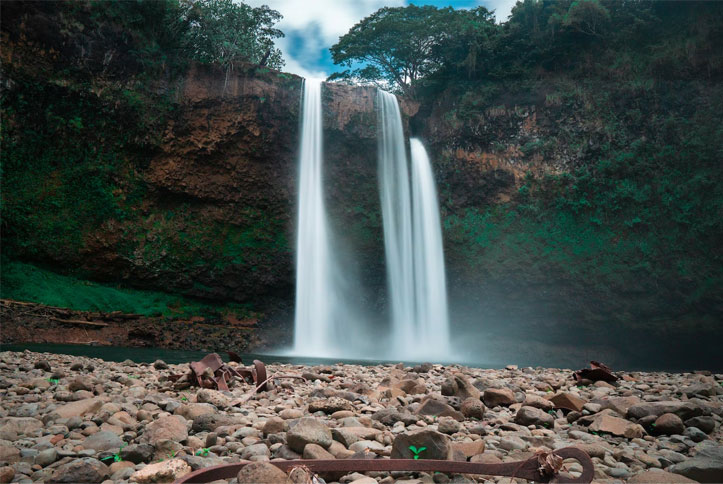 These five waterfalls in Kansas I featured above is just a tiny sample of over 100s of all the wonderful waterfalls I've yet to chase in the state. Many Kansas waterfalls are still unnamed and are not as visited, but I can't wait to explore more of them.
If you enjoyed this post, don't miss the other waterfalls near Kansas. And while you're visiting the Sunflower State, you can also check out:
Those creating a waterfall-chasing bucket list, check out my U.S. waterfall series featuring waterfalls found in Maryland, Pennsylvania, West Virginia, Oklahoma, Massachusetts, Tennessee, Vermont, Arizona, Ohio, Oregon, and Yellowstone, among others.