There are hundreds of beach spots in Florida, but the appeal of Sanibel Island is at the top 3 not only because of its pristine sand and water, but also for its renowned Sanibel Island shells. 
Known as the "Shelling Capital of the World," the banana-shaped Sanibel island is unique to other islands because of its location and how the currents drive all kinds of seashells to the Sanibel sand.
Interestingly, this island runs perpendicular to the state of Florida, which causes the ocean currents to have the beaches primarily flushing water downward and bringing about 250 species of shells from the Caribbean all in one place.
So how do you reach Sanibel Island?
How to Get to Sanibel and Captiva Islands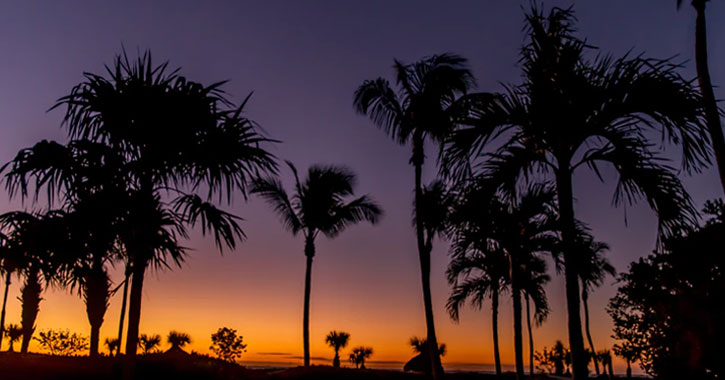 Sanibel and Captiva are both reached by land.  These sister islands offer the same laid-back vibe with stunning beaches, and a good spot for shelling.
If you're coming from overseas or another state, you could fly straight to Southwest Florida International Airport in Fort Myers, which is just 20 miles away from Sanibel Island via Interstate 75.
You can also choose Orlando, Miami or Fort Lauderdale airports, but you'd have to head west on 1-75, while south on 1-75 if you're coming from Tampa International Airport.
Regardless of your starting point, you will hop on Interstate 75, into Florida to get to Sanibel. From here:
Take Exit 131 (Daniels Parkway) and head west. Turn right on Summerlin Road.
Take a left on Summerlin Road.
You're on the right way if you're seeing the Sanibel Island Causeway and Toll Plaza. (You'd have to pay a $6 fee to cross over to the island.
It would take about 20 minutes without traffic to pass through the entire length of Sanibel island to reach the small bridge (Blind Pass) going to Captiva. The good news is there's no more fee to enter Captiva.
Best Shelling Beach on Sanibel Island
The entire Sanibel is public property and since you can walk all the way around the island, there's no reason not to explore every inch of sand and see what kinds of seashells your feet could find. If you don't have the luxury of time or if you're shelling with a young kid, I suggest you pick one of the following beaches:
1. Bowman's Beach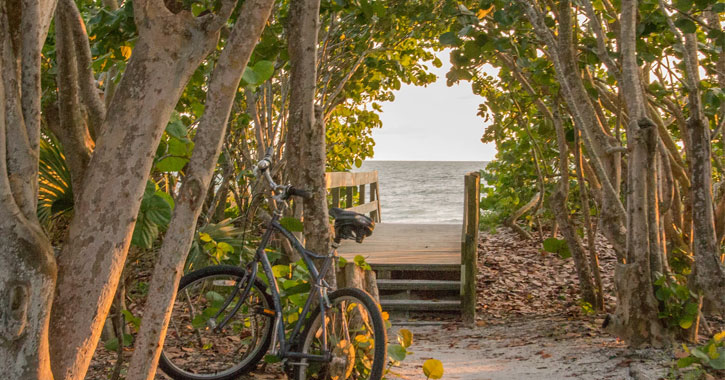 Located at the western end of Sanibel, Bowman's Beach is one of the most popular shelling spots on the island since it's near the main shopping district and yet still secluded enough for you to each your exploration.
To reach Bowman's Beach: Drive through the main shopping district, then turn right, and then left, driving six miles more until you reach the Bowman's Beach sign.
Heads up! There is a parking fee, but you won't have trouble parking since there is ample space. You do have to prepare for the 5-minute hike across a bridge and over the dunes to reach the actual beach. If you're going here with a ton of stuff, a beach cart may help.
Nearby, there are also two Causeway Islands' park beaches called "A" and "B" based on how they appear from For Myers to Sanibel Island. They're small but offer 10 acres of sandy beaches you can access from the road.
The water here is calm, so swimming and fishing are possible. You have amenities on Island B but none on Island A.
2. Blind Pass Beach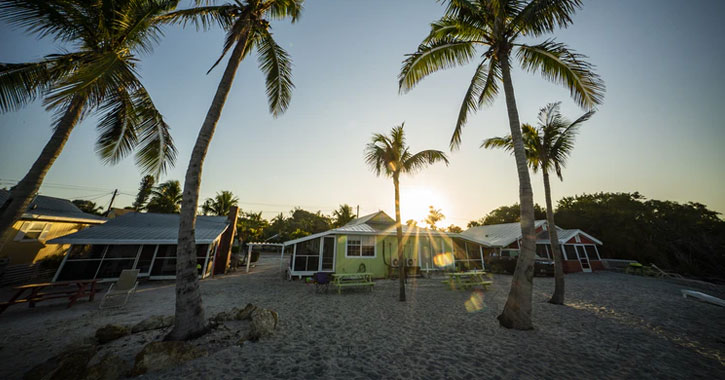 Located by the western end of Sanibel, Blind Pass Beach is named as such because it runs along the channel between Sanibel and Captiva Island.
To reach Blind Pass Beach: It's actually the most distinctive clue that you're leaving Sanibel to Captiva Island. A 1926 hurricane separated these sister islands and created this new channel. You can reach Blind Pass Beach just past Bowman's Beach. Parking is available on both sides of the bridge, but it is better to go shelling on the bridge's Sanibel side.
Heads up! The water here is not safe from swimming due to strong currents, but it is perfect for shelling. Plus, there are no amenities. You would have to walk a bit farther to Sanibel Captiva Road to reach small restaurants and a local fishing shop.
Turner Beach (located just across Blind Pass Beach) is also a good spot for shelling. Just like Blind Pass, Turner Beach receives strong currents and is not ideal for swimming.
3. Lighthouse Beach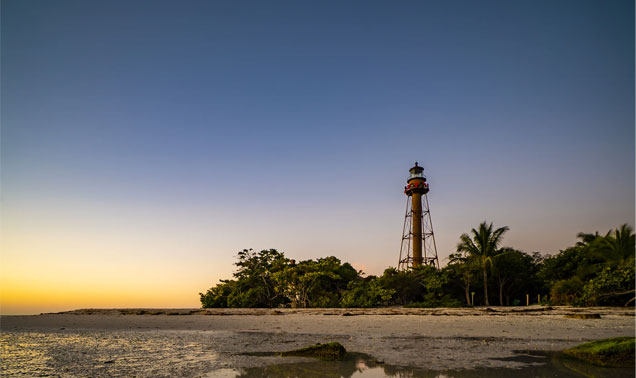 The beach near Sanibel's Lighthouse is at the eastern end of the island, extending around the island with views of the Gulf of Mexico, Ft. Myers Beach, and Naples beaches. As the closest to the mainland, Lighthouse beach can be pretty crowded. Good thing there are many places to explore here – there's even a fishing pier north of the Lighthouse if you want to do something else after shelling.
To reach Lighthouse Beach: This beach is the easiest to reach since it will welcome you to Sanibel right after you've crossed the causeway. You can park at the northern side (if you're planning to go fishing by the pier first) or on the southern side (if your goal is to chill on the beach).
Heads up! The location of this beach allows for many shells to wash up on the sand, but since it is a pretty popular beach, the shells are often picked up quickly. You can still find a lot of seashells here, but don't get your hopes up finding rare varieties.
Kinds of Sanibel Island Shells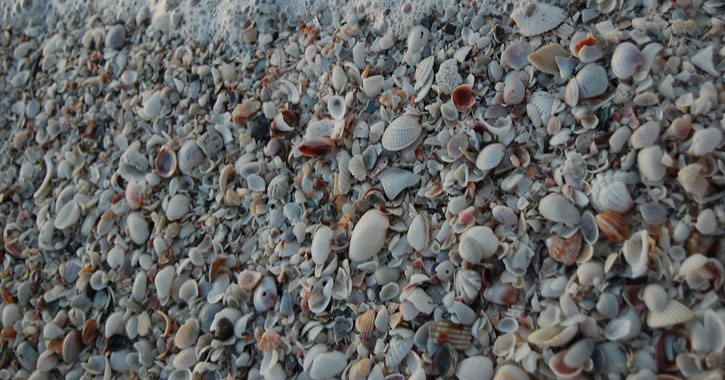 It is impossible to go home empty-handed if you're coming for Sanibel Island shells.
Common shell varieties found in the area include alphabet cone, horn snail, scallops, lace murex, lightning whelk, tulip shells, lettered olive shells (they're olive-shaped), cockle shells, top snail, risso, vitinella, periwinkle, limpet shells, Cerith shell, Transverse and Ponderous Ark.
You can see many types of conch shells on Sanibel, but the most common ones are Florida fighting conch shells, horse conch and kings' crown conch.
My favorite is the coquina shell, which is similar in appearance to the scallop shells but with streaks of color that resemble wings.
What are the rarest Sanibel Island shells?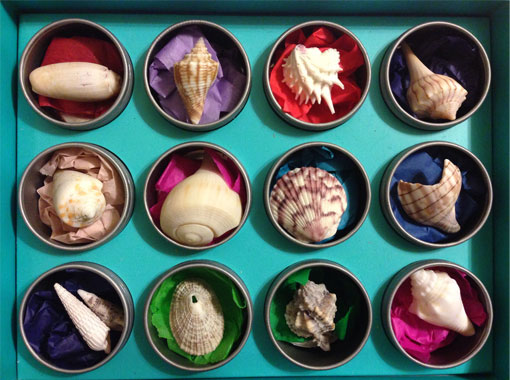 If you're pro at shelling, you might know the following rare Sanibel Island shells:
Lion's Paw Scallop Shell – They're the shape of ordinary scallop shells, but in dramatic reddish-orange color.
Junonia Shell – This look like Olive shells, but but distinct brown dots all over.
Staircase Shell – ALso known as ladder shells or Wentletraps Shells, this spiral staircase shell is a rare but top find (if you're lucky).
Cowrie shells – They're oval-shaped shells with different designs and a shiny top layer. These are often used in jewelry, which is why you'd have a lot of competition hunting for these.
FAQs: Sanibel Island Shells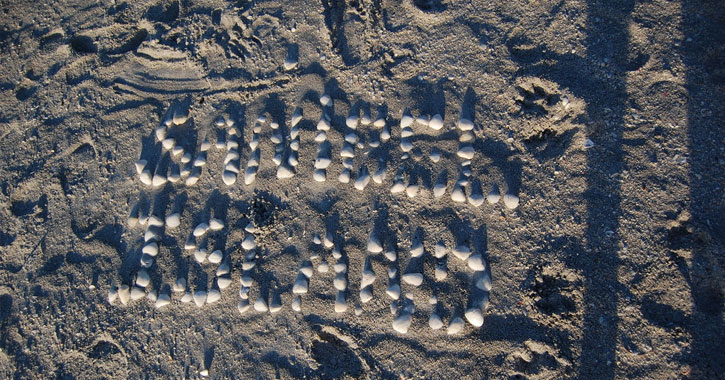 What is the best month for shelling on Sanibel Island?
If your goal is to go shelling on Sanibel Island, visit between December through April. It's the coldest time in Florida, so don't expect to swim around this time.
If you plan to dive or snorkel your way to find Sanibel Island shells, check weather conditions and make sure it isn't low tide when you go.
Can you take shells from Sanibel Island home?
Generally speaking, live shells are not allowed to be taken home. If the shell you find has a hardcover over the opening, the shell still has its owner-occupant there. Don't force-evict them. Instead, bring the shell back to the ocean.
Starfish and sanddollars are also considered live shells or live animals. Florida doesn't allow them to get taken to its natural ecosystem (and there's a huge fine) if you're caught taking them from Sanibel Islands.
Are You Looking for Similar Adventures like this?
If you're interested in other similar adventures, check out my post on the best places to find sea glass in the US.
For those who are continuing their trip around the state, don't miss this Florida Keys road trip post.
If you're just looking for awesome beaches in the country, check out the beaches of North Carolina, South Carolina, and Connecticut.
I also wrote a US Beach Hike post specifically for beach and hiking fans.