Maryland may be known for its blue crabs, pit beef sandwiches, and the Chesapeake Bay, but did you know that there are more than 50 caves in Maryland?
It's not as many as those in other states, but Maryland's caves have ecological as well as cultural significance. They've served as shelters for prehistoric populations and sources of minerals for trade.
Here is a selection of notable caves in Maryland worth checking out.
The Best Caves in Maryland
Known as: Maryland's only commercial cave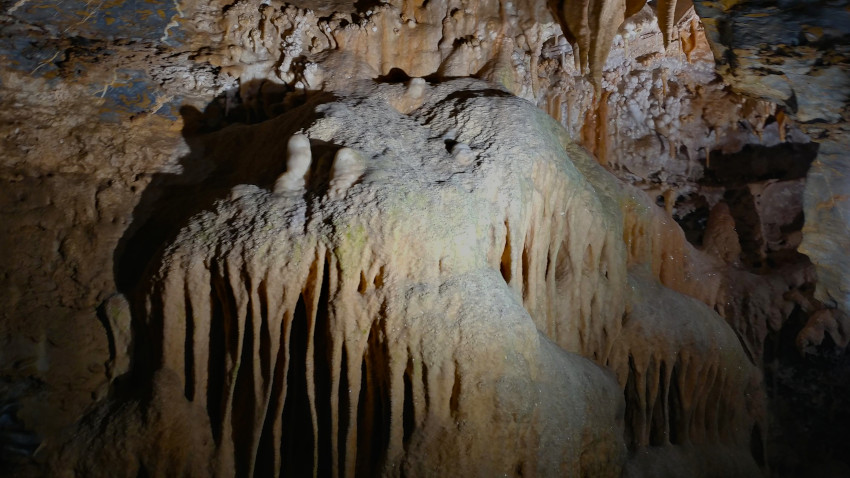 The cave was discovered in 1920 while quarrying for limestone. The crew kept losing drill bits in holes. When they blasted the holes with dynamite, an entrance to a deep hole was formed.
Fortunately for visitors, the caves are almost entirely horizontal, with a number of narrow passages and others that are relatively low.
The Crystal Grottoes Cavern has more formations per square foot than any other cave known to man. You're going to find yourself amidst stalactites, stalagmites, flowstone, and columns, typically white or buff in color.
The cave is open from Friday to Sunday, with guided, narrated cave tours starting every 30 minutes. No reservations are required for the tours, they're first-come, first-serve.
Other interesting places to visit in the area include the Boonsborough Museum of History, Washington Monument State Park, and Antietam National Battlefield.
Known for: The numerous fossils dug up from the cave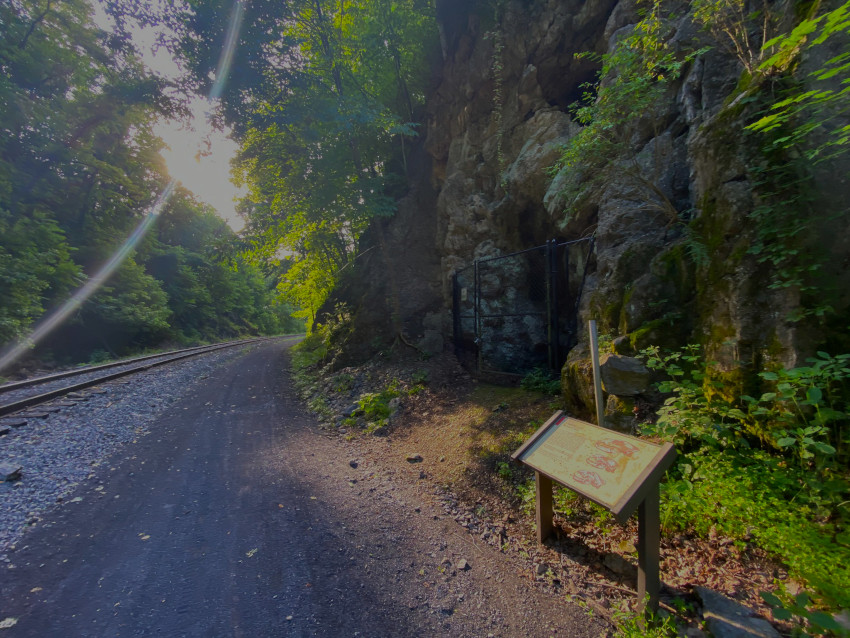 Cumberland Bone Cave was discovered in 1912 when workers excavating the western slope of Wills Mountain for a railway broke into the cave and fossilized bones were among the rocks that came loose.
Paleontologists from the Smithsonian Institution soon excavated the cave, eventually finding fossils of mammals both non-extinct and extinct, many dating from 200,000 years ago.
A number of skeletons dug up from this cave are now displayed in the Smithsonian National Museum of Natural History in Washington, D.C.
It's not currently open to the public to explore, but travelers along the Great Allegheny Passage Trail can stop on the historical marker and peer in the cave.
Known as: The most historically significant of the caves along the Chesapeake & Ohio Canal (C&O Canal)
The C&O Canal is a 184-mile canal extending from Washington, DC to Cumberland, Maryland, running parallel to the Potomac River.
As the Potomac River flowed in this area for millions of years, various rock formations were revealed and exposed, and among them is the historic Killiansburg Cave.
During the Battle of Antietam in 1862, the bloodiest battle of the Civil War, several residents of Sharpsburg took shelter in this cave as artillery whizzed by their once quiet little town.
Killiansburg Cave is on a steep hill located right on the border between North and South, around two miles west of Sharpsburg. From here, you can also see Snyder's Landing Caves.
These two huge rock shelters are located at Mile Marker 75.7 of the C&O Canal and are accessible by foot or by bike from the Ferry Hill Visitor Center.
4. Howell Caves, Williamsport
Known as: A unique cave along the C&O Canal
Still along the C&O Canal, at Mile Marker 88.1, McMahon's Mill (formerly known by various names Shanks Mill, Charles Mill, Avis Mill, Shaffer's Old Flouring Mill, Galloways Mill, and Cedar Grove Mill) has been around since 1778.
The mill produced flour, feed, and plaster when it was operational, and the nearby falls powered its steel wheels, which in turn produced electricity.
West of this historic mill are limestone cliffs with no less than five openings, collectively known as Howell Caves.
The cave entrance sits under a large overhang in the cliff. Just getting inside involves a belly crawl for 12 feet to a room around 10 feet high, and another belly crawl gets you to a bigger room.
You may not be able to do your explorations in the spring or early summer, as a stream flowing inside the entrance floods it with muddy water, making belly crawls near impossible.
An alternative entrance to the cave system is called Little Howell Cave, which is around 200 yards upriver from the Howell Cave entrance. The 5 foot by 3 foot entrance is located 20 feet above the canal and you'll have to climb the rock face to reach it.
Known as: Part of one of the largest cave complexes in Maryland
This one isn't for beginners.
Devil's Hole is one mile north of Twiggtown, in the Keyser Member of the Helderberg limestone.
To access the cave, one must make their way down a large sinkhole into a narrow 12-foot shaft connecting to two small rooms at the bottom, leading to even more passages to even more caves.
As you can imagine, you'll need to have vertical climbing, chimneying, crawling, and squeezing skills to explore this cave.
Stalactites, draperies, and flowstones are rare inside the cave, but when you spot them, they're quite a sight.
If it's an outdoorsy kind of day, head over to the Rocky Gap State Park, 10 miles north from Twiggtown.
Known for: Its unusually high clay content
Twiggtown is a hamlet in Allegany County that's mostly still owned by the descendants of Robert Twigg, who bought this land in 1768 (then known as Sink Hole Bottom).
In 1898, a descendant of Robert Twigg opened what is now Twiggs Cave. The entrance of the cave is around 1500 feet south of the Twigg property, on the eastern slope of a limestone ridge of the Helderberg Formation.
It's not for the claustrophobic; the opening is a mere 30 inches in diameter, which drops down a vertical shaft into the very heart of the cave.
The floor is covered in silt up to four feet deep in places. Interestingly, the walls and ceilings of Twiggs Cave are covered with a thick deposit of clay, which is in stark contrast to other caves in Maryland, whose walls are bare fluted limestone.
There's so much clay in the first room at the base of the entrance that they're described as mud glaciers. This clay enters the cave through two chimney-like passages in the south end of the room.
Beyond this initial room, a long passageway leads to a row of six pits leading to a lower tunnel. The largest of these pits is the "King's Chair," through which the lower tunnel can be accessed.
This lower tunnel features a stream, shallow pools, and a 50-foot deep waterfall.
7. Tanglefoot Cave, Allegany County
Known as: The longest cave in Maryland
Tanglewood Cave is the most recently discovered Maryland cave on this list and is still being explored to this day, so information on the cave is scarce.
Nevertheless, the little information we know about the cave points to it being the longest cave in Maryland and also possibly the deepest cave in the northeastern US.
This fact becomes even more amazing when we consider that this cave was discovered when a group of determined cavers enlarged a blowhole around the size of a fist.
The blowhole was in the northern part of Allegany County and since then, around two miles of cave have been surveyed with a vertical depth of 500 feet as of November 2022.
Remarkably, surveying is still ongoing; Tanglewood cave may go longer and deeper than anyone can ever imagine.
Navigating the cave is definitely a challenge, even for seasoned cavers. However, Tanglewood does offer some hidden delights, such as wide rooms, stream canyons, waterfalls, plunge pools, and lovely stalactites and stalagmites.
If you're ready to take on the challenge, get in touch with the Western Maryland Grotto through their Facebook group and tell them you're interested.
Known as: The largest bat hibernaculum in the state
Crabtree Cave is found west of the Savage River Dam along vertical joints of the Greenbrier Limestone.
For almost a century, this was known as the largest cave in Maryland until the discovery of the even bigger Tanglefoot Cave.
Not only is Crabtree Cave huge, it's also difficult to navigate. Just getting in involves a 10-foot drop along a fissure just 2 feet wide. Serious chimneying, crawling, and squeezing skills are a must.
The isolation from outside weather and light of Crabtree Cave drove the evolution of the animals that call the cave home. For instance, the aquatic invertebrates Franz's cave amphipod and Franz's cave isopod lost their pigments and sight.
However, the more notable residents of Crabtree Cave are its bats, including the eastern pipistrel, little brown, big brown, northern long-eared, and Keen's bats.
In fact, The Nature Conservancy is managing and protecting the cave to help preserve the bat population.
Currently, this cave is closed to visitors because of the risk of spreading white-nose syndrome, a disease caused by the fungus Pseudogymnoascus destructans. Infected bats show a tell-tale powdery white growth on their noses.
Known as: The oldest known cave in Garrett County
John Friend's Cave has been known since 1751, as evidenced by graffiti inside the cave.
Its entrance is in a shallow sink inside a wooded area around 800 feet north of Ginseng Run Road. Near the center of this shallow sink, a small 4 by 8 foot opening leads to a 15-foot vertical drop.
The inside features plenty of streams and mini-waterfalls aside from the usual cave features.
Similar to Crabtree Cave, John Friend's Cave is found in Greenbrier Limestone, but its entrance is east of Sang Run.
And like Crabtree Cave, John Friend's Cave is home to various rare creatures that have learned to adapt to their dark environment and are protected by The Nature Conservancy.
10. Camel's Den Cave, Patapsco Valley State Park, Ellicott City
Known as: The only cave in Howard County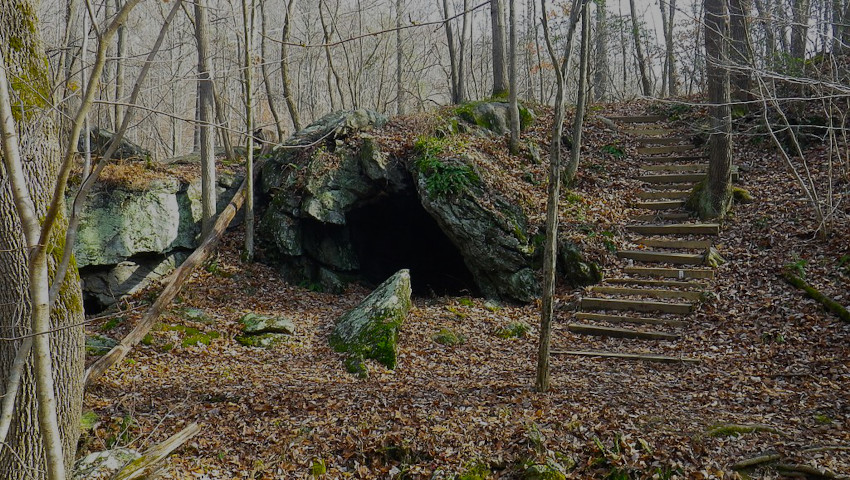 Patapsco Valley State Park is Maryland's first and largest state park, encompassing over 14,000 acres in four counties.
Admittedly, the Thomas Viaduct and Cascade Falls within the state park are the more popular attractions of the state park, but it's home to some hidden gems, including the only cave in Howard County.
The area of the park known as the Daniels Area was once the site of a ghost town called Daniels and the most undeveloped section of the state park.
Camel's Den Cave is a shallow rock shelter carved from Cockeysville marble, a type of highly crystallized sedimentary rock.
It has a natural fracture at the back, which lets smoke from fires built inside the cave get out into the open air, making it attractive to early settlers and hunters in the area as an overnight shelter in the Patapsco River Valley.
Nowadays, its mysterious appearance is attractive to curious children playing in the park while their older siblings and parents fished in the tranquil water nearby, courtesy of the Daniels Dam.
To get to the cave, find the Daniels Road Trailhead, walk for around 10 minutes until you get to a bridge over a tiny creek. Cross the bridge and find the cave.
Tips When Going Spelunking in Maryland
Excited to explore these caves in Maryland? Here are some tips so you can enjoy your adventure.
Join a spelunking club.
Most of the caves in Maryland are in Washington, Allegany, and Garett Counties. As I mentioned above, only Crystal Grottoes is currently open to the public; to explore the other caves, you'll need to be a member of a spelunking club, known as a grotto.
These grottos often work with the landowners of private property where Maryland caves were located. They help manage the caves, organize field trips with fellow spelunkers, and teach beginners the art of spelunking.
The National Speleological Society is a great resource for grottoes you can join.
Some recommendations include the Baltimore Grotto, Frederick Grotto, or the District of Columbia Grotto.
Never enter a cave alone.
Caves are inherently dangerous environments, especially the less-explored ones. Unexpected hazards may present themselves at any time.
Always travel with a caving group, which should have a minimum of four people and a maximum of eight.
If someone gets injured or stuck, at least one person can stay with the person needing help, while at least two persons get out of the cave and call for help.
Plan ahead.
Read all about the cave you're planning to visit beforehand.
Know the right equipment to take with you when visiting a particular cave and the right clothing to wear.
Let someone know where you're at and who your caving group is. Instruct them to call the local Sherriff's Office or the Forest Service if your group isn't back by a predetermined time.
If the weather looks like rain, cancel the trip. Caves can often flood without warning.
Always leave the cave as you found it.
Caves are natural wonders that should be preserved for future generations.
Never touch fragile stalactites and stalagmites; you can destroy millions-old structures with one touch.
Keep in mind that these caves are home to many creatures; don't disturb or harm them in any way.
Learn how to decontaminate after visiting a cave where bats live.
As mentioned above, white-nose syndrome is wreaking havoc on the bat population in North America.
When you visit a cave where white-nose syndrome has been reported, the spores can land on your clothing, footwear, and gear, where it can remain dormant but can be reactivated.
Visiting a white-nose-free cave without decontaminating your spelunking outfit and gear can spread the disease and wreak further havoc on bats.
Study the National White-Nose Syndrome Decontamination Protocol to learn how to correctly get rid of these contaminants, and make sure to do this after every cave visit.
Explore These Caves in Maryland Soon!
Maryland isn't usually the first choice for cave exploration, but hopefully, you've learned they're interesting and valuable in their own right.
If you're curious about caves in other states, here are our picks for the best caves in the US, as well as Colorado, Utah, Arkansas, Indiana, and Washington.