Grand Teton National Park covers around 480 square miles of wilderness in northwestern Wyoming, including the major peaks of Teton Range, the Jackson Hole valley, as well as several lakes and rivers.
From its snow-capped mountains to the mighty rivers below, Grand Teton National Park offers picturesque sights and various activities that people of all ages can enjoy.
If you're planning to visit this national park, here are some suggestions for things to do in Grand Teton.
Things To Do In Grand Teton
Grand Teton National Park features mountains, valleys, lakes, and rivers. Accordingly, you can expect plenty of outdoor activities to be available all-year-round.
Here are the top 5 things to do in Grand Teton:
1. Take a Scenic Drive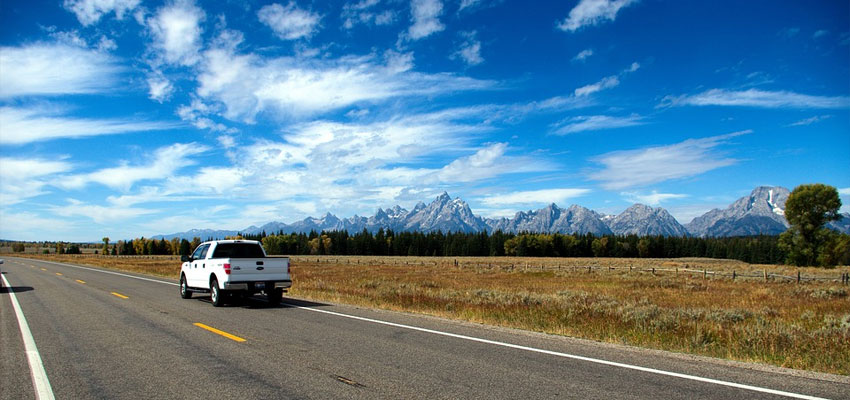 Going on a road trip may sound boring, but with the spectacular scenery and the picturesque pit stops, you can expect to have a fairly nice time driving around in Grand Teton.
Grand Teton and Yellowstone
Grand Teton is only one of two national parks in Wyoming; Yellowstone National Park is the second one.
See these two national parks in a single trip by taking US-89 N from Jackson Hole to Moran, then northwest to Jackson Lake, continuing north through the John D. Rockefeller, Jr. Memorial Parkway to the south entrance of Yellowstone.
Assuming you'll spend 2 days in each national park and depending on the stops you make on the journey, you can complete this road trip between 5 to 7 days.
Resource: Jackson, Wyoming to Gardiner, Montana
The Grand Teton Loop
This is around a 44-mile drive, so you can start at any point in the loop, but it's advisable to start from Moose, Wyoming.
Travel north along US-89 up to Jackson Lake, then take Teton Park Road back to Moose, Wyoming.
Resource: Grand Teton Loop
2. Go Horseback Riding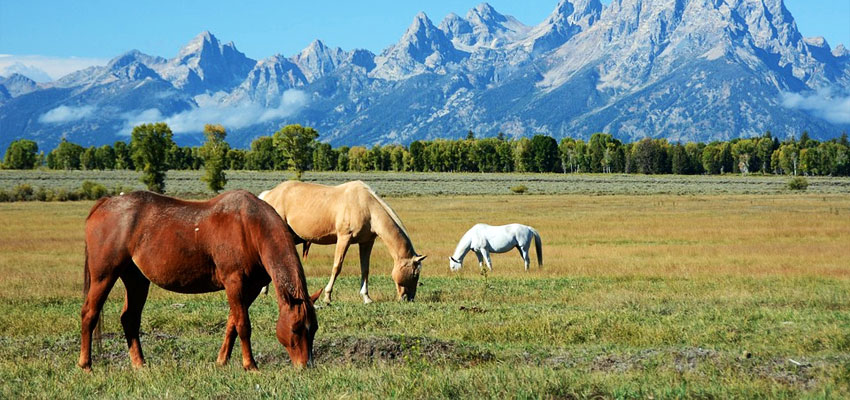 Local wranglers can take you horseback riding through trails to maximize your view of Grand Teton without getting tired from all the hiking.
Minimum heights and ages vary according to the type of horses the tour company is offering.
You can pick and choose from 1- to 2-hour horseback rides to half-day or even multi-day rides.
Resource: Grand Teton Horseback Riding
3. Take a Hike
If you love to hike, you'll love Grand Teton National Park.
With so many trails to choose from, you're sure to find a route that suits your skill level as well as a route with the best views.
You can get a downloadable hiking guide from the National Park Service and use it as a reference when you go on a hiking trip.
Here are a few hiking trails with the difficulties indicated.
Easy Hike: String Lake Loop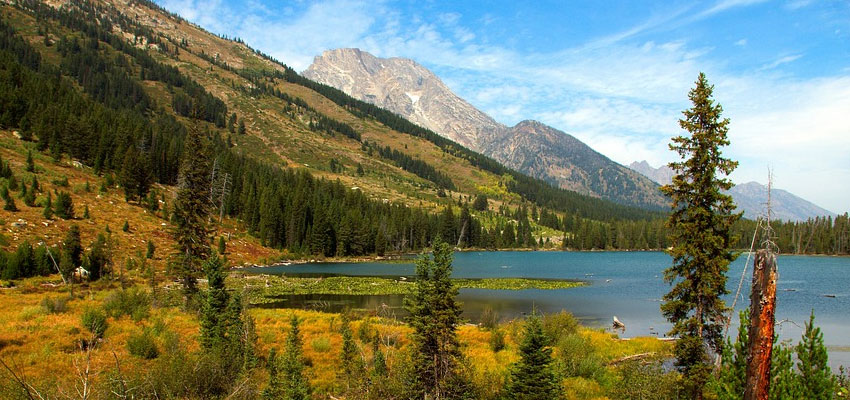 The String Lake Loop trail circles around String Lake with views of the Cathedral Group (Teewinot Mountain, Grand Teton, and Mount Owen), Mount Moran, and Paintbrush Canyon.
This trail begins from the String Lake Trailhead just north of Jenny Lake.
You can walk in either direction because it's a loop, but we recommend starting in the morning and going in a counterclockwise direction so you can have the best views of the mountains above String Lake.
Depending on your pace, you can expect to finish this hike in 2 to 3 hours.
Resource: String Lake Loop
Moderate Hike: Hidden Falls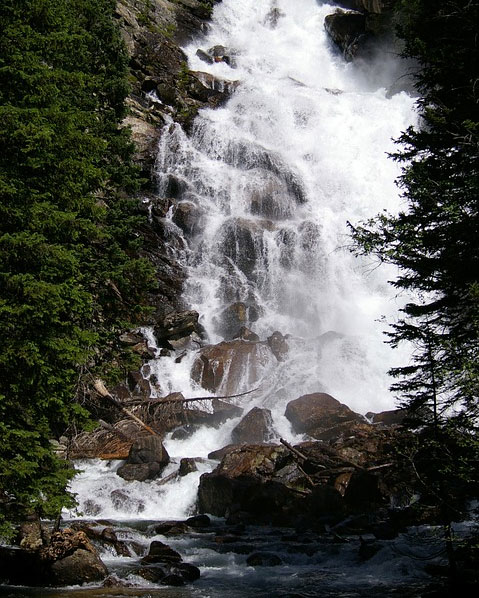 Hiking to Hidden Falls allows for spectacular views of Jenny Lake and Jackson Hole, as well as a 100ft cascading waterfall.
You can begin your hike on the Jenny Lake Trailhead. From there, you can either take the Jenny Lake Trail around the south end of the lake or take the shuttle boat across the lake to the Cascade Canyon Trailhead, which cuts 2.4 miles of walking both ways.
When you get to the boat dock either way, walking turns into climbing and eventually you'll get to the viewing area of the Hidden Falls.
From here you can take a side hike to Inspiration Point if you want to, or start looping back to Jenny Lake.
Depending on your pace and on whether you take the shuttle to cross the lake, you can expect to finish this hike in 1 to 3 hours.
Resource: Hidden Falls
Difficult Hike: Death Canyon Patrol Cabin Trail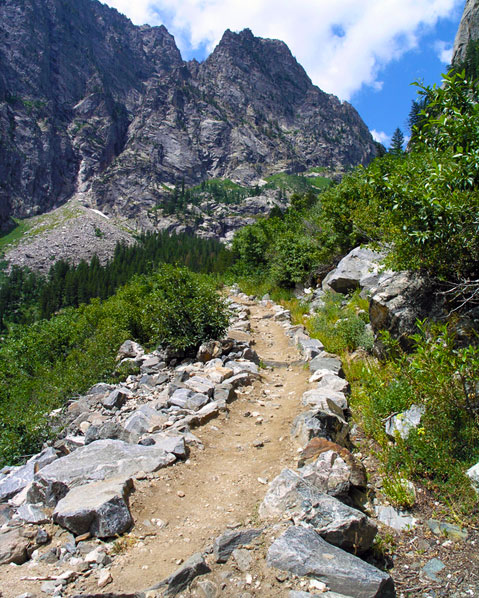 The Death Canyon Trail is strenuous but incredibly fulfilling, rewarding you with views of Phelps Lake, Jackson Hole, and Death Canyon.
This unfortunately named trail begins from the Death Canyon Trailhead and technically ends at the Death Canyon Patrol Cabin, past which you can go up the Alaska Basin Trail for gorgeous views of the Death Canyon.
As this is a taxing trail with many steep climbs, it takes around 6 hours to finish this hike.
Resource: Death Canyon Patrol Cabin
For a comprehensive list and descriptions of the available hiking trail in this article about Hiking in Grand Teton National Park.
4. Relax and Go Fishing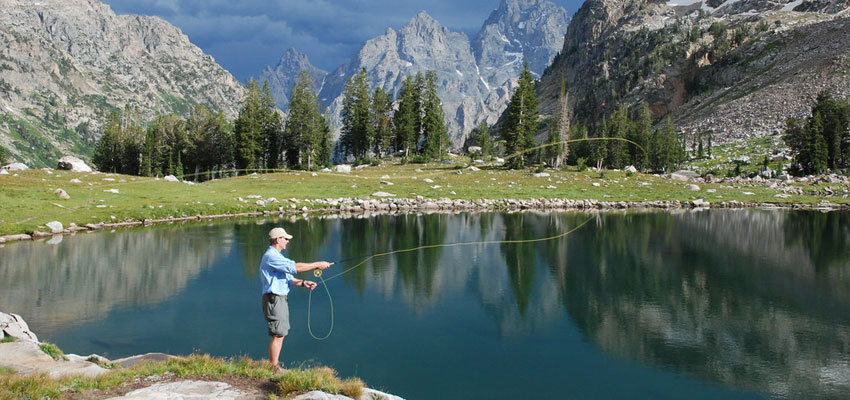 Whether it's fly fishing or lake fishing, you can do it in Jenny Lake, Jackson Lake, Lake Solitude, or Snake River in Grand Teton.
Before you do, make sure to buy a Wyoming state fishing license, which you can get at the Colter Bay Marina, Signal Mountain Marina, or in the town of Jackson.
You can go fishing with your own gear, but if you're flying in and don't want to lug your equipment with you, you can book a tour with a fishing guide, who will provide you with the equipment you need.
Remember that fishing is regulated in Grand Teton, and there are guidelines you need to follow. When planning your trip, refer to this brochure from the National Park Service.
Resource: Fishing In Grand Teton
5. Snake River Rafting
Snake River is a prime venue for rafting, and various tour operators run guided rafting trips in different parts of the river.
Scenic Rafting
Take a scenic rafting trip on the Snake River with an expert guide who can share plenty of information about the history of the area and information about the wildlife in the area.
Enjoy 10 miles of stunning views while looking out for wildlife such as moose, eagles, beavers, and more. At the same time, learn about the geology and history of the park from your expert guide.
Don't hesitate to ask questions!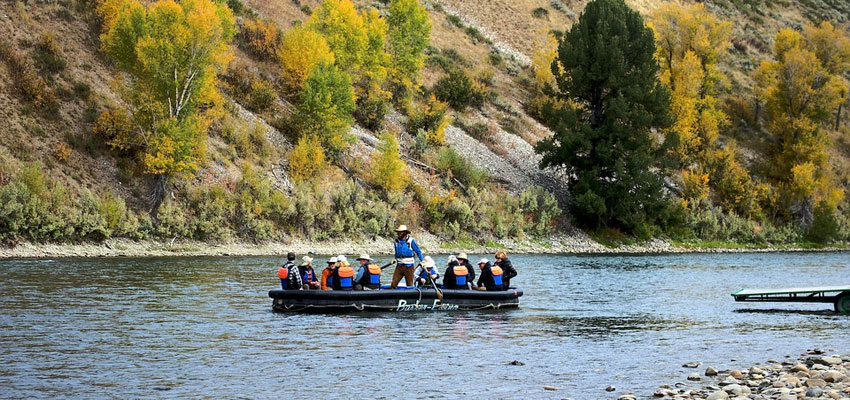 Some tour companies even offer lunch or dinner trips, where you can enjoy a meal on the riverbank before or after you take your scenic tour.
You have to remember, though, that even though this is supposed to be a scenic tour, you'll probably going to get wet, so dress appropriately.
The entire trip takes 3 to 5 hours, depending on the time of day and whether you purchased the tour with meals.
This trip is available from late May to late September, and only those who are 6 years old and up can join.
Resource: Snake River Scenic Rafting
Whitewater Rafting
For those with a taste for more adventure, whitewater rafting may be a better fit.
Experience 8 miles of whitewater excitement while skilled guides help you paddle and holler down various rapids along the way.
While in scenic rafting, you may get wet, in whitewater rafting, you will get wet.
The entire trip takes 3 to 4 hours, depending on the time of day and weather conditions.
This trip is also available from late May to early September, and only those who are 6 years old and above can join. The minimum age may be raised from 6 years old to 8, 10, or even 12 years, depending on the depth of the water at that time of the year.
Resource: Snake River White Water Rafting
6. Tour the Mormon Row Historic District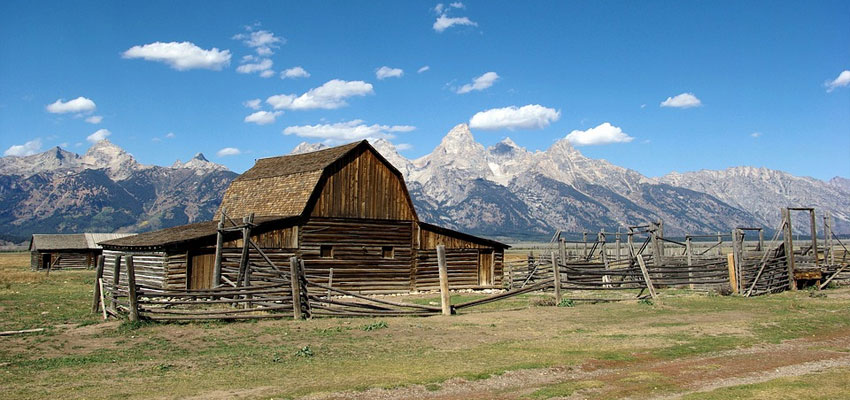 If you're looking for a place in Grand Teton with some history, then the Mormon Row Historic District may just tickle your fancy.
Mormon Row is a line of homestead complexes along the Jackson–Moran Road, near the southeast corner of Grand Teton National Park. Mormons from the Salt Lake region settled in this area, formerly known as the town of Grovont.
This district was added to the National Register of Historic Places in 1997 and features homes and barns that have withstood the test of time.
Notable structures include the John Moulton Barn, Chambers Barn, and T.A. Moulton Barn, which is very popular among photographers and may well be the most photographed barn in the US.
Resource: Mormon Row
Tips When Visiting Grand Teton National Park
Now that I've provided the top 5 things to do in Grand Teton National Park, here are some more tips to remember for when you visit:
Whatever activity you decide to do, venture out early in the morning for the best views and to get prime parking slots.
Going hiking? Pick up bear spray.
Stop by at one of the visitor centers to get necessary permits and to get important information, such as weather, road, and trail conditions.
Mind the environment. Bring a refillable water bottle, reusable food containers, and avoid single-use plastics as much as you can.
Respect the wildlife. For you, it's a park, but for them, it's home.
I hope this article has been useful in your planning.
What do you think is the best thing to do in Grand Teton National Park?
Planning to go to Grand Teton soon?
Which of the activities above are you interested in doing?
Share it with us in the comments!