Have you been to any of the 56 public Lake Michigan beaches?
Michigan, which is surrounded by 4 out of 5 Great Lakes, has 3,288 miles of freshwater coastline (the longest in the country) and the second-longest coastline of any US state, after Alaska.
No wonder the region is called the Third Coast of America (after the Pacific Ocean and the Atlantic Ocean)!
10 Must-Visit Lake Michigan Beaches
Check out some of my favorite beaches around Lake Michigan…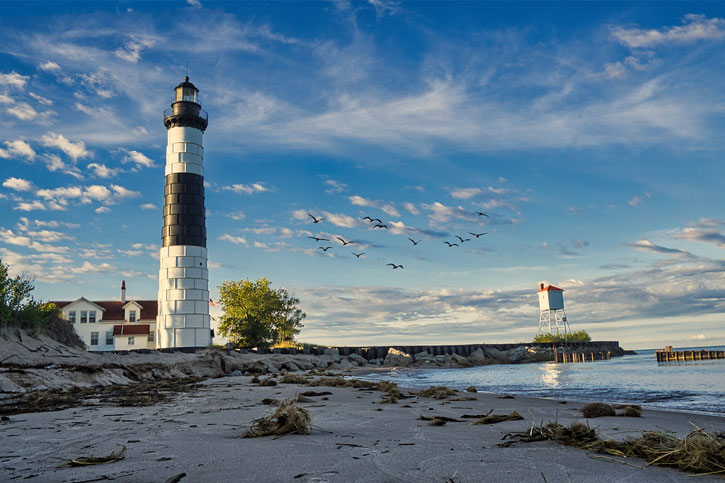 If you're looking for long walks with gorgeous postcard-like backdrops, the beach at Ludington State Park can give you such a feeling (and much more).
With about 7 miles of beaches, you'll be welcomed with plenty of dunes, sand, trees and a good pocket of nature. Take the 1.8-mile trail to the iconic Big Sable Lighthouse – the view here is next-level pretty.
The only problem you might have with Ludington State Park beach is that the water can be chilly. If you plan to swim, head over to the beach by Hamlin Lake instead – it's smaller but with warmer water.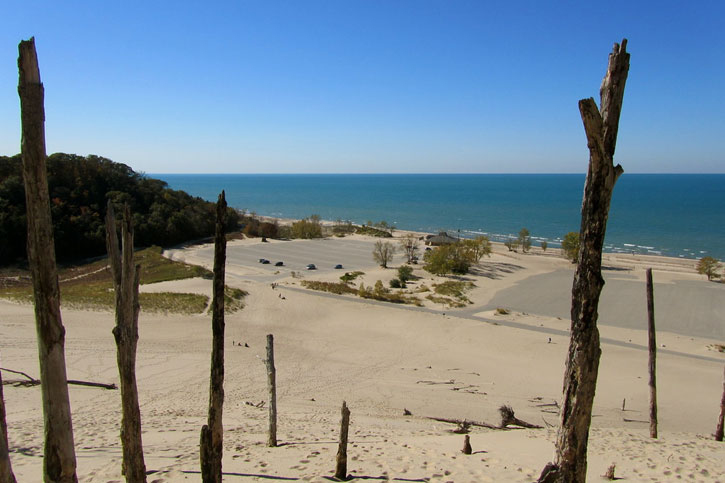 Lake Michigan beaches are famous for the sand dunes, but the most popular one is found in Warren Dunes State Park.
This southwest Michigan beach, which is within 2-hour driving distance from Chicago, is down a 260-foot-high sand dune. It's fun rushing and rolling down the dune. And when you reach the beach with golden sand, you've got 1,952 acres of the park to explore.
Warren Dunes State Park beach is also a favorite dog-friendly beach. You have two options – enjoy any part of the beach with your dog leashed, or walk to the 2-mile northernmost part where dogs are allowed to splash off-leashed.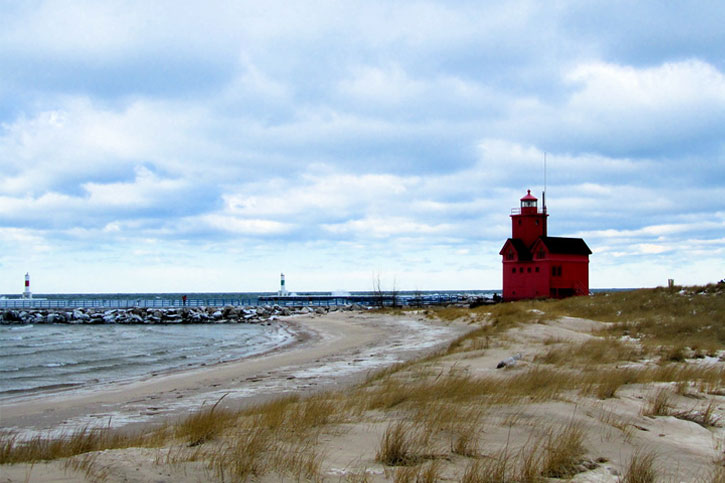 If you're visiting Michigan's most visited state park – Holland State Park – this is another picturesque beach with soft white sand.
Holland State Park beach is located in Ottawa, Michigan. It is home to the famous Big Red lighthouse and welcomes guests wanting to stay overnight at any of the two well-equipped campgrounds.
And because there's fishing (and a boat launch ready), restroom with changing area, a concession stand, and a children's playground, you can enjoy a day's worth the beach with all the modern facilities nearby.
Holland State Park beach is spacious for kids' unlimited sandcastle-making and gets plenty of sunsets ideal for romantic getaways.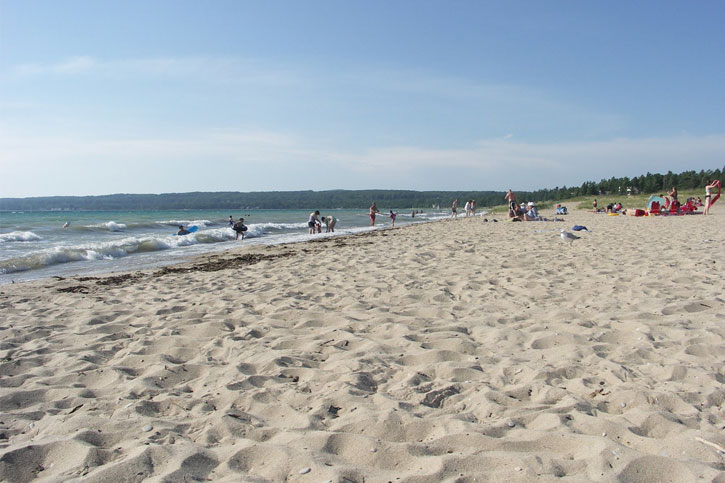 The beach at Petoskey State Park is just a mile-long-stretch, but it is still gorgeous and perfect for a quick beach day.
Location on Little Traverse Bay, Petoskey State Park beach is a shallow beach with super-clear water. It's a dream for families with young kids and elderly. Not only is there an accessible walkway going down the waterfront, you can also borrow a wheelchair if you need it.
This beach is near the famous Tunnel of Trees in northern Michigan. You also have a good chance at finding Petoskey stones here if you love hunting for gems.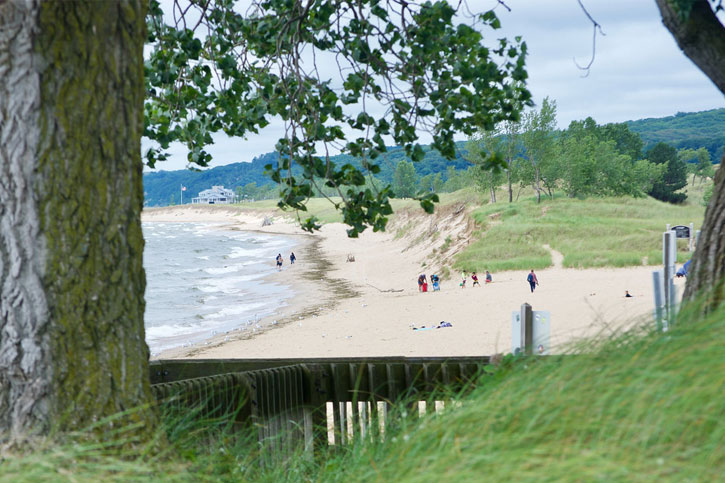 This unassuming beach is actually a renowned beach and included in many best-of lists, from Conde Nast's Traveler magazine to TripAdvisor's Top 25 Beaches in the World.
Oval Beach of Saugatuck has soft white sand and phenomenal views for days. It is never crowded here, so those soul-searching would love the peace. You do need to take a half-mile hike to the beach.
The only downside to Oval Beach is that dogs are not allowed, but there is plenty of parking, well-maintained restrooms, and a concession stand.
While the beach is open year-round, waves can get wild and dangerous when the winds go up.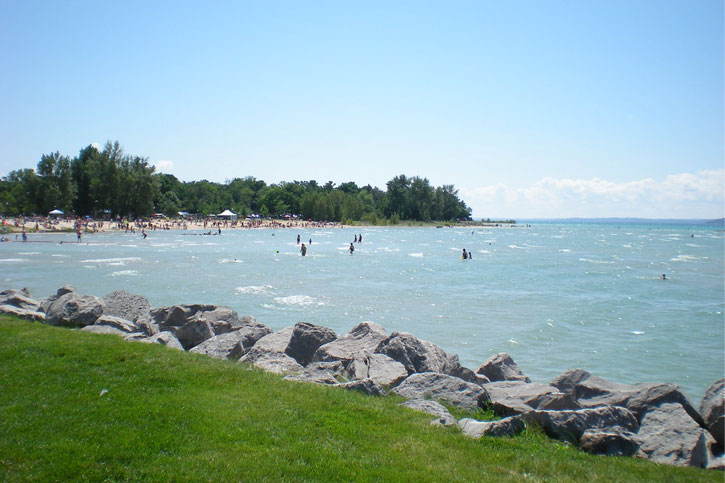 Elk Rapids is a 13-acre park located adjacent to the Elk Rapids Dam. Locally beloved, this beach will always be a memorable one for every out-of-towners visiting.
Elk Rapids beach is the last untouched beach in Elk Rapids – and that's a good thing, especially if you're looking for something unique.
Yes, there's still a picnic area, public restroom, volleyball/basketball/tennis courts, and nature trails, but the stunning views of East Bay, exceptionally-soft white sand, and adorable art installations pop ups embraced by trees are a must-see.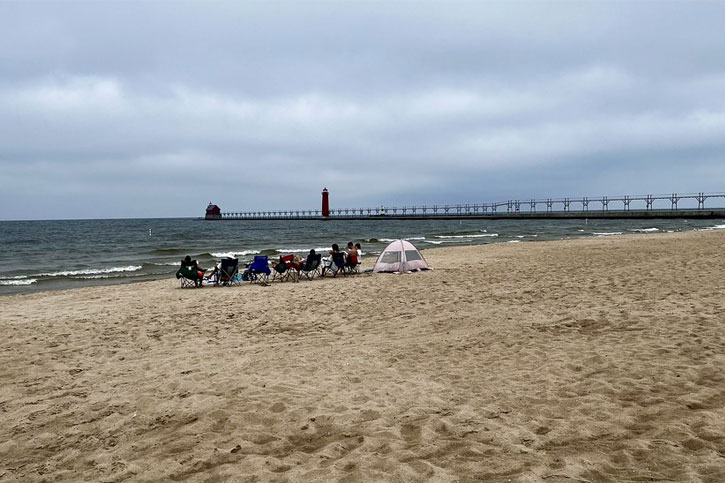 Grand Haven State Park beach is a family-friendly, couple-friendly beach. There's a playground, volleyball nets, changing rooms, restrooms, concession stand, an RV park and camping spots.
It gets a bit crowded on weekends, but you won't really notice since it's quite a wide sandy beach area.
If you came to this Grand Haven State Park beach for the views, make sure to walk the pier and check out the red lighthouse up-close (you can actually view two lighthouses from this view) and plenty of perspective for photos.
Even when it's rainy, the big waves can be mesmerizing to watch.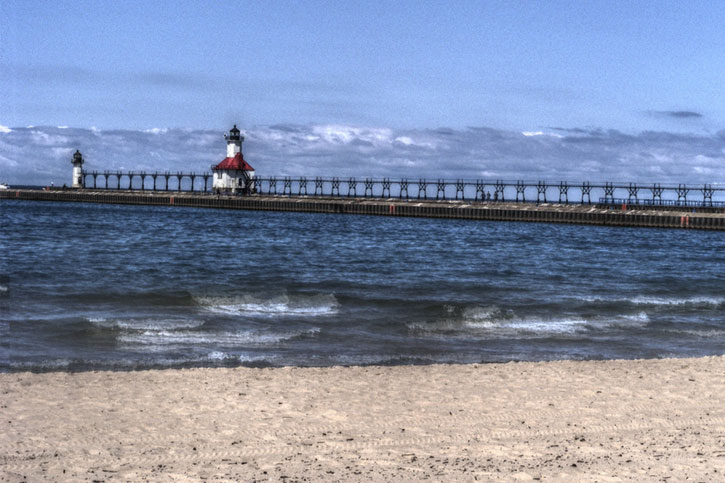 Silver Beach is the most famous beach in St. Joseph. It's been a go-to summer destination of locals and guests coming from all over Michigan and nearby Indiana, Illinois and Wisconsin as well.
Silver Beach is a busy, but extremely wide beach with sand perfect for strolling and stunning views that never end. Aside from enjoying the beach, you'll have plenty of things to do, including sailboarding, hiking, kayaking, and fishing.
It's great to bring families at Silver Beach. There's a carousel, a lifeguard on duty on most days and playgrounds, grills, and picnic areas to share. If the splash park isn't enough, the water by the beach is shallow enough for little kids too!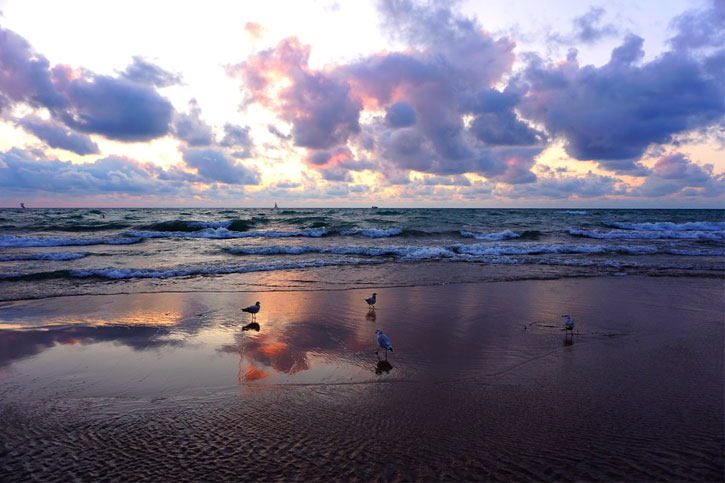 South Haven is home to two of west Michigan's stunning beaches – North Beach/South Beach.
North Beach and South Beach are both ADA accessible. It's hard to pick out which beach to go between the two.
North Beach is the perfect beach if you're looking for a quiet, romantic beach with groomed sand, clean waters, and long sidewalks. There is a concession stand, restroom, volleyball court, and several rental places around.
South Beach also has a lot going on. It's just as well-equipped as North Beach with its clean restrooms, picnic areas with grills, and playgrounds. But what makes South Beach different is you've got better lighthouse views (you can even walk up-close) and its own skateboard park.
Do note that dogs are not allowed on any of these South Haven beaches.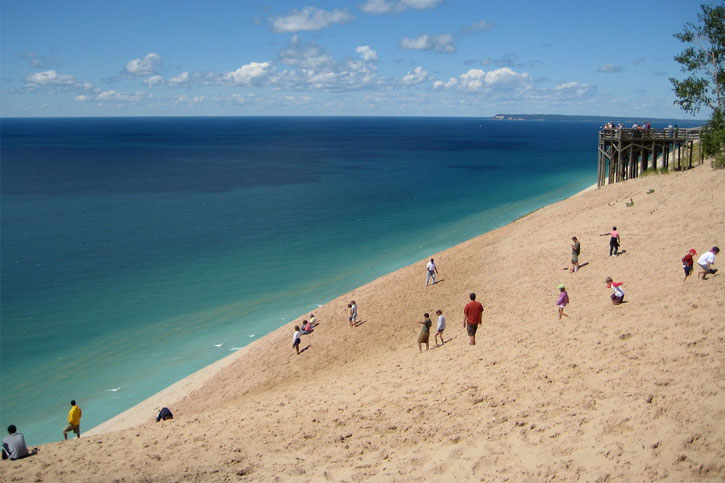 If you're obsessed with beach dunes, you'll want to come back to this beach at Sleeping Bear Dunes National Lakeshore.
There's a bit of a slope going up and down the shore, but you'll have never-ending stretch of sand to stroll on.
You can choose from a handful of beaches in the park – the most popular of which are North Bar Lake (for its shallow and calm waters) and Platte Point Beach (for its tubing and fun vibe). For a memorable trip, wait until nighttime and enjoy beach fires on most of the beaches (except for North Bar Lake).
For a dog-friendly beach, you can visit Esch Road Beach instead, but you have to keep your dog leashed.
Exploring Destinations near Lake Michigan beaches
Can't get enough of Lake Michigan beaches?
Here are other similar beaches you could check out:
And I know most of the time the water in these gorgeous beaches can be quite cold, you can also check out the waterparks of Michigan (some are even heated).