Lake Erie is one of the most charming of the Great Lakes and is blessed with a great array of stunning beaches.
While Lake Erie might be smaller compared to the other Great Lakes, it washes the shores of several states: Michigan, New York, Pennsylvania, and Ohio in the US, and Ontario, in Canada.
Keep reading this guide for some inspiration and find out more about the best beaches on Lake Erie in each state.
My Favorite 8 Beaches on Lake Erie
Let's break down some of the best Lake Erie beaches by state.
Starting with…
Best Lake Erie Beaches in Pennsylvania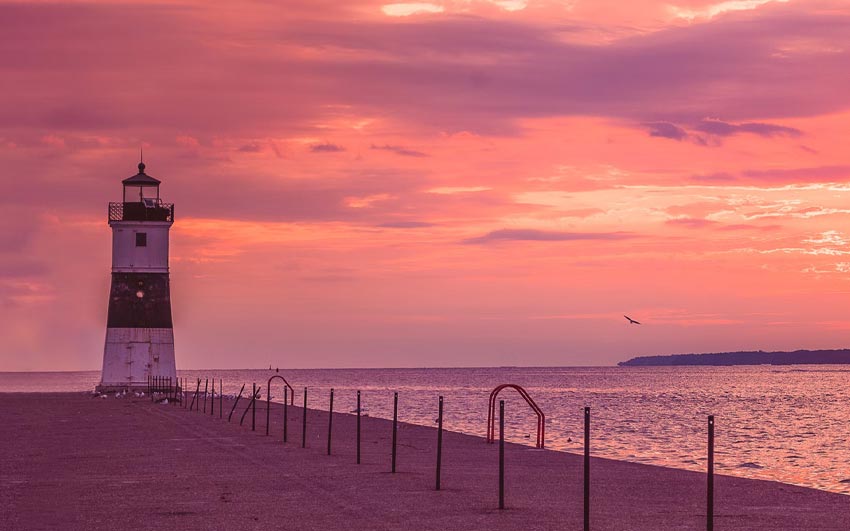 Location: 301 Peninsula Dr, Erie, PA 16505, United States
Located in front of Eire city in Pennsylvania, the charming peninsula of Presque Isle is a small haven within Lake Erie.
The landscape is beautiful year-round, but the best time to visit the Presque Isle State Park is in the summer when one can enjoy the long beaches and swim in the lake water.
Hiking trails in the area are well kept and safe, offering stunning vistas of Lake Erie at every turn.
During wintertime, this is a preferred location for ice fishing.
If you reach the Presque Isle lighthouse, you'll usually find many local fishermen enjoying the location.
Location: 7000 E Lake Rd, Erie, PA 16511, United States
Secluded and off the beaten path, Shades Beach Park is one of the most lovely and scenic beaches on Lake Erie.
Do not expect the classic equipped beach. What you'll find at Shades Beach is a great natural backdrop, made of blue lake water, green bluffs, and rocky shores.
Some short hiking footpaths are available. For the best view of Shades Beach and Lake Erie, I recommend checking out the trail leading to the top of the main bluff.
This is also a nice location for rock hunting and colored beach glass hunting.
Best Lake Erie Beaches in Ohio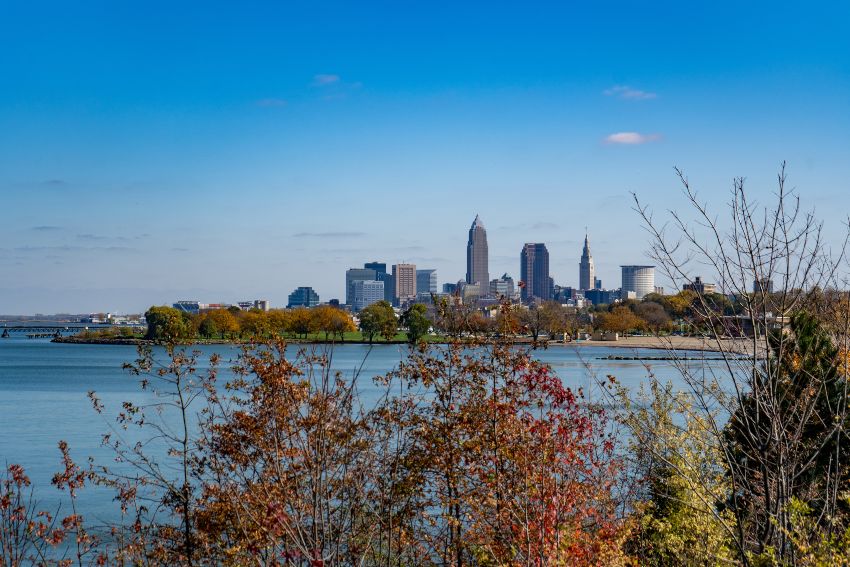 Location: 1 Nickel Plate Dr, Huron, OH 44839, United States
Nickel Plate Beach is one of the largest and most popular sand beaches in Ohio. The view of Lake Erie is simply stunning, and the sky takes rich and beautiful colors during sunset and sunrise hours.
The beach is family-friendly and generally well equipped, clean, and well maintained. Picnic tables are available, along with a children's play area, ping pong tables, grills, and even beach volleyball courts.
When visiting Nickel Plate Beach, you can pay a visit to the Huron Lighthouse or try some fun lake activities such as kayaking and paddleboarding.
The water is fairly shallow for around 300 feet, which makes Nickel Plate Beach particularly safe.
Nonetheless, lifeguards are not available on the beach, so pay extra attention if you wish to swim in the deeper water.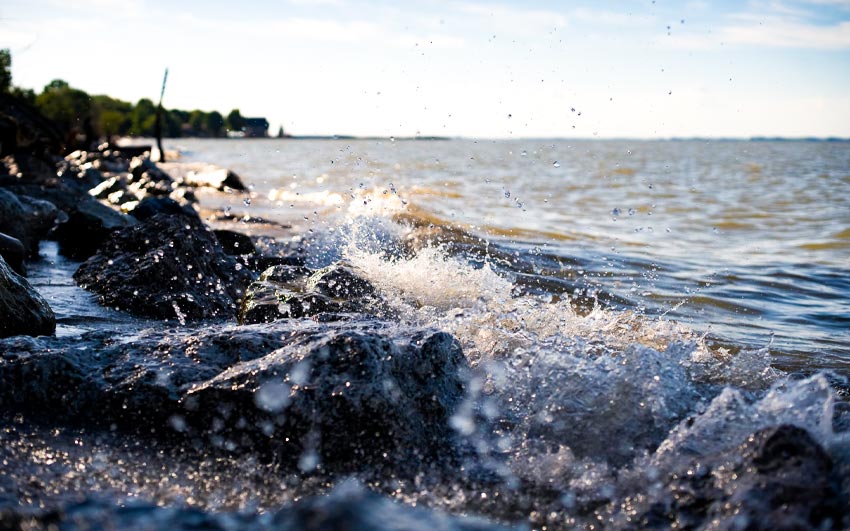 Location: Maumee Bay State Park, Oregon, OH.
The Maumee Bay beach is a perfect destination for a day out of town when visiting Toledo or Oregon in Ohio.
The beach area is pleasant and swimming is allowed, however, the Maumee Bay has much more to offer.
You can explore the State Park through the many hiking and biking trails available and then enjoy an epic sunset on the lakeside beach on Lake Erie.
One of the most challenging but rewarding paths will lead you to the top of the main hill near the beach, offering an incredible view of Lake Erie.
This is also a great spot for observing wildlife and birdwatching.
For those looking to camp, the campground at the Maumee Bay State Park is highly equipped, with water and electricity hookups available and comfortable campsites.
2 Lovely Beaches on Lake Erie in New York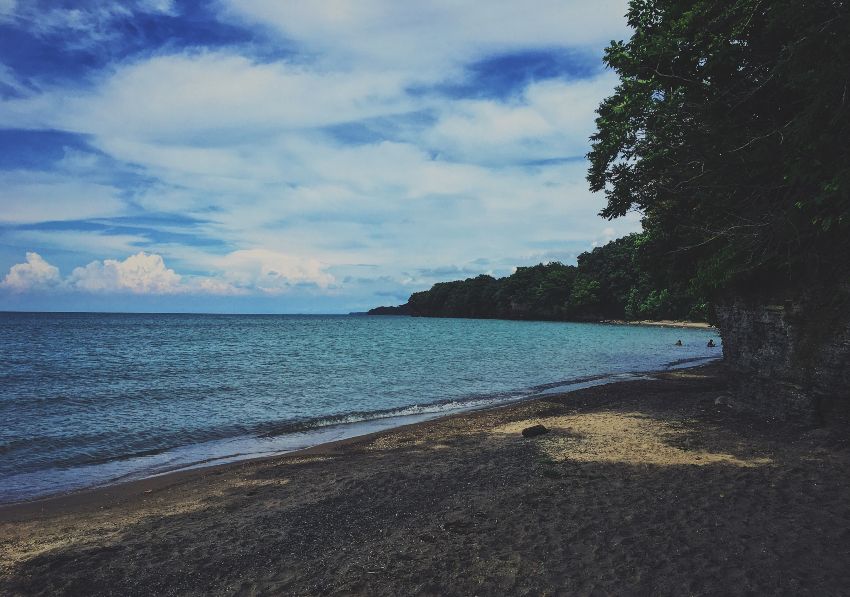 Location: 8269 1st Street Barcelona Westfield, NY 14787
Enjoy the view of Lake Erie and a peaceful day at the beach, in a stunning location that will remind you of the french riviera.
The wide rocky beach allows for long walks immersed in nature, camping, hiking, or picnicking.
On the beach, you can find designated spots for campfires, available from sunrise to midnight.
Some scenic hiking trails head into the natural surroundings of Barcelona Harbor Beach, allowing you to reach a small but lovely natural waterfall.
Kayaking and canoeing are some of the most popular activities at Barcelona Harbor Beach.
If you're not one for water sports, try looking for colored glass or small mineral rocks along the beach.
Location: Hamburg Town Hall 6100 South Park Avenue Hamburg, NY 14075
The charming Hamburg Beach makes for a great out-of-town excursion from Buffalo.
This is one of the most popular spots among Hamburg locals, and parking is only admissible if you're a Hamburg resident. To avoid fines, just park further from the beach.
The view of Lake Erie is great, and on clear days you can observe the Buffalo Skyline as well as the Canadian lakeshore on the opposite side.
The incredible view gets even better at sunset hours, and later at night, the Hamburg Beach allows some pretty good star observation.
The beach is mostly sandy with some rocky parts, with some driftwood embellishing the lakeshore.
A deeply wooded cliff on the side gives Hamburg Beach a nice Mediterranean vibe.
As far as water sports and boating are concerned, the beach can be very windy, which makes it a perfect spot for surfers and kite surfers. Kayaks can also be rented on the premises.
Best Beach on Lake Erie in Michigan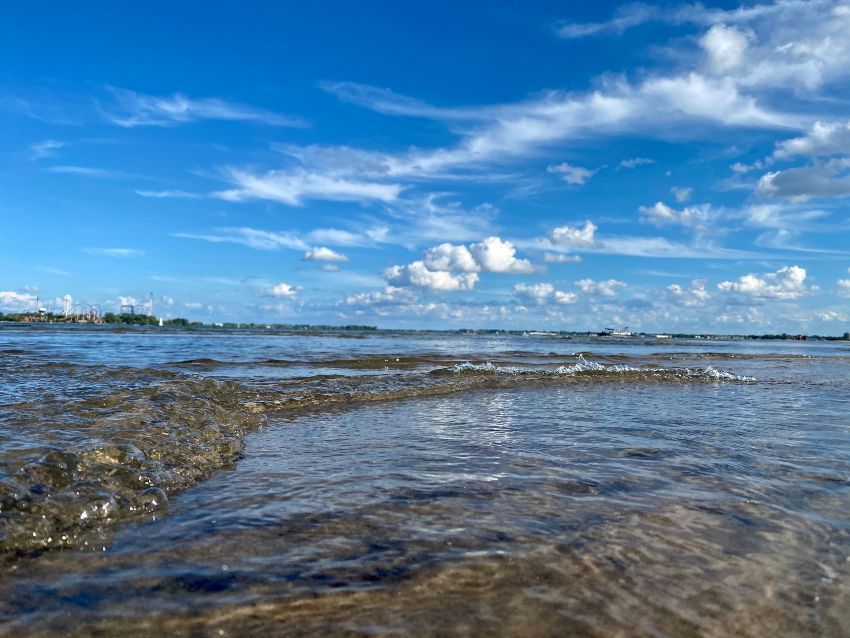 Location: 4219 Luna Pier Rd, Luna Pier, MI, United States
Located just outside Toledo, the quaint city of Luna Pier will surprise you with its charming beach and pier overlooking Lake Erie.
Usually, the beach is mostly occupied by locals, with not many tourists around, and the atmosphere is relaxed and peaceful.
If you are not a resident of Luna Pier, you must purchase an inexpensive parking permit (around 2$) and it is possible to pay by card.
Luna Pier is a family-friendly beach, with beautiful scenery, picnic tables, and a nice playground area.
Near the beach area, you'll find a few lovely cafes overlooking Lake Erie, where you'll find food and refreshments.
The picturesque lighthouse gives the beach and pier a romantic spin, especially at sunset.
Best Lake Erie Beach in Canada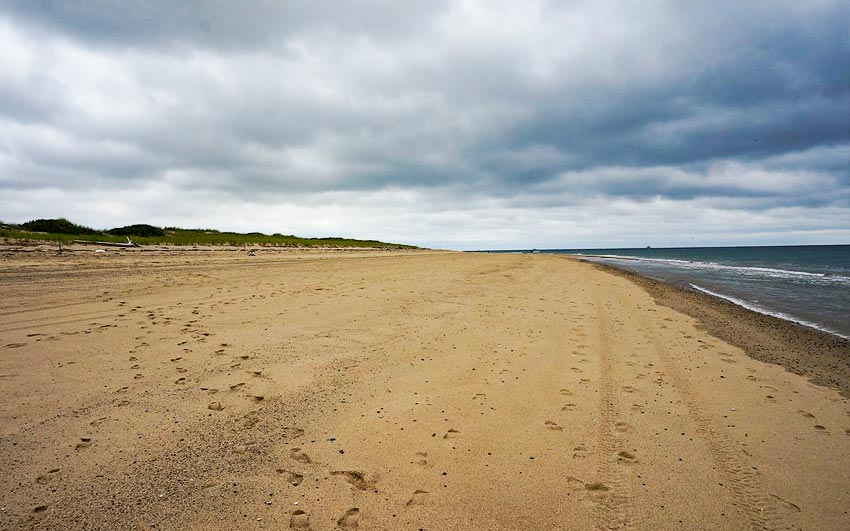 Location: 350 Erie Blvd, Port Rowan, ON N0E 1M0, Canada
Yes I know this one is technically outside of the US, but when you're discussing Lake Erie beaches, Long Point always deserves a mention.
Awarded the status of UNESCO World Biosphere Reserve, Long Point Beach is characterized by a smooth sandy beach and rich and diversified natural environment.
This super popular area attracts more than 100,000 visitors every year, and not without reason.
The Long Point Provincial Park features an extensive beach facing Lake Erie, which stretches for several miles of gold silky sand.
Here, you'll be able to observe very diverse wildlife, including a local population of turtles.
This is a well-known location, so be sure to book your camping site well in advance if you plan on spending the night near Long Point Beach.
What's the best season to visit Lake Erie beaches?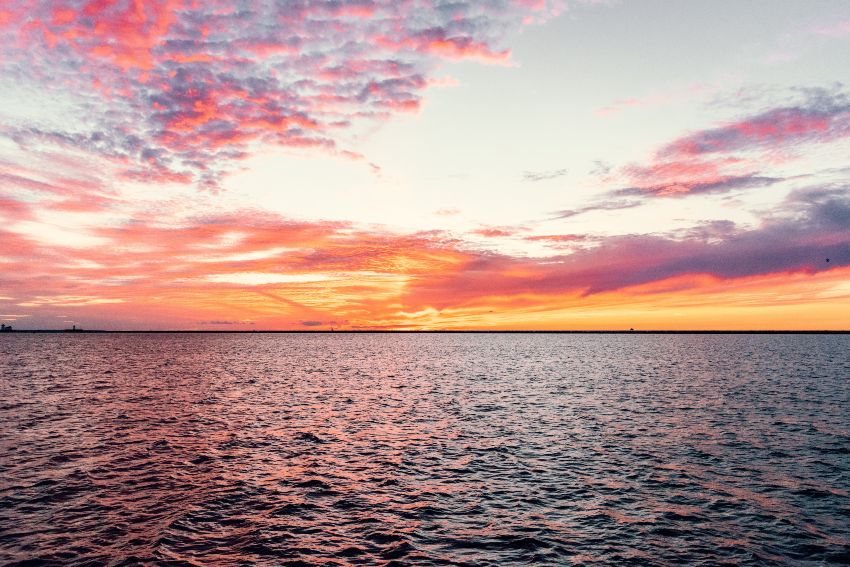 From Spring to Winter, Lake Erie offers a wide selection of activities:
Spring and Summer on Lake Erie
Late Spring and Summer are dedicated to swimming, boating, kayaking, fishing, and relaxing on the sandy beaches of Lake Erie.
Summertime on Lake Erie is characterized by pleasant, fair weather and warm temperatures (80F).
With a water temperature averaging around 71-73 degrees, Lake Erie is a pretty great location for swimming.
Autumn on Lake Erie
Fall at Lake Erie can be fun and entertaining, as the area comes alive with a number of annual festivals and events.
Among the most popular autumn festivals, Lake Erie features Oktoberfest, Halloween celebrations, the Apple Peak Harvest Celebration, Lakeside-Marblehead Lighthouse Festival, and the Feathers & Foliage Festival, just to name a few.
Winter on Lake Erie
During wintertime temperatures fall dramatically and Lake Erie freezes almost completely, creating fascinating and exquisite scenery.
But low temperatures don't mean fewer fun activities. For example, some hiking trails are available even during winter.
Other possible winter activities at Lake Erie are ice skating, skiing, snowshoeing, sledding, and even ice fishing.
For a unique winter experience on Lake Erie, some locations allow bonfires on the frozen lake water.
Is Lake Erie a good place to swim?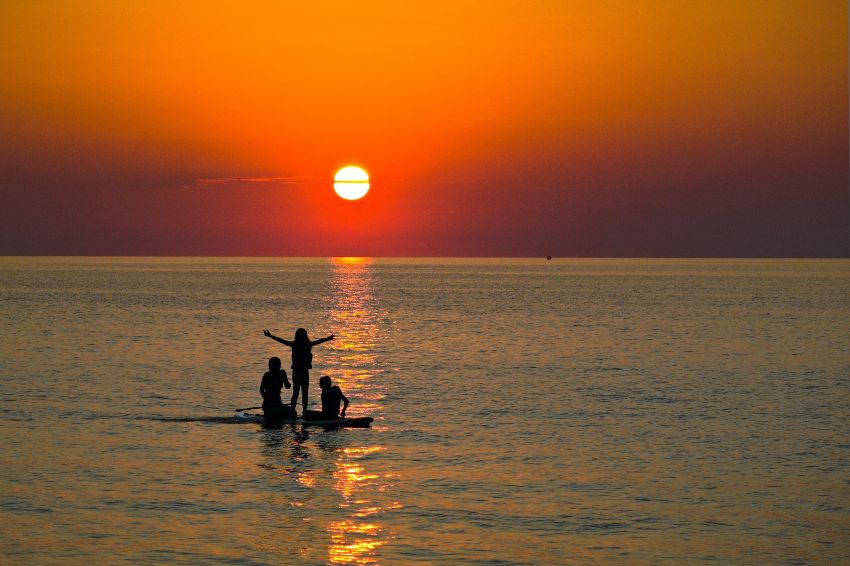 Lake Erie has the most shallow waters among the Great Lakes, which means warmer water and a more pleasant environment for swimming.
The sandy beaches and great weather make Lake Erie a popular summer destination, and on the more popular beaches, lifeguards are present during the daytime.
However, some precautions must be taken when swimming in Lake Erie concerning pollution.
While it's mostly safe to swim in Lake Erie, the water is routinely tested by local authorities. Therefore it will be well marked whether it's safe or not to swim on a given beach.
If you want to take matters into your own hands, check with the Ohio Department of Health on the current toxin levels caused by algae infestation.
Beyond Lake Erie Beaches
If you're looking for some more inspiration to plan your next day at the lake, try reading my guides on the 12 Best Lakes In Indiana To Visit This Year or the ultimate Connecticut Lake Guide.