Today, dozens of once-thriving towns in the Buckeye State are now considered ghost towns in Ohio.
Exploring these ghost towns is interesting, not only for those who have a special love for history but also for anyone who lives for the supernatural and ghost stories (whether they're based on true stories or not).
5 Must-Visit Ghost Towns in Ohio
I've always had a deep appreciation for old, abandoned towns and the stories behind them.
In Ohio, you can visit over 20 ghost towns (some with a few people still living there), but these five are my absolute favorites.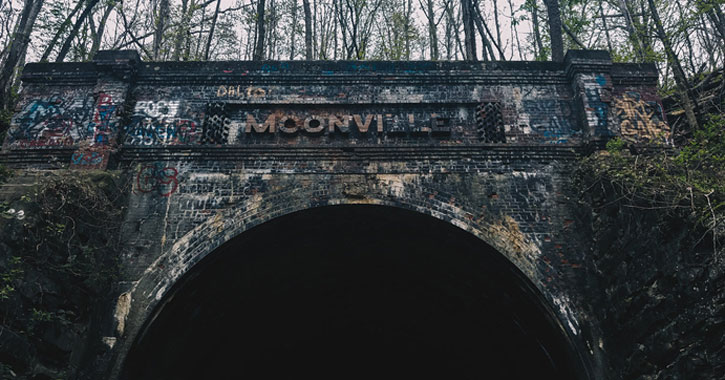 Years active: 1856 to 1947
Location: Hope-Moonville Rd, McArthur, Brown Township, Vinton County, OH 45651 (GPS Coordinates: 39.308443, -82.324566)
Why is it special: The former coal mining and railroad town had been abandoned in the late 40s when the mines shut down. Today, the creepy Moonville tunnel still stands and welcomes you to a stunning trail for hiking, walking or horseback-riding.
Moonville was founded in 1856 as the Marietta and Cincinnati railroad ran through the town's woods. This tunnel, where the train passes, still stands to this day. It now serves as an interesting entryway to an abandoned, but eco-friendly place.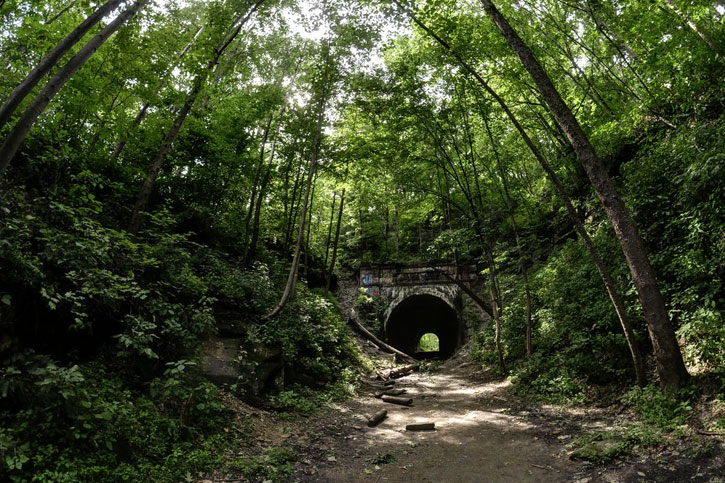 Legend has it that a ghost haunts the tunnel at nighttime. Like many ghost stories in old mines and work-related accidents, the tunnel is the spot where a man was killed by a passing train, probably on his way to work.
For a couple of decades, Moonville was left untouched with just occasional guests visiting the "haunted" tunnel and the town's small overgrown cemetery.
When the Moonville Rail Trail Association was established in 2001, the town has faced some development in recent years. For example, a wooden walking bridge that helps pedestrians cross Racoon Creek was constructed in 2016.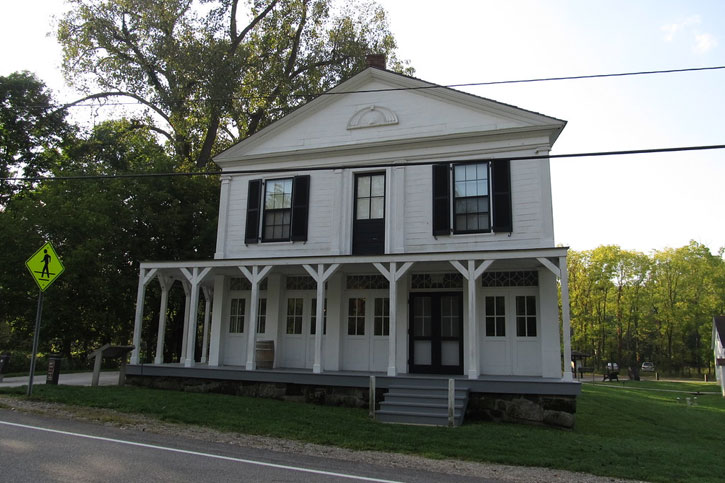 Years active: 1806 to 1974
Location: Boston Township, Summit County (GPS Coordinates: 41.263241, -81.559419)
Why is it special: The town has a lot of ghost stories and a mix of abandoned and preserved structures
Boston Mills doesn't look as creepy as Moonville's tunnel or other ghost towns in Ohio (based on the pictures), but the stories are definitely what make this place an interesting one.
Also called "Hell Town," Boston Mills is the oldest settlement in Summit County. It was first inhabited in 1806 by Connecticut-based surveyors and named "Boston" after Boston Massachusetts.
However, it only became a thriving community after the Ohio & Erie Canal were built in 1827. By then, several saw mills, paper mills, a hotel, warehouses, a broom factory, and several businesses made the town. There was even a school, a hotel and many locally-owned small shops.
The canal was abandoned, but this wasn't the reason people left.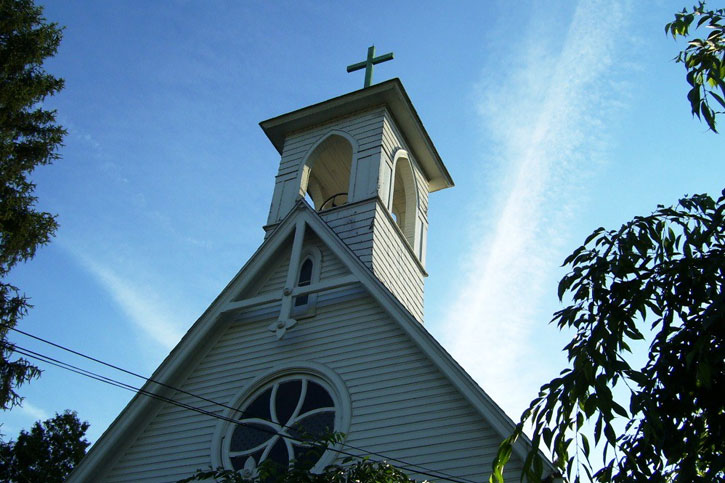 In the early 1970s, the US government evicted the people who lived in Boston Mills. It was due to the government claiming the town its territory and establishing Cuyahoga Valley National Park. But this didn't stop people from creating urban legends such as:
A government cover-up after deadline chemicals spilled in the area. This hazardous materials was rumored to cause bizarre mutations to local animals and residents.
A ghost haunts the local cemetery bench, staring blankly.
The Helltown cemetery contains graves of a bunch of kids who tragically died in a bus accident.
The churches are just a cover for cults, and that there were locals of devil worshippers.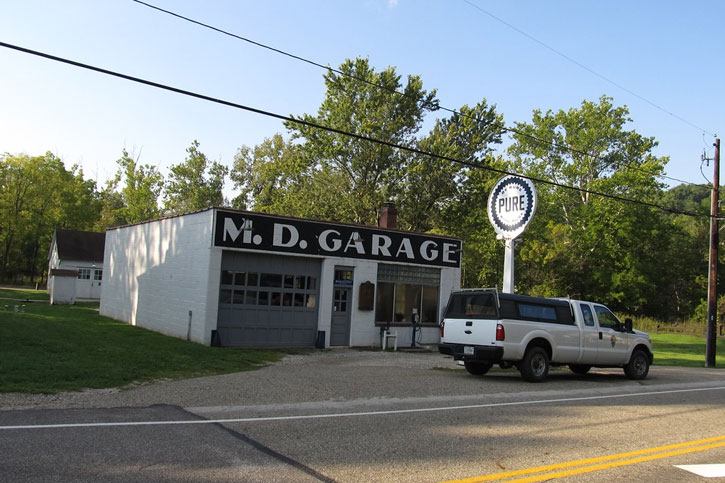 Boston Mills has a handful of interesting places you should check out.
From the cemetery at the end of Main Street, to the Krejci Dump on Hines Hill Rd, or the "satanic" Boston Community Church at the corner of Boston Mills Rd, and the "End Of The World" where a portion of Stanford Rd just ends abruptly… this place makes for an interesting day or night out.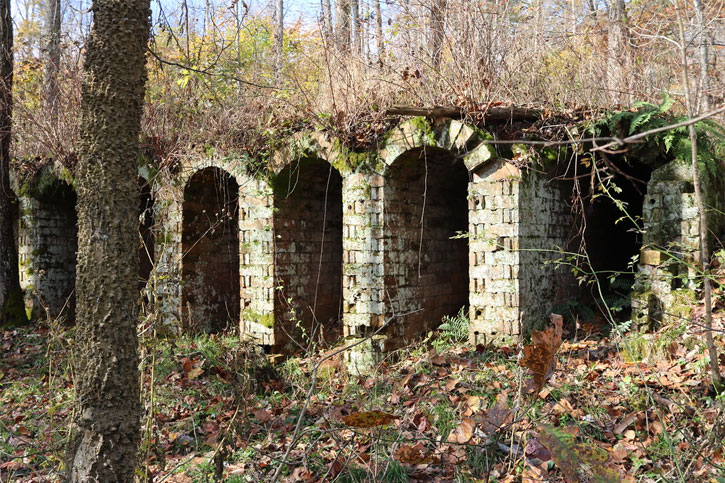 Years active: 1854 to 1883
Location: OH-278, New Plymouth, (Elk and Madison Townships), Vinton County, OH 45654 (GPS Coordinates: 39.218200, -82.408200)
Why is it special: Eerily abandoned town with an old and "haunted" furnace as main attraction
Clark Culbertson & Company founded Vinton Furnace in 1854 when they opened their iron furnace operations in southeast Ohio. Included in the development were a row of houses for the company's 100+ employees, a general store (where they use their tokens), a post office, and a school for the employees' kids.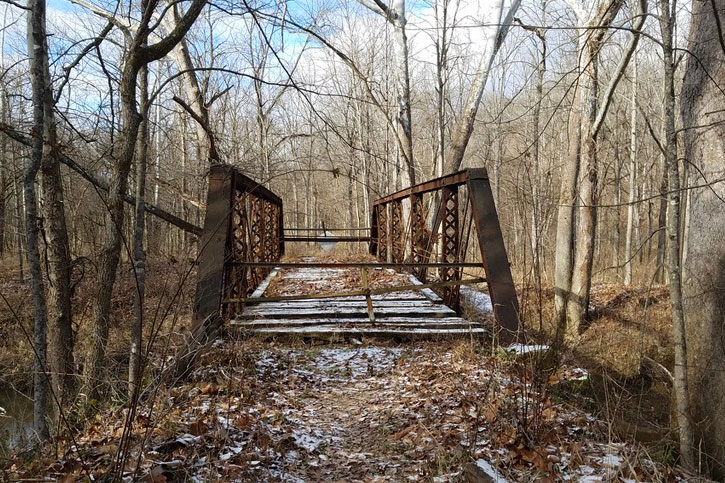 At the height of the Hope Furnace's production, Ohio was one of the nation's leading producers of iron. The furnace was shut down in 1874, after just 20 years in operation.
Of course, when the town's main source of income ran dry, the people had no choice but to abandon the town as well.
Today, you can still see most of the furnace chimney and structure, but half have become a part of the forest floor.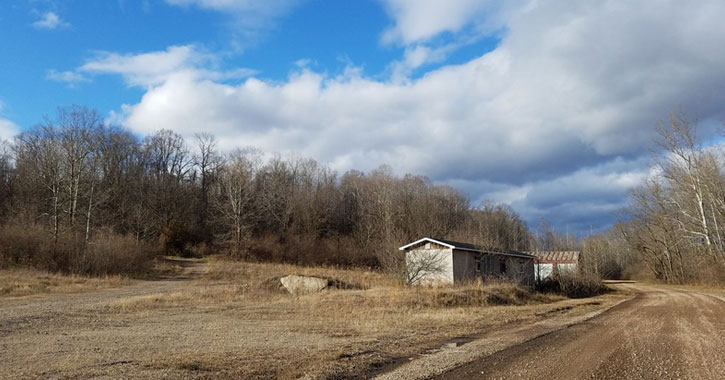 Getting to Stone Quarry Rd, where this abandoned place and the furnace is found, requires a bit of a walk.
From US50, you'd have to drive past a limestone quarry, go left, and follow the trail leading you to the iron bridge. From there, you'd have to follow tree markers on your way to the furnace remnants.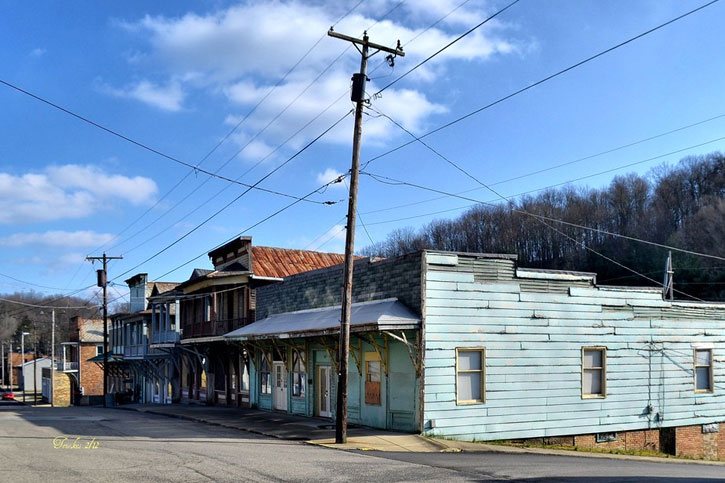 Years active: 1873 to present
Location: 116 West Main Street, Shawnee, Ohio 43782 (GPS Coordinates: 39.60525, -82.21136)
Why is it special: This place still has occupants, but many of the abandoned structures here are preserved perfectly
Shawnee was once the largest town in Perry County. Founded in 1873, Shawnee used to have a thriving coal mine.
Today, while there is no longer stores and other businesses within town, a few people still call Shawnee home.
And because there's ongoing effort to keep the natural areas clean, and the abandoned buildings preserved (and safe to visit), many people flock here to feel the charm of old Midwest.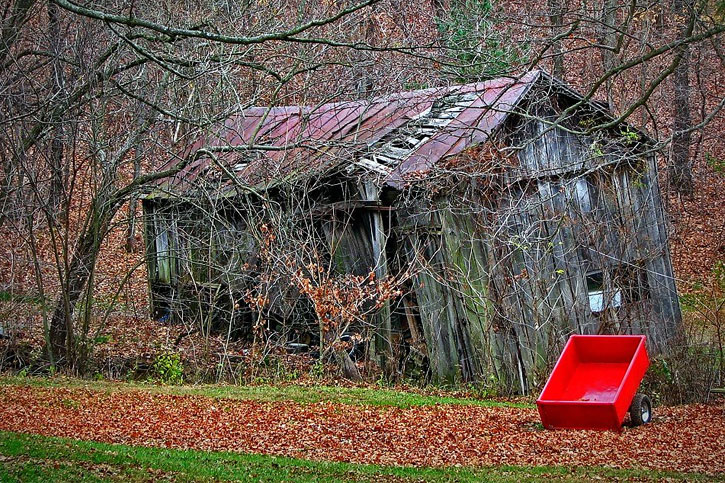 This modern ghost town was in the news recently for several robberies in the area. Despite this, Shawnee is still a pretty cool spot to visit when you're in this part of Ohio.
Plus, there are opportunities for hiking, camping, birding, cycling, antique shopping and participating in eco-adventures.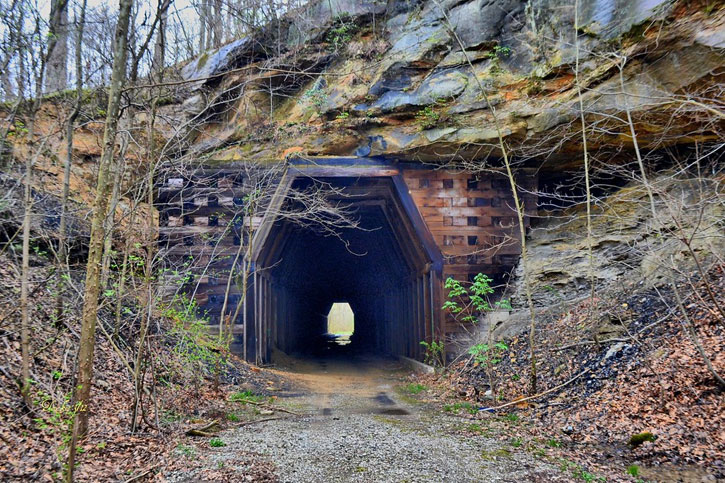 Years active: 1856 to 1910s
Why is it special: this abandoned railroad and coal mining town left its super cool-looking tunnel behind
If you loved Moonville Tunnel, I'm sure you'll adore its nearby tunnel, King Hollow Tunnel. But unlike the brick Moonville tunnel, this tunnel is actually crafted using wooden beams with rock shaft, giving it a unique rustic look.
Like many Ohio towns in the 19th century, this area was also deep into the mining and iron manufacturing. King Hollow tunnel was named after the King family, who was credited for starting the coal enterprise.
At the time, the town on the southwest side of the tunnel had a school, a general store, a post office that operated from 1865 to 1894, a coal tipple, a blacksmith shop and a row of wooden houses for the mine employees.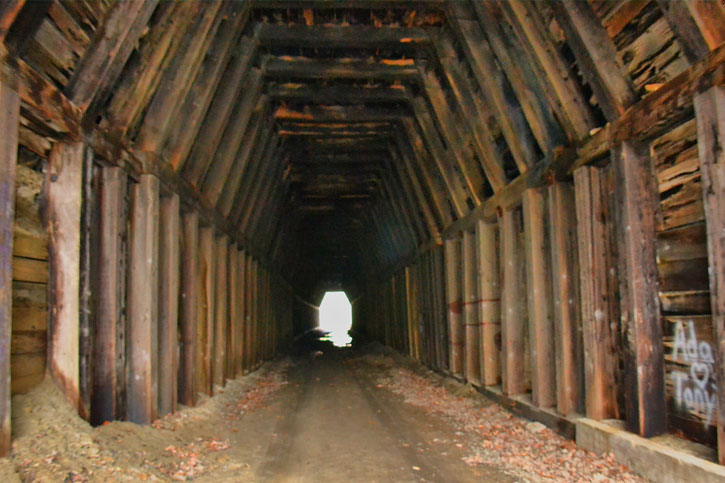 Also known as "King's Switch Tunnel," "Mineral Tunnel," and "King's Tunnel," this tunnel can be found just off the Rockcamp Road and King Hollow Trail intersection.
US Ghost-town Hopping: Beyond the Ghost Towns in Ohio
Do you want to see other ghost towns across the country? Check out some of my guides:
If you're spending more time in Ohio and wanted ideas of places to check out, I recommend gem mining, waterfall chasing, or spelunking if you want an outdoors activity.