The Wolverine State has a humid continental climate with extremely warm summers and cold winters, so if you're trying to cool off in the summer or get warm during winter, these 12 indoor and outdoor water parks in Michigan could solve your problem.
Some indoor Michigan water parks come with heated pools (perfect for winter) but note that others do not. The outdoor water parks are ideal for the summer and offer a fun respite from the heat.
6 Indoor Water Parks in Michigan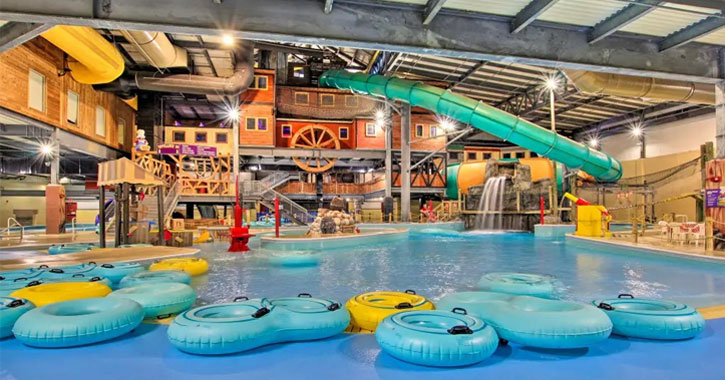 Located in Rothbury, Double JJ Resort is home to the 60,000-square foot Gold Rush Indoor Waterpark. This waterpark features Michigan's tallest indoor waterslide, a wave pool, water fort, a lazy river, water basketball, and white water rafting all indoors. Family hot tubs are available indoor and outdoor as well (one of which are exclusively for adult use).
Double JJ Resort keeps the temperature at Gold Rush Indoor Waterpark warm throughout the water park and in the pools.
Double JJ Resort also has an arcade, golf, horseback riding trails, Wally Wojack Memorial Rodeo, and other activities to check out.
If you're coming from another town, the resort does offer lodging and dining (two in-house restaurants), so you don't have to go outside the resort.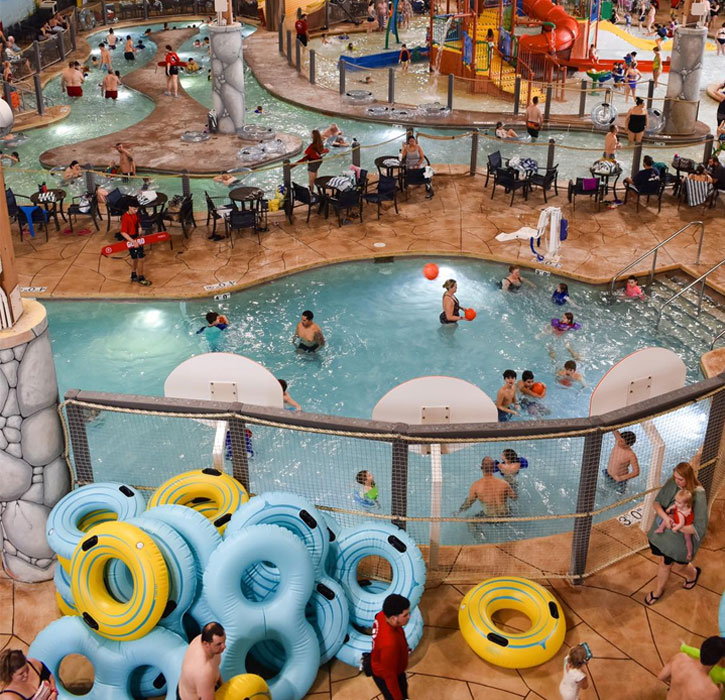 Great Wolf Lodge is located in many cities, but the one in Traverse City is known for its 38,000-square feet water park.
The Traverse City indoor water park features a multi-story interactive tree house for smaller kids, a pretty cool 1,000-gallon tipping bucket, 8 waterslides and five pools in different shapes and sizes.
What I liked most about this family-friendly resort is that the kids cabin room looked absolutely awesome (I'm sure if you have young kids with you, their room would blow their minds). There is also an ice cream-themed manicure Scoops Kid Spa and grown-up spaces like the fitness room, shops, and full-service spa.
There are also an arcade, bowling, golf, gift shops, and the MagiQuest, where guests can grab their wands and battle a dragon right at the resort.
Great Wolf Lodge always has activities by the lobby, from bingo to arts and crafts, yoga, clocktower show, dance parties, and even an awesome Story Time nightly.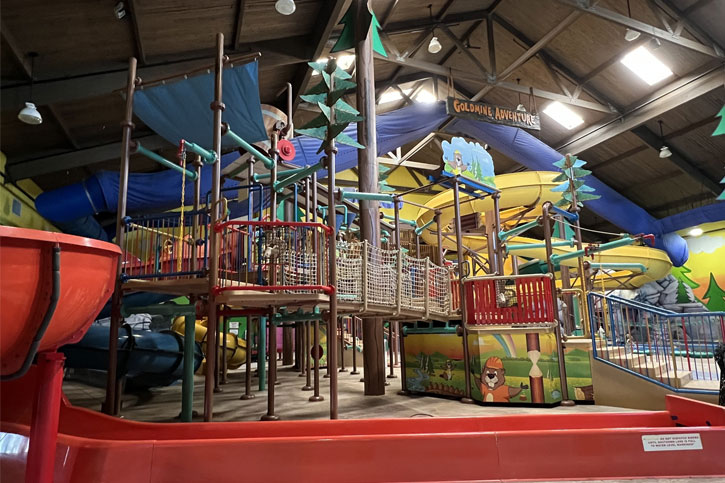 Splash Universe Water Park Resort in Dundee is a favorite local waterpark for younger kids.
The family-friendly place features indoor and outdoor spaces that total 25,000 square foot and over 100,000 gallons of water.
There are interactive play structures for small kids, water slides for bigger kids, adventure areas for kids of all ages, and the Ripplin' River at Splash Universe Dundee.
Splash Universe accepts birthday parties and weekenders.
The only problem I have with the management is that they've been under renovation for awhile now, but continue to advertise the place is if it was open. You need to contact them first before visiting, especially if you're coming from another town.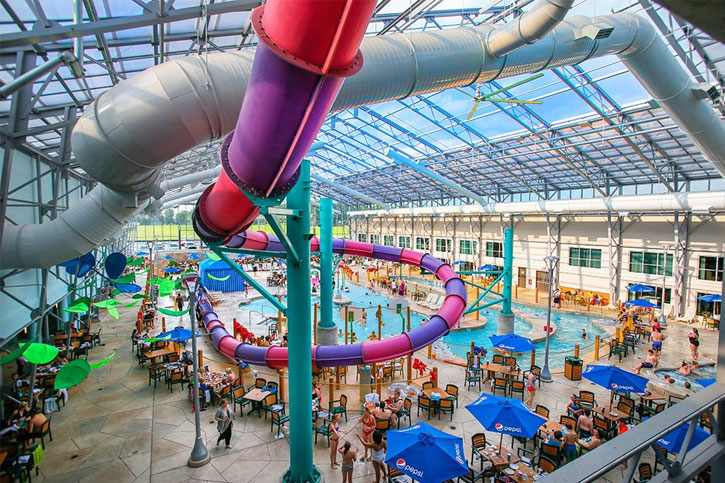 Zehnder's Splash Village Hotel & Waterpark is a highly-rated indoor park featuring over 50,000 square feet of splashing fun for all ages.
The waterpark has several distinct spaces, including the Perilous Plunge Tube Slides, Super Loop Speed Slide, a 4-person raft ride, lazy river, a hot tub and zero-depth entry activity pool. Volleyball and water basketball are also encouraged in some parts of the park. Younger kids will love the huge play area with a dumping bucket, water geysers and sprays designed specifically for them.
If you're visiting in the summer, the outdoor pool is likely open for you, too! If not, you'd find many other activities indoors, such as a huge arcade with 40 plus of the latest and greatest arcade games.
Zehnder's Splash Village is a waterpark-hotel, so you can plan your trip around your hotel accommodation (they have 178 deluxe rooms available) and expect hotel amenities like a gym, complimentary shuttle, and free Wi-Fi, among others. There are also in-house restaurants, serving breakfast to midnight snacks.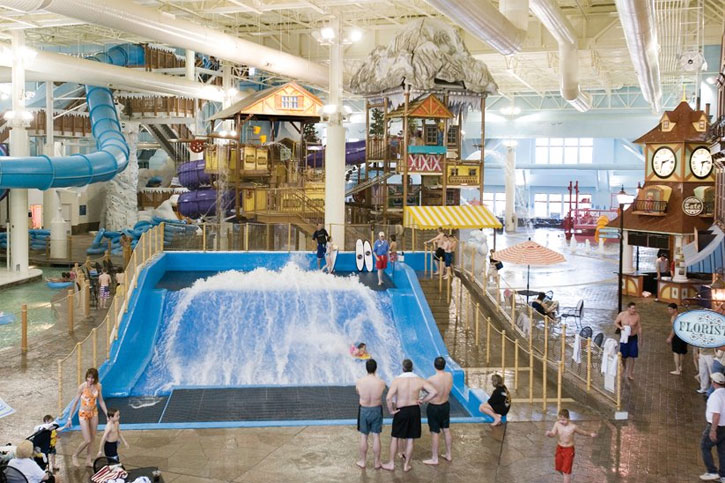 Avalanche Bay at Boyne Mountain is the largest indoor waterpark in Michigan.
Guests can explore the massive 88,000-square-foot water park with a lazy river, 5 water slides, hot tubs, a wave rider surf pool and more. An interesting feature about this indoor waterpark is the climbing wall.
Of course, Avalanche Bay also has a large play place for younger kids.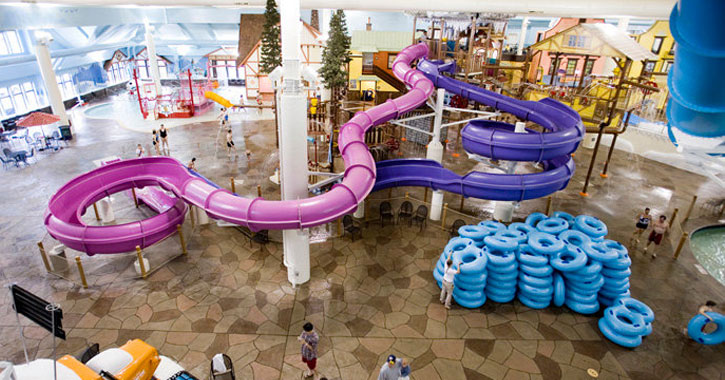 Aside from Avalanche bay, Boyne Mountain also offers lodging options, in-house dining, and activities like golf, downhill skiing, amazing golf, spa, the Sky Bridge, and more. You won't run out of things to do here, regardless if you visit in the summer or winter.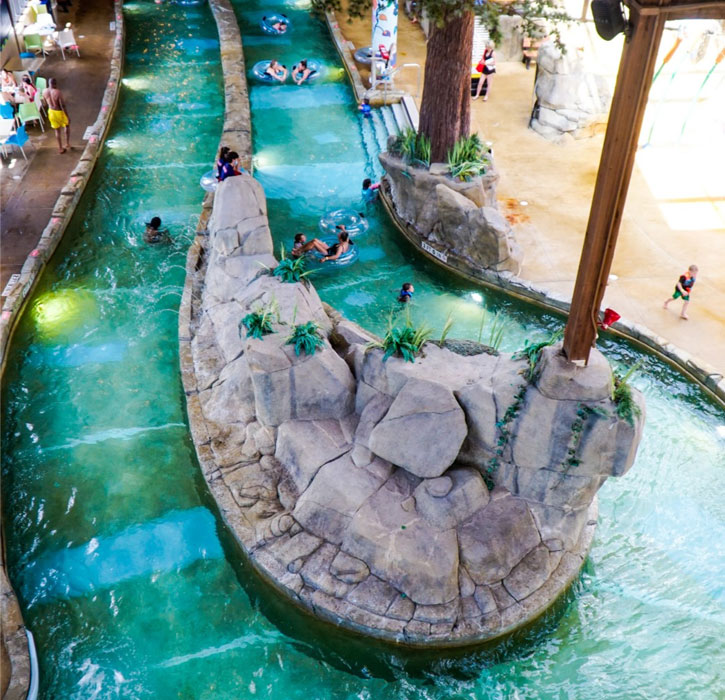 The Soaring Eagle Waterpark and Hotel is home to a 45,000-square-foot indoor waterpark for families and kids with all ages.
Located in Mt. Pleasant, the waterpark features a bowl slide, wave rider, body slide, lazy river, and rock climbing wall. There's also a sauna, hot tub and pool for adults. There is also a play area built specifically for younger kids. If you're visiting in the summer, there's also a small play structure outside for kids.
Once the kids get soaked to their hearts' content, there's an arcade and casino within the property as well, although the games are mostly for teens.
Soaring Eagle Waterpark and Hotel is open for both waterpark visitors and hotel+waterpark guests, so if you live nearby, you can enjoy the water park without booking a room.
6 Outdoor Water Parks in Michigan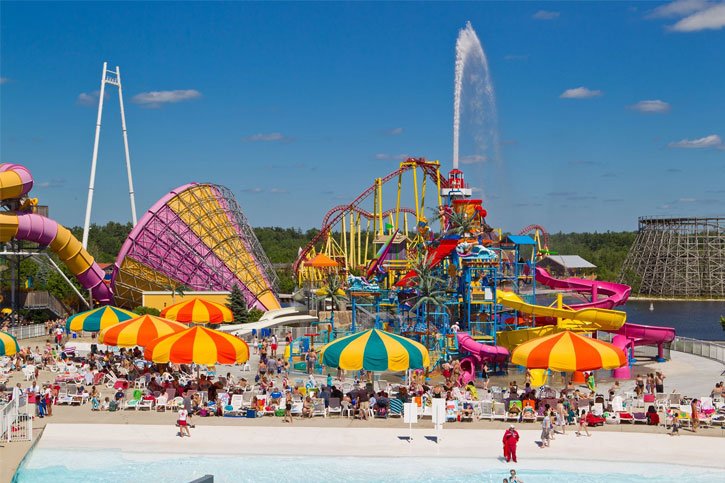 Michigan's Adventure is Michigan's largest outdoor waterpark. It is so HUGE that if you're traveling with kids, they'll know you're near since most of the rides are visible from afar.
The place is home to over 15 water attractions, including giant slides, wave pools, a lazy river, splash pad and areas for younger kids. The thrill-seeking guests have the Funnel of Fear, Cyclone Zone, Mine Shaft, and Slidewinders to go crazy for.
Family-friendly rides like the Tidal Beach, Commotion Ocean and Lagoon wading pool are perfect for those who just want to casually ride with the waves.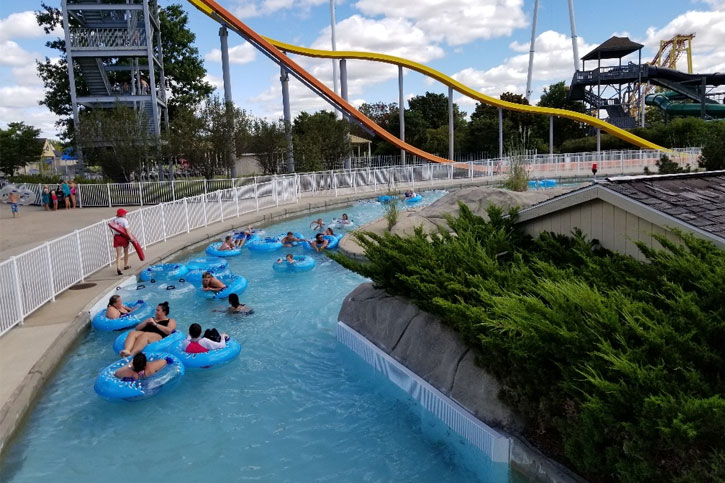 Aside from the lazy river, which even young kids can enjoy, those who aren't fans of thrill-seeking (or are not yet allowed due to their young age or height) could splash to their heart's content at the Half-Pint paradise where a cave, body slides and spraying chandeliers are found everywhere.
Out of the water, Michigan's Adventure also has shopping areas, in-house dining options, its own farm and theme park rides like roller coasters and thrill rides.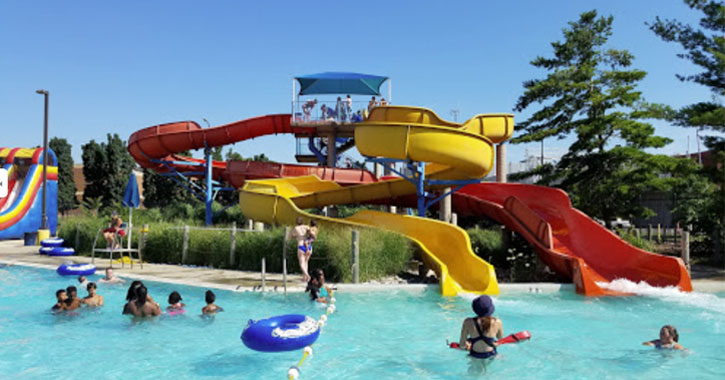 Flash Flood Water Park isn't as big as other outdoor water parks in Michigan, but it's still a cool summer destination that offers both indoor and outdoor water fun.
The spotlight here is the 200-foot waterslide outdoors, but if you prefer to the shade, you can swim indoors and go crazy with two 100-foot slides.
There are also zero-depth pools as well as splash pads, pools and water playground designed for younger kids.
Flash Flood Water Park also has a basketball court, a gift shop and a concession with fairly-priced goods.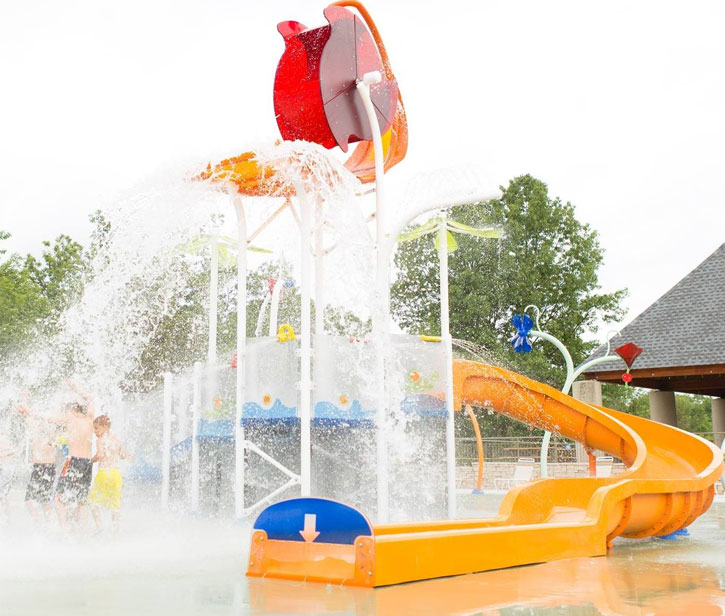 Who says government-run waterparks can't compete? Sure, the Blue Heron Bay Spray Park is not as massive as commercial waterparks, but it kids can still have an amazing time here, that's for sure.
Located in Independence Lake County Park, Blue Heron Bay Spray Park features two large outdoor water slides, water cannons, large bucket and a water structure all the kids flock to.
Amenities at the park are basic, but families will appreciate family changing rooms and diaper changing stations, first-aid services, showers and in-house concession booths.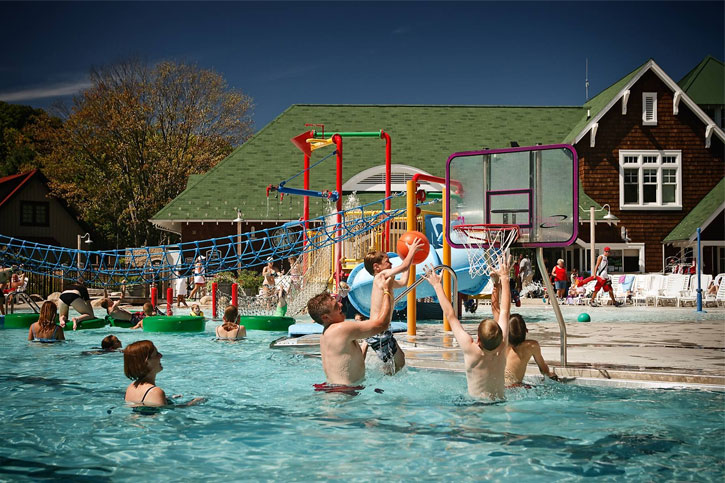 Crystal Mountain's Park at Water's Edge is an outdoor water playground for families with kids of all ages.
The one-acre summer destination features a 4,200-square-foot pool with zero-depth entry pool, water cannons, water basketball, aquatic playground, bubbling spouts and more. The three-lap lanes open at specific times a day only, so if you plan to swim in the lap pool, check current schedules with the park.
You can rent out cabanas for $100/day and buy swim gear such as swim diaper (for $3.50 a pop) at the Guest Desk.
Crystal Mountain's Park at Water's Edge also has an outdoor hot tub, which is open to all guests during pool hours. You can also rent these hot tubs after waterpark hours.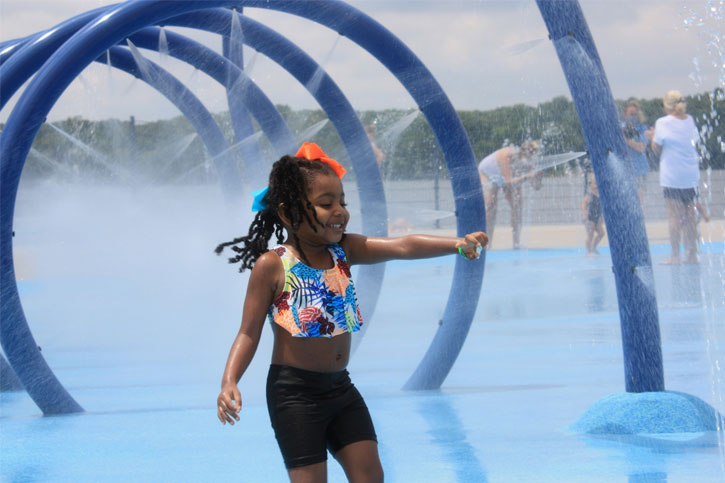 Splash 'n' Blast is a part of the Kensington Metropark. It was designed with two 240-foot twisted water slides ideal for thrill seekers (who are at least 42 inches tall) and a spray playground with cannons, serpents and trees for younger kids.
Splash 'n' Blast also allows guests to rent the entire place daily, from 10 am to 11am (Monday to Friday) for $200 an hour. This fee can bring in a max of 75 people (and $4/person if you exceed the limit). The entire place can host up to 500 people. To inquire or make a reservation for a private event, call the Park Office 810-227-8910 at least 10 days before the birthday, reunion, or other event.
The best part about choosing Splash 'n' Blast is that it is just one of the many attractions in Kensington Metropark. You can also ice-fish, cross-country ski, and go biking, boating, hiking, fishing, picnicking, and just enjoying the 4,481 acres of wooded terrain near Kent Lake.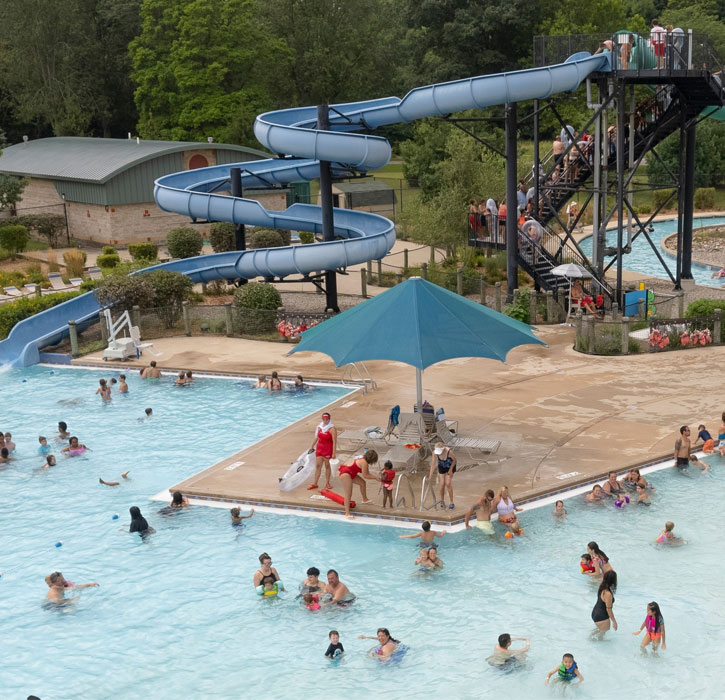 Turtle Cove Family Aquatic Center, run and operated by Lower Huron Metroparks, is a family favorite in Belleville and nearby areas.
Turtle Cove features two big water slides, a relaxing lazy river and zero-depth-entry pool with lap lanes. The star of the waterpark is the 300-gallon dumping bucket situated at the center of the park.
You don't need to go out of the park if you get hungry. The Turtle Cove Grille is located inside the park, which is pretty convenient.
Note that kids 10 years old and under must be accompanied by parent or guardians, since lifeguards may only be available during peak seasons.
Beyond the Water Parks in Michigan: Other Summer Attractions
Check out my guide on Lake Huron beaches, Mackinac Island and other Michigan beaches if you're extending your stay and looking for more water activities.
If you wish to hop between states in your search for the best outdoor or indoor waterparks in the country, here are some of the water parks we've been to: