With its endless stretches of stunning scenery, the fascinating glimpse into history it provides, and unparalleled raw beauty – there is no shortage of things to do in North Dakota.
It's quite interesting how, despite being an incredible destination for all history and nature lovers, North Dakota still remains one of the least-visited states in the US.
But a closer look at this state reveals a plethora of things to do in North Dakota that are enough to make you want to add it to your must-visit list.
You'll get to drive along remote routes, marvel at the rolling plains as they meet with the clear blue skies, get lost at largely untouched areas and have a cultural experience like no other.
What is North Dakota famous for?
Without a doubt, Theodore Roosevelt National Park is one of the most important North Dakota attractions.
Since it made it was dubbed as one of the top places to travel in 2016 by the New York Times, the park has quickly grown in popularity and became a center of the tourist trade in North Dakota.
If you're looking for things to do in North Dakota, I highly recommend you start with that.
As it's one of the main highlights of any trip to North Dakota, I also recommend you spend the longest part of your trip there.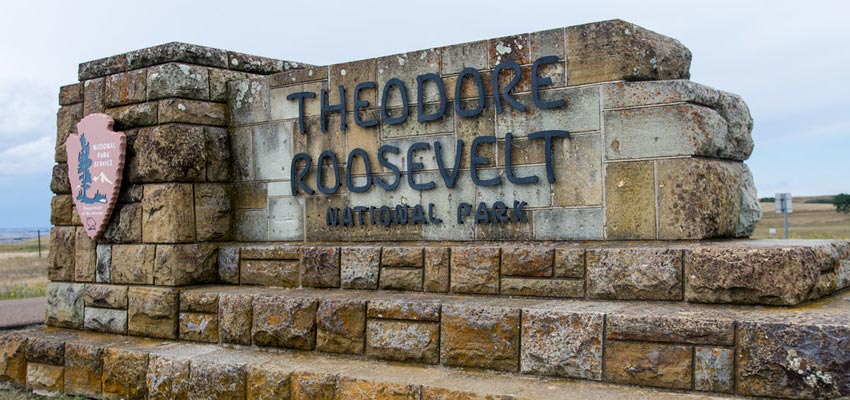 What is the Theodore Roosevelt National Park?
It was named after the 26th president of the United States (who was also an avid naturalist and rancher) and is a place that is widely known for incredible scenery.
Think of the Little Missouri River snaking its way through endless rolling hills that stretch over 70,000 acres, preserved wildlife, and natural beauty surrounding your every move.
Best time to visit
The best time to visit this top North Dakota attraction is during the summer. If you're not really a fan of crowds, then I recommend visiting during the shoulder season (so either May or September).
Things to do there:
A scenic drive alongside its free-roaming bison.
Hike along one of its many hiking trails.
Take a horse ride along the Peaceful Valley Ranch.
Climb through the Ridgeline Nature Trail.
Hike along the Wind Canyon Trail for the incredible panoramic vistas it offers.
8 Best Things to Do in North Dakota
There are a lot more things to do in North Dakota than visiting the Theodore Roosevelt National Park.
Here are some of my recommendations:
1. Enchanted Highway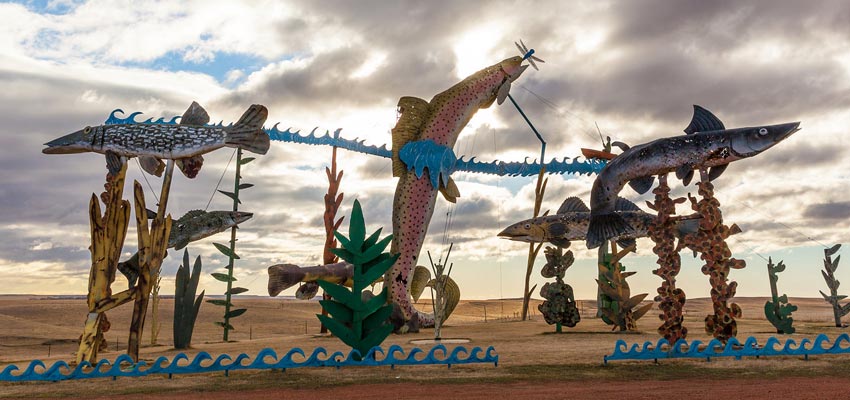 If you're an avid road tripper, then the Enchanted Highway is bound to be one of the top North Dakota attractions for you.
The 32-mile highway appeals to all types of travelers and is a whimsical display of incredible sculptures and miles of stunning scenery.
2. The Scandinavian Heritage Association
This is quite an interesting part of North Dakota that pays homage to Sweden, Finland, Norway, Denmark, and Iceland.
The park includes the Gol Stave Church Museum, Dala Horse, Heritage Center and plenty of statues that reflect the material possessions and lives of settlers who left North Dakota behind for a promising new life in the New World.
3. The North Dakota Heritage Center and State Museum
This is one of the most popular things to do in North Dakota.
The museum is an interesting display of a staggering 12,000 years of history divided into different sections for different periods.
The museum has exhibits dedicated to dinosaur skeletons, cultural artifacts from the Native American culture and a lot more.
4. Frontier Village & The National Buffalo Museum
If you want to experience the raw grandeur of the world's largest bison, then I recommend visiting this top North Dakota attraction.
You'll get to learn everything about buffaloes at the National Buffalo Museum alongside a collection of pioneer buildings that feels like stepping into a time-portal.
5. Plains Art Museum
Another museum on this list of top things do in North Dakota, the Plains Art Museum is renowned for its impressive collection of artifacts and pieces of art by, both, local and international artists.
6. The Lewis & Clark Trail
You'll get to follow the footsteps of Lewis & Clark on this now world-famous trek that will most definitely inspire you to make your own discoveries.
7. Maah Daah Hey Trail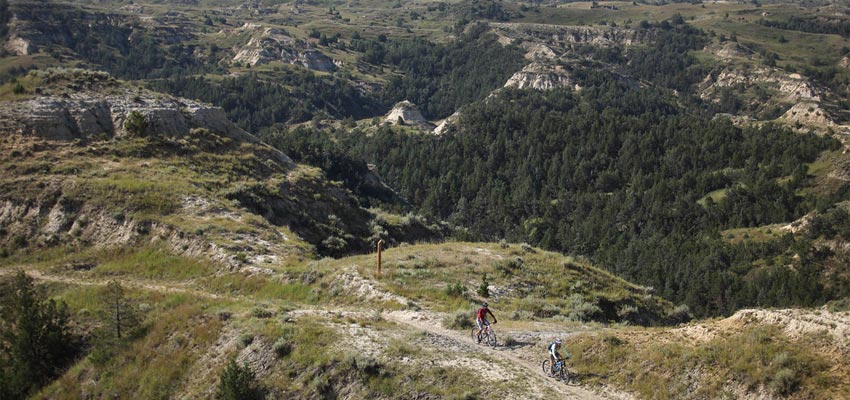 If you're an avid hiker, a nature lover or a big outdoor enthusiast – this one's for you!
This is one of the best North Dakota attractions and has been attracting all adventure lovers for years – from the hikers to the bikers to the horseback riders!
Covering over 140-miles, the Maah Daah Hey Trail is a treasure trove of staggering landscapes and scenic day trips.
8. Fort Abraham Lincoln State Park
The Fort Abraham Lincoln State Park will fully immerse you in history by engaging you with stories about the Mandan Indians who lived there.
There's a lot more to do including hikes, camping next to the water and horseback rides.
The park includes four primitive campsites, modern reconstructed military buildings, and a few recreational facilities.
When is the best time to visit North Dakota?
From late May through October is definitely when you should visit North Dakota.
Because of North Dakota's location, the four seasons there are quite distinct with extremely cold and windy winters, pleasant summers, and unpredictable weather during Spring and Fall.
For the best weather visit in June, July or August, but if you want to avoid crowds and the high humidity, then I recommend visiting in late May or September-October.
What is there to do in North Dakota in the winter?
Which brings me to my next point – what are the top things to do in North Dakota during the winter months?
Despite the reputation it gets for being quite frigid during the winter months, there is no shortage of North Dakota attractions and things to do in winter.
Yes, it's cold. But all you need to do is bundle up and get ready to explore all that the state has to offer.
Bottineau Winter Park
Perched amidst the Turtle Mountains, the Bottineau Winter Park is a haven for all winter lovers.
There are plenty of skiing and snowboarding opportunities for visitors of all skill levels in its eight trails.
If you're still a beginner, I recommend visiting the Southside Hill, and if you're an expert, the head straight to the glade runs.
Frost Fire Ski Area
Another treasure trove of winter activities, the Frost Fire Ski Area boasts a wide range of activities.
You can try snow tubing, snowboarding, and skiing there.
Make sure you visit Dragon's Mouth – this terrain park includes 10 trails with a range of difficulty for visitors of all skill levels.
Huff Hills Ski Area
This is one of those North Dakota attractions that is perfect for all snow lovers.
It has an incredible vertical drop (450-foot drop to be exact!) and around 16 runs with lessons for individuals and groups.
The cherry on top, however, are the meals that are cooked by the stone fireplace overlooking the incredible landscapes of the park.
Stay at one of the many lodges in North Dakota
Honestly, does anyone sound better than curling up next to a fire on a cold winter evening?
I doubt it.
There are plenty of lodges and cabins at parks in North Dakota that can make the winter months a bit more fun.
Rent a cabin at Cross Ranch State Park and indulge in some of its many winter activities like cross-country skiing and snowshoeing.
Stay at Eagle Ridge Lodge for a romantic getaway.
Rent a lodge at the peaceful Moose Creek Lodge for a chance of ultimate relaxation amidst the diverse wildlife and tranquil landscapes of the park.
Enjoy all the winter activities at full force in North Dakota
One of the best things to do in North Dakota in winter is to participate in one of the many winter activities offered by the state.
Try your luck at ice-fishing at Devils Lake, Lake Metigoshe State or Icelandic State Park.
Visit one of the snowmobiling trails in North Dakota. Don't worry – the state has a staggering 2,800 miles of snowmobiling trails.
Is it really a winter well spent if you haven't been ice skating at least once? You could ice-skate at pretty much at any of the towns in North Dakota.
One of the best things to do in North Dakota in winter is cross-country skiing thanks to the state's rolling hills and flat prairies that make it a haven for all skiers.
Try curling or snowshoeing at one of the major state parks in North Dakota.
North Dakota Has Many Attractions
The magnificence of North Dakota lies in its rugged badlands and lush woodland settings.
Don't miss out on what this state has to offer from its incredible culture & heritage to its wide range of activities and landscapes.
Not many people have been to North Dakota.
Have you? Tell me what you saw in the comments below!