Florida skateparks vary in size, complexity, and character.
From the open-space abandoned parking look to an innovative park well-designed by some of the country's best skatepark builders, you can find a growing number of skate spots in Florida.
This post features some of these areas loved by locals and tourists alike.
10 Florida Skateparks to Check Out
This list isn't complete. Florida is one of the states that consider skateboarding a respectable sport that makes community bonds stronger, so expect more skate parks built from the Keys to North West Florida in the near future.
For now, check these spots and see which ones are near you.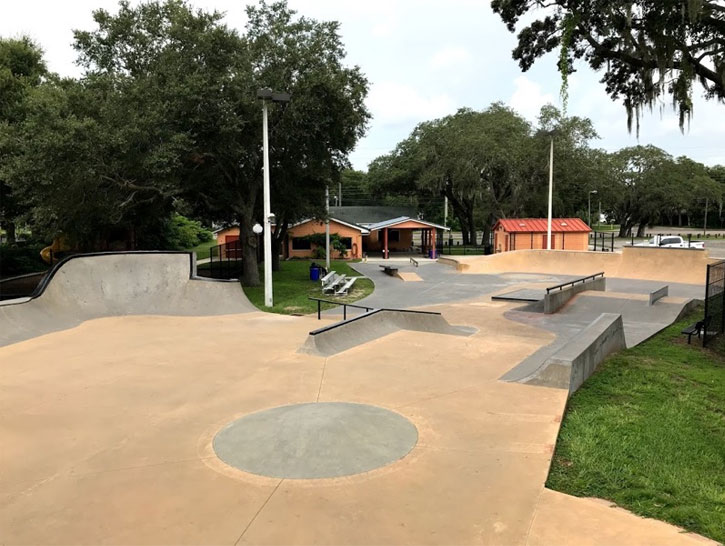 Providence Skate Park is the biggest skatepark in the county.
Known as the 'Concrete Jungle,' Providence Skate Park has 14,500 square feet of skate area with transitional elements such as quarter pipes, a handrail, a pyramid, a step-up, and various granite structures.
Providence Skate Park was designed for intermediate and professional-level skaters.
Skateboard lessons ($20 per 4-week session) are available for beginners to develop fundamental skills. Check the site for schedules and slot availability.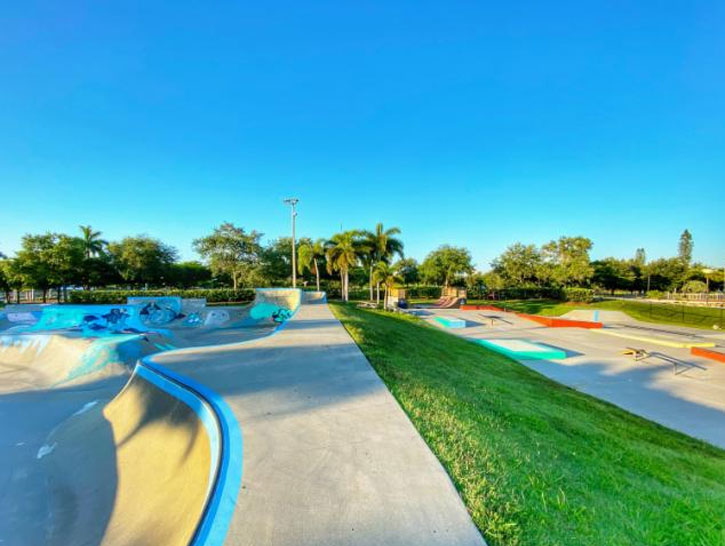 Owned and operated by the City of Sarasota Parks & Recreation District, Payne Park used to be a ballpark that was turned into a place for all ages to enjoy various recreational activities.
Payne Park Skate Park is a 25,000 square feet outdoor skatepark. Built by Team Pain, this skatepark is split into two parts:
One part is the street section with obstacles like bank ramps, stairs, rails, flat bars, hubba ledges, flat ledges, granite bench top, and more.
The second part is the transition section which consists of a flow area ranging from 3 to 11 feet, a backyard-style pool, and more.
There's also a circus-themed playground at Circus Park, a cafe, a disc golf course, an amphitheater, a small splash area, rock climbing spots, swings, slides, and an area for picnics.
Payne Park offers rental equipment for most activities.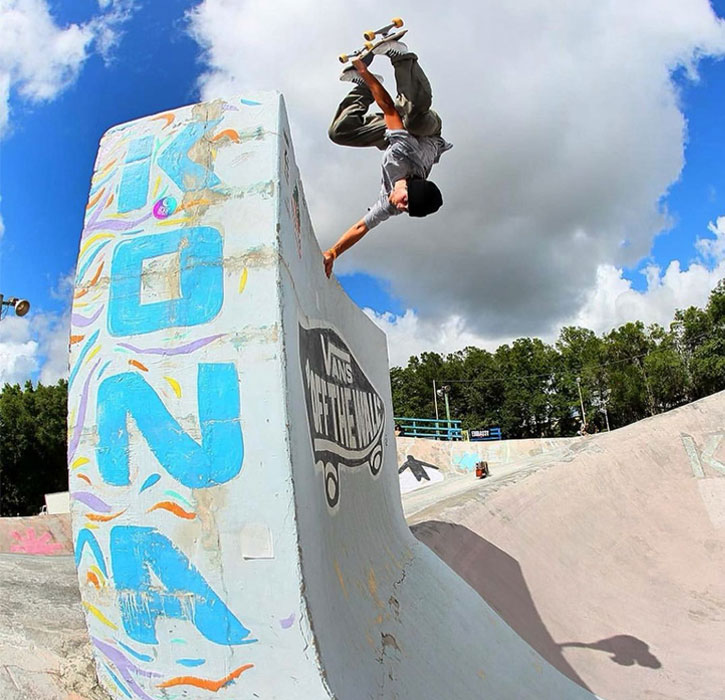 Location: 8739 Kona Ave, Jacksonville, FL 32211
Fees: Daily rates range from $5 to $15, depending on the hours you'll be shredding in the park. Annual pass-holders enjoy unlimited sessions.
Hours: Kona has schedules for every season – make sure to check here before visiting.
Opened in Jacksonville Florida in 1977, Kona Skatepark USA is the world's oldest privately owned park and holds many of the sport's "firsts."
For instance, Kona designed the first-ever vert ramp and snake run. Kona Skatepark has hosted many of skateboarding's major events, where skateboarders from all over the country have showcased moves, tricks, and stunts that have never before been seen elsewhere.
Kona Skatepark is so iconic that the design has been featured extensively on one of Tony Hawk's Pro Skate 4 levels.
While intermediate and professionals love visiting Kona, even beginners can learn through play via the park's bowls, stairs, quarter pipes, coping grinds, vert halfpipes, and other features.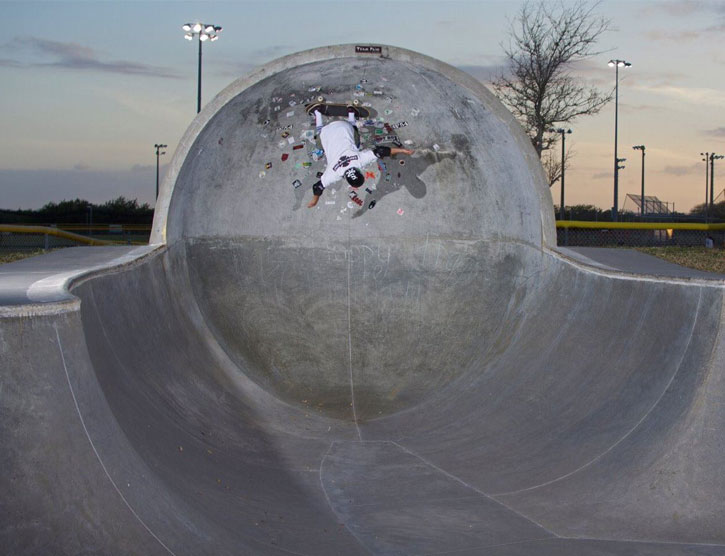 Location: 1450 Minutemen Causeway, Cocoa Beach, Florida 32931
Fees: This park is maintained by the city of Cocoa Beach, which collects a $3 admission fee for locals and tourists.
Hours: Open daily (schedule found here)
Cocoa Beach Skatepark is one of the most popular Florida skateparks on this list (after Kona).
Located in Cocoa Beach, the 13,000-square feet park is designed mainly with transition features.
The main attraction of the skatepark is the massive open bowl with hips, walls, bumps, cradle, steel coping, and pool coping. Many skaters from around the country specifically visit Florida to see the famous Clam Shell and try it for themselves.
Cocoa Beach Skatepark has a small street section with stairs, rails, and some ledges, but you probably won't be satisfied with the available street elements.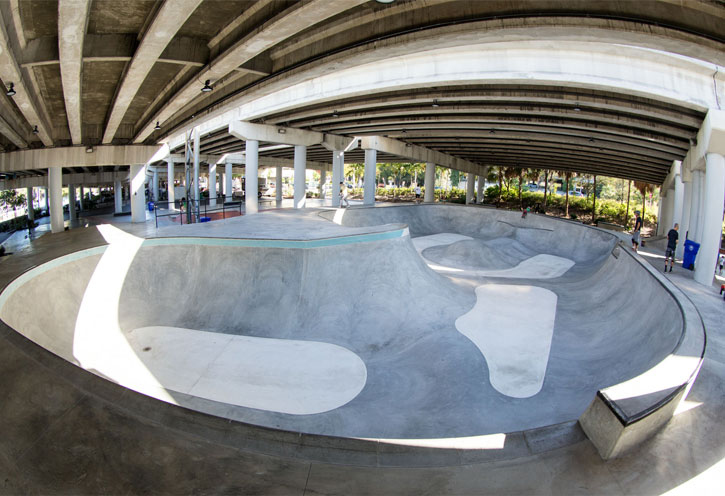 It took 9 years of development from non-profit org Skate Free, the MPA, FDOT, and the City of Miami to design, build and launch Miami's awesome, eco-friendly state-of-the-art skatepark facility.
It is one of only a few skateparks with LEED Gold status for its entire design and construction.
Lot 11 Skatepark is situated in a 50,000-square-foot space. It features a skate plaza with various obstacles like manual pads, flat bars, hubba ledges, banks, quarter pipes, flat ledges, and more.
The skatepark also has a transition zone, two unique street courses, and a bowl designed for professional events.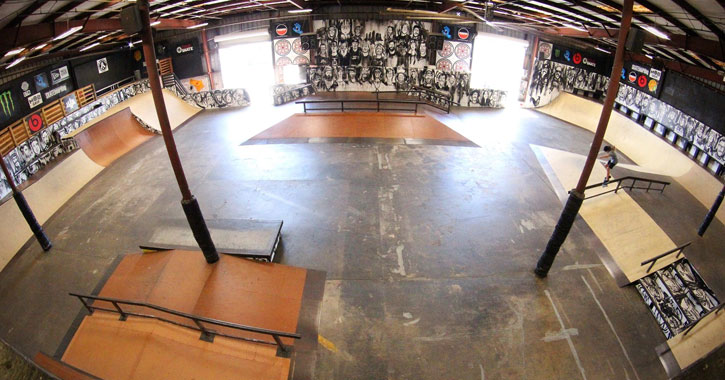 Fees: SPoT members (with a $40 annual fee) skate free on Mondays and half-priced on Tuesdays through Thursdays. On Fridays to Sundays, members pay $5 to enter. Non-members have different rates.
Hours: Check here for schedules, hours change regularly.
The Skate Park of Tampa (SPoT) was founded in 1993 and has been hosting two important contests for years – the Tampa Pro and Tampa Am (the amateur skateboarding competition where many pro skaters had their start).
SPoT has contributed to the shift of skateboarding from a counterculture to a legitimate sport, specifically with the rise of skating events starting in the 90s.
Aside from the events held here, Skate Park of Tampa also hosts an impressive after-school and summer camp program. There is an indoor skatepark (with a ton of rails and bowls) and outdoor space for skating.
The outdoor skatepark features a bowl, flow track, and all kinds of halfpipe and ramp configurations that skaters require to master competition tricks.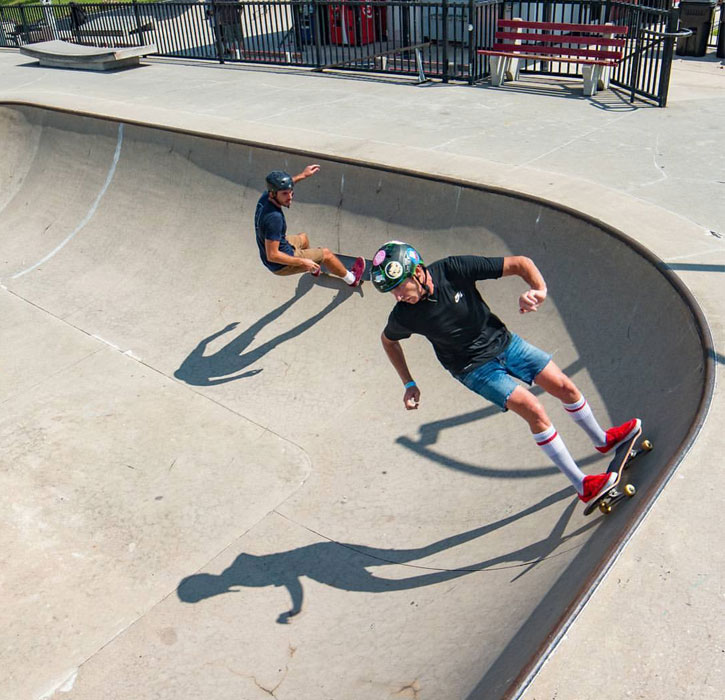 Location: 400 Festival Way, Orlando, Florida 32803
Fees: Members enter for $2.50, while non-members pay $5 for skateboard and $7 for BMX. Helmet rentals are $3, while skateboard rentals are $5.
Hours: Open Mondays to Fridays from 2pm to 11pm and weekends from 9am to 11pm.
The Orlando Skatepark is a municipal, kid-friendly skatepark with a variety of outdoor courses for beginner to advance skateboarders.
The park features a flow bowl, traditional bowl, and pool, along with a street section that has been designed to improve a skateboarder's skill from beginner obstacles to pro-level street terrain.
Known as one of the best Florida skateparks for lessons, the Orlando Skatepark offers summer camps for kids 5-14 regardless of skill level.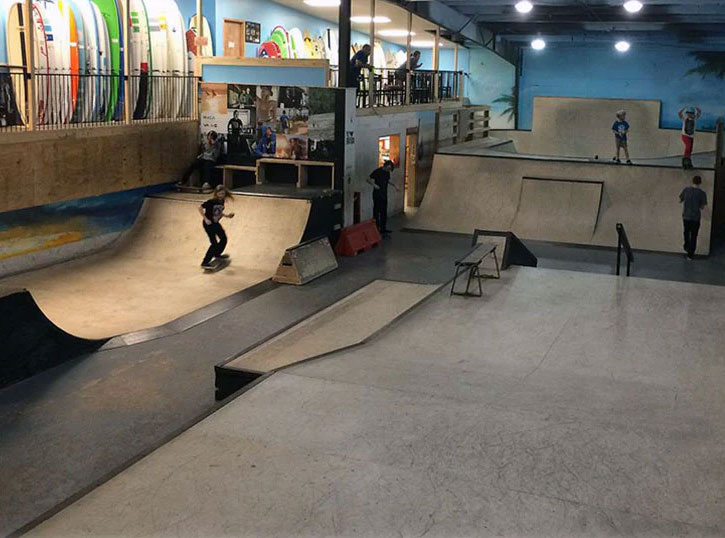 Location: 380 N 9th Avenue, Pensacola, Florida 32502
Fees: $360 for annual membership, $50 skate lesson, and $150 for a 4-day skate camp
Hours: Open daily from 8am to 5pm
If you're in search of indoor skateparks Florida has to offer, check out the Waterboyz Skatepark.
Located in Pensacola, this family-friendly park is actually a surfboard production company and skate shop. In 2007, after relocating to a 10,000-square-foot building, Waterboyz Skatepark opened half of the space for an indoor, 5,000-square-foot, all-wood street-style skatepark.
This indoor park lets guests home their street skills thanks to vertical obstacles, mini ramps, and other features.
The Cafe Single Fin is located inside the Waterboyz Surf & Skate Shop building, making it the total package for birthday parties, seminars, and skate camps.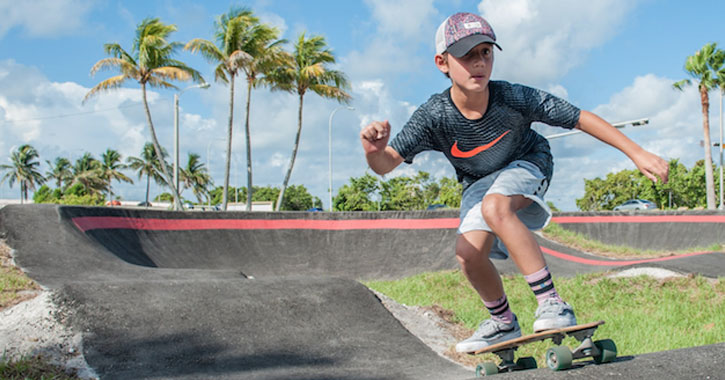 Location: Miami Beach, FL 33154
Fees: Free to skate, but parking fees range from $5 to $15 depending on the type of vehicle and day-of-the-week.
Hours: Sunrise to sunset
Located at Haulover Park, the Skate Park and Pump Track is perfect for those looking for a good view while skateboarding.
The park was designed to cater to both skateboards and longboards. There are various routes and obstacles ranging in difficulties at the Skate Park and Pump Track.
As a park a walk away from Miami Beach, so the Florida vibes are definitely here. Do note that parking can be pricey, but no entrance fees are necessary.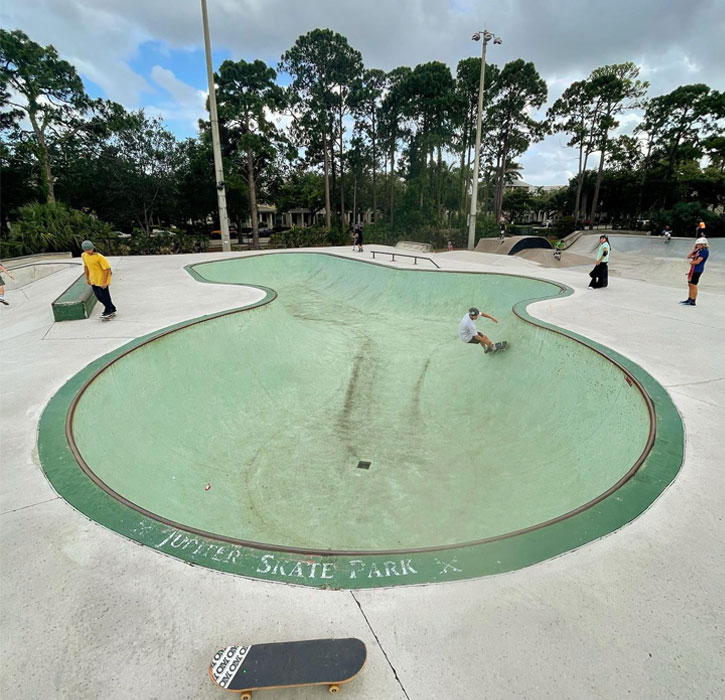 Fees: Memberships are priced at $100/year for residents and $125/year for non-residents. Per-session prices begin at $5.
Hours: Open on weekdays from 1pm to 9pm, while Saturdays/Sundays open from 9am to 9pm.
Opened in November 2003, Abacoa Skate Park (also known as South Jupiter Park) is an outdoor skatepark located in Abacoa Community Park.
Abacoa Skate Park features a 9-foot deep concrete bowl, wood ramps, box jumps, a vert ramp, and other obstacles ideal for beginner to advanced skateboarders.
Aside from the large skate park, the 12-acre park features a pair of roller hockey rinks, basketball courts, and other sports facilities.
Other Things to do Beyond Florida Skateparks
If you're visiting Florida, I'm sure these posts can help you curate a better itinerary:
For those planning to visit some of the best skateparks in the country, check out my Pennsylvania skatepark guide.