There are 30 lighthouses in Florida – all of which are still standing today. Some of these beacons of light still work and brighten the seas and their surroundings at night, while others just serve as part of the state's history.
About 10 of these Florida lighthouses are open to the public – some are open daily, but most have scheduled tours posted for visitors to check out.
6 Must-Visit Lighthouses in Florida
If you can only visit just one or a couple of lighthouses in Florida, I recommend you pick from any of these six, beautiful attractions.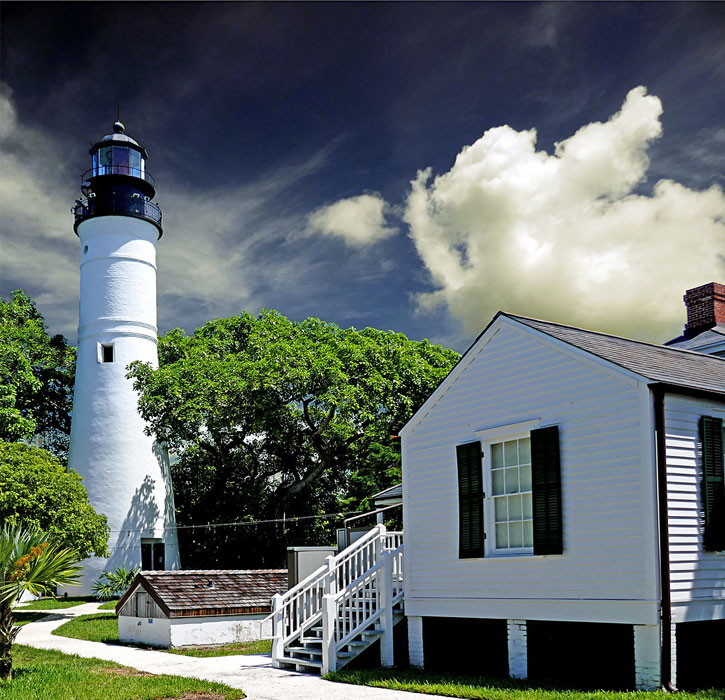 Fees: $7.50 to $17 (depending on the age of guest), kids under 7 come in free
Guest info: Open daily from 10 AM to 5 PM, climb 88 steps to reach the top
What makes Key West Lighthouse special: If you're visiting Key West, take a day trip to this lighthouse to get one of the best views (one of the highest points) in Key West.
Located on the western end of Key West, Florida, this historic lighthouse has been around since 1825. At the time, Key West was a major port and naval base, so this lighthouse guided ships through the dangerous waters.
During the Spanish-American War, Key West Lighthouse was used as a signal station. In the Civil War, Union forces controlled lighthouses and used this spot to wait or lookout for Confederate ships.
Here are some interesting tidbits about Key West Lighthouse:
The 86-feet-tall lighthouse has faced damages from storms and had to be rebuilt multiple times.
The most recent structure was built in 1848.
The first keeper of the lighthouse was a man named Michael Mabrity, who died in 1832. His widow Barbara took over the job and served 32 years as a lighthouse keeper (which is pretty rare for that era).
When the Key West Lighthouse was decommissioned in 1969, its light was replaced by a more modern, automated light.
Today, this lighthouse is a favorite Key West attraction and it is listed on the National Register of Historic Places. Beside the lighthouse is the Keeper's Quarters Museum, where trinkets of the past keepers are still there.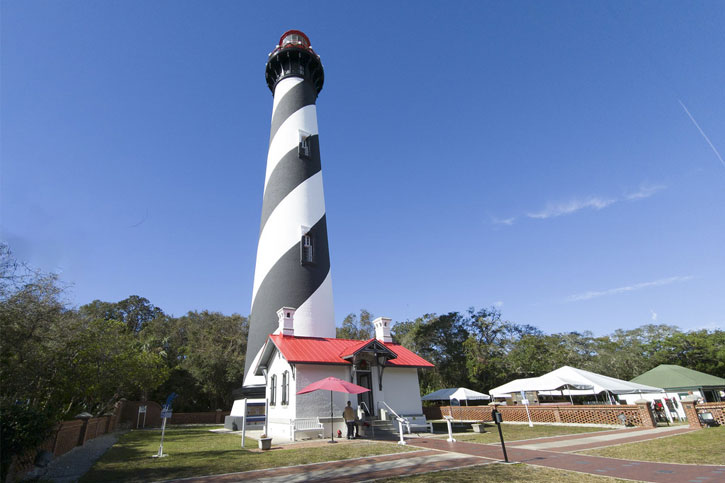 Location: 100 Red Cox Dr, St. Augustine, Florida 32080
Fees: Admission is $14.95 for adults and $10.95 for seniors and children 12 and younger.
Guest info: Open daily from 9AM to 6PM, 219 steps to the top
What makes St. Augustine Lighthouse special: Aside from the lighthouse, there is a maritime museum, exhibits, hands-on activities, nature trails, summer camp programs, and Shipwreck discoveries for kids.
St. Augustine Lighthouse is one of the most popular lighthouses in Florida. After all, this lighthouse is the oldest lighthouse in the United States.
It was first built in 1824 to guide ships safely through Florida coast's dangerous waters, but demolished in the 1870s for its deteriorating condition.
The lighthouse was rebuilt starting in 1871 and was first re-lit on October 15, 1874. At the time of reconstruction, the materials used were a mix of brick and iron, which proved to be more durable.
Here are some interesting tidbits about Saint Augustine lighthouse:
St. Augustine Lighthouse stands 167 feet tall.
This black-and-white striped lighthouse is rumored to be haunted. (It was even featured on Buzzfeed Unsolved and Ghost Hunters). The placed even capitalizes on this and hosts a "spooky" evening tour for guests.
The most striking feature of the lighthouse is the first-order Fresnel lens, which was installed in 1874, but replaced/restored in 2012.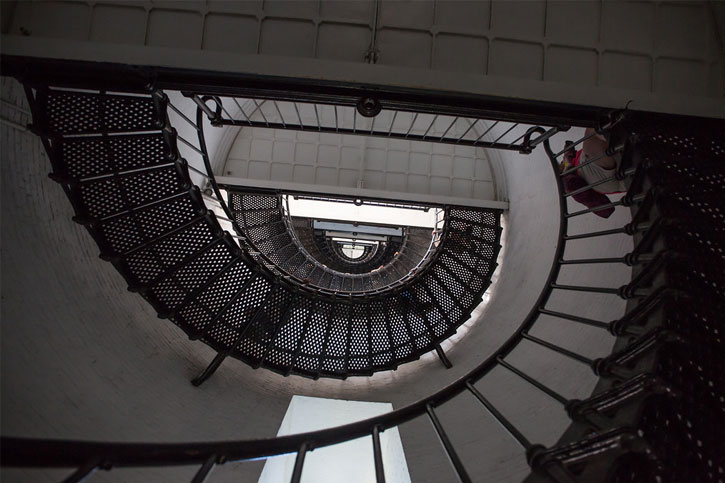 St. Augustine Lighthouse had been restored in mid-1990s, 2000, and 2012.
Today, it is a Florida landmark and a full-blown tourist attraction complete with a playground, museum, and a puppet theater. There are educational programs, different tours, and events.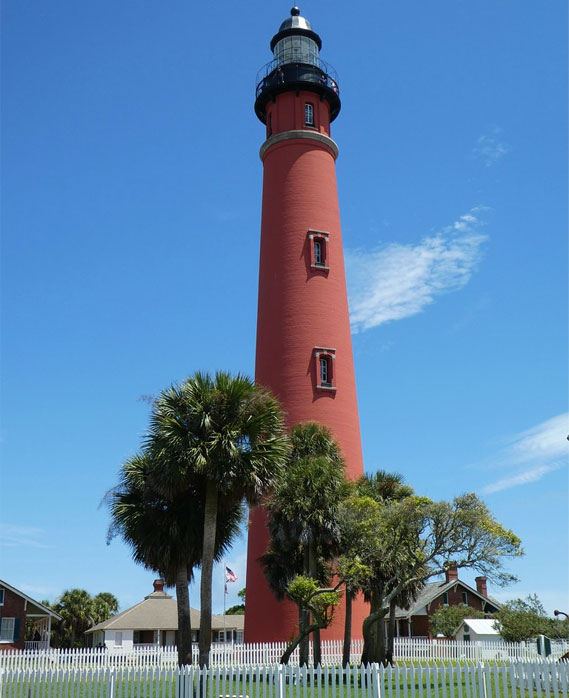 Fees: $1.95 for kids 3-11 years old, $6.95 for adults age 12+
Guest info: Open daily from 10AM to 9PM, except Thanksgiving and Christmas
What makes Ponce de Leon Inlet Lighthouse special: It is the tallest lighthouse in Florida at 175 feet
Built in 1887 to guide ships and avoid collisions, the Ponce de Leon Inlet Lighthouse had gone through many significant times in history. It is now part of the Ponce Inlet history.
During World War II, the Coast Guard used Ponce de Leon Inlet Lighthouse as their lookout station.
Here are some tidbits about Ponce de Leon Inlet Lighthouse:
The lighthouse was named after the Spanish explorer Juan Ponce de Leon, who is said to have sailed through the inlet upon his arrival in Florida.
The lighthouse features a third-order, rotating Fresnel lens.
It will take most adults 203 steps to reach the top.
Unfortunately, guests aren't allowed to walk to top on a daily basis. You have to time your visit when officials have schedule a special tour of the top of the lighthouse.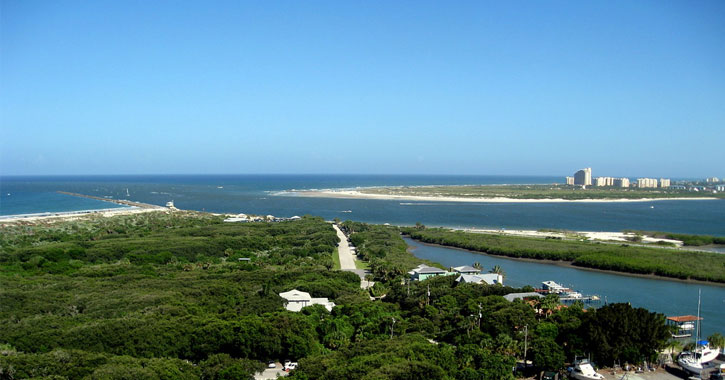 Because it provides a fantastic view of the Daytona Beach (see image above), some people call this as "Daytona lighthouse" instead.
Today, the Ponce de Leon Inlet Lighthouse is open to the public. When you visit the lighthouse, you can explore a museum schedule a private tour, join events (there are school events, private events, and community events).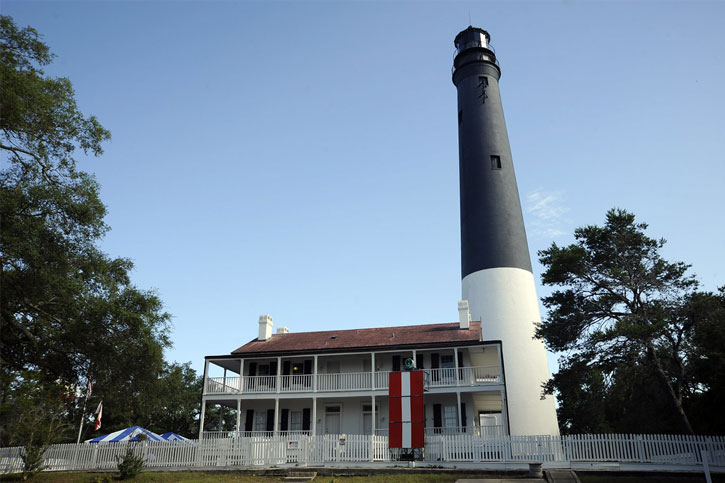 Fees: $8 for adults, $4 for children and over 65-year-olds.
Guest info: Open daily from 9AM to 4PM, 177 steps to reach the top
What makes Pensacola Lighthouse special: Impressive views over the Gulf Coast, with a museum and tours available
Pensacola Lighthouse is one of the most famous of all Florida lighthouses.
Built in 1859, this lighthouse is situated within the Naval Air Station in Pensacola. Because the lighthouse is inside an active military base, guests have to follow stricter rules, such as wearing ID throughout the property.
Here are some tidbits about Pensacola Lighthouse:
The lighthouse was struck by lightning in 1874 AND 1875! Only during the second strike did officials discover their lightning rod was defective.
In 1974, Pensacola Lighthouse was listed on the National Register of Historic Places
This lighthouse is used by the U.S. Coast Guard as an aid to navigation to this day.
Pensacola Lighthouse is supposedly haunted. (they have ghost tours for this, enjoy!)
For awhile, the Pensacola Lighthouse was closed completely for the public. It was reopened in 2009 temporarily with limited tour slots. But it opened in 2011 with a daily tour schedule once Pensacola Lighthouse Association took over its maintenance and operations.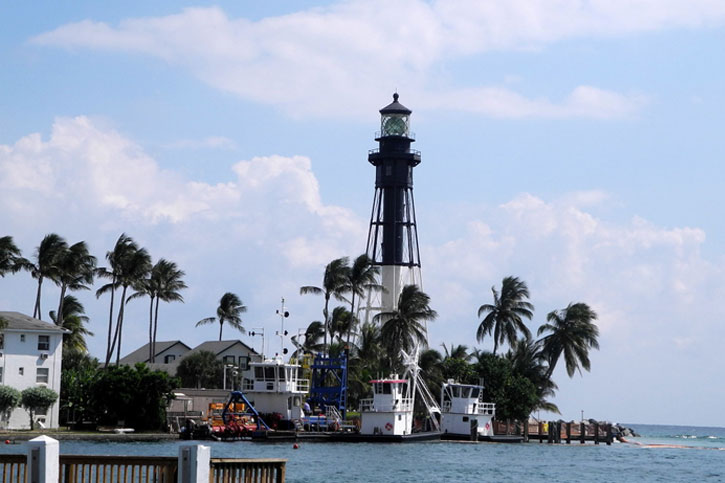 Location: 907 Hillsboro Mile, Hillsboro Beach, Florida 33062
Guest info: Opening days and hours vary, call +19549422102 or check this calendar before visiting.
What makes Hillsboro Inlet Lighthouse special: Awesome boat trip going to the lighthouse with stunning views of Millionaire's Miles and other exotic nature attractions.
The Hillsboro Inlet Lighthouse was built in 1906 on the northern side of Hillsboro Inlet.
At the time the construction for this lighthouse was received in 1884 specifically built to bring light to the dark area between Jupiter Inlet Light and Fowey Rocks Light.
Here are some things you should know about Hillsboro Inlet Lighthouse before visiting:
The lighthouse is NOT open daily. Check the tour schedule for dates and availability.
You can only visit the lighthouse by boat.
By 1977, Hillsboro Inlet Lighthouse held the record for most powerful light in Florida.
The light was automated in 1974 to modernize he coastal navigational aide
Hillsboro Inlet Lighthouse opens its doors to the public periodically. When they do, try to join to get a taste of local history.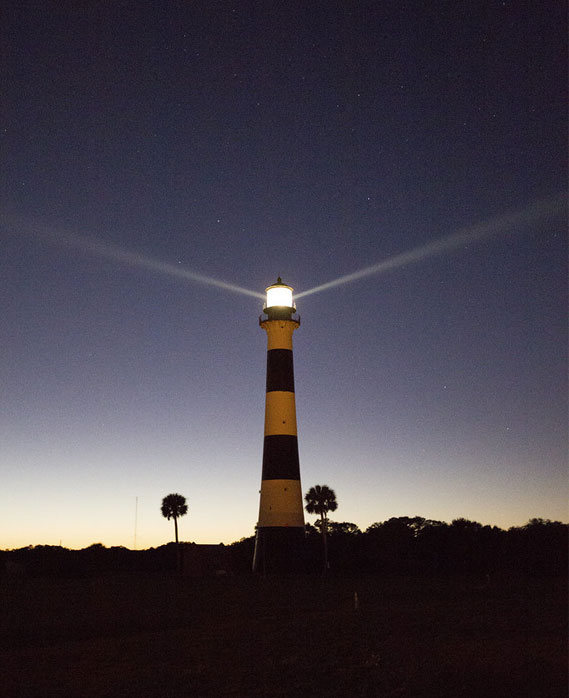 Fees: Admission fees vary, depending on the type of tour
Guest info: Opening days and hours vary, call (321) 351-5052 before visiting.
What makes Cape Canaveral Lighthouse special: It is the only fully operational lighthouse owned by the United States Space Force.
Cape Canaveral Lighthouse is an iconic landmark that has been around for over 150 years.
The 65-feet lighthouse was built in 1849 first using brick. At the request of mariners in 1868, a newer lighthouse was constructed (this time at 151 feet) with iron materials and the best lantern of the time – a First Order Fresnel Lens. This particular lens was invented by the awesome Frenchman Augustine Fresnel in 1822. It boasts light that could reach 18 miles out to the sea.
In 1939, the Coast Guard took over the maintenance of this lighthouse. The entire lighthouse was moved a quarter a mile inland in 1983 due to fears of erosion.
In 1994, another update was made. They kept the original lighthouse bones, but added a new lamp.
By 2000, the Coast Guard handed over the Cape Canaveral Lighthouse ownership and maintenance to the United States Space Force.
If you're interested in visiting, you can't go directly to Port Canaveral and "walk-in." All guests must make reservations in advance via Canaveral Tours.
Other Lighthouses in Florida and Beyond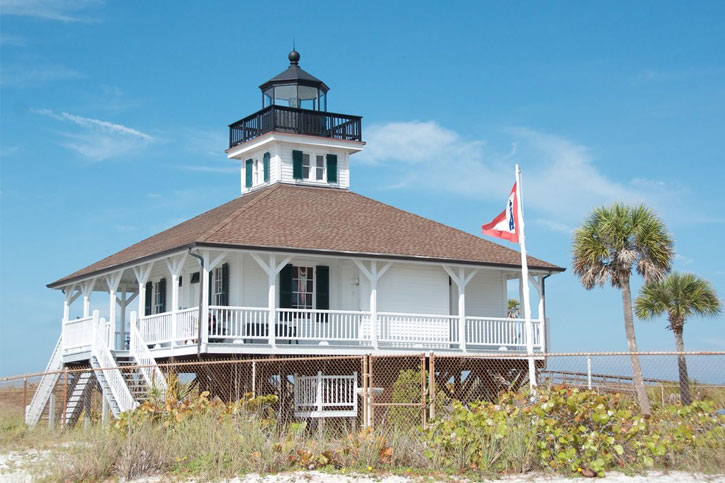 Some lighthouses in Florida aren't built like the typical tower structure. Take the 1890 Port Boca Grande Lighthouse (above) as example. The house is topped by a tiny square tower that beamed light miles away.
If you're planning to check off all the 30+ lighthouses in Florida, you'll need several weeks to get from Amelia Island Light (in the Northeast) to Pensacola Light (in the the Panhandle area).
While you're traveling across Florida, check out my guides and add these to your itineraries: