Growing up in Pittsburgh, I've spent a lot of time visiting lakes seeing as the nearest ocean beach was about six hours away (and in New Jersey…) so a good lake vacation is where it's at.
Personally, I've always loved Deep Creek (#5 on this list, although it's not in any particular order). I've visited during every season and am always blown away by the beauty of the lake and surrounding area.
10 Lake Vacation Areas to Check Out
I tried to include a number of lakes from all around the country.
Some you've heard of, some you haven't, but they all offer some sort of variety when it comes to hiking, biking, and kayaking.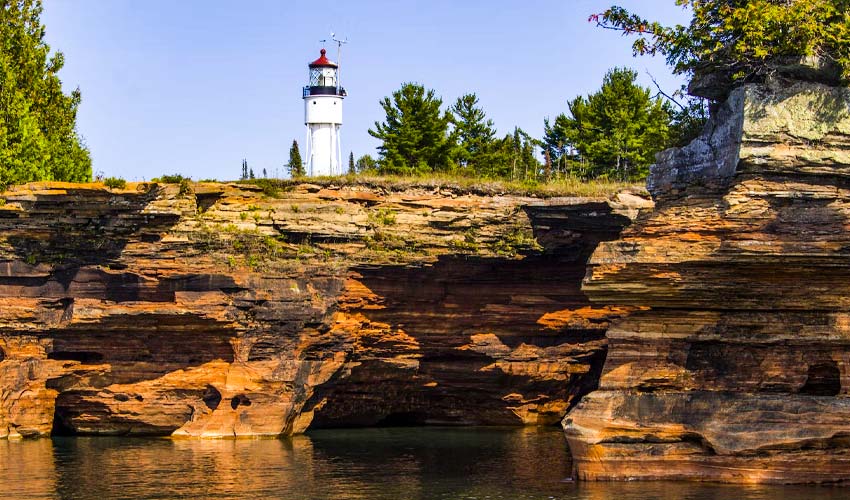 For a nature-immersed lake vacation, you'll find a corner of heaven at Apostle Islands.
The islands are located in Lake Superior and can be reached easily both on your own by kayaking or boating, or by booking a shuttle or water taxi through one of the two approved companies on Lake Superior, Apostle Islands Cruises or the Car Ferry Service to Madeline Island.
Once you've reached the islands, you'll be spoiled for a choice of fun and adventurous activities, from kayaking from one island to the other, to hiking, boating, snorkeling, or learning more about Ojibwe Culture.
Basic camping is possible in every of the Apostle Islands, with various degrees of accessibility and amenities depending on the island.
For individual campsites, the prices are affordable at $15/night, and it goes up to $30/night for large groups.
If you're planning a multiple-days holiday, you can either set base in one of the main Islands or make it more adventurous and spend every night on a different shore.
If you want to plan your Apostle Islands itinerary, you can either make reservations on the website to obtain a camping permit, or you can call a Park Ranger at 715-779-3398 for more information.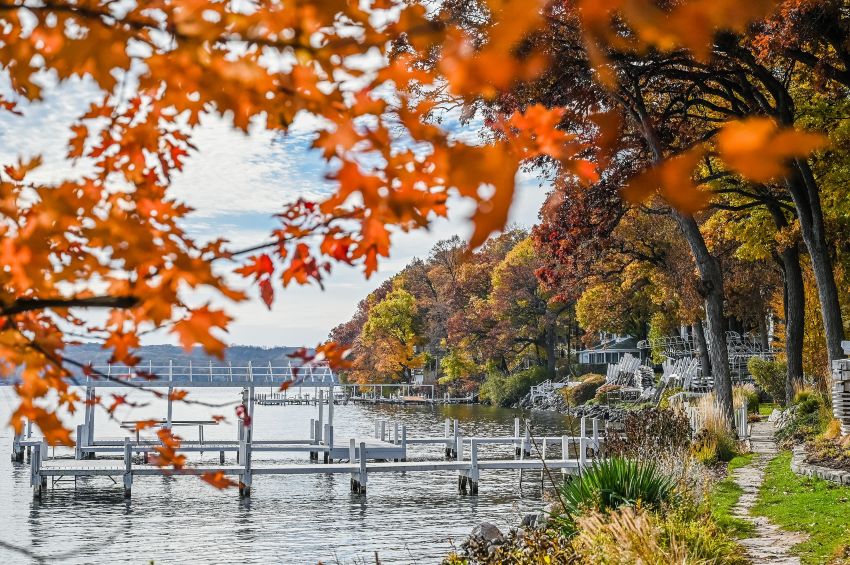 For a romantic and relaxing lake vacation, you can enjoy a pleasant weekend getaway in Lake Geneva.
This Wisconsin town is simply picturesque and has something to offer year-round.
In the fall, this is a great location for strolling and admiring the foliage in full color.
The most popular path is the Geneva Lake Shore Path, which loops all around the lake for 26 miles. You can find the trailhead nearby the Lake Geneva Public Library.
The area offers plenty of choices when it comes to accommodation, from hotels to rentals, and even camping options.
To explore the lake, you can either spend a day at the city beach or get on one of the boat tours and get on the water on one of the historical boats from the Lake Geneva Cruise Line.
If you love to spend a day learning more about local history, check out the Geneva Lake Museum, or the Railroad Museum.
For astronomy lovers or families with children, I recommend visiting the world-famous Yerkes Observatory and booking one of the Space & Spaces Tours.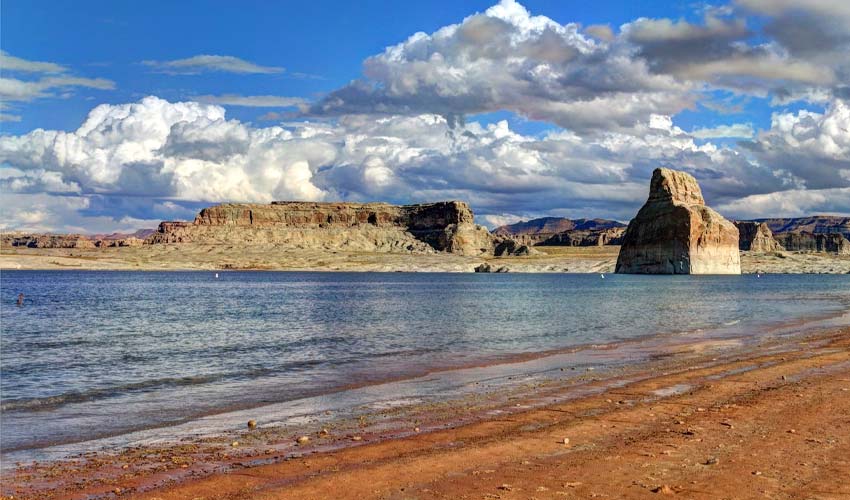 When thinking of Lake Powell, words like magical, otherworldly, and awe-inspiring come to mind.
Land of endless sunshine and picture-perfect scenery, for any traveler this is a bucket-list destination
While the water level consistently getting lower is a troubling sight, many more canyons and underwater caves are accessible every year, and the scenery just gets more and more stunning.
If you're planning a lake vacation with your family, a good option is to rent a family unit, while for a more all-inclusive experience, you can book your stay at the Lake Powell Resort.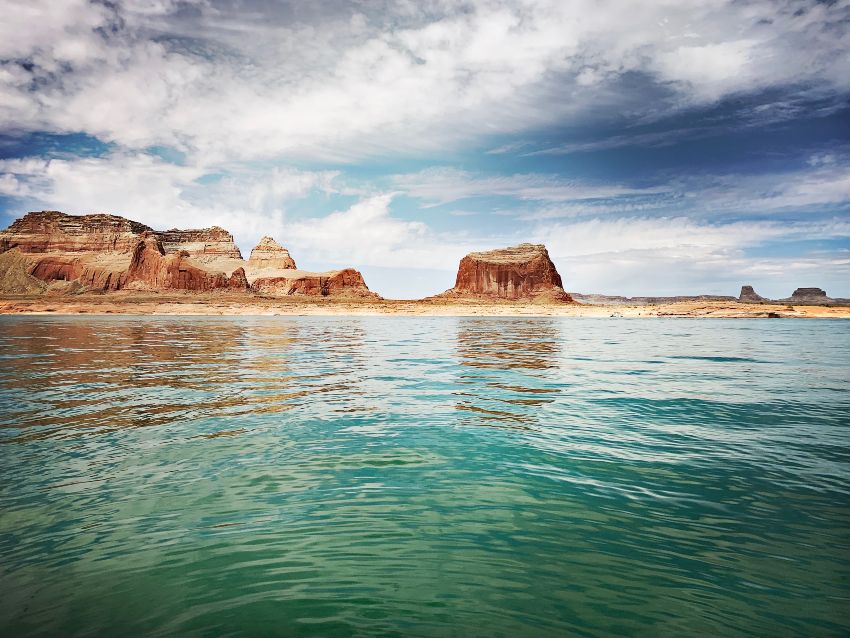 Looking for a one-of-a-kind lodging experience? You can sleep on the lake, in one of the gorgeous houseboats on the water. You'll have complete privacy and be surrounded by the lake at all times.
One of the best ways to explore Lake Powell and its many natural caves is to go kayaking, preferably in the early morning to avoid the large crowds and enjoy the light and pleasant temperatures.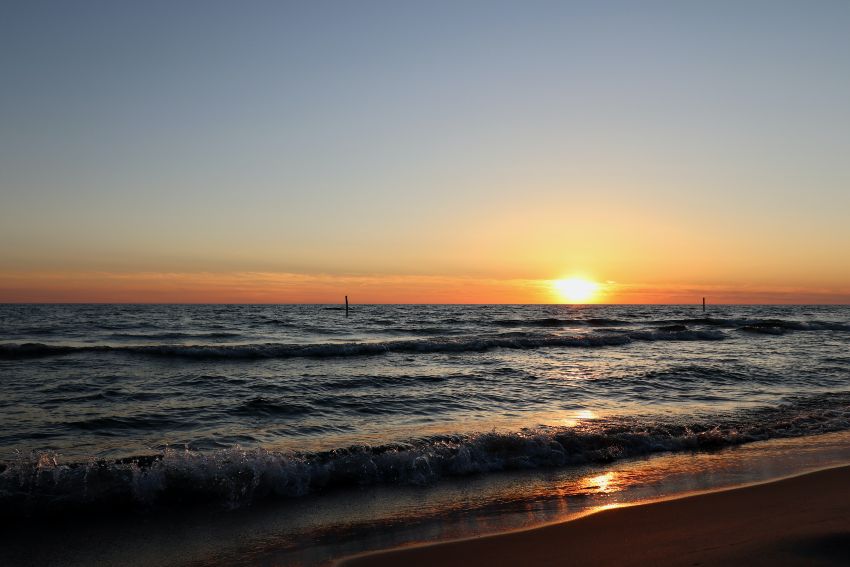 Lake Michigan, specifically Hiawatha National Forest, makes for an exquisite lake vacation spot.
You could spend a week in the national forest and you wouldn't be able to see every beach, waterfall, trail, or lighthouse.
The whole area is blessed with gorgeous nature, and especially Lake Michigan's lakeshore is great to explore, both on land by hiking, or on the water by swimming, kayaking, and boating in general.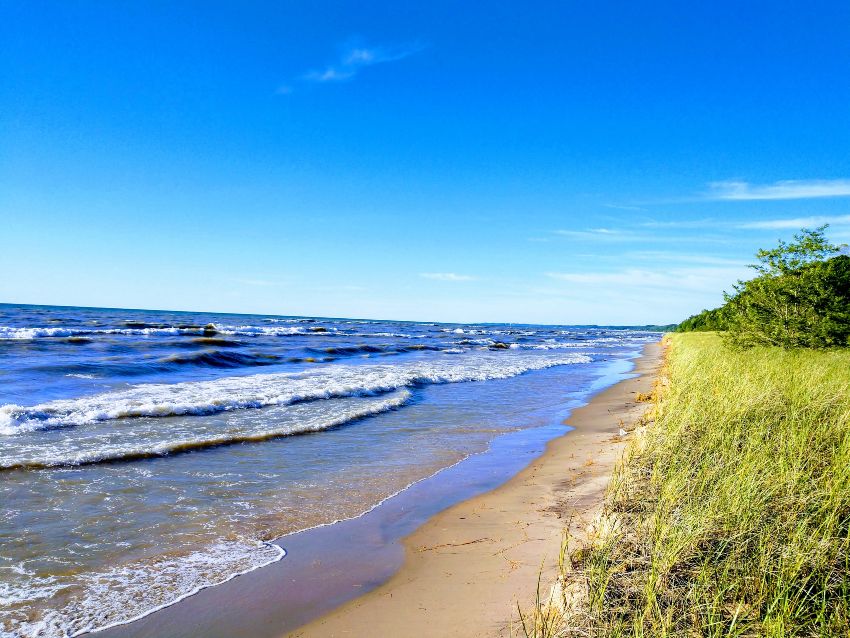 There are a few lodging options but camping is the most popular, you can even rent a rustic cabin or try dispersed camping.
There are a lot of campgrounds scattered across the national forest. If you want to stay near Lake Michigan, Lake Michigan Campground is a good option or any campground on Grand Island.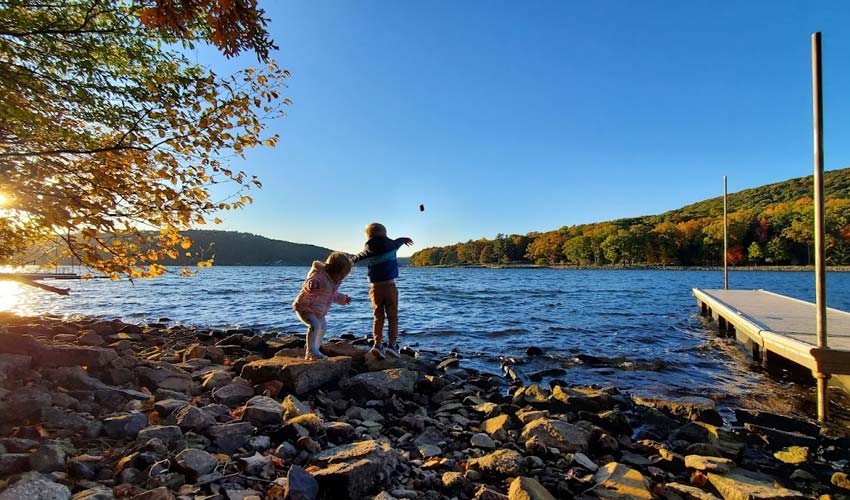 One of my favorite lake vacations is Deep Creek, Maryland.
This is a location that can truly be enjoyed year-round, from swimming and boating in the summer, to hiking and fishing in the fall, and skiing during the snow season.
While basic camping is an option, Deep Creek offers some great possibilities for glamping. Lakefront rentals and Lake access rentals are perfect for spending a week in a fully equipped, magical cabin immersed in nature, complete with fire pits and hot tubs for complete relaxation.
In wintertime, you can book an entire ski lodge in the Wisp Ski area.
For a perfect summer afternoon, you can rent a boat and explore the lake. You are bound to find some nice spots for fishing too.
There is a sandy beach perfect for families to hang out with children, for taking long strolls on the lake shore or enjoy the sunset on the water.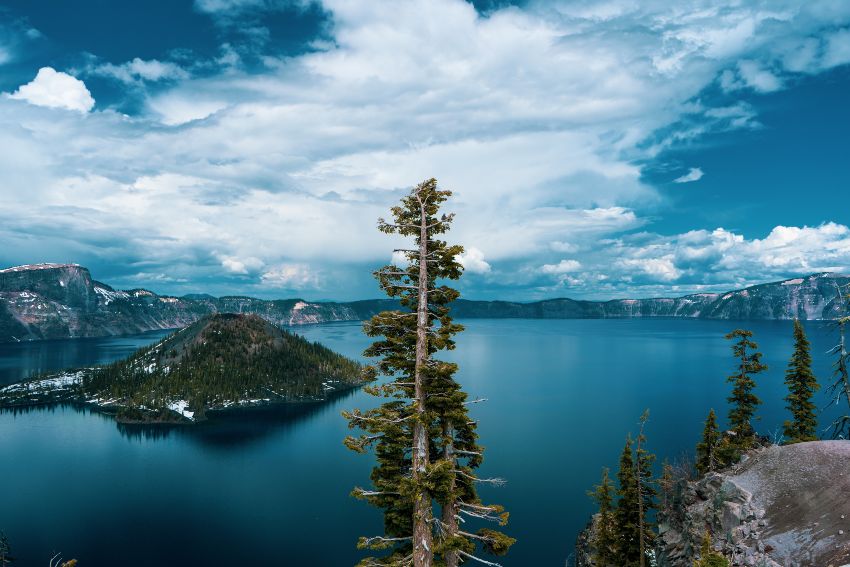 Crater lake is an absolute must-see. When it comes to lake vacations in a stunning natural setting, you can't get much better than this.
Crater lake's deep blue water reflecting the sky like a perfect mirror is a simply breathtaking view.
The national parks offer plenty of opportunities to have fun and spend an exciting time getting in touch with nature.
There are seemingly endless hiking trails leading to more than 30 scenic overlooks over the lake. Plus, guided boat tours are available, as well as winter activities such as skiing snowboarding, sledding, snowmobiling, and more.
If you love basic camping, you can get a permit from the Crater Lake National Park and challenge yourself with some advanced backcountry camping.
Official lodging options within the park are the Cabins at Mazama Village, and Mazama Campground, but they are limited and almost always fully booked.
However, there are plenty of accommodation options right outside of the park.
I recommend checking out hotels and bed and breakfasts around Chelmut, Klamath Falls, or Shady Cove.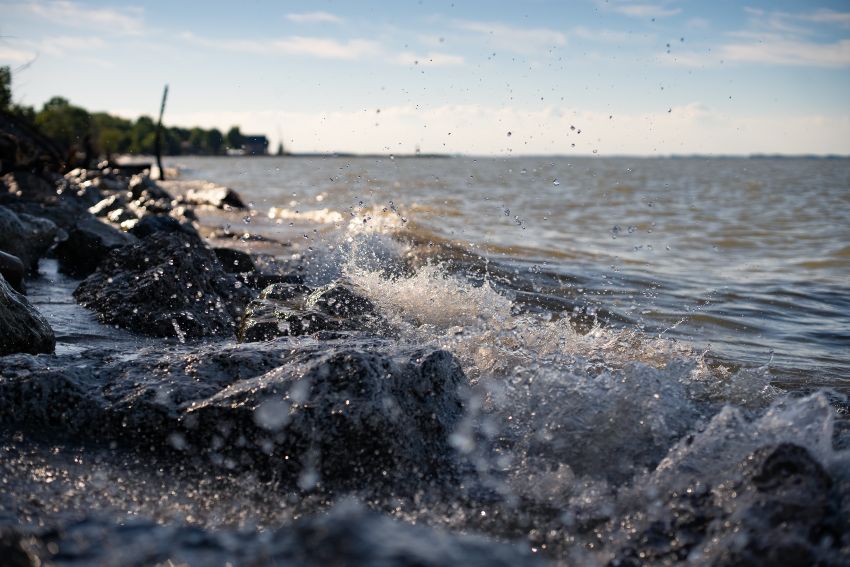 Maumee Bay State Park on Lake Erie is a place where you'll want to come back over the years. One of the most fun lake vacations, filled with stunning views.
The inland beaches at Maumee Bay are of white sand and are great for children to play in, or for adults to relax and enjoy the view.
Wildlife observation is also a preferred activity by visitors, especially birdwatching, and bat-watching (if you can believe it).
Lodges and cabin rooms are available, as well as campsites for tents and RVs.
While the lodges make for a more comfortable stay, the campsites are spacious and you'll usually get enough privacy.
Within the park, there is also an 18-hole golf course available, for those who enjoy the sport and want to spend a different afternoon.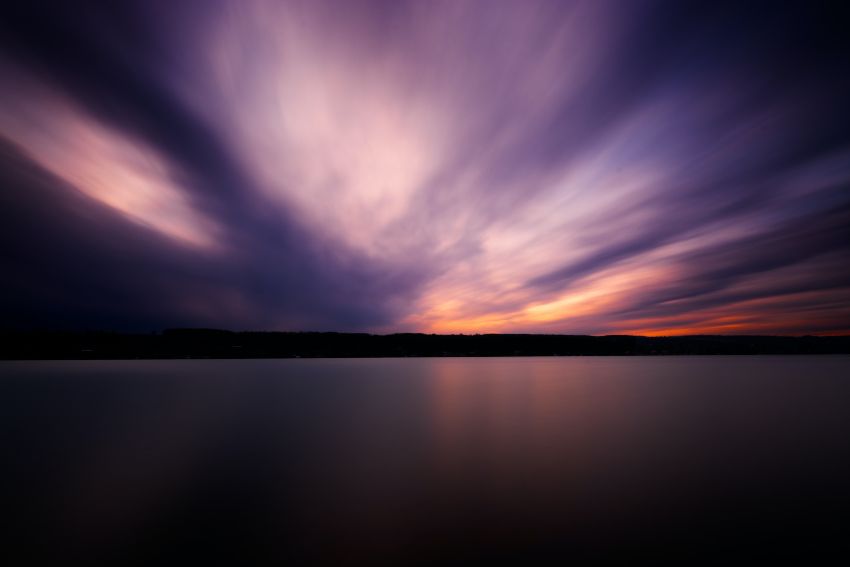 If you're looking for a great itinerary-driven lake vacation, check out the Finger Lakes.
The area is especially famous for its wineries and vineyards, as the whole region is great for growing vinifera-style grapes.
This is a lesser-known but great wine trail that wine lovers will want to check out.
With a car, it's easy to explore the Finger Lakes in New York state, which consists of eleven stunning lakes that are fairly close to one another.
Lodging options in the area are many and variated, from bed & breakfasts to spas and resorts, or basic campgrounds.
If you're looking for a perfect combination of comfort and privacy, I recommend checking out vacation rentals.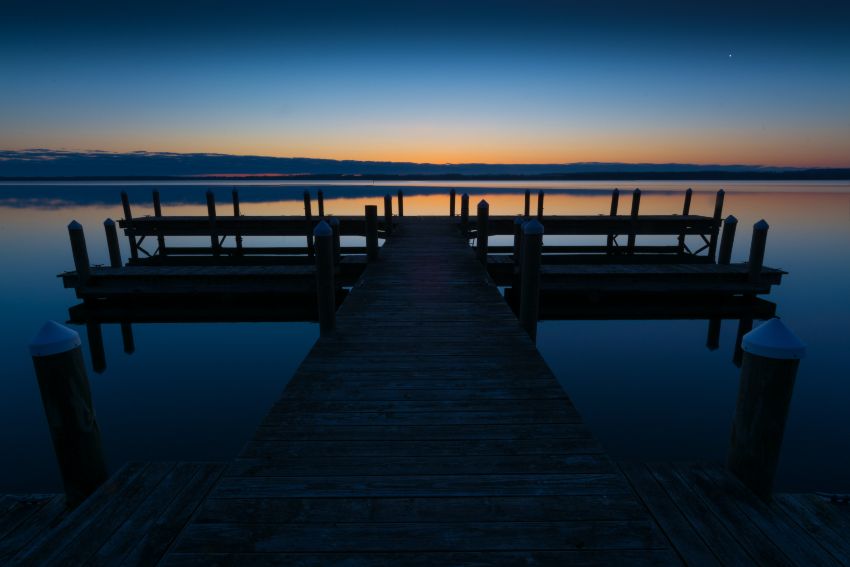 All of the lakes are worth visiting, however, Seneca Lake is the largest of the finger lakes, and one of the best spots in the area to enjoy watersports, while for some hiking I recommend exploring the Keuka Lake State Park area.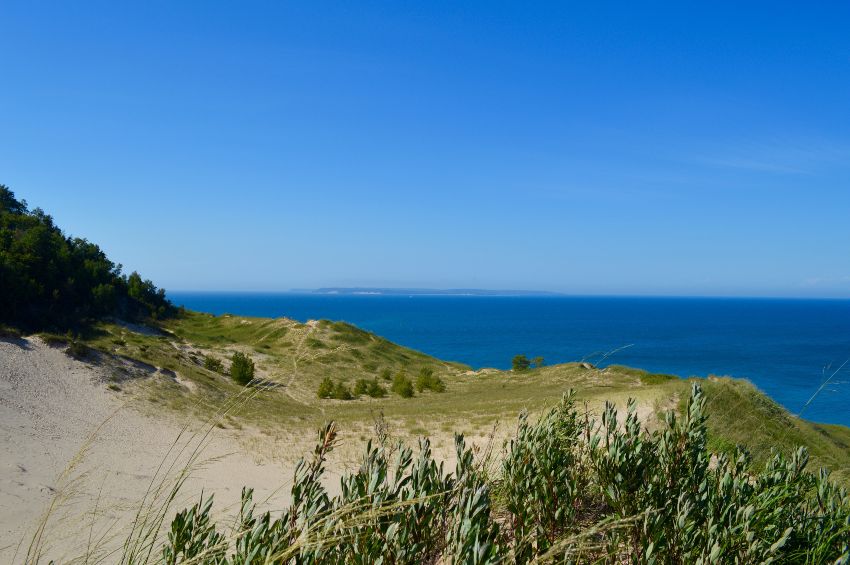 Tired of the most common spots for lake vacations? There is nothing quite like Sleeping Bear Dunes and its endless dunes, clear water, and lush green vegetation.
While the lake area is developed and equipped with all amenities, the inland is still relatively wild and can be explored only by hiking.
The Sleeping bear dunes park offers different trails so you can explore them according to your fitness level and preferences.
For the best view of the dunes, you can take Pierce Stocking Scenic Drive, which is one of the most gorgeous and fun drives in the park. Remember to bring cash for the entrance fee to access the scenic drive.
Check out the viewpoints along the drive (there are a few signaled, reachable through short hikes) for breathtaking views of Lake Michigan.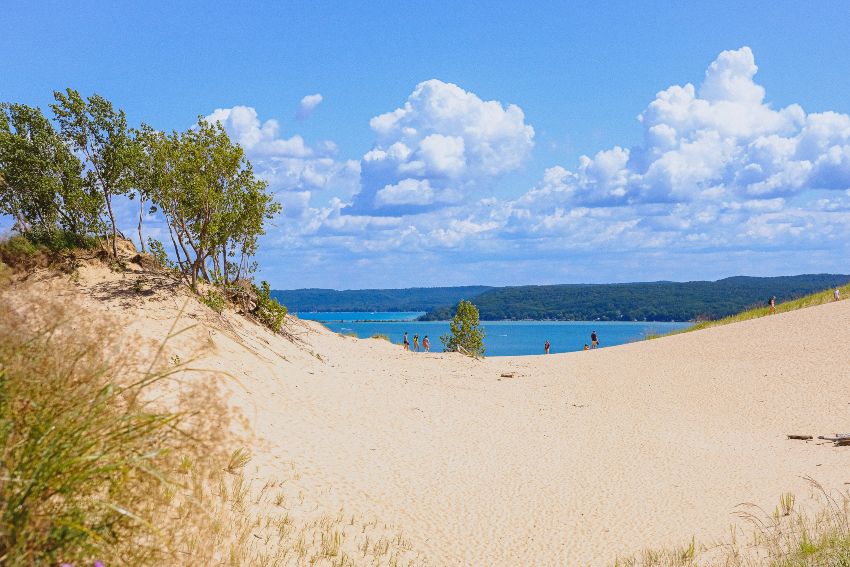 An entry-level trail that offers some great panoramas is the Empire Bluff Trail, which is not strenuous and is often visited by families with children.
Low temperatures shouldn't stop you from visiting. Winter fun at Sleeping Bear Dunes includes guided snowshoeing hikes, sledding, cross-country skiing, and ice fishing.
Where To Find More Gorgeous Lakes In The US
If your heart is not set on one lake yet, why don't you read my guide on the 5 clearest lakes in the US?
Also, Connecticut, Illinois, South Dakota, and Oregon boast some incredible lakes you must add to your travel bucket list.