Yellowstone National Park's mud pots are truly fascinating and unique. And if you haven't checked them out yet, you should put them on your Yellowstone Bucket List.
In this guide, I'll point out the few things to know before visiting the mud pots in complete safety, as well as the best places to find these amazing geothermal features.
Have you ever heard of the Yellowstone Mud Pots?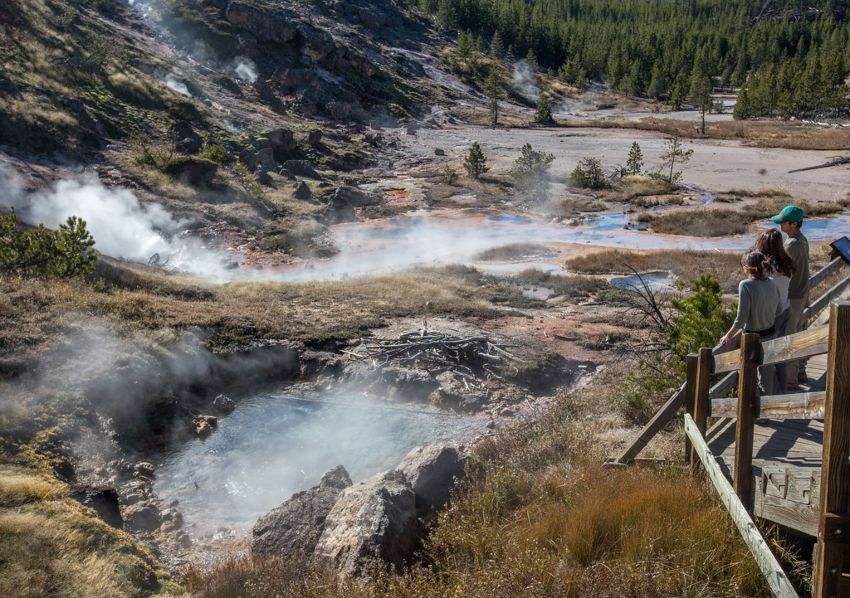 If you're having trouble picturing a mud pot, imagine a pot of salsa slowly bubbling, but make it gigantic.
The mud pots are the lesser-known mid-way between hot springs and geysers but are just as interesting and worth seeing.
Since the Yellowstone mud pots are pools of bubbling and exploding mud, the name "mud pots" is pretty appropriate.
Where it should be just rocks and water, the acidity of the minerals and organisms present in the area creates a chemical reaction that leads the rock to melt into the mud.
Where are the Mud Pots located in the Park?
There are just a couple of famous places to spot the mud pots at Yellowstone National Park, and each of them has specific characteristics.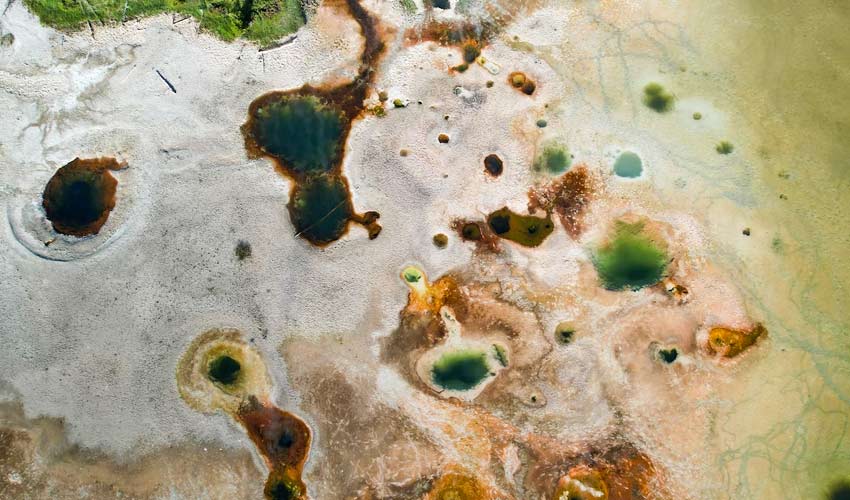 Artists Paint Pots is the most popular location at Yellowstone Park to admire the mud pots.
To reach the Artists Paint Pots, you can hit the designated hike from the trailhead located at the Grand Loop Road parking lot.
From there, the hike is accessible and short (less than 1 mile), and loops in the end covering not only the mud pots but other naturalistic spots worth checking out.
While the pots are the obvious goal of the hike, the whole trail is dotted with geothermal activity, making this an exciting adventure from beginning to end.
You'll find hot springs and geysers located along the way and easily reachable without straying from the main path. Among the points of interest, you must stop at the Milky Blue Pools, Flash Springs, and the Scenic Overlook.
Finally, the Paint Pots are a true wonder. The color can vary from brown to gray and even blue, and the texture is always changing throughout the year.
This is one of the preferred mud-pots locations also because of how active the area is, so you can expect a lot of bubbling.
A more strenuous extra hike will take you to the peak of Paintpot Hill, where you'll find more blue-colored pools and mud pots.
More spots to check out around Artists Paint Pots
Looking for even more thermal pools, pots, and geysers?
You can stop at Iron Springs, a true hidden gem in Yellowstone, around 5 minutes away from Artists Paint Pots on Grand Loop Road.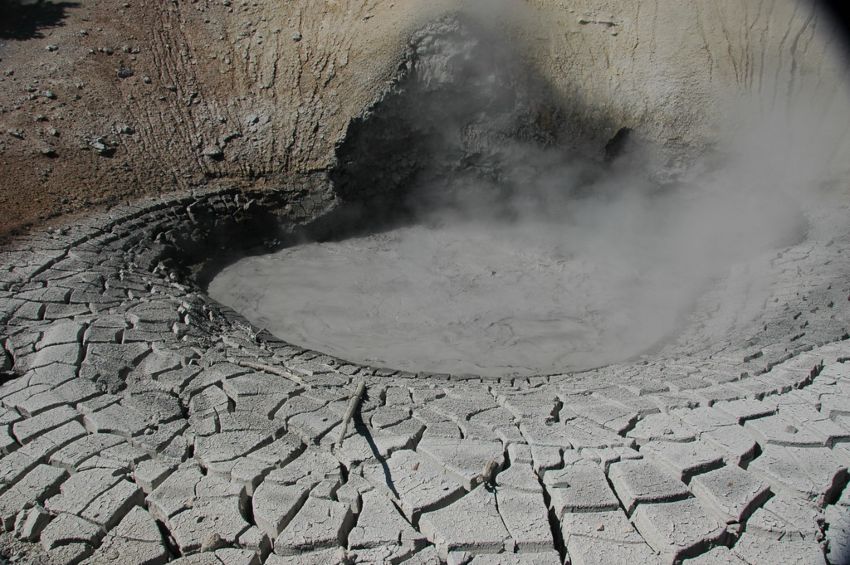 When it comes to impressive geothermal locations, Mud Volcano at Yellowstone deserves a mention.
The boiling hot mud hissing and smoking is a breathtaking sight that you cannot miss out on.
But if you're not too keen on the sulfurous egg-like smell, maybe sit this one out.
The Mud Volcano is located within a large thermal area that includes many active spots from geysers to fumaroles.
The hike is very beginner friendly, wooden paved, and pretty short (around 0.8 miles).
It loops around the thermal area making it easy to check out multiple locations in 30 minutes or so.
Looking to spot animals in the wild? The warm fumes of the Mud Volcano create an interesting environment that does not only attract tourists but wildlife too.
So it's not rare to spot a bison chilling in the thermal area. Just don't get too close.
More spots to check out around Mud Volcano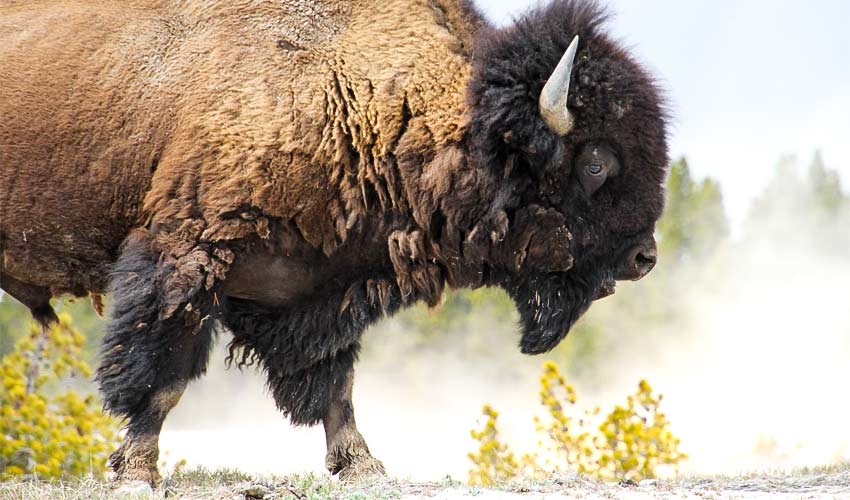 As far as other geothermal sights go, Dragon's Mouth Spring, Sizzling Basin, and Dragon's Caldron are all located along the trails or nearby.
A short walk away from Black Dragon's Caldron, you'll find Sour Lake, a small water area where it's easy to spot wild bison.
Looking for lesser-known and non-touristy thermal areas? Check out Cold Water Geyser, Field Mudpots, or the North Caldron.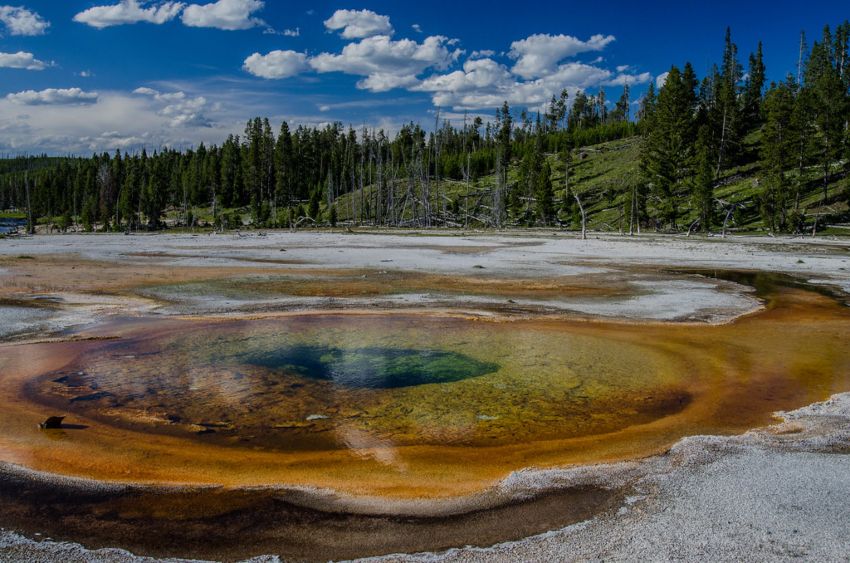 The colorful Fountain Paint Pots make for a mesmerizing sight. Pictures don't do justice to this amazing location, so I suggest you go check it out in person.
These unique, red, blue, and gray mud pots are located in the Lower Geyser Basin, along the Fountain Paint Pots trail.
You can find the trailhead along Grand Loop Road – Madison Old Faithful, at the Fountain Paint Pot Parking Lot.
This is a slightly longer hike than the ones previously mentioned (around 45 minutes of estimated walking) but it's paved and well kept.
After walking around 15 minutes from the parking lot, you'll circle the various pools, fumaroles, geysers, and of course the mud pots.
The most popular attractions along this trail are the Celestine Pool, the Red Spouter, the Fountain Paint Pots, and the Leather Pool.
More spots to check out near Fountain Paint Pots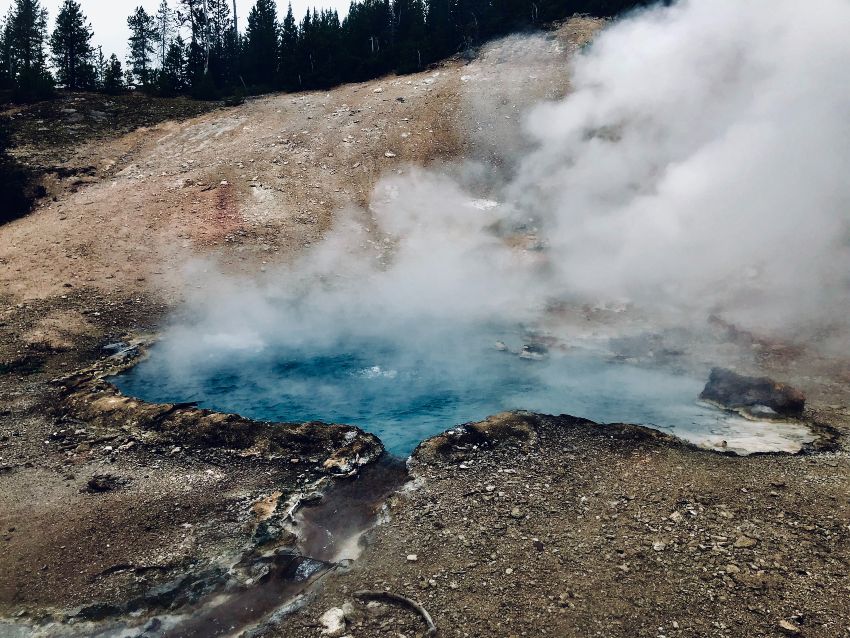 At Fountain Paint Pots you'll be within a 5-minute drive on Highway 191 from Grand Prismatic Spring, a place that should be high on any traveler's ultimate bucket list.
At walking distance, you'll also find Firehole River, the mesmerizing Opal Pool, Excelsior Geyser Crater, and Turquoise Pool.
Around 5-10 minutes by car from Fountain Paint Pots you can reach 4 other thermal locations in Yellowstone: the stunningly blue Firehole Spring, Great Fountain Geyser, and the lesser-known Pink Geyser and Artesia Geyser.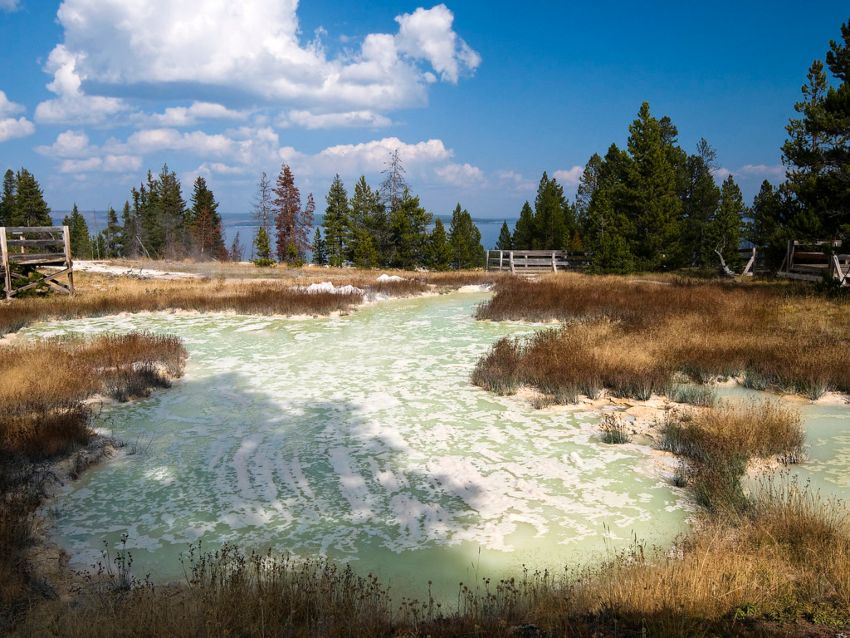 You can find the West Thumb Geyser Basin Trailhead down South Entrance Road, past the Yellowstone Lake Overlook. The trail is composed of 2 interconnected loops.
The smaller one takes you around the West Thumb Paint Pots area, where you'll see a succession of variegated geothermal locations like the Thumb Paint Pots, Thumb Geyser, Painted Pool, Perforated Pool, and Twin Geyser. Plus the Yellowstone and the Percolating Springs.
All of the pools, pots, and geysers in the West Thumb area are known for their characteristic cerulean shade, which makes this one of the most spectacular and photogenic areas in Yellowstone National Park.
The deep blue color of the thermal water at West Thumb will remind you of the sky, in a truly breathtaking and unforgettable natural wonder.
The larger trail loop makes for a longer hike, but it's worth it as it leads to Yellowstone Lake, as well as a few more pools and geysers.
Taking the loop south from Thumb Geyser, you'll first get to Bluebell Pool, whose light blue, almost transparent thermal waters are an absolute must-see.
Once you've reached the lake, you'll get to the scenic Lakeshore Geyser and Big Cone Geyser.
On your way back, you can not miss out on the Black Pool, Abyss Pool, and finally Hillside Geyser.
More spots to check out around West Thumb Paint Pots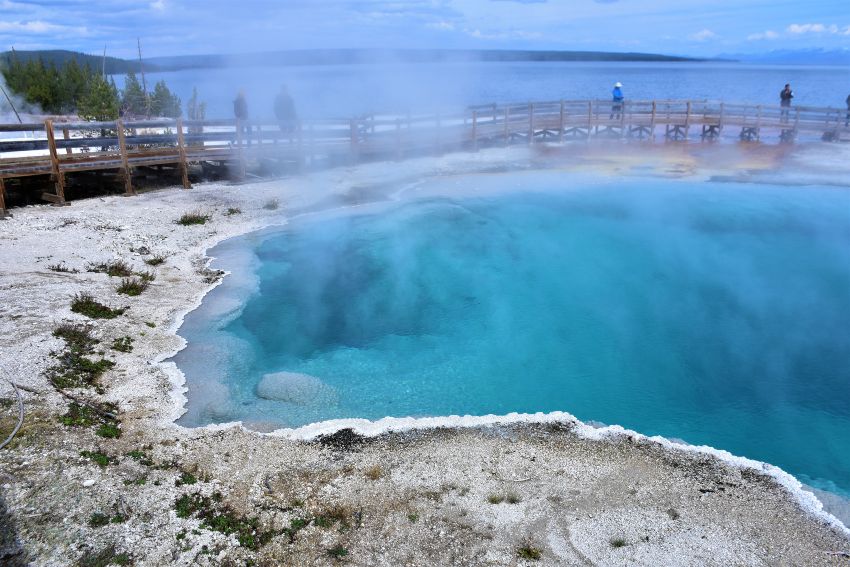 West Thumb Paint Pots are located just about 10 minutes from the so-called West Thumb of Yellowstone Lake. The whole lake area is wild and perfect to explore for expert hikers.
There are a few lakeshore campgrounds, and many peaks to reach, like Flat Mountain, Channel Mountain, Mt Hancock, Big Ridge, and more.
Why Yellowstone's Mud Pots Bubble
Why do the Yellowstone Mud Pots bubble? The answer behind the mysterious and gooey phenomenon lies in some (not so) simple chemistry.
Yellowstone's thermal hot water heats the ground underground, while rainwater collects on rocks and clay on top.
The resulting heat and steam create a perfect environment for a few microorganisms that feed on hydrogen sulfide.
Said microbes transform the hydrogen sulfide gas into sulfuric acid. The sulfuric acid then melts the rocks into clay.
It is easy to observe this process, since you can observe every phase of the chemical reaction, from watching rainwater evaporate to smelling sulfur dioxide to watching melted clay bubble.
Dangers of the Yellowstone Mud Pots – a Few Tips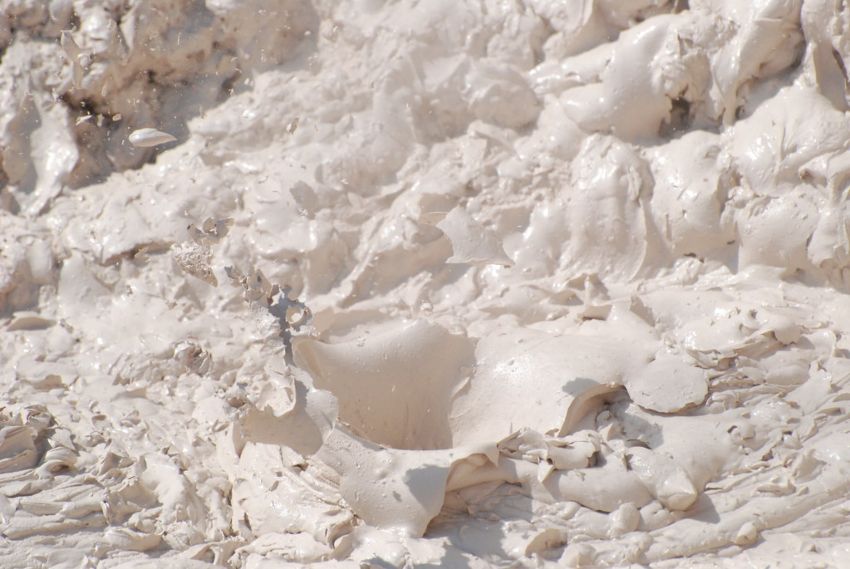 How to be safe around the Mud Pots
Remain on boardwalks and designated trails to avoid literally falling into mud pots.
Be careful not to run, jump, or even playfully shove each other. For families with children, this is especially important, as they will need to keep a watchful eye.
You're likely to see hydrothermal mats along the way. It is crucial not to disturb these surfaces, as they may appear safe, but are hot beneath the surface.
The hydrothermal mud is constantly in an abolition state and any contact with it can result in severe burns. Stay several meters away from any geothermal water or mud to avoid getting injured.
Can you swim in the mud pots or pools? It is impossible to swim in these locations as the temperature gets way too hot (boiling).
What's Next? Adventure Never Ends
If you love a geothermal location, check out my favorite 20 hot springs in the US for an unforgettable weekend.
Can't get enough of exploring the states by car? Here are the 20 most scenic drives in America, with some serious jaw-dropping views.
If you're looking for panoramic hikes and challenging trails, read my guide on the 15 most stunning mountains in the US.