Maryland may be one of the smallest states in the country, but it offers a very diverse range of natural attractions from thick forests and rolling mountains, to beaches, sand dunes, and lakes in Maryland… there is definitely something for everybody to enjoy.
For anyone trying to craft a Maryland itinerary, don't forget to include at least one of Maryland lakes.
5 Must-Visit Fishing Lakes in Maryland
I didn't include the massive and famous Chesapeake Bay, which is located between Virginia and Maryland. (It's already included in the 10 best fishing destinations in the US.)
But if you came here to fish, whether as a hobby or competitively, be sure to consider visiting these 5 Maryland lakes: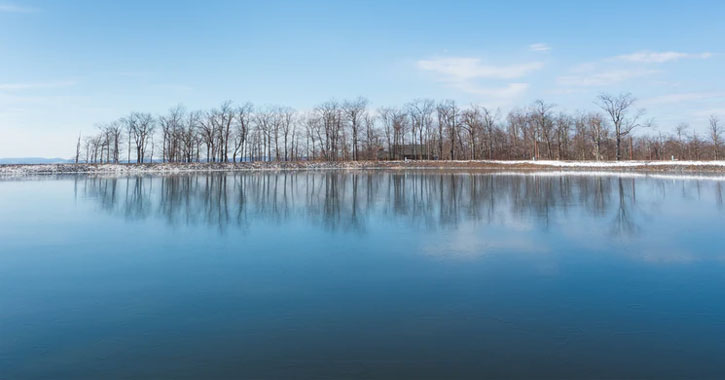 Location: Garrett County, Maryland
Popular for: Fishing for Bluegill and Northern Pike
Deep Creek Lake is Western Mayland's largest freshwater lake with 3,800 acres of opportunities for fishing. Aside from holding two state records for Northern Pike and Bluegill, the area is also abundant in brown and rainbow trout, crappie, walleye, yellow perch, smallmouth/largemouth bass, and many more species of fish.
The lake is a year-round destination, with people flocking to Deep Creek Lake even in winters for ice fishing for yellow perch. And if you visit during winter, don't forget to take a picture of the surrounding snow-covered forested mountains.
Aside from fishing, the lake also has spots for tubing, waterskiing, jet-skiing, wakeboarding, paddling, swimming, and other water activities thanks to the 11 kilometers of shoreline available.
Maryland's largest inland body of water is also one of the state's top attractions. The 1,578-hectare lake is not only a great spot for recreational activities but also quite spectacular thanks to its surrounding forested mountains.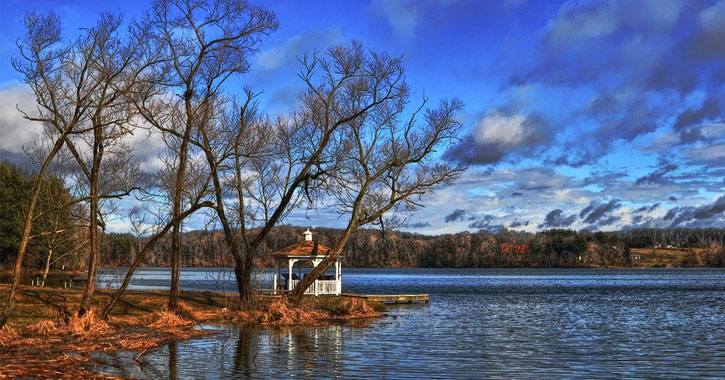 Location: Found within Piney Run Park in Sykesville, Southern Carroll County, Maryland
Popular for: Shoreline anglers fishing for striped bass and largemouth bass
Opened in 1974 along with Maryland's oldest park, the 300-acre Piney Run Reservoir is a gorgeous area surrounded by 550 acres of fields and forest. There are plenty of opportunities for rock climbing, picnic, camping, playing tennis, swimming, and hiking (with over 5 miles of trails readily available), but people flock to the lake for fishing.
Fishing is permitted from boats, piers, or along the bank (except at the Wildlife Management Area at the north end of the lake where there is absolutely NO fishing allowed). If you have a Maryland fishing license, you're good to go either boat-fishing or by the shoreline. Depending on which spot you choose, you can find striped bass, largemouth bass, tiger musky, trout, catfish, panfish, and numerous species of crappie fishery.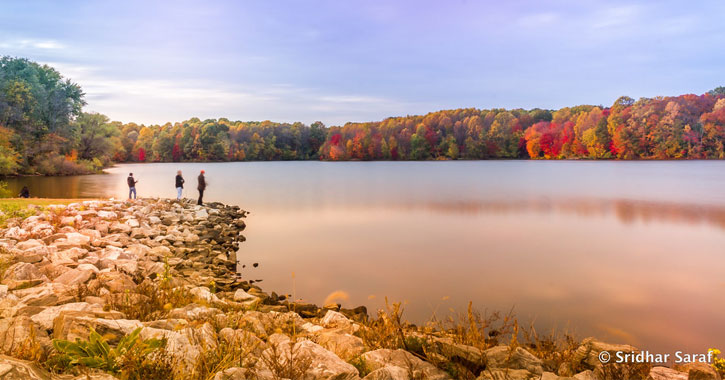 Location: Centennial Park, Ellicott City, Howard County, MD
Popular for: Largemouth bass and rainbow trout
Centennial Lake is a 54-acre man-made reservoir located within Centennial Park. It was created by damming the Centennial Branch of the Little Patuxent River.
The Centennial Lake and Park feature a wildlife area, a dam, walking trails, boating, ramps, children's playgrounds, and other recreational activities. Interestingly, boating in the lake is allowed, but inner-tubing, windsurfing, paddleboarding, and swimming are not allowed.
As for fishing, Centennial Lake is stocked with rainbow trout, redear sunfish, bluegill sunfish, and largemouth bass since 1985, but anglers could also find catfish, tiger muskie, panfish, channel catfish, and other fish species. Boat rentals are available, but you can also fish on the shoreline.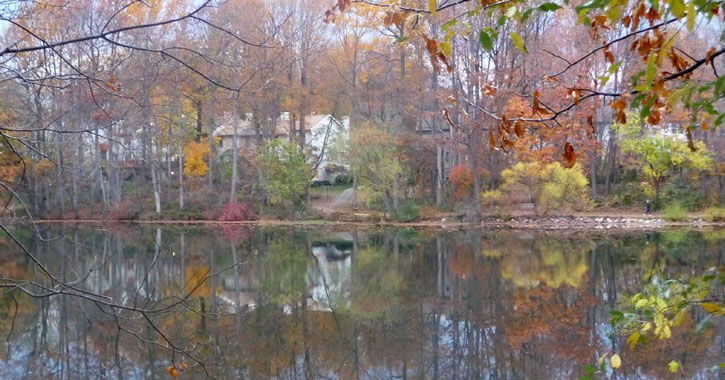 Location: Owen Brown area of Columbia, Maryland.
Famous for: Largemouth bass, Bluegill, and Rainbow trout
Lake Elkhorn is Columbia's third and largest lake. It is a 37-acre reservoir built in 1974 and named for the Elkhorn branch of the Little Patuxent River. It features a small dam, a park with an adorable picnic pavilion, and a two-mile walking path encircling the lake, which is a favorite spot of locals jogging or walking leisurely.
You can easily catch Largemouth bass, Black crappie, Bluegill, and Rainbow trout in Lake Elkhorn since the Columbia Association stock the lake with trout every year. The lake's deepest point is 4.5 meters, but it averages in the 2-meter depth, so most boat docks can move freely around the lake.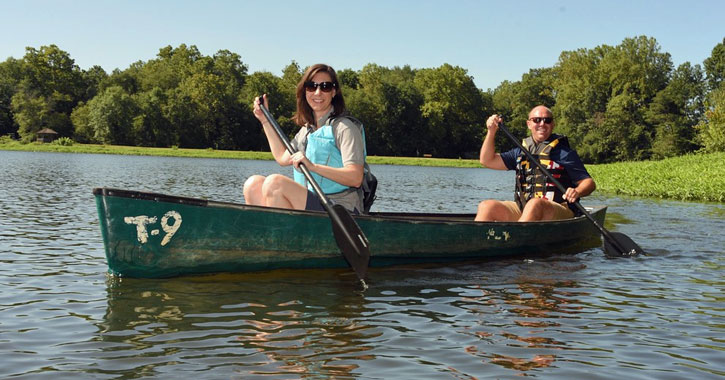 Location: Tuckahoe State Park, Crouse Mill Road, Caroline, and Queen Anne's counties
Famous for: Unlimited bass and bluegill, kid-friendly fishing, and fly-fishing at the Tuckahoe creek
Tuckahoe Lake is a postcard-looking 60-acre lake and creek located within the Tuckahoe State Park. You're lucky if you can visit Tuckahoe Lake in autumn, the changing foliage of its backdrop is jaw-droppingly beautiful you wouldn't want to go home.
Tuckahoe Lake has plenty of bass, bluegill, white and black crappie, perch, pumpkinseed sunfish, carp, brown, and bullhead, among other fish species. Kids would love fishing chain pickerel near stumps and roots along the shoreline.
The creek is best known for its spring migration of yellow perch, white perch, river herring, and hickory shad.
Aside from fishing, there is also a 15-mile multi-use trail, picnic areas, cabins, camping, recycled tire playground, and other opportunities to keep yourself busy.
3 Cool Lakes in Maryland for Everything Else
If fishing isn't your priority, but you want to be one with nature, I recommend these 3 lakes for three different things.
Clopper Lake (For Nature Photography)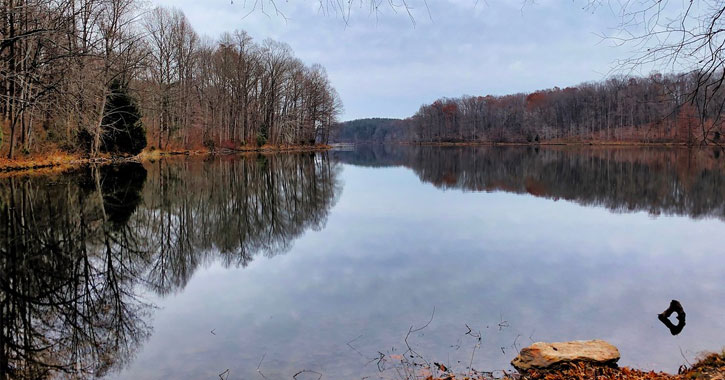 Location: Within Seneca Creek State Park, in Gaithersburg, Maryland
Clopper Lake is a 36-hectare lake visited by thousands of people yearly as a fishing spot for largemouth bass, channel catfish, black crappie, and tiger muskies. There are also areas for water sports activities like boating, kayaking, and swimming.
Around Clopper Lake, visitors could also enjoy land activities like mountain biking, horseback riding and cross-country skiing (in winter), and hiking through the 80 kilometers of trails.
But what makes Clopper Lake a must-see is the dramatic backdrop of magnificent trees, aquatic vegetation, thick forests, and fields, especially in spring, summer, and fall. If you're into nature photography, make sure to visit this area at least once in your life.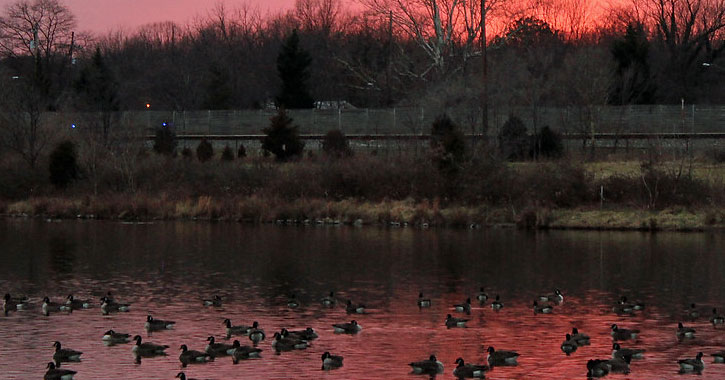 Location: 55th Street and Berwyn Road, Berwyn Heights, MD
Lake Artemesia is a 38-acre man-made lake developed during the construction of the Washington Metro Green Line. It is a good fishing spot, but a non-tidal fishing license is needed for 16-year-old and above. Other
The lake also features a handicapped-accessible fishing pier, aquatic gardens, and over two miles of hiker-biker paved trails encircling the lake for running, in-line skating, walking, biking, etc. It's a perfect place to stroll since shady trees are surrounding the lake.
The only problem is that the trail may also be full of birds, such as finches, orioles, ibis, and other 215 bird species that have been eBird-reported to be spotted from Lake Artemesia.
The Luther Goldman Birding Trail gathers both beginner and professional bird watchers in the Lake Artemesia area hoping to glimpse finches, orioles, ibis, and other birds. For a more educational "tour," you can join the Prince George's Audubon Society hosts bird walks every 1st and 3rd Thursday of the month.
Cascade Lake (Lake + Waterpark Combo)
Location: Snydersburg Road in Hampstead, Carroll County
Out of all the lakes in Maryland, this one is probably the most unique as it blends the "natural" lake with waterpark slides and pools.
Husband-and-wife Patrick and Suzanne Flynn purchased Cascade Lake in 1992. Since then, they added a couple of waterslides, purchased additional 50+ acres for more pools, waterslides, pavilions, and splash pad areas, many of which send guests directly into the lake. There were also a fishing lake (stocked with fish), paddleboats, and lifeguards ready to assist.
Everything was going well business-wise with plenty of loyal visitors through the years, but after a couple of storms in 2018, Cascade Lake flooded the nearby roads and Maryland was forced to drain the lake to control the flood. The pandemic then came, and after a few months closed in 2020, Cascade Lake continues to operate and be a family destination for all ages.
The fee to use the facility is $15 for anyone 8 or older, or $13 for kids ages 1-7. Reservations are needed since the venue often closes for private events.
My Top 2 Picks of the Best Lakes in Maryland
The next two Maryland lakes are my personal favorites.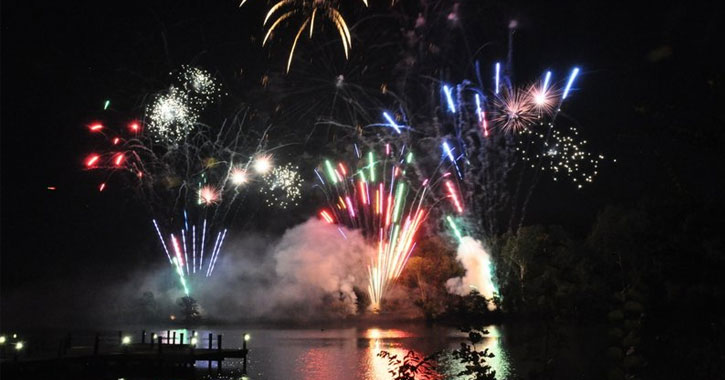 Location: located by the Mall in Columbia, Maryland
Who says you need to go deep into the forest and hike for miles to enjoy the serenity of a lake's water?
Lake Kittamaqundi is situated right in the city center of Columbia. Since the lake was created by the Rouse company in 1966 during the development of Columbia, this man-made lake is found very close to the Rouse Company's head office.
Considering the lake is within a city, the 27-acre lake is pretty impressive as it features a boat-launching ramp and a boathouse with a pier. You can't swim or fish there, but Lake Kittamaqundi and its surroundings host numerous festivals and events in the area from morning to night, on any day of the year.
Hunting Creek Lake (Family- and pet-friendly Lake)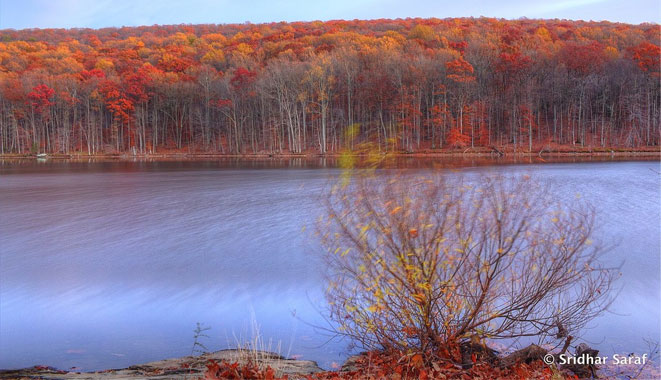 Location: Located within Cunningham Falls State Park in the scenic Catoctin Mountains, Maryland
This last Maryland lake has everything for everyone. Because it is located within a state park, you can do everything from camping to fishing, canoeing, swimming, hiking, rock-climbing, and even chasing waterfalls.
The lake itself allows swimming (in 3 specific areas) with a lifeguard on duty from Memorial Day to Labor Day. Fishing is permitted in another spot, where fishes like sunfish, catfish, bass, bluegill, and crappie are mostly found.
I love this lake for the backdrop – on one side you're facing the thick forests of Cunningham Falls State Park, on the other, there's the lakeside where you can chill under the sun.
Attractions beyond the Lakes in Maryland
Want to check out other Maryland attractions? Are you looking for a unique experience? Visit the Chesapeake Bay  Bridge in Annapolis and pass by one of the scariest bridges in the world. You can also access the Blue Ridge Mountains from Maryland and zip-line, ride horses, hike, camp, and enjoy amazing views from high up.