According to the Wisconsin Speleological Society, about 400 known caves in Wisconsin exist.
However, because of the fragile nature of caves, not all of these are open to the public.
If you're interested in visiting caverns and cave systems with tours, continue reading as I go through the must-visit Wisconsin caves.
Must-Visit Caves in Wisconsin
Many smaller, underrated caves are also "hiding" throughout Wisconsin.
For example, Wyalusing State Park in Bagley and Governor Dodge State Park in Dodgeville are home to several caves tucked into bluffs. The Natural Bridge State Park in North Freedom has a historical cave that humans used as a rock shelter over 11,000 years ago.
But if you only have time to visit just 1 or 2 during your Wisconsin trip, I recommend you pick from the following: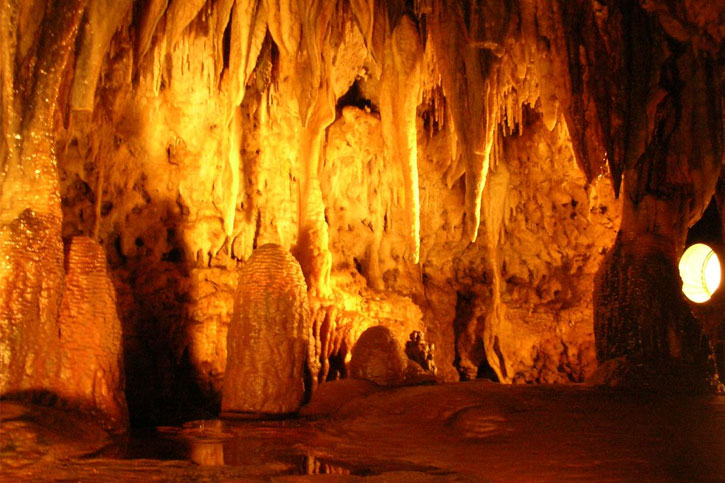 Hours: Open daily year-round from (AM to 5PM, except for Thanksgiving Day, Christmas Eve and Christmas Day.
Fees: Admission prices for kids 3 and below is free, ages 4-12 is $12.99 and adults 13 years old and above is $21.99.
Guest info: Call (608) 437-3038 to confirm tour hours
Cave of the Mounds is probably the most popular cave in Wisconsin. Known as the "Jewel Box of America's Show Caves" and "Cave without a Legend," Cave of the Mounds has been around for over 80 years.
This cave system was discovered in 1939 during a quarry blast. Before its discovery, no one has ever seen the cave before or knew of its existence. Cave of the Mounds opened for the public in 1940 and became a National Natural Landmark in 1988.
Here are some facts about Cave of the Mounds:
It is a limestone cave
It measures 1,692 feet
It contains stalagmites, stalactites, columns, flowstones, draperies, and soda straws
It is home to fossils of Ordovician-era gastropods, cephalopods, and other critters
It has no bats living inside or migrating each year
Cave of the Mounds guided tours are availably daily. You can also opt for self-guided tours, since the cave has plenty of signs and guides throughout the cave. There are also lighting, railings and paved walkways that make navigating the cave a breeze.
Cave of the Mounds regularly host events, such as trick-or-treating in October or "blacklight tours" in August.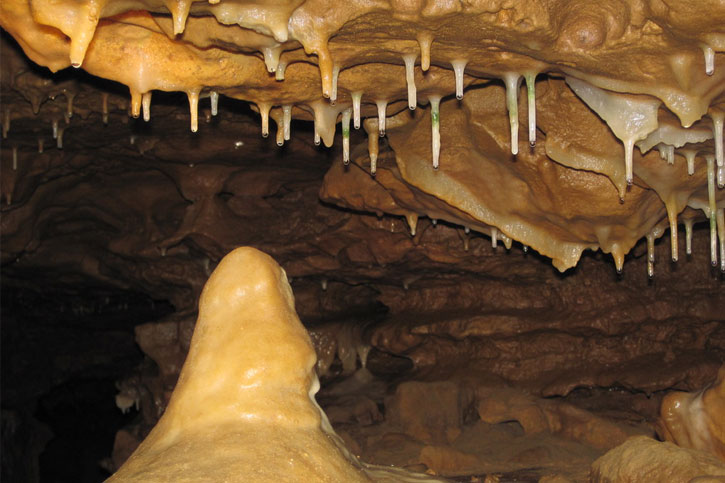 Hours: Open daily in the summer from 9:30AM to 5:30PM. Reservations needed in spring or fall since hours are limited during these times of the year. Closed from November to March (since bats use the cave throughout winter)
Fees: 1-hour cave tours cost between $14 to $22, depending on age. Free entrance for children 2 years old and below. Private cave tours are available. You can even book birthday parties and other private events here.
Guest info: Call (715) 778-4414 for updated hours
Crystal Cave, located in Pierce County of Wisconsin, is the longest known cave system in the state. It was discovered in 1881 when two local farm boys chased a woodchuck "down a hole," which turned out to be this magnificent cave.
In 1942, Crystal Cave opened to the public and has been open since. Its multi-level cave system takes guests over 70 feet below and gets them up-close to gorgeous limestone walls.
Crystal Cave share many features with Cave of the Mounds. Both cave systems have similar rock formations (columns, flowstones, stalactites, stalagmites, and Travertine soda straw stalactites). They're also visitor-friendly and developed well through the years, so expect proper lighting and assistance (there are stairs, railings and signages) everywhere.
However, one thing that makes Crystal Cave different is the presence of bats in the winter. Yup, four bat species call the cave home. Wisconsin DNR and other organizations help these bats prevent diseases and ensure the environment remains peaceful during their stay.
When guests are done visiting the Crystal Cave underground, they can join mini-golf, hiking trails and gem panning activities. There are also picnic areas to eat and chill, and the Crystal Cave gift shop for your travel memorabilia.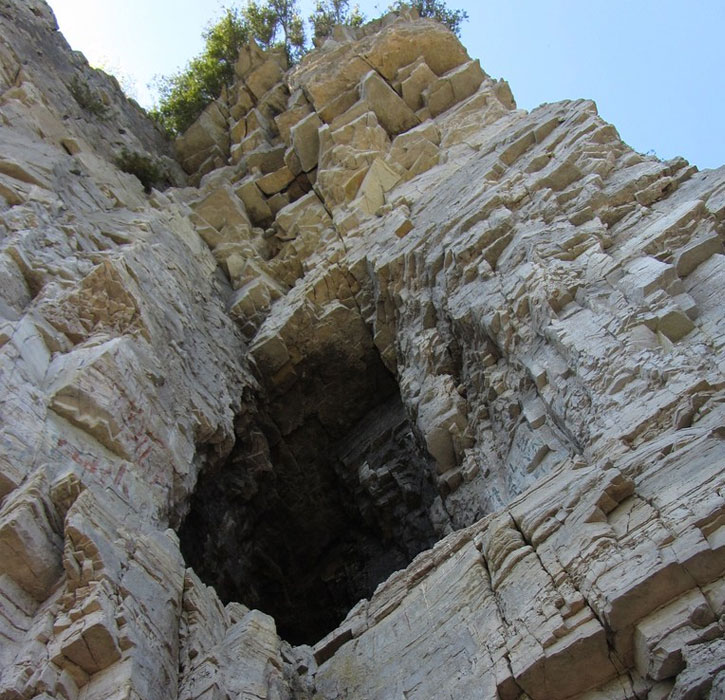 Location: 16320 Cavern Lane, Blue River, WI 53518
Hours: Open from 10AM to 4PM Thursdays to Sundays, from Memorial Day weekend through Labor Day
Fees: Admission fees for guided tours range from $9 (ages 4-12) to $16 (age 13 and up) with kids 3 and under getting free passes. Subterranean adventure tours cost $35 per person. Camping and cabin rental fees vary (check here for accommodation info)
Guest Info: (608) 537-2988
Eagles Cave is Wisconsin's largest onyx cave and the first-ever Wisconsin cave to open to the public.
The cave was discovered in 1849 when a man hunting a bear along the Wisconsin River was led to this place as it tracked the bear.
Unlike other caves in Wisconsin, Eagles Cave didn't become a show cave instantly. Its landowners mined the cave for black onyx until 1938 when they decided to open the cave doors to the public.
By 1954, Eagles Cave had opened its cave exploratory program for youth groups to camp in the cave when tours are off season. Today, this program still exist and runs from September to April.
Regular tours in the summer last for 1-2 hours. If you're an experience spelunker, join the subterranean adventure tour for a chance to crawl through challenging spots in the cave.
Eagles Cave also hosts events throughout the year. In October, they reserve one weekend to celebrate Halloween and turn the cave into a haunted one.
Aboveground, Eagles Cave has hiking trails, campsites and cabins for rent, mini golf, game rooms, canoe/kayak rentals and a mini snack bar.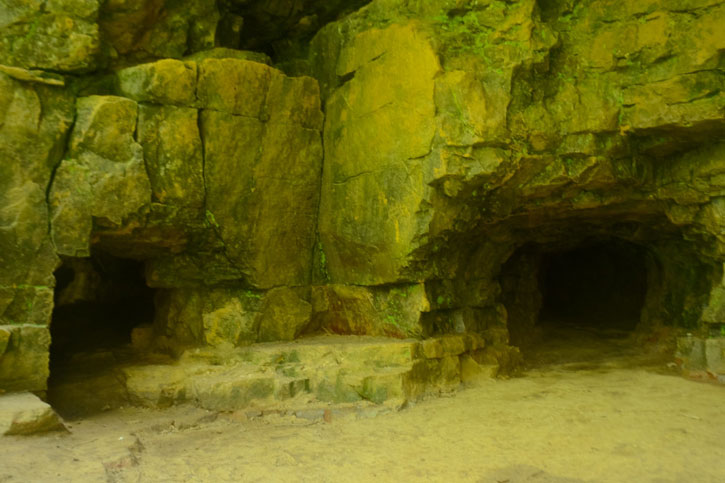 Location: 15401 County Rd R, Maribel, WI 54227
Hours: Some caves are open as long as the park is open (which is daily, from dawn until dusk). Other caves require guided cave tours, which are only available from 10AM to 3PM every third Sunday of the months of May through October.
Fees: free to visit (but donations are encouraged)
Guest info: Call (920) 683-4185 to confirm opening hours and tour availability
Caves at the Cherney Maribel Caves Park is located in Manitowoc County.
Many of these intimidating-looking caves are tucked into the Niagara Escarpment. They aren't like the show caves I featured above, so expect to get down and dirty.
Visitors are able to get into three caves anytime Cherney Maribel Caves Park is open. These include:
Coopers Cave (20 feet with hiking involved)
Cave of Treasures (200 feet, explored on your hands)
Pancake Cave (pancake-shaped 8-feet-deep cave)
New Hope Cave and Tartarus Cave are only open to the public during guided tours, usually led by volunteers from Wisconsin Speleological Society. They are also the people who maintain the caves with the help of the Manitowoc County Parks and Planning Commission.
Sea Caves, Ice Caves and Underwater Caves in Wisconsin
Some caves in Wisconsin require kayaking, boating, or skiing to reach them. These include: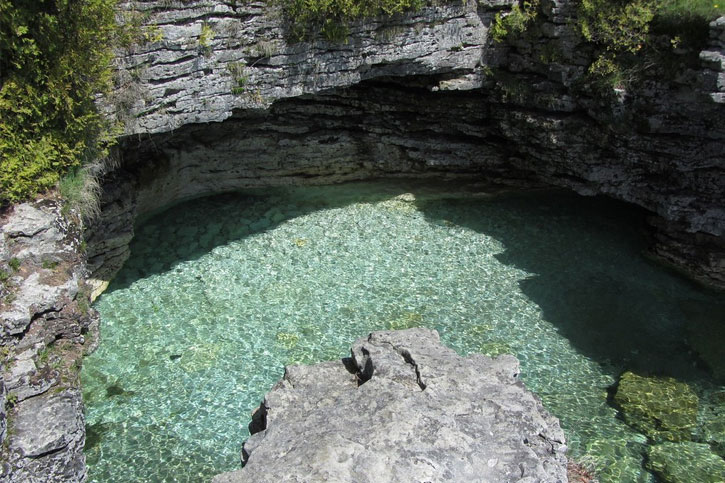 If you're an experienced diver and spelunking pro, the underwater caverns at Cave Point County Park makes a memorable trip.
Although the park doesn't have tours offered, many companies offer kayaking tours to ensure your adventure remains safe.
Beginner kayakers can still navigate the waters if this is their first time exploring open waters, but note that the Lake Michigan waters here could be rough and treacherous. Plus, the waves are known to crash into the limestone cliffs with heights reaching up to 30 feet.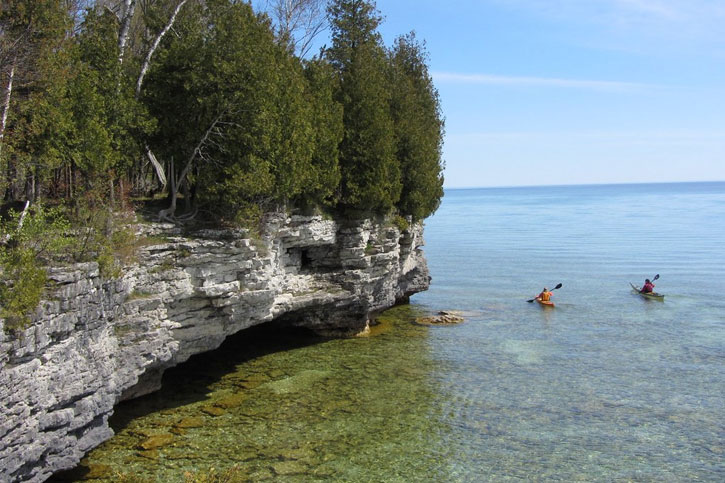 Experienced scuba-divers even have a chance to check out shipwrecks in the area.
It's not a kid-friendly place. Cave Point County Park has claimed many lives in the past. But if you love the extreme, you can go limestone rock climbing, cliff jumping, wave photography, and kayaking.
On land within the 19-acre park, visitors can hike, bike, and enjoy the scenery without dipping their toes in water. You won't have views of the caves from inside, but you can still take photographs from other vantage points.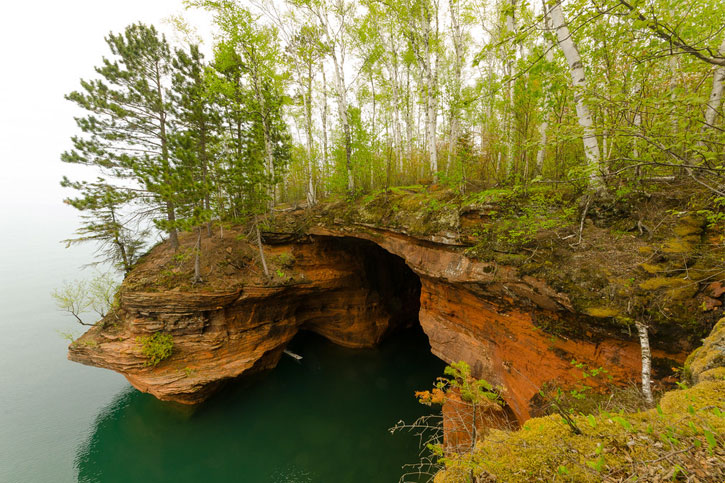 Hours: Apostle Islands National Lakeshore is open year-round, but the caves are best accessed in the summer (via water). If you're after ice caves, you should call the hotline for updated tour info (call 715–779–3397 and ask for extension 3).
Fees: Depends on the tour you book (kayak tours usually start at $60/person); cruises are priced higher but more ideal if you're traveling with kids and older folks
These beautiful sea caves of the Apostle Islands are located at the northern tip of Wisconsin in Lake Superior.
These red sandstone caves were formed by the combination of wind and Lake Superior waves, gradually creating the caves, tunnels, arches, slot canyons and gorgeous rock formations for years.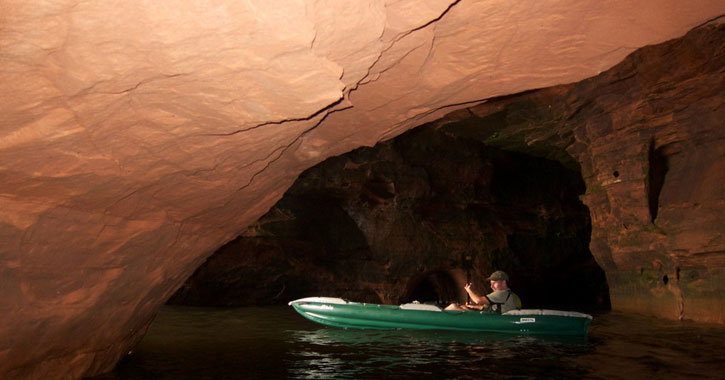 In the summer, people visit the caves either by kayak, boat or cruise ships. Some even dive underwater to check out what lies beneath.
Those who wish to hike can do so via the 6-mile Lakeshore Trail (departing from Meyers Beach parking lot). This route gives visitors a view of the sea caves from above.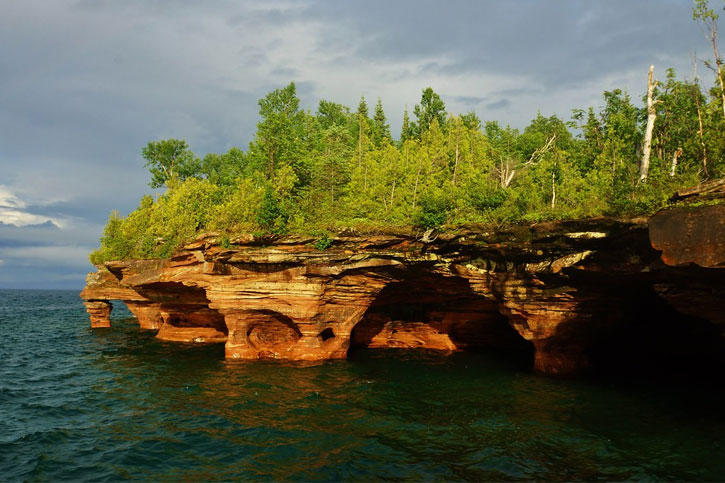 Many of these sea caves, such as those found on Sand and Devil's islands, are only accessible by boat.
If you're not an experienced kayaker (especially in open sea like this one), I recommend you go with a guide. There are plenty of tours available for all ages and skill levels.
Ice Caves of Apostle Islands
In the winter, when Lake Superior freezes over, people can visit the caves by foot by walking across the lake.
The gorgeous sea caves of the area (there are multiple caves here) also get frozen inside and out.
Getting inside depends on the condition of the caves though. Or your willingness to walk under those sharp-looking icicles.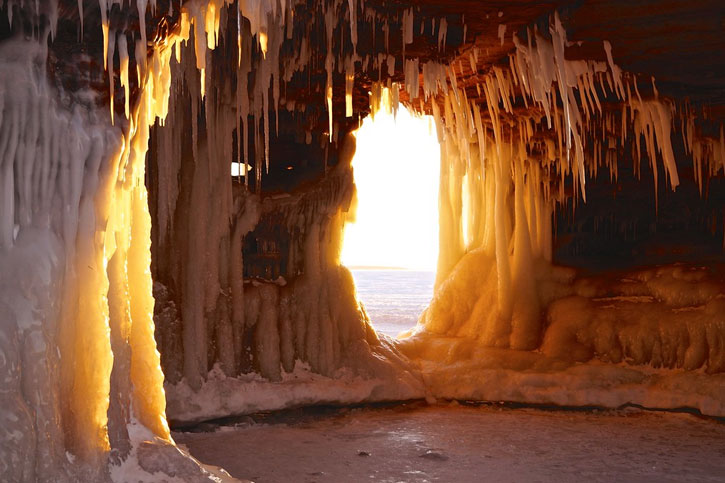 Don't worry, park officials of Apostle Islands National Lakeshore are on top of the ice conditions.
Updates are posted daily, so visitors are warned if it's dangerous to continue the trip.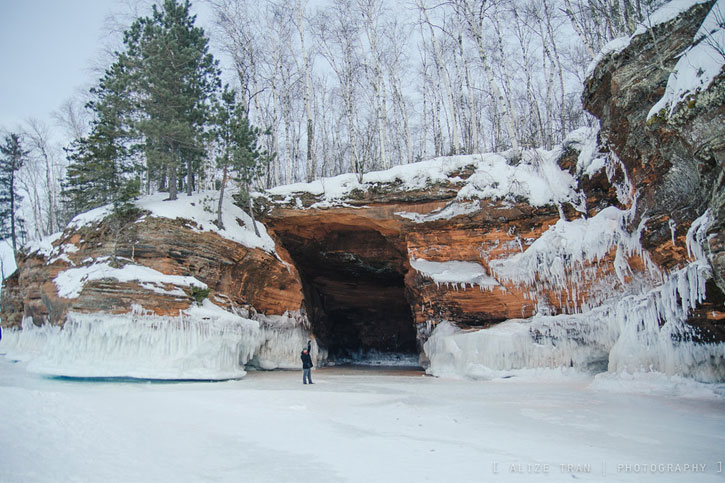 This beautiful Bayfield Ice Caves (show above) is adjacent to the Apostle Island Sea Caves.
Many kayak tours include both caves, since they're close to each other. However, people usually visit the Bayfield Ice Caves by foot in the winter.
Before Visiting Caves in Wisconsin
When visiting caves in Wisconsin (and any other places), there are some rules you need to follow.
These include:
No bringing of pets
No smoking or vaping inside the cave
No touching the cave (did you know that the oils from our skin can prevent the cave formations from growing naturally? weird, but true)
No flash photography (usually to keep bats from panicking), but other caves ban picture-taking completely.
No eating or drinking inside the cave, gum included.
Almost all caves in the country can be cool. It's just how caves are. Dress appropriate and bring a jacket, so you could enjoy the entire cave tour.
If you're staying in Wisconsin longer and looking for places to keep you busy, check my guide about the 10 WI golf courses, and the coolest aquariums near Madison (if you're going here with young kids).
If you're visiting in winter, read up on the best ski options around Wisconsin.