If you're on a mission to try as many craft beers all over the country, don't miss these famous Seneca Lake breweries if you pass by New York.
The brewing community around Seneca Lake is tight-knit, so festivals and brewing events are always a blast.
With a visit to these Seneca Lake breweries, you'll get to taste the cultural heritage, food pairings, and farm-to-table principles of establishments in the area.
Plus, there are numerous renowned Finger Lakes vineyards within your route, too! So if you have time, you can visit two or more spots throughout your trip.
12 Seneca Lake Breweries to Visit when You're in Town
There are over 30 breweries within the Seneca Lake area.
Pick from these 12 breweries if you can't join the Seneca Lake beer trail.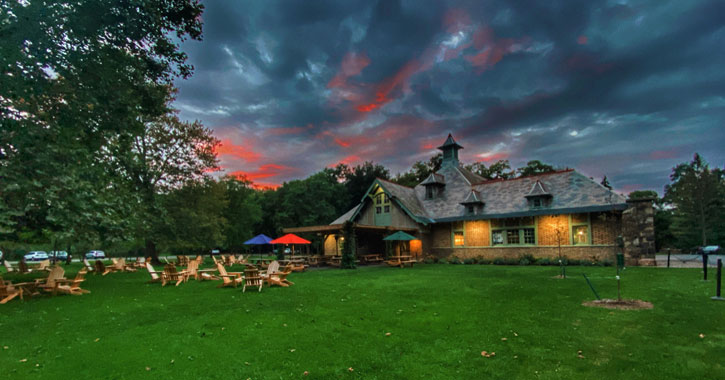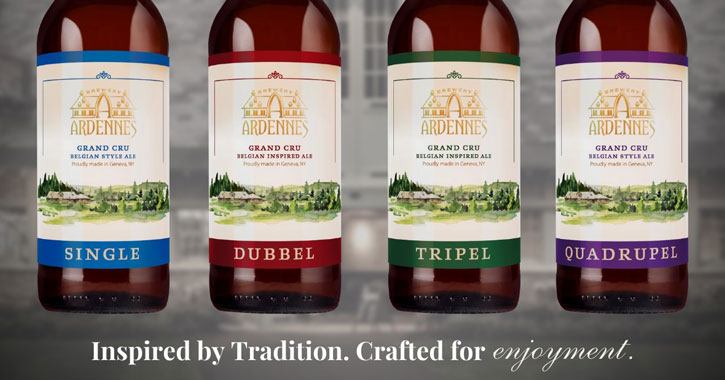 Brewery Ardennes gives you a laidback environment to enjoy your beers, wines and sours.
They even cater to seated meals (not food trucks) and make the best steak dinners in-house.
As for the beer, Brewery Ardennes specializes in Belgian-inspired craft beer.
While they do other blends, make sure to try their Belgian Blonde and Belgian Stout.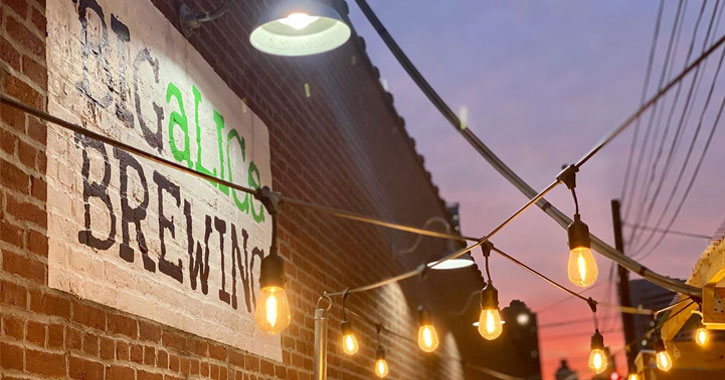 Address: 4180 NY-14, Geneva, NY 14456
Hours: Open daily from 11am to 8-10PM
Known for: Large variety of inhouse beer, including their Brett beers, live music, good food
You can't visit upstate New York without making a stop at Big aLICe Brewing.
The place serves wine, non-alcoholic drinks and a small, but good selection of beer.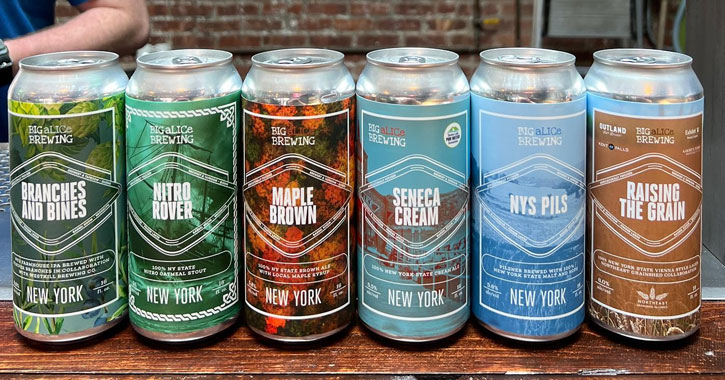 Everything is locally-sourced – from their craft beer and wine, to the food (their beef burgers are awesome).
Big aLICe Brewing takes food truck food to the next level with those uniquely-prepared brats.
If you're lucky to visit Big aLICe Brewing over the weekend, there would be live music at the dog-friendly brewery, too!
If not, kids and kids-at-heart could enjoy the fire pits and lawn games instead.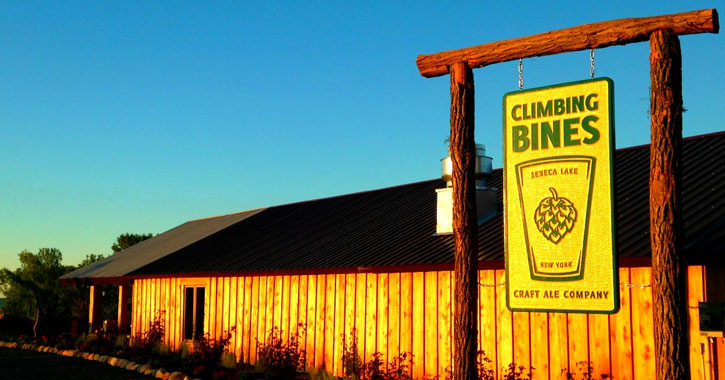 Hours: Open daily from 11am to 6PM
Known for: Kolsh-style and sour beers
Climbing Bines Hop Farm and Craft Ale Company is a must-visit.
It is New York's first farm brewery, where you can taste, smell, touch freshly-harvest whole leaf hops straight from the farm.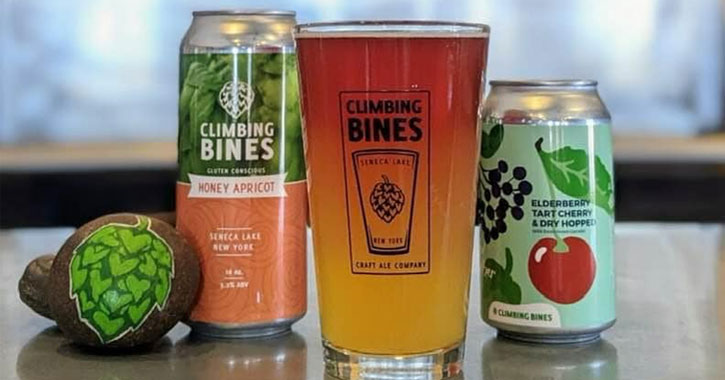 The tasting area at Climbing Bines is done literally on the hop fields, which is quite a unique experience. Note that there is no shade there so make sure to bring a hat.
You can go indoors, though. There's a covered porch and a spacious event area, which is where many rustic-themed weddings are held.
As for the Climbing Bines' beer selection, there's almost every style of beer here. Try the full flight – it's worth it!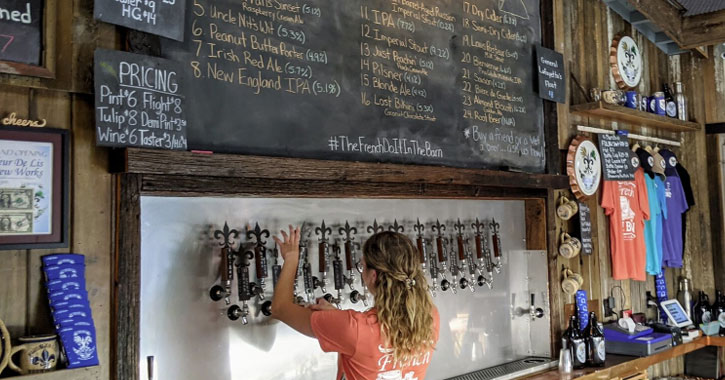 Address: 3630 NY-414, Seneca Falls, NY 13148
Hours: Closed Mondays to Wednesdays, Open Thursday and Fridays from 3PM to 7pm, Saturday from 12PM to 7PM, and Sundays from 12 to 5PM
Known for: delicious beer flavors (like almond biscotti, pumpkin pie, mango sour)
Opened in 2017, Fleur De Lis Brew Works is one of the newest craft breweries in the area. It sits on a 15-acre farmland, located just south of Seneca Falls.
While the brewery is new, this family-owned farm has deep roots in Seneca County, it's been in the Partee family for generations.
Today, visitors can enjoy their beer anywhere in the two-story brewery space and beer parlor indoors, or sprawling grounds outdoors.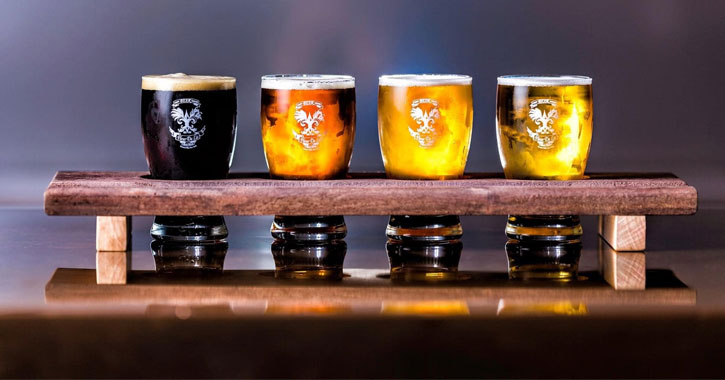 Fleur De Lis Brew Works plants their own hops in the farm. Their goal is to brew blends completely sourced from their own "backyard."
If you're visiting, don't miss the Roggenbier (German-style rye beer), their barley-hop blonde ale, IPA, Irish red ale, their milk stout or Fleur De Lis' Belgian-style wit.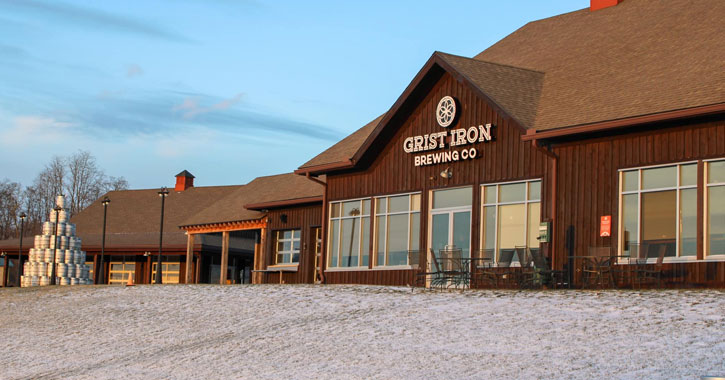 Address: 4880 NY-414, Burdett, NY 14818
Hours: Open daily from noon to 8PM (Sunday to Wednesday) and up to 9PM (Thursday to Saturday)
Known for: Hazy IPA, pumpkin ale and brown ale with good food and spectacular environment
If you're after a picturesque or romantic trip, stop over at Grist Iron Brewing Co.
Most winery and brewery tours include GIB not only because of the gorgeous views from this place, but also because it is open to guests daily.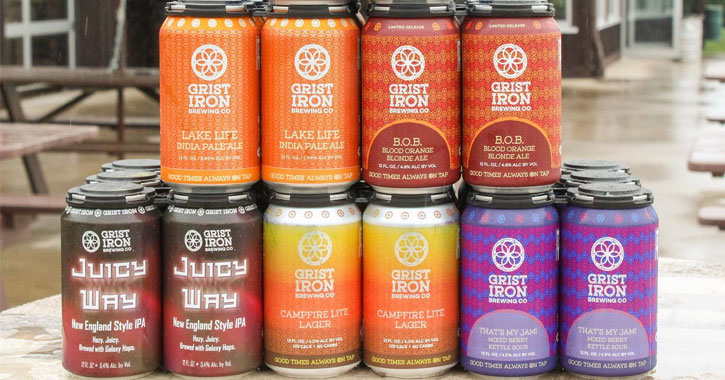 All brews of GIB are sourced and crafted on site. Try their Juicy Way (hazy IPA), sour berry, pumpkin ale, or if you're feeling adventurous, order a flith instead.
Grist Iron Brewing Co. also makes the best nachos, pulled pork, ribs, and giant pretzels that go pretty perfectly with their in-house beers.
If you can, visit weekends (for live music) or whenever there are special events like the Fall Festival in October. GIB also has a comfy lodge for overnighters.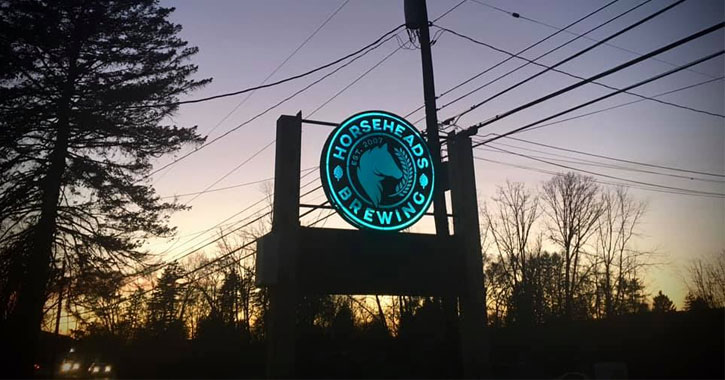 Address: 250 Old Ithaca Rd, Horseheads, NY 14845
Hours: Open daily from 2-8PM Mondays to Thursdays, 2-9PM Fridays and Saturdays, then 12-8PM on Sundays
Known for: pumpkin ale, Horseheads IPA, and their Chile beer "Hot-Jala-Heim"
Horseheads Brewing Co. considers itself a "small brewery," but the brews it produces are definitely world-class. They've been named "Best Craft Beer Brewery" at the annual TAP New York festival in 2010 and 2015.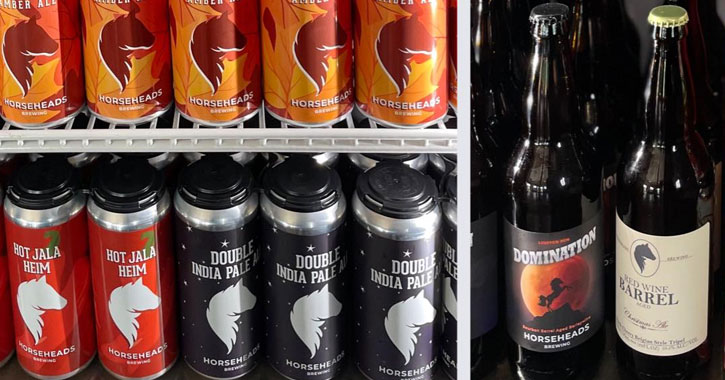 Horseheads makes over 12 beers with favorites like the Hot Jala Heim, uniquely made with anaheim and jalapeno peppers.
The place has a chill vibe with outdoor seating just off the lake (you can see the boat launch and many parked boats from your seat).
Expect beer pairings like fish tacos, burgers, wings, chicken nuggets, Crab Melt, and other bar-food quick eats. Nothing fancy, but works well with Horseheads beers.
Waiting time can be a problem at times, especially if you've ordered a lot of food, but if you're here for the beer and ambience, you're all good.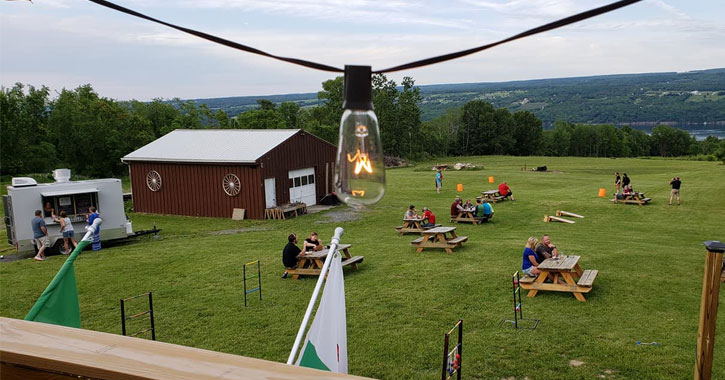 Address: 4520 NY-14, Rock Stream, NY 14878
Hours: Open from 12-7pm Mondays-Thursdays, 11AM-8PM every Fridays, 10AM-9PM on Saturdays, and 11AM-7pm Sundays
Known for: English Bitters, English Brown Ale, English IPA
Seneca Lake Brewing Company is New York State's only dedicated Cask Ale Brewery.
It is located on beautiful Seneca Lake in Rock Stream, sitting on a sprawling picnic grounds with a picturesque view of the lake.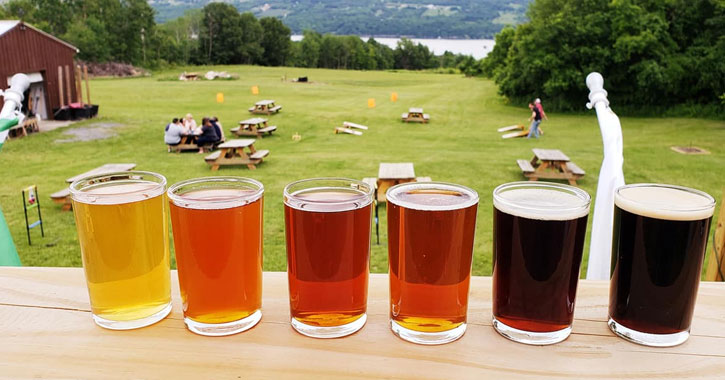 Seneca Lake Brewing Company is proud of its traditional British Pub roots and Cask Conditioned Real Ales.
If you have no idea which to try, ask the friendly people at their inhouse pub called "The Beerocracy."
Food trucks are parked on most weekends with future plans of an in-house restaurant.
If you're looking for a venue for birthdays, weddings, dinners and private events, Seneca Lake Brewing Company rents out the Beerocracy, too!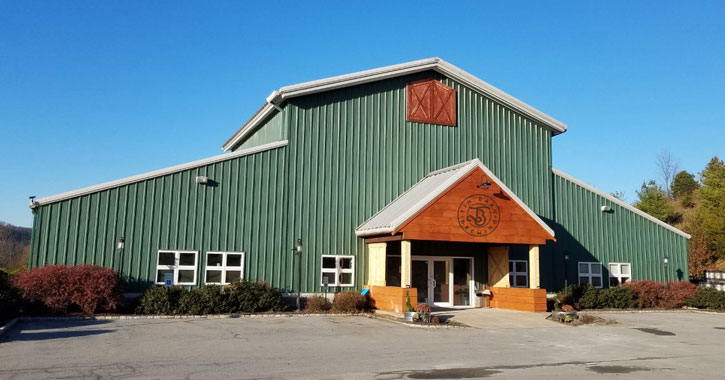 Address: 5428 NY-14, Dundee, NY 14837
Hours: Closed Tuesdays and Wednesdays, Open from 11AM-6PM on Sundays, Mondays and Thursdays, then from 11AM-8PM Fridays and Saturdays.
Known for: New England IPA "Dank Island," Vienna Lager "Homegrown Honey," and Fruited Kettle Sour "Fruit Snacks"
Tin Barn Brewing is a farm brewery founded by a local father-daughter duo in 2015.
Tin Barn specializes in New England IPAs and sours. They also have hard cider, and wine.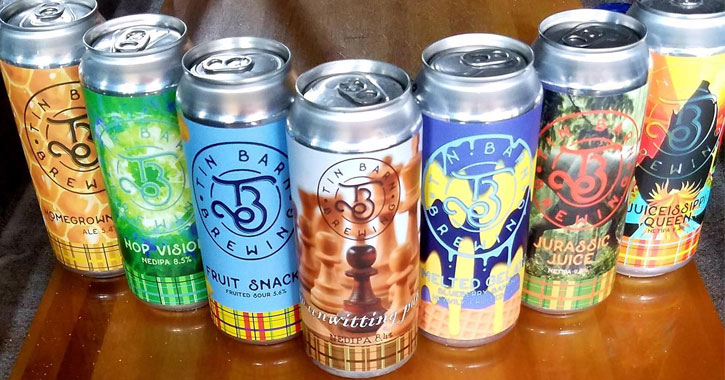 If you're a fan of tasty IPAs and sours, Tin Barn Brewing is the brewery for you.
There is live music and bar food like street corn nachos on site.
Tin Barn Brewing has an impressive backdrop. Aside from their own manmade fountain, you have excellent views of Seneca Lake from the barn's outdoor seating.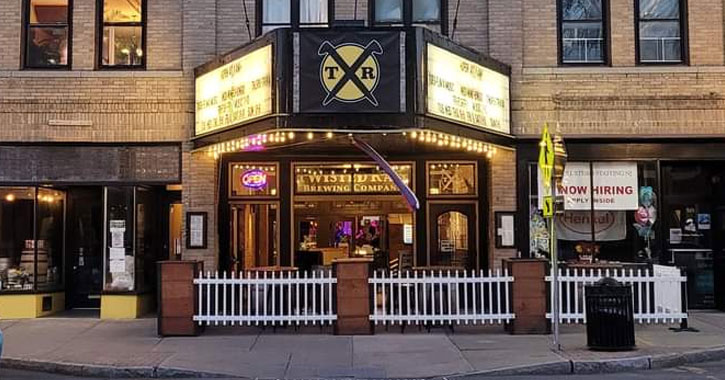 Address: 499 Exchange St, Geneva, NY 14456
Hours: Open daily, 11:30AM-9PM from Mondays to Thursdays, 11AM-10PM on Fridays and Saturdays, then Sundays from 12-7PM
Known for: Russian Imperial Stout "Vokzal Russian Stout," Farmhouse Ale, their American Pale Ale "Ale Aboard" and "Spike Driver Double IPA"
Twisted Rail Brewing is a place where you can go if you're traveling as a group with different tastes.
The setting is such a vibe, too. The brewery is situated in an old theater that still had remnants of its past (including the signage in front).
Many breweries have good beers, but nothing special to talk about when it comes to food or live music. Or infamous for bad customer service
What makes Twisted Rail Brewing a favorite among locals is that the food and live music are just as exceptional as their beers. They also have good people manning the place, too!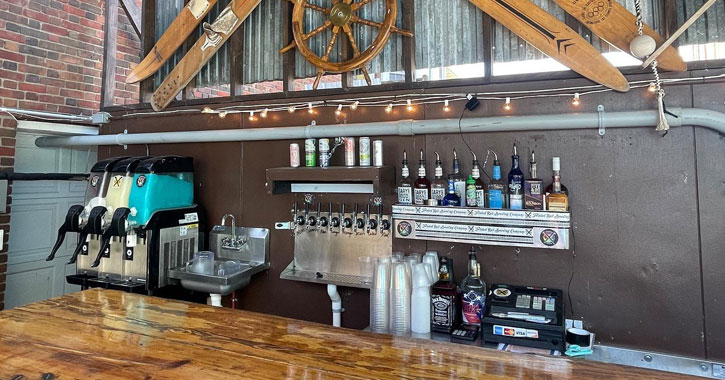 Twisted Rail Brewing has an extensive selection of beer (some on tap). They also have wines from Heron Hill Winery and spirits from Black Button Distilling.
Don't miss their brick oven pizzas, dry-rub BBQ, perogies and garlic-parm wings.
If you can visit during Octoberfest, this is the brewery I'd recommend you stop first (or last, if you wish to finish the tour with a bang!).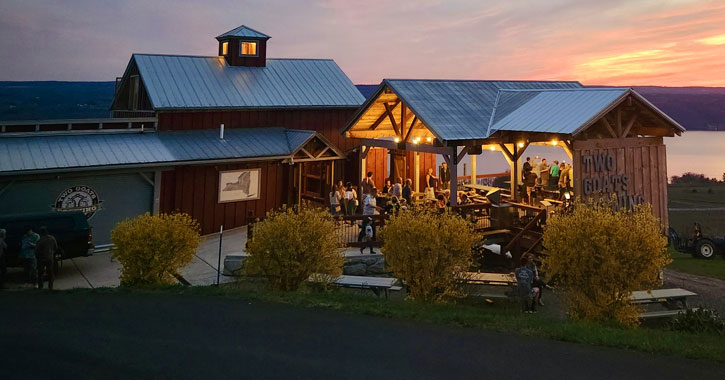 Address: 5027 NY-414, Burdett, NY 14818
Hours: Open daily from 12PM-9PM on Sundays to Thursdays, then 12PM-10PM Fridays and Saturdays
Known for: Cream Ale, Goatmeal Stout, and their Imperial IPAs "XIPA" and "Wyck'd Nuggets"
The Two Goats Brewing barn is a 19th century barn with amazing views of Seneca Lake.
Today, it has been transformed as a go-to brewpub with some of the best sunsets throughout Finger Lakes.
Aside from the epic sunsets, Two Goats is also famous for the "dollar bills on the ceiling." Ask the bartender the secret and be amazed how your dollar could end up at the ceiling.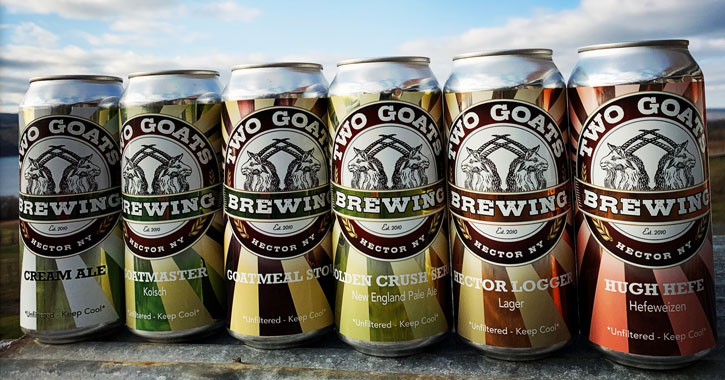 Two Goats Brewing offers a good selection of beer (they have flights for $12/four 4-oz pours) and in-house cider.
Try the scrumptious beef-on-weck if you came here hungry. There's complimentary popcorn, too!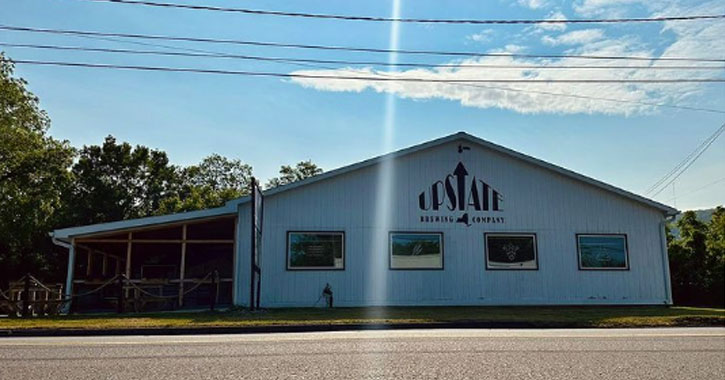 Hours: Open daily from 12PM-7PM on Mondays, from 12PM-8PM Tuesdays to Thursdays, then 12PM-9PM Fridays and Saturdays, and noon to 6PM on Sundays
Known for: I.P.W. (India-style Pale Wheat Ale), and their red ale "Common Sense"
Upstate Brewing Company opened its doors to guests in 2011 at their Elmira location.
Since Spring of 2023, its Finger Lakes branch opened as well.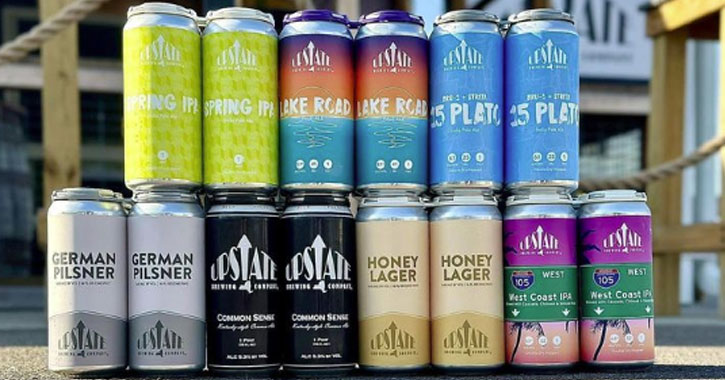 Visit Upstate Brewing Company for the IPAs, sours and ciders, but you'll enjoy their burgers and other food-truck eats, too!
It's an awesome hangout place with excellent customer service.
If you can, join the fun on Thursdays when they do Bingo night at Upstate Brewing Company.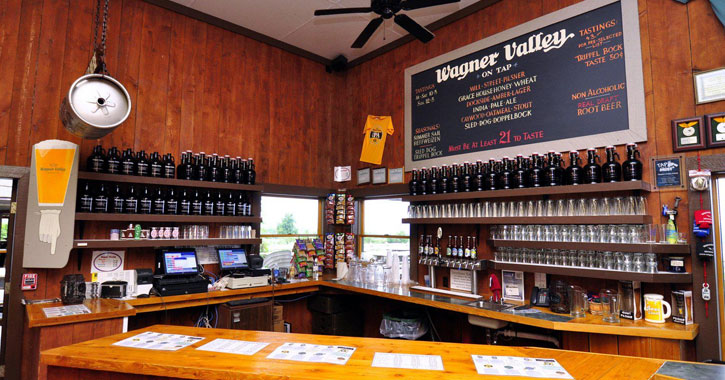 Address: Brewery, 9322 NY-414, Lodi, NY 14860
Hours: Open daily from 10AM to 5PM, except on Fridays (they're open until 9:30PM Fridays)
Known for: Sled Dog Dopplebock, India Pale Ale, Sled Dog Trippel Bock and Oatmeal Stout
Wagner Valley Brewing Co is one of the oldest craft breweries in the Finger Lakes Region of upstate New York.
It was the first craft brewery on Seneca Lake, which is why it is included in most wine/brewery tours.
It's a scenic stopover, too! The place has spacious indoor and outdoor seating with a massive "beer deck" boasting a unique view of Seneca Lake.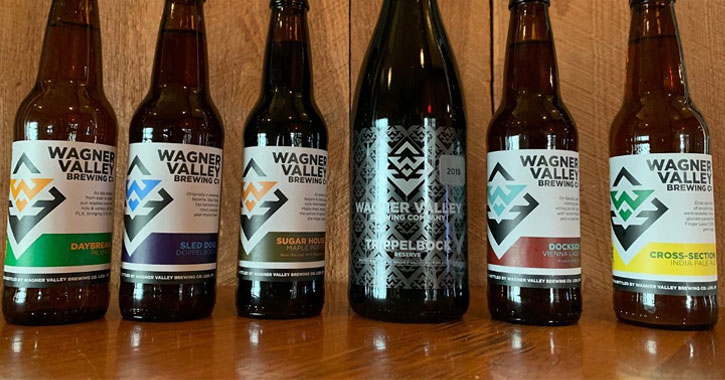 Wagner Valley Brewing Co rotates 12 draft beers and have a wide range of specialty craft beer (some seasonal, some year-round).
When you eat at their Ginny Lee Cafe, you can order from their menu of Wagner Vineyards wines or enjoy a flight of beer.
Beyond Seneca Lake Breweries
While you're planning your brewery tour, check out my guide on Seneca Lake wineries as well.
If you're ticking off a brewery bucket list, you might find my brewery guides for locations like Asheville NC, Austin, Boise Idaho, Boulder Colorado, Grand Rapids, Pittsburgh, and Vermont useful when creating your itinerary.