Alvord Desert is one of Oregon's natural treasures located in Oregon's high desert region. This desolate yet stunning landscape is home to many unusual attractions.
Today, you'll learn all about the Alvord Desert—the best things to do, how to get here, the best time of the year to visit, and other important information.
The Alvord Desert
The Alvord Desert was once a lake that has since dried up. It's now a landform called a playa, which is a flat-bottom depression found in interior desert basins periodically covered by water that deposits sand and salt along the bottom and around the edges of the depression.
It lies at an elevation of 4,000 feet and averages 7 inches of rain a year. This minimal rainfall is because of the rain shadow created by the Coast Range and the Cascade Mountains, as well as Steens Mountain.
Alvord Desert itself is barren, but wildlife and birds find their way around. It's possible to get a glimpse of wild horses, killdeer, and snowy plover on the playa itself, as well as a variety of other animal and bird species in the surrounding mountains and springs.
Things to Do in and Around the Alvord Desert
1. Camping
One of the most popular things to do in Alvord Desert is to camp on the desert playa itself.
If you can, spend at least one night camping right on the salt flats, as the experience is unique. There aren't many places where you can actually camp right under the stars, so do it when you can.
Pro tip: Set up your camp on the outer edges of the playa. Camping in the center of the playa gives you no protection from the elements, plus if it ever rains, you may find yourself stuck in the mud.
Also, as you'll see in the next item, visitors drive around the playa, and you run the risk of accidentally being hit by a wayward driver if you camp right in their path.
When camping, remember that fires aren't allowed, and leave no trace.
2. Driving
You can drive or bike throughout the desert on public lands. They recommend only driving during the dry season (July through November), otherwise, you risk getting stuck in the mud.
With all the flat land and nothingness in the desert, you might be tempted to drive a little (or a lot) recklessly. But even in an isolated desert, accidents can happen.
Most recently (and tragically), racer Jessi Combs crashed and died in August 2019 trying to beat the world record for the fastest land speed in a jet car in the Alvord Desert.
3. Stargazing
There's very little light pollution here, so you can get amazing views of the starry night sky.
Pro tip: Go during the new moon in the summer to see the Milky Way in all its glory.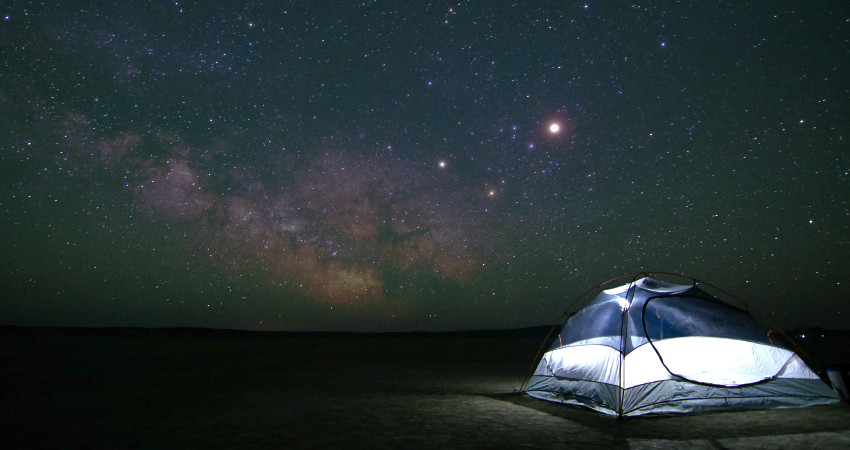 There are quite a few hot springs around the perimeter of the desert, such as Mickey Hot Springs, Borax Hot Springs, Tule Springs, and Buckbrush Springs.
Of these springs, Alvord Hot Springs is the only one you can actually soak in.
Alvord Hot Springs is a privately owned facility operating since the 1940s with twin concrete pools, a small store, campsites, bunkhouses, and restrooms.
If you pay to stay in their campsites or bunkhouses, you can use the pools for 24 hours (stargazing while soaking in a hot spring, anyone?), while day visitors can only access the hot springs during business hours.
The airconditioned bunkhouse is $90 a night for 2 people, regular bunkhouses are $70 a night for 2 people, campsites are $40 for 2 people, and it's $10 to soak in the hot pools.
If you don't want to drive on the playa, you can drive around it and get treated to breathtaking views and wildlife.
The Steens Loop Tour is a 59-mile National Scenic Byway that starts from Frenchglen, climbs to the very top of Steens Mountain, and goes down on the mountain's western slope.
Along the way, you get to see the Alvord Desert from a mile above, as well as Kiger Gorge, Big Indian Gorge, and Little Blitzen Gorge.
On the Steens Mountain, you'll probably see some bighorn sheep, pronghorn antelope, mule deer, elk, golden eagles, and many more wildlife species and birds.
Other nearby places of interest
You can also go to these places of interest that are near Alvord Desert: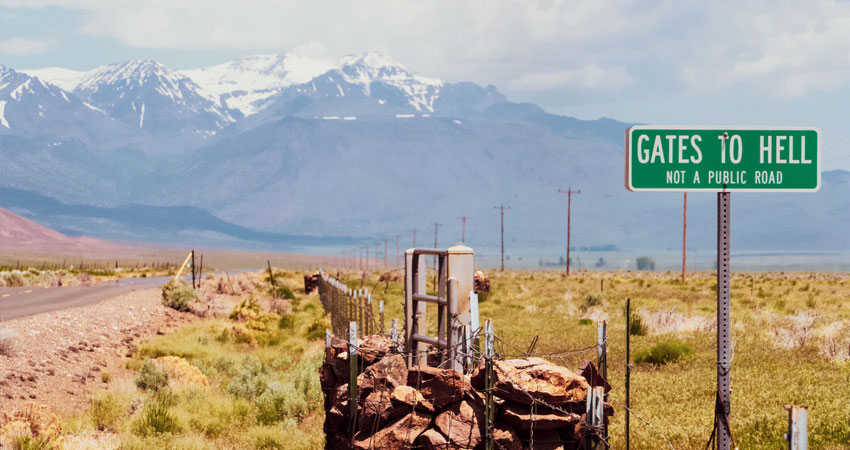 Information And Tips On Visiting Alvord Desert
Now that you know all about Alvord Desert and why it's special, here are more important travel information to know when going to Alvord Desert.
Getting To Alvord Desert
If you're flying in from out of state, your best bet is through Portland International Airport (PDX) and then renting an off-road car to drive to Alvord Desert.
Driving from the north, you can go through Burns, OR then take OR-78 E and take a right on Fields–Denio Road. Coming from the south, go through Fields, OR then turn right on Fields–Denio Road.
If you have more time and would like to take the scenic route, why not try taking the train? The Amtrak Cascades Train and the Coast Starlight Train pass through Portland, Oregon. Check the routes if the train passes through your city.
Getting Around
You can drive onto the desert from several different dirt access roads. As I've mentioned, biking is also allowed.
Where To Stay
I did suggest camping in the desert for at least one night, but in case you don't relish the thought of being exposed to the cold all night, Alvord Hot Springs has campsites and bunkhouses where you can stay overnight and access the hot springs for 24 hours.
There are also places to stay in the nearby towns of Burns and Fields.
Best Time Of Year To Visit
Fall is the best season to visit Alvord Desert, as summer is too warm, winter is too cold, and spring is when the area has the most rainfall, making the desert floor muddy and hard to travel over.
What To Wear
Remember that this is the desert; at night, the temperatures drop dramatically. Dress in warm layers, preferably windproof ones.
Of course, if you plan to soak in the Alford Hot Springs, bring your swimsuit and towels.
What To Expect
The location is very remote, so fill up your gas tank and bring some extra if you can. This is the worst place to run out of gas.
Its isolation means that the mobile phone reception is spotty, so download everything you can on your phone so you can view them offline. Also, invest in a handheld GPS receiver that isn't dependent on your mobile network.
Alvord Desert has been described as a piece of crumpled paper smoothened out on a completely flat surface.
Because of the surrounding mountains, there's hardly any wind, and because it's barren and desolate, there's no ambient noise. The silence can be deafening.
Occasionally, though, you might hear loud booms from a distance. Locals say this is due to the seismic activity under the desert and is nothing to worry about.
The sunrise is spectacular and the clear skies give you a bright, starry blanket to sleep under.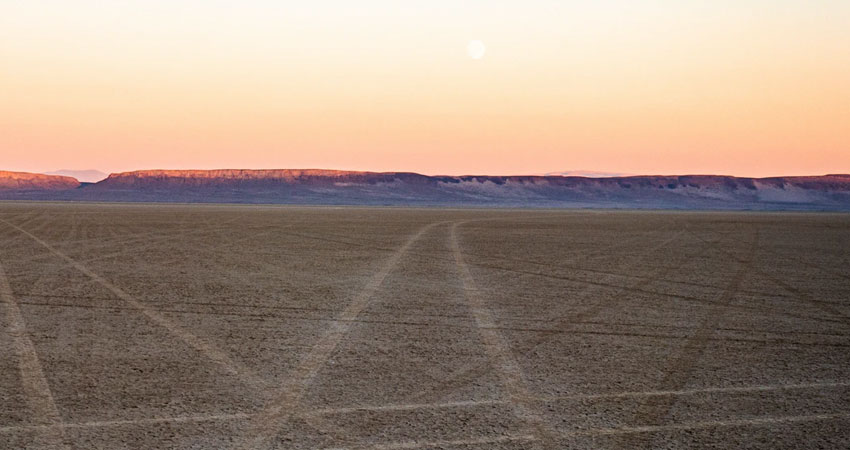 Visit Alvord Desert!
As you now know, Alvord Desert is a magnificent place for an outdoor adventure, plus there are nearby places to visit if you do get tired of the desert.
Hopefully, this guide helps you in planning your desert adventure.
Other Places to Visit in Oregon
If you can visit Oregon for longer than a few days and you're looking for more outdoor adventures,
Or try exploring the Tillamook Head Traverse Trail, one of our best beach hikes in the US.
Oregon's only national park, Crater Lake National Park is also worth visiting. Take a boat ride, hike on the nearby trails, or ski in one of the nearby spots.
Are you excited to go to the Alvord Desert? Which activity do you think you'll do first? Share your plans with us in the comments!