Owning an island has always been seen a rich-people thing. But now, thanks to rental sites, budget-conscious travelers can score a private island rental and live out their island dreams without breaking the bank.
Some island rentals have nothing but the basics, while others come with housekeepers and water equipment.
But they all promise seclusion, recreation, and spectacular views of the water all around.
Here are some lovely private island rentals in the US that you can book online and are affordable; all these listings are below $250 per head (most are below $100), provided you maximize the number of guests allowed.
8 Private Island Rentals You Won't Believe You Can Afford
1. East Sister Rock Island, Marathon, Florida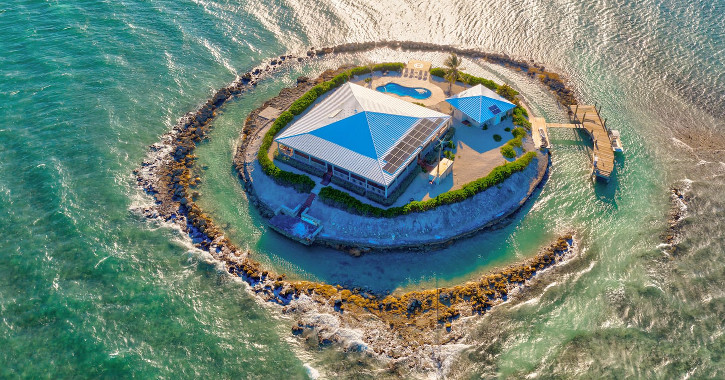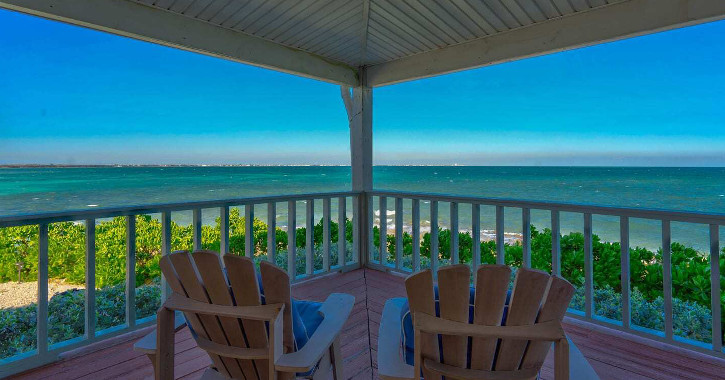 Starting price per night: $1,773 (as low as $222 per guest)
Let's start off in Florida, which unsurprisingly has the most private islands for rent than any other state.
East Sister Rock Island is a private island off Marathon in the Florida Keys. The huge living area features a 2,7000-square foot veranda for fantastic views of the Atlantic, an outdoor pool, a boat dock, and a helicopter launch pad.
You can fly (or drive) into Marathon, from which you can make your way to the island by boat (or by helicopter, if you're fancy).
Book this island here: East Sister Rock Island | Airbnb
More information: Florida Island | East Sister Rock Island
2. Sands Island Refuge, Emerald Isle, North Carolina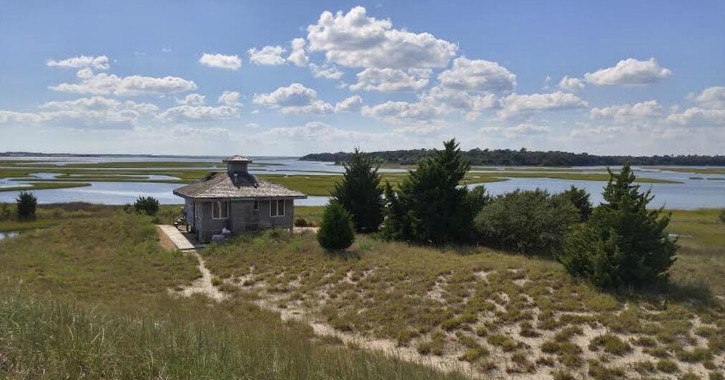 Starting price per night: $325 (as low as $81 per guest)
Sands Island Refuge (also called Ski Beach) is a peaceful island just off Cedar Point surrounded by pristine saltwater marshes.
The lone accommodation here is a two-bedroom cottage powered by solar electricity.
This private island rental is only accessible through canoe or kayak. If you have your own, you can park in the NC Wildlife Boat Ramp and push off from there. Otherwise, there are kayak rentals in nearby Swansboro.
Book this island here: Private Island Cottage Overlooking Bogue Inlet | Vrbo
3. Old House Cay, Hilton Head Island, South Carolina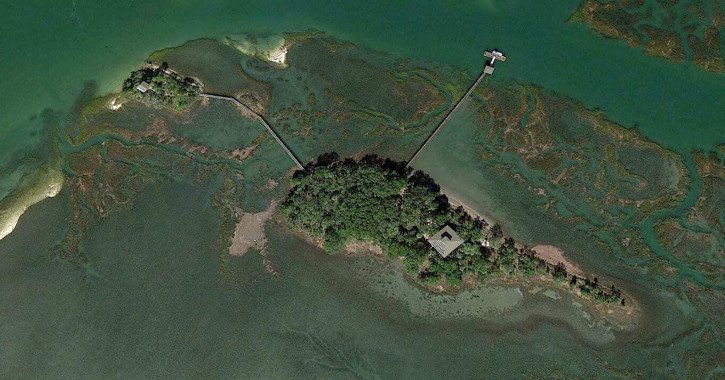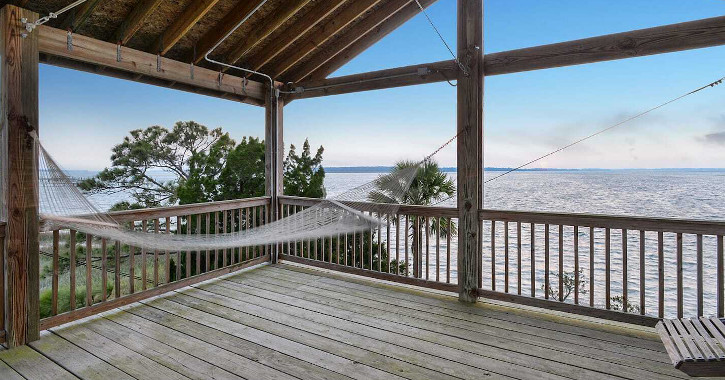 Starting price per night: $589 (as low as $98 per guest)
Old House Cay is a group of private islands (yes, plural!) 10 minutes away by boat from Hilton Head Island, a popular South Carolina beach town.
A completely off-grid house is on the main island, and there are a couple of walkways; one leading to the boat dock and the other leading to the two smaller islands.
Guests can swim, catch some fish and crab for dinner, or simply hang out at the patio and enjoy lovely views of the intercoastal waterway.
Book this island here:
The Private Islands of Old House Cay | Airbnb
The Private Islands of Old House Cay | Vrbo
4. Oar Island, Bremen, Maine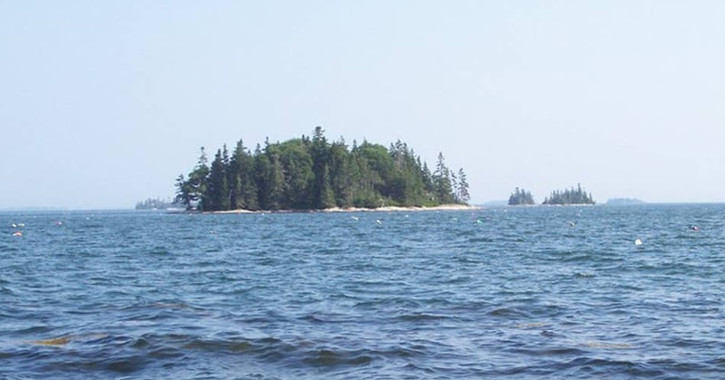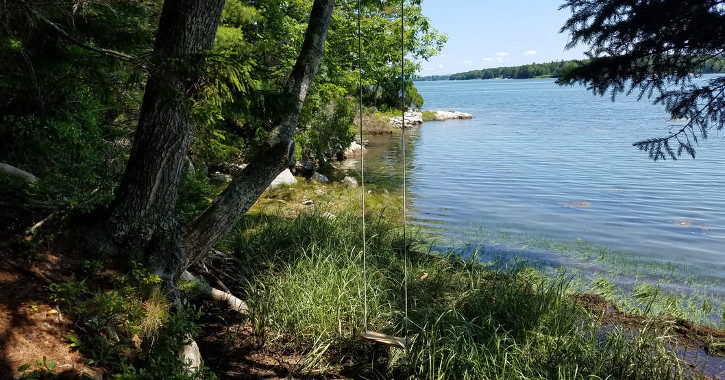 Starting price per night: $401 (as low as $50 per guest)
Oar Island is in Muscongus Bay, reachable by boat from the Broad Cove Marine Services.
Aside from swimming in the sea and beachcombing in the low tide, visitors can explore the woods and its flowers, fruit, and birds (watch out for the bald eagle couple!).
Or just chill and enjoy the views of Muscongus Bay and the Atlantic.
There are actually two accommodations on the island, isolated from each other by 500 feet of Maine pine forest. They can be booked separately, but you can book the two houses for the above rate if you want the whole island to yourself.
Book this island here: Oar Island, Maine
5. Whiskey Island, Clayton, New York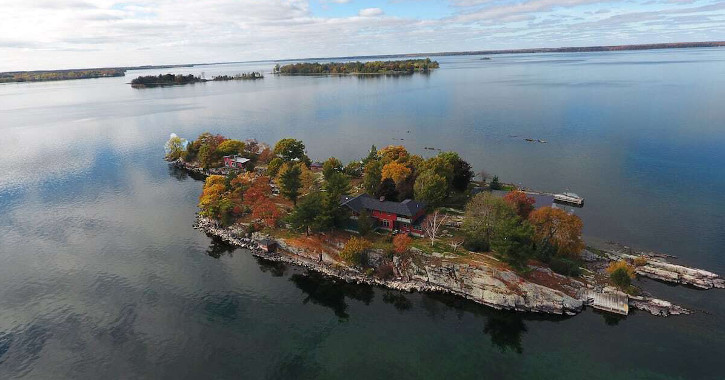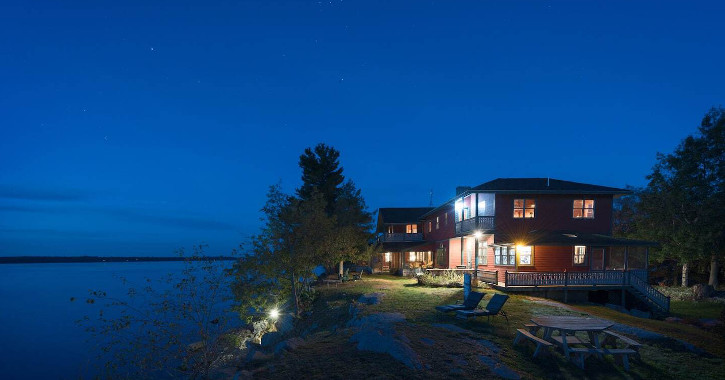 Starting price per night: $1,450 (as low as $97 per guest)
One of the approximately 1,800 islands in the famous Thousand Islands region in New York, Whiskey Island is a stunning private island rental with a grand lodge that was originally built in 1875 (and has since been renovated).
Enjoy gorgeous views of the St. Lawrence River from any one of the five porches on the lodge, or go swimming and fishing from the dock.
Book this island here:
Whiskey Island | Airbnb
Whiskey Island Lodge | Vrbo
6. Katinka Island, Presque Isle, Wisconsin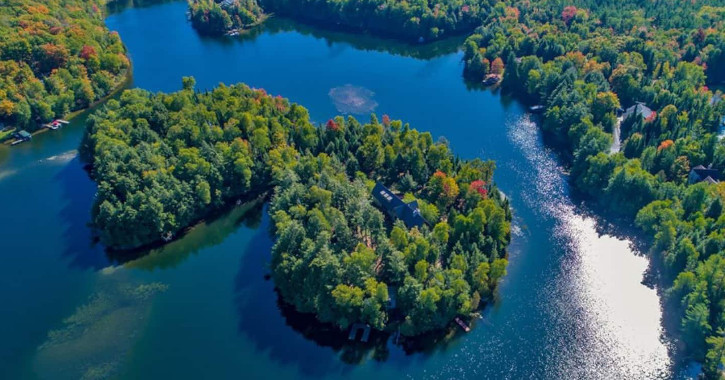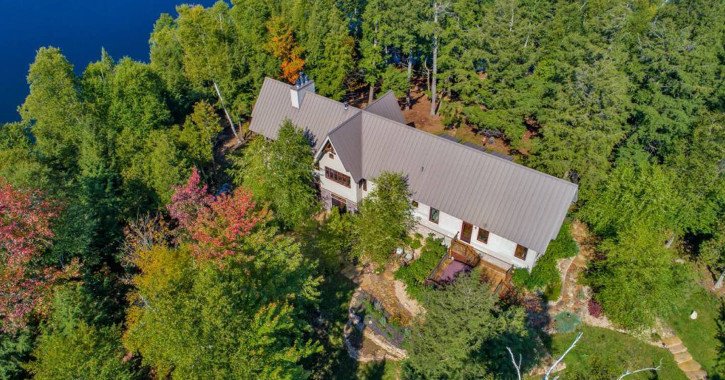 Starting price per night: $990 (as low as $62 per guest)
Located on Katinka Lake, in the vast Northwoods of Wisconsin, Katinka Island is a 4-acre private island promising silence and solitude.
The luxurious timber frame house has views of Katinka Lake from all sides, plus an outdoor hot tub deck where you can relax and stargaze at night.
Book this island here: Dog-friendly home on private island w/boat landing | Airbnb
More information: Katinka Island
7. Private Island on Island Lake, Poulsbo, Washington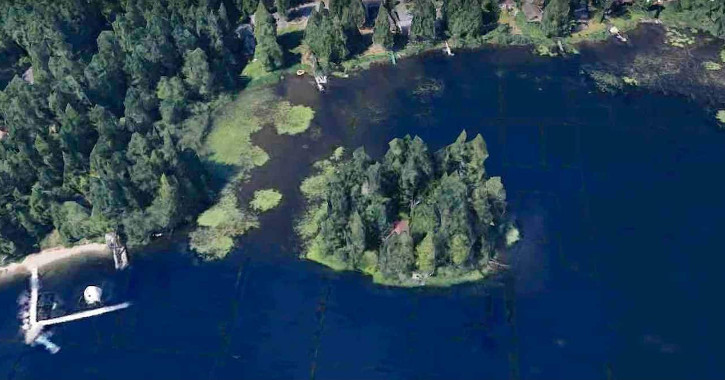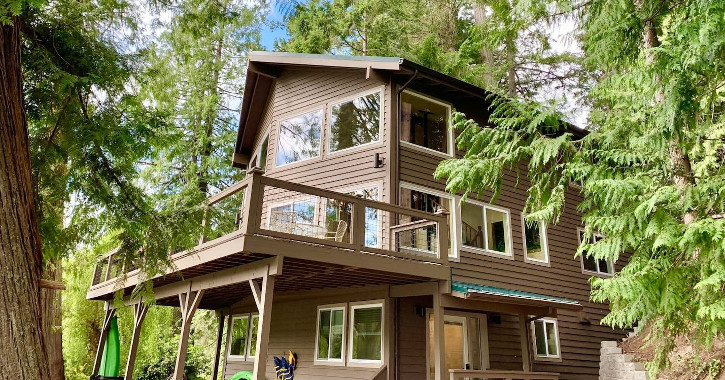 Starting price per night: $339 (as low as $57 per guest)
What looks like a random cluster of pine trees on Island Lake in Poulsbo, Washington is actually a private island with a three-bedroom house.
Visitors can kayak and fish on the lake by day and grill their catch on the campfire at night.
It provides a relaxing escape from the daily grind while still being close to town and modern conveniences.
Book this island here: Private Island all to yourself | Airbnb
8. Strand Island, Orr, Minnesota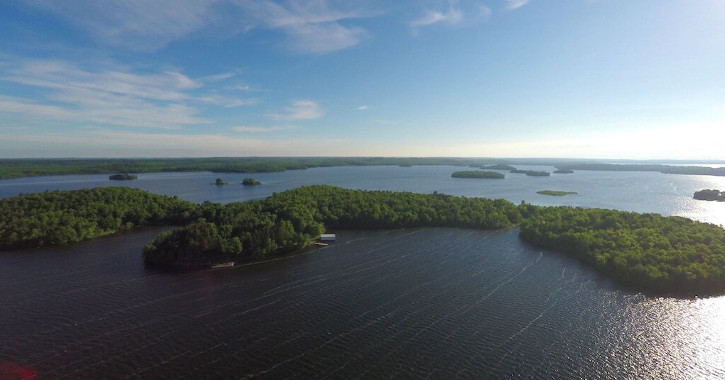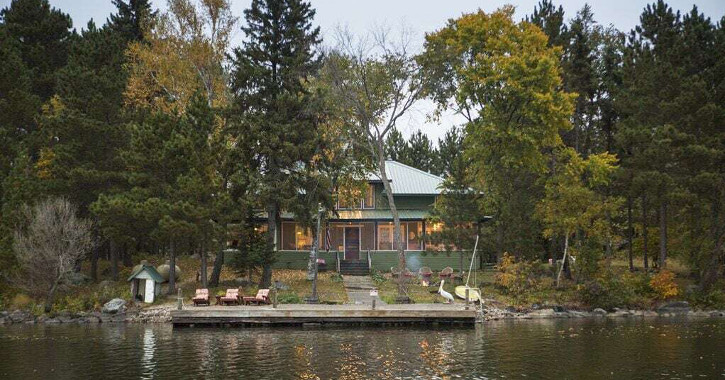 Starting price per night: $930 (as low as $47 per guest)
Strand Island is an expansive 45-acre island on Pelican Lake (the one in Orr, not the one in Otter Tail County) in Minnesota.
This private island is mostly undeveloped, except for a 108-year old, 8-bedroom main cabin (fully remodeled) and a 75-year-old smaller log cabin.
Guests can explore the untamed woods or fish from the docks. Kayak around the island or venture to nearby Big Island, a nature preserve managed by the state.
Book this island here: Book your 2021 summer vacation ! 45 acres of privacy !!! | Vrbo
More information: Strand Island Lodge, MN
Rent A Private Island For Your Next Getaway!
These are just some of the budget-friendly private island rentals you can find online. Whether you're looking for a rustic campsite or a spacious home with complete amenities, you'll find plenty of options!