The majority of the beaches in Arkansas are located within lake parks, such as DeGray Lake State Park, Lake Catherine State Park, Lake Charles State Park, Lake Dardanelle State Park, and Lake Ouachita State Park. As such, only a few of these Arkansas beaches look and feel like typical beaches with soft sand on the feet, miles of shorelines for walking during sunrise or sunset, and clear calm waters.
But if you're after the sun, water, and swimming memories your kids will remember when they grow up, this list of lake and river beaches in landlocked Arkansas would surely make families (even those with furbabies) happy.
6 Beaches in Arkansas for the Whole Family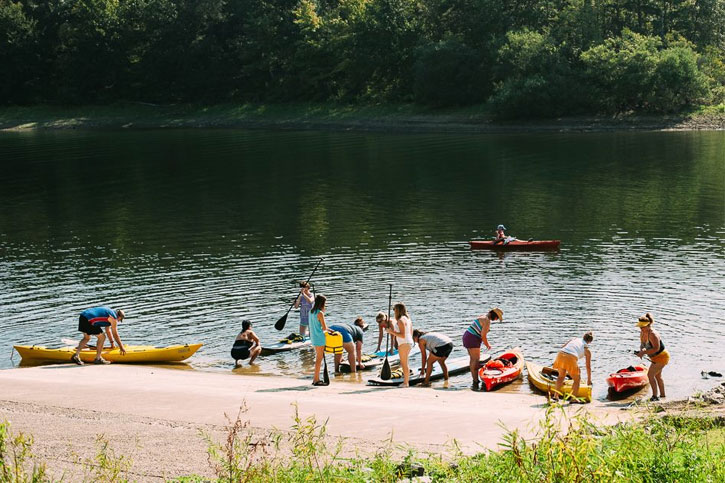 Any local who loves lake beaches would probably recommend a visit to DeGray Lake Resort, and this is for good reason. The island beach destination may not be the easiest to access, but if you're planning to visit either Hot Springs and Little Rock (which are nearby), then include DeGray Lake Resort State Park to your itinerary.
Located on the shores of DeGray Lake, the resort offers all the water sports amenities you'll need for your stay. Activities you can try here include kayaking, pedal boating, guided snorkeling, paddlecraft water trails, and more. If you wish to fish or ride a boat, the full-service marina has everything you need (including boats, kayaks, bait and tackle, etc). There is also a swimming pool near the lodging if you and your group can't get enough of the water.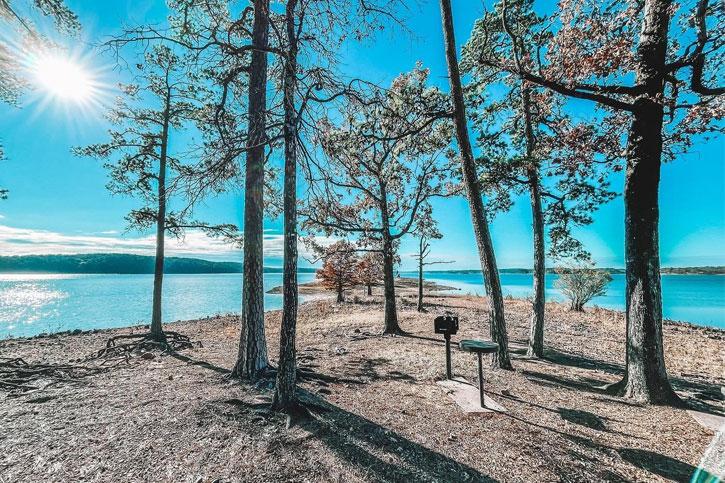 There are also sunset cruises available. In land, there are bike rentals, five hiking trails, an 18-hole championship golf course, a tennis and basketball courts, horseback riding trails. There's even an Escape Room at the resort.
DeGray Lake Resort State Park is a popular summer destination, so if you're not a fan of crowds, visit during off-season. This is particularly true if you plan to reserve one of the 90 rooms on the lodge located on the island, or renting out the 300-seat conference center for a wedding, reunion or other private event.
FYI, there are 113 campsites and an in-house restaurant as well.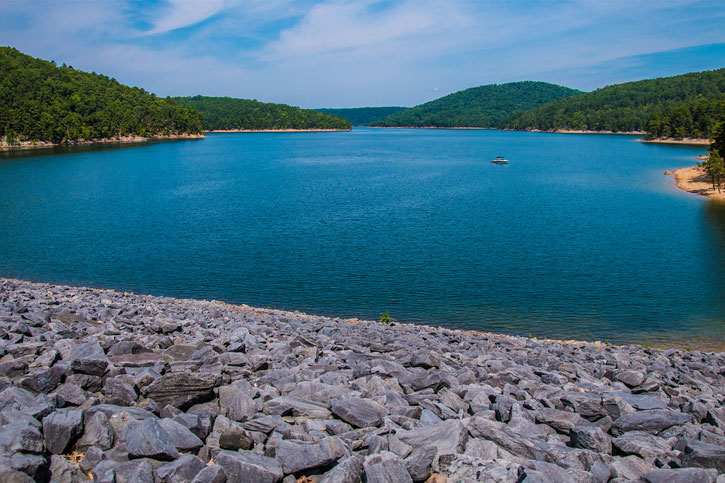 Situated just outside the famous Hot Springs, Lake Ouachita State Park is another popular Arkansas lake destination with a beach and a wide range of activities under the sun. After all, this 40,000-acre lake is the largest lake in the state, so you're bound to find a spot that would cater to your style.
Whether your goal is just go swimming at the beach (more about these two beaches later) or you're excited to try scuba driving, fishing, boating, kayaking, or waterskiing, Lake Ouachita and its clear and clean waters are ready to welcome visitors year-round.
There are actually two beaches at Lake Ouachita State Park – one near the marina with picnic tables available, and another called Spring Beach located at the northern part of the state park.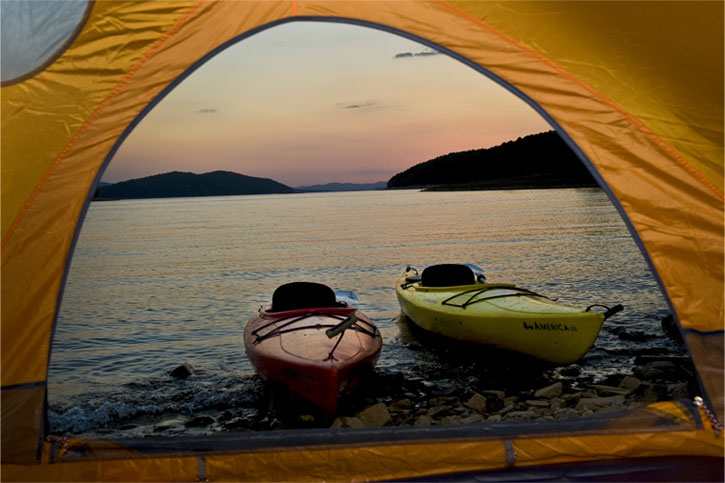 Lake Ouachita State Park has several cabins you can rent out, many of which have views of the Ouachita National Forest. These cabins are complete with kitchens, satellite TV, heating/air-conditioning, and 2 to 3 bedrooms.
If budget is a problem, you can rough it out and camp in one of the 93 campsites. You can choose from 58 Class AAA, 23 Class D, and 12 walk-in tent sites, some even located right by the water.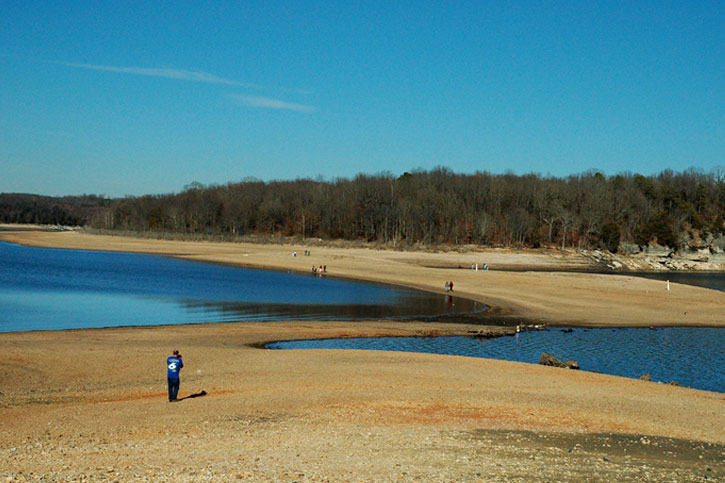 Beaver Lake is a 28,300-acre manmade lake with almost 500 miles of shoreline. Located in the Ozark Mountains, near Eureka Springs, this spot is more famous as a bass fishing destination with annual tournaments and record-breaking catch.
The US Army Corps of Engineers operate and maintain the waters of Beaver Lake, which means every swimming spot (there are 14 swim beaches you can visit on Beaver Lake) are tested regularly. Sometimes, the beaches are closed for high E. coli readings (or other reasons), but are quickly treated to make them safe to swim by the public.
Do note that all swimming beaches in Beaver Lake have no lifeguard present, so be safe while enjoying the waters. You can also water-ski, scuba-dive, kayak, and just float the entire day.
Around Beaver Lake, you can find 2,000+ campground spots and over 650 individual campsites, where you can stay if you plan to stay overnight..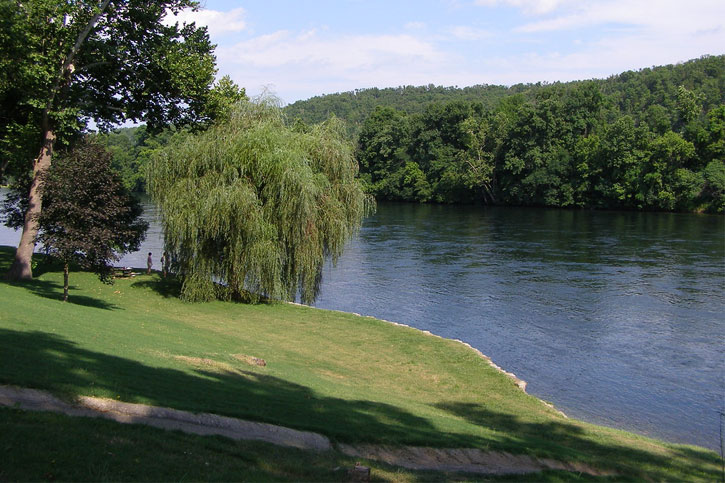 Bull Shoals–White River State Park combines both Bull Shoals Lake and White River.
The beach here is one of the most kid-friendly beaches in Arkansas mainly because of three things: 1) the swimming area is roped off, 2) there is a lifeguard on active duty in the summer, and 3) there is a shallow swim spot ideal for young kids.
Bull Shoals–White River State Park is also a famous destination for trout fishing. The visitor center even hosts trout fishing workshops there. Guests also have unlimited nature walk opportunities (guided and self-paced), and opportunities to join camp-fire cooking workshops, boating and a wide range of water sports.
There are no cabins here, but camping is offered for RVs or pitch tents.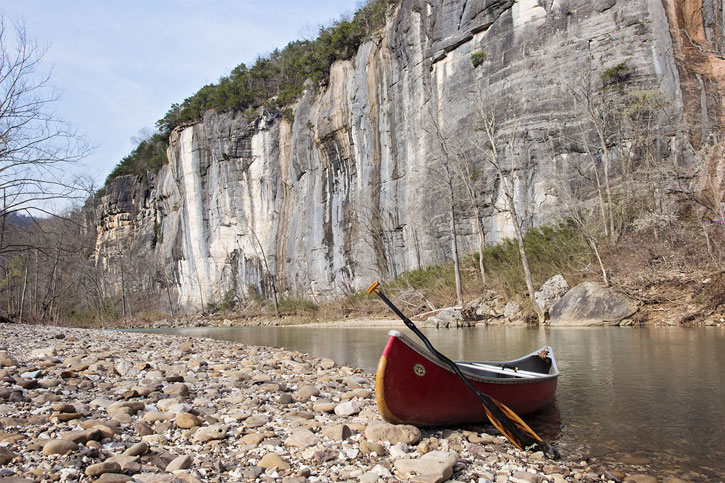 If you're after a sandy beach, Buffalo National River isn't for you.
But if you're fine wearing beach shoes and are excited to see the stunning backdrop of the 135-mile, bluff-lined river, and experience the clean swimmable water, and a peaceful vibe, you'll enjoy what Buffalo National River has to offer.
The gravel bar you'll see at this swimming hole is also near the Steel Creek campground, which means you and your family could stay overnight very near the river if you wish to.
Plus, it's a dog-friendly place, too!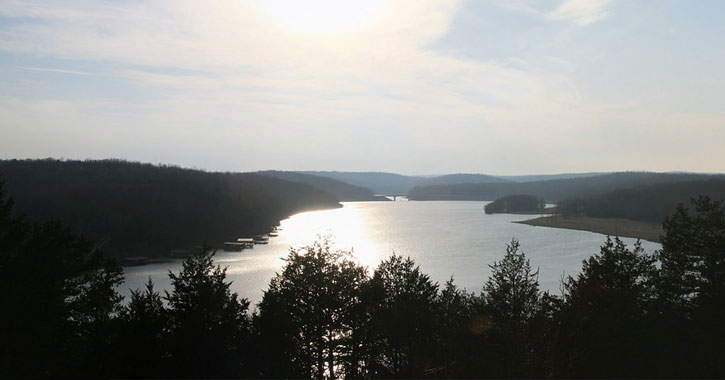 The 22,000-acre Norfork Lake offers 550 miles of shoreline.
I love Norfolk Lake out of all Arkansas beaches because you can find white sand beaches here. Make sure to take time to visit the secluded sandbar at Sand Island, the main beach at Norfolk Lake. Depending on who you ask, this place could also be called "Jordan Island" or "Sandy Beach."
While the lake is a popular crappie and trout-fishing spot (there are tours, workshops and fishing equipment rental), Norfolk Lake is also a place you can visit for boating, waterskiing, scuba-diving, kayaking, canoeing and swimming.
Norfolk Lake has some of the most number of options when it comes to lodging. There are campgrounds, houseboats, cabins, RV parks, hotels and resorts, accommodating all kinds of budgets.
Beyond the Beaches in Arkansas: Other things to See in The Natural State
If you're a fan of spelunking, you've got to check out these 8 otherworldly caves in Arkansas.
Did you know that Arkansas is the only state in the country with an active diamond mine? Yes, if you're curious how diamonds are found, polished, or cut, you can visit Diamonds State Park. (Check my guide on diamond digging in Arkansas if this made you excited.)
And if you have more time, explore the picturesque Ouachita Mountains and experience the iconic, 150-year-old Hot Springs, Arkansas.
If you really want to visit beaches near Arkansas, you have several options, including: