Laniakea Beach is a famous stopover for tourists hoping to meet a couple of Hawaiian Green Sea Turtles.
Known locally as "Honu," these turtles are residents of Laniakea Beach and are known to hang out on the sand or swim in the Oahu waters.
If you're planning a trip to Laniakea turtle beach for this very reason, read on to learn the do's and don'ts when you encounter these gorgeous turtles, things you can do in Laniakea Beach, and other must-know guidelines for first-time visitors of turtle beach.
Why is Laniakea Beach Special?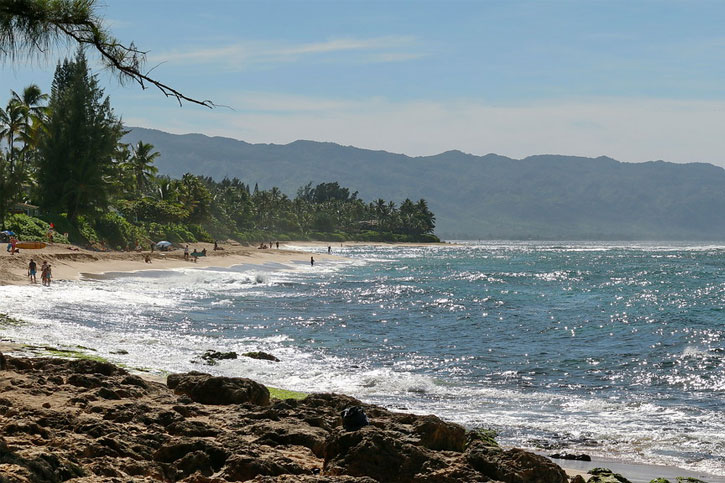 Laniakea Beach, also known as Turtle Beach, is located on the north shore of Oahu.
The beach is small and rocky. But because the green sea turtles call this area home and love eating seaweed near the rocky parts, they keep coming back and in turn, attract both locals and tourists to the beach.
The turtles can be pretty friendly, too! Despite the massive size of some of these turtles, they don't seem to mind people taking their photos or being near them.
Aside from the turtles, Laniakea Beach is still a part of Hawaii's Oahu.. and it still offers amazing views of mountains, coastline, and everything in between.
Visiting Laniakea Beach Turtles: Best time to go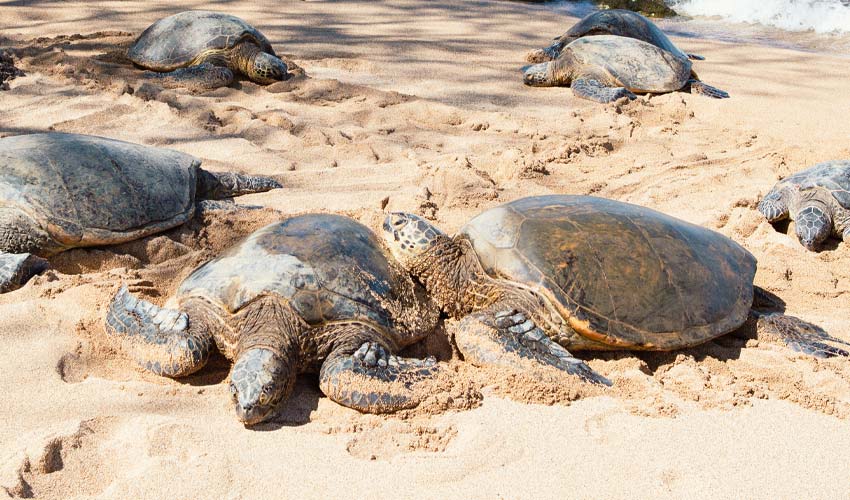 When is the best time to visit Laniakea Beach on Oahu, Hawaii?
Well, it depends.
If you're visiting for the turtles: Go in the summer months (between May and September) when the waters are calm, clear and ideal for the turtles to swim closer to the shore. Note that these turtles tend to show up in early morning or late afternoon. The problem with going in the summer is this is peak season for Oahu, Hawaii, so expect crowds and traffic.
If you're visiting for the beach: The shoulder months (or off-season months) in Oahu are early April to May, and September to early October. These months offer lower accommodation rates and fewer crowds with weather still ideal for enjoying water activities.
If you're visiting for both the turtles and beach: The best months to visit is either May or September.
Guidelines on Laniakea Beach Turtles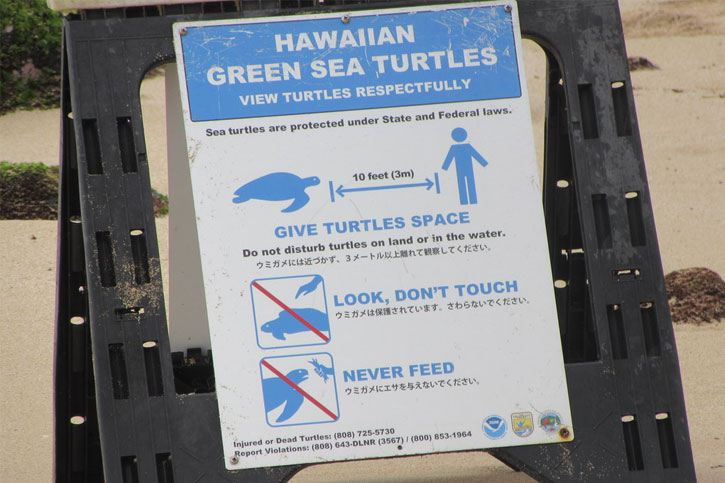 The Hawaiian honu is protected under the federal Endangered Species Act and under Hawaii state law. Meaning, you can get in trouble if you hunt, injure or touch these green sea turtles.
Here are some rules and reminders you should know:
Don't go beyond the red rope or no-go zones: Usually, there will be volunteers reminding visitors where (and where not) to go. If there are no volunteers, check for signs by the Laniakea Beach or red ropes that mark no-go zones.
Stay at least 3 meters (about 10 feet) away from the turtles: Yes, the sea turtles are used to people nearby, but this doesn't mean we should try to go as close as possible. Keeping a safe distance ensures we don't stress the turtles or injure them accidentally.
Feeding turtles are not allowed: It might seem nice to feed the turtles, but it is illegal to do so. Laniakea Beach has rich vegetation that these turtles love. The only thing humans need to do is to avoid disturbing their food sources.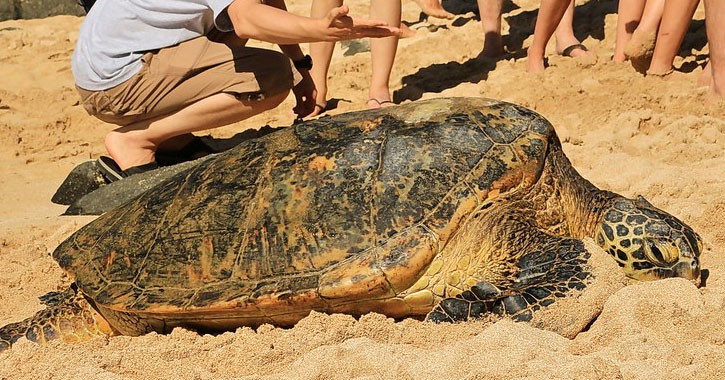 Don't disrupt the natural behavior or movements of the turtles: You don't need to carry them to their water source. These turtles are totally capable of finding their water sources. You just have to let them do their thing, whether they're trying to rest, look for food, or simply basking in the sun.
Flash photography is a no no: The flash on your cameras could harm the eyes of the turtle.
Avoid loud noises and sudden movements: No one likes getting scared, even these gentle turtles.
Lastly, there are signs all over Laniakea Beach. Follow these guidelines for viewing turtles.
Other things to do at Laniakea Beach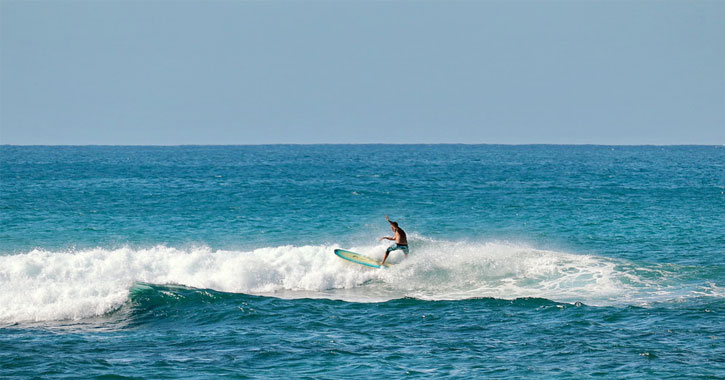 Aside from viewing turtles, Laniakea Beach can also be your spot for water sports and other interesting activities.
Surfing: The waves at Laniakea during the winter months make the place ideal for surfing. If you don't have equipment, there are several surf schools where you can learn and rent surfboards.
Snorkeling: You don't need to go diving to appreciate the marine life at Laniakea beach. Snorkel to see various fish species, coral reefs and if you're lucky, you could also get to swim with a green sea turtle.
Beachcombing: If you love collecting shells and other interesting rocks, Laniakea's sand and nearby waters can be your source of treasures. Just make sure you don't take home a lot, and you're not collecting these shells for sale.
Hiking: Take another view of Laniakea Beach by hiking the Waimea Valley.
Laniakea Beach is located near several historic Hawaiian sites. For example, the Pu'u O Mahuka Heiau State Historic Site, one of Hawaii's largest temple, is situated near the beach.
Of course, even if you're just a visitor, you can become a volunteer and join the local community's conservation efforts in protecting the sea turtles.
Laniakea Beach FAQs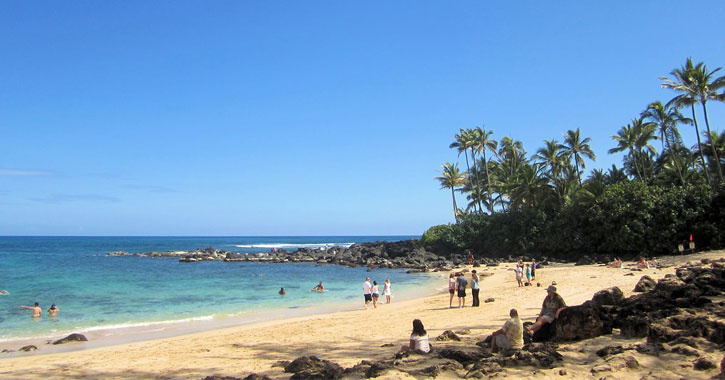 Can you swim at the beach?
During the summer, swimming at Laniakea Beach is fine for anyone who knows how to swim. Younger kids and beginner swimmers would enjoy the calmer waters of Chun's Reef, which is located a few yards away from Laniakea.
Turtle Beach is often closed off during the winter. Only experienced surfers are allowed to get into the water then.
There will most likely be a "no swimming" sign during bad weather and winter season.
Is there a place to buy food or drinks here?
There are no food vendors and restaurants at Laniakea Beach.
You can dine at food trucks or local restaurants around the North Shore instead.
You're welcome to bring food and drinks with you to Laniakea Beach, but drinking alcohol isn't allowed at any Oahu beach.
How can you get to Laniakea Beach?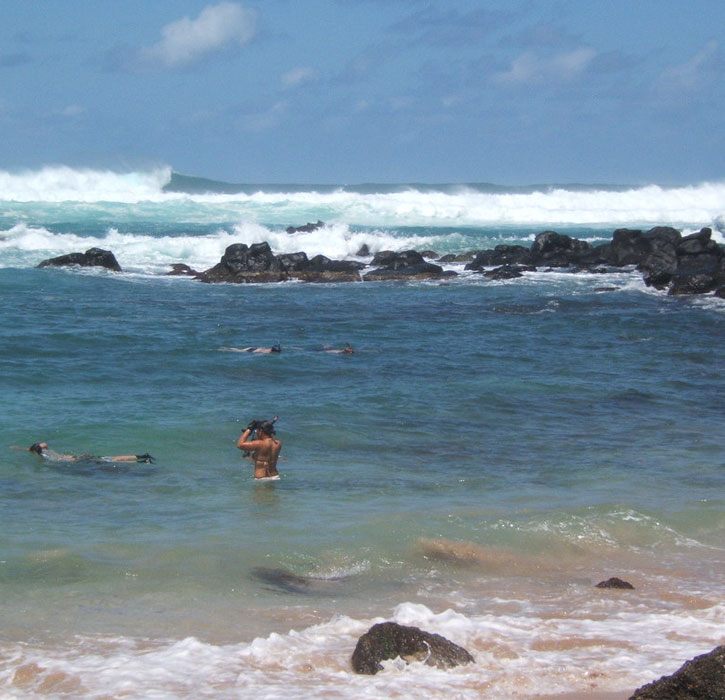 Laniakea Beach is located on the North Shore of Oahu, Hawaii. You can reach the beach by car or bus.
If you're driving, pin the location to Kamehameha Highway (Route 83) between Waialua and Haleiwa. Laniakea beach parking is small and is located across the beach (on the mountain side of the highway). You have to arrive early since the parking is limited and is on a first-come, first-serve basis.
If you're commuting, take Oahu's public bus (called "TheBus") to Laniakea. Check the schedule of 52 or 55 bus stops, so you know when to expect them for your trip back.
Whether you're driving to get here or using public transportation, note that the way to Laniakea Beach (and most of North Shore) usually has heavy traffic. This is particularly more intense on weekends and school holidays, so if possible, avoid these days to prevent wasting your time spent stuck on traffic jams.
Are there restrooms at Laniakea Beach?
There are no public restrooms or showers available at Laniakea.
Are there lifeguards at Laniakea?
Yes, there are lifeguard assigned to Laniakea.
Exploring Oahu
Oahu is such a beautiful place with plenty of things to do. For those who has an extended trip to Oahu and are looking for other spots to explore, check out the best spots for cliff jumping in Oahu, and other spectacular beaches in Oahu.
If you're interested in getting up-close with another majestic sea animal, you can head over to Kona and join a manta ray night snorkeling tour.
You can also stop over at any of Hawaii's best waterfalls or check everything on this list of best places to visit in Hawaii.